Le'Veon Bell's 1-year deal with Kansas City Chiefs worth up to $1.69M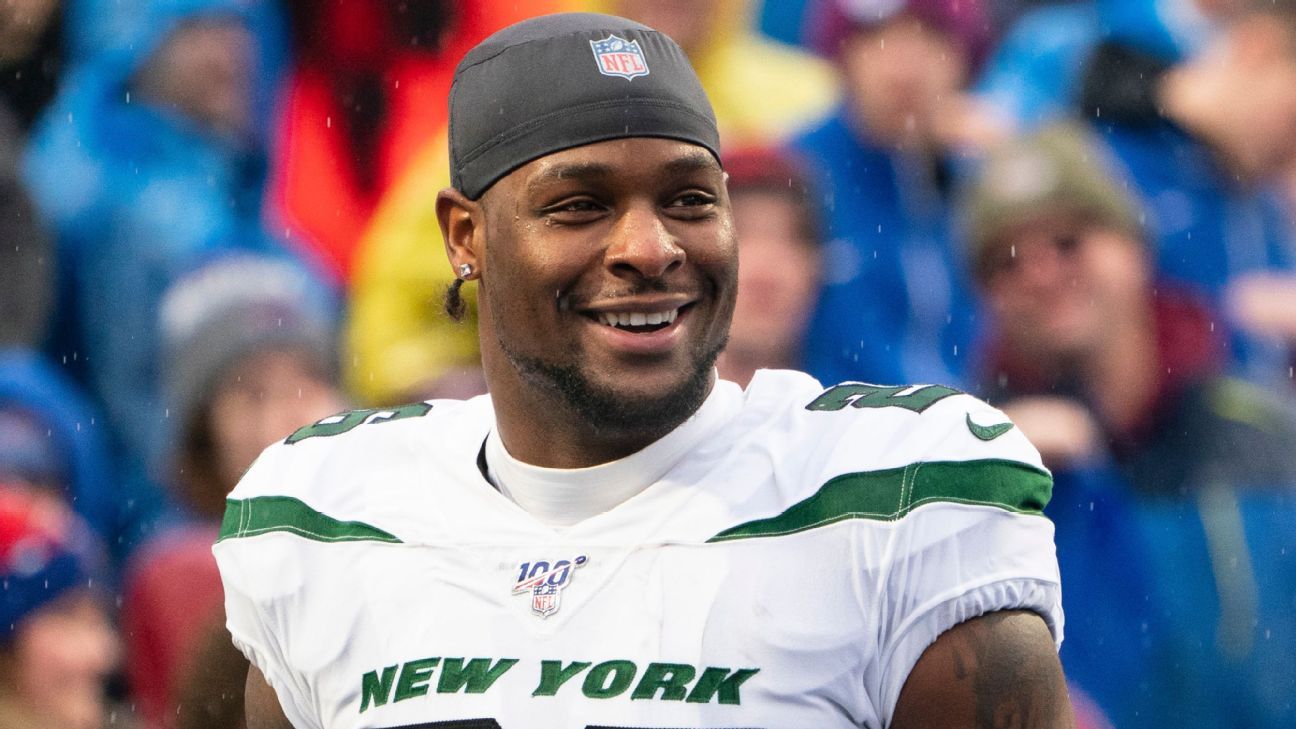 New Kansas City Chiefs running back Le'Veon Bell will have a $1 million base salary along with up to $1 million in playing time and playoff incentives, a source told ESPN's Jeremy Fowler.
The base salary will be prorated for the five games Bell was not on the Chiefs, meaning he will make around $690,000. He can earn up to $1.69 million in total this season with the Chiefs before hitting 2021 free agency at age 29.
Bell signed with the Chiefs on Thursday, just two days after he was released by the New York Jets, ending a 19-month tenure that was filled with disappointment.
Bell, a three-time Pro Bowl selection, was a disappointment since signing a four-year, $52.5 million contract last year with the Jets, averaging only 3.3 yards per carry — 51st out of 53 qualifying runners in the NFL during that span.
The Jets are responsible for the remaining $6 million on Bell's 2020 base pay, but there is an offset clause that will defray it by the amount of the salary on his new contract with the Chiefs.
'Improvise and adjust': Broncos won't have NFL QB in uniform vs. Saints – Denver Broncos Blog
ENGLEWOOD, Colo. — All season long, right from the first day of an abbreviated training camp in the August sun, Denver Broncos coach Vic Fangio has said 2020 would be a season "to improvise and adjust."
Now, Fangio and the Broncos' coaching staff and players have been handed the biggest adjustment anybody in the league has faced. Unless there is some late reprieve from the NFL's offices, the Broncos will face the New Orleans Saints on Sunday at Empower Field at Mile High with no available quarterbacks.
As in: No. Available. Quarterbacks.
As in the nightmare on-field scenario of a season played in the middle of a pandemic. And as of Saturday evening, with all sorts of details about salaries, timing and available room on the schedule, there had been no indication the league would be willing to move the game to another date with the Saints already in Denver.
The Broncos have been in exponential scramble mode, almost from the moment they pulled Drew Lock, Brett Rypien and Blake Bortles, who is on the practice squad, off the practice field early Saturday afternoon. The three were sent home and told to isolate.
They were deemed to be high-risk close contacts to Jeff Driskel, the Broncos' quarterback who received a positive test result Thursday morning for COVID-19. Diskel was moved to the reserve/COVID-19 list later that day.
The Broncos determined Lock, Rypien and Bortles were in close contact with Driskel at one point and had not been wearing masks.
Just before practice Saturday morning, Fangio had been asked how he believed his team had handled the updates to the league's COVID-19 protocols, the team's positive test results and three canceled practices in recent weeks.
"It's improvise and adjust," Fangio sad. "We talked about that the first day of training camp. We knew it was going to be a season where that was going to be called upon several times probably, and that's held true. I think our players have done a great job of improvising and adjusting when we've had to, and I believe they'll continue to do that."
And when asked, at that point, how contact tracing concerns with Driskel as well as wide receiver/returner Diontae Spencer, who tested positive Friday morning, Fangio said: "No, no one — all those questions — no new ones [Saturday]. Nothing from contact tracing with those two guys and everything was all positive this morning."
A little over four hours after Fangio said that the Broncos were pulling the quarterbacks off the field and were in a place no other team has been in during a unique, unprecedented season full of unique, unprecedented moments.
So, with no practices remaining for the week, all of the game plans they spent the week creating having been cratered. The Broncos could potentially face the NFC South-leading Saints (8-2), who have the league's No. 9 scoring defense and No. 2 rushing defense with a practice squad wide receiver named Kendall Hinton and running back Royce Freeman taking snaps behind center.
Hinton spent three seasons at Wake Forest as a quarterback — he threw for 245 yards in his first career start, in 2015, as he finished with 1,319 total yards to go with 11 total touchdowns that season in nine games — so he at least could get under center or in the shotgun and not be totally out of place.
The Broncos once went into total-makeover mode, during the 2011 season, from a traditional NFL passing offense to an option-oriented attack for Tim Tebow between Weeks 8 and 9 that season. But this isn't that.
This is hours to get something in place. Hours to put the communications devices in the helmets and play the team that currently has the No. 1 seed in the NFC.
In the days to come, there will be plenty of discussion about if the game should have been moved or how, exactly, players did not wear masks as cases rage nationwide. This might be one, very public way, for the NFL to reinforce that masks are considered an important part of the equation and not a chinstrap.
But, right now, right in this moment, the Broncos might wake up Sunday morning and have to figure out how to play NFL football without an NFL quarterback in a uniform.
Denver Broncos make Garett Bolles fifth-highest-paid tackle
ENGLEWOOD, Colo. — In a rather substantial bounce-back in a prove-it season, Garett Bolles has signed a four-year contract extension with the Denver Broncos that will make him one of the highest-paid left tackles in the NFL.
The deal will keep Bolles with the Broncos through the 2024 season and will average out to $17 million per year with the potential to reach $68 million total, sources confirmed to ESPN on Saturday.
The contract will put Bolles fifth in the league among tackles in average dollars per year, behind only David Bakhtiari — who signed an extension earlier this month — Laremy Tunsil, Ronnie Stanley and Lane Johnson. Bolles might have even hinted at the new deal earlier this week when he was asked about being recognized for his vastly improved play this year, including the possibility of his first Pro Bowl selection.
"This is a great organization. I love Denver, I love the fans here, I love everything about here," Bolles said Tuesday. "I know you all kicked me in the butt over the years, but that's just something that I took and was for me to change, and if it wasn't for me to change, I know I wouldn't be where I'm at. I took that very seriously and I took it into this offseason. I fixed the things I did [wrong], and this is me, and I'm not going anywhere."
That's a long way from the Broncos declining the fifth-year option on Bolles' deal earlier this year, as the first-round draft pick in 2017 had led the league in holding penalties, and had been among the league leaders in penalties overall, in each of his first three seasons.
But Bolles, with his own fervent work in the offseason and the continued guidance from offensive line coach Mike Munchak, has consistently been one of the league's highest-rated tackles this season. He's the No. 9 tackle overall, and No. 6 among left tackles, in pass block win rate, according to ESPN Stats & Information research.
Bolles has not surrendered a sack this season and has just three holding penalties in 10 games. Last season, he had 13 holding penalties and 17 penalties overall to go with 11 holding penalties (14 penalties overall) in 2018 and 10 holding penalties (15 penalties overall) in 2017.
Terms of the deal were first reported by 9News in Denver.
Baltimore Ravens add six more to reserve/COVID-19 list; total up to 18 this week
OWINGS MILLS, Md. — The Baltimore Ravens placed six players on the reserve/COVID-19 list on Saturday, causing some to wonder whether they can field a competitive team for Tuesday's game against the undefeated Pittsburgh Steelers.
In the midst of one of the biggest outbreak in sports, the Ravens have now put 18 players on the reserve/COVID-19 list this week, including reigning NFL MVP Lamar Jackson. Baltimore has had seven straight days with at least one positive test, including at least one on Saturday, according to a source.
The Ravens have 20 players total on the reserve/COVID-19 list, as quarterback Trace McSorley and injured cornerback Iman Marshall had been on the list since before this week.
The coronavirus has decimated Baltimore's roster to the point where the Ravens are left with two quarterbacks, six offensive linemen and three defensive linemen on their current active and practice squad rosters. Baltimore has 52 available players — 38 on its 53-man roster and 14 on the practice squad.
"We are in the midst of a trial but we are built for this!" Ravens wide receiver Willie Snead IV tweeted. "Keep pressing on."
On Saturday, the six players placed on the reserve/COVID-19 list were: linebacker Jaylon Ferguson; offensive linemen D.J. Fluker and Will Holden; defensive lineman Broderick Washington; and injured cornerbacks Khalil Dorsey and Tavon Young.
The Ravens (6-4), who have lost three of their past four games, are set to play the Steelers and Dallas Cowboys over the next nine days.
The outbreak in Baltimore has already caused the Ravens' Week 12 game against the Steelers to get postponed twice to Tuesday and led to their Week 13 game against the Cowboys to get moved to Dec. 7.
With many of those on Baltimore's reserve/COVID-list required to quarantine for 10 days, there's a chance that a majority of those players, including Jackson, will be available to play against the Cowboys.
The Ravens haven't been on the practice field since Tuesday, when their facility was closed at noon. All activities have been virtual ever since.
The 18 players placed on the Ravens' reserve/COVID-19 list this week have accounted for 66 starts and 3,918 snaps this season.
"The Corona is everywhere ain't no stopping it lol," tweeted Baltimore cornerback Marlon Humphrey, who tested positive for COVID-19 earlier this month.