Atlanta Falcons place defensive end John Cominsky on reserve/COVID-19 list
The Atlanta Falcons placed defensive end John Cominsky on the reserve/COVID-19 list Saturday and said defensive line coach/run game coordinator Tosh Lupoi and defensive line coach Jess Simpson will not travel with the team for Sunday's game against the Minnesota Vikings.
Rookie defensive lineman Marlon Davidson was placed on the reserve-COVID-19 list Tuesday after a source told ESPN that he'd tested positive. Linebacker Edmond Robinson and defensive tackle Chris Slayton have been added to the active roster from the practice squad with Cominsky and Davidson sidelined.
By NFL rule, the team can't say if a player has tested positive for COVID-19, or was placed on the list as a result of having close contact with someone infected.
Outside linebackers coach Aden Durde will assist in coaching the defensive line Sunday with Lupoi and Simpson unavailable.
The Falcons said Saturday's announcements haven't affected the status of Sunday's game.
The Falcons reopened their facility Friday, a day after closing it after a member of the organization had tested positive. A league official told ESPN's Adam Schefter that the positive test was for a Falcons personnel official, not a player.
Carson Wentz leads Philadelphia Eagles' late-game surge to beat New York Giants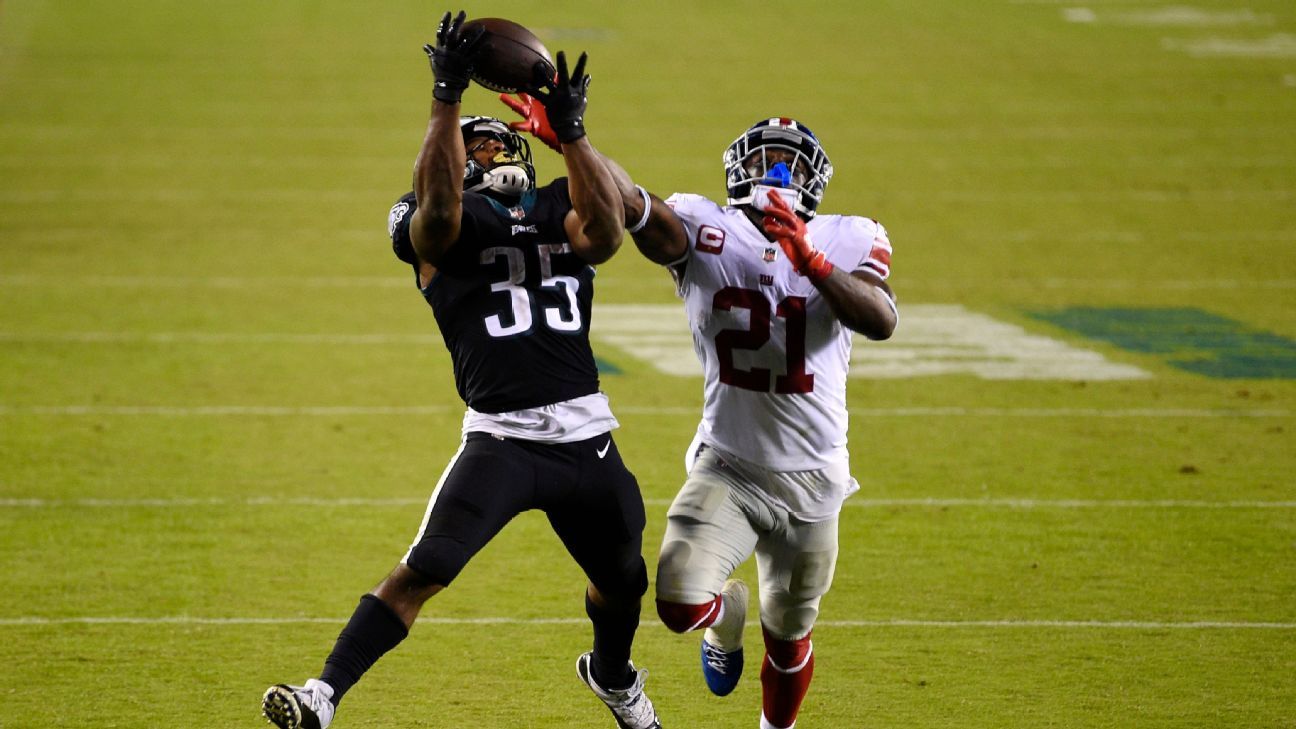 PHILADELPHIA — Carson Wentz and the Philadelphia Eagles did it again, roaring back late in the game to upend the New York Giants, 22-21, and put themselves in the driver's seat in the lowly NFC East.
In the process, they extended their winning streak over the Giants to eight games.
Wentz led a pair of touchdown drives in the fourth quarter after struggling for much of the night, and put the Eagles ahead with a beauty of a pass to running back Boston Scott down the right sideline for an 18-yard touchdown with 40 seconds remaining.
He finished 25-of-43 for 359 yards with three touchdowns (2 passing, 1 running) and an interception.
Wentz has had a sometimes bumpy start to the season — his 10 interceptions through seven games is the most by an Eagles quarterback since Sam Bradford in 2015 — but he's picked up the pace over the last three games, and continues to show a penchant for late-game heroics.
The win was reminiscent of their Week 14 win over the Giants last year, in which they overcame a 17-3 deficit to in 23-17 in overtime. That kick-started a four-game winning streak that put the Eagles in the playoffs.
They could be on a similar trajectory this season despite their 2-4-1 record. According to the ESPN Power Football Index, their chances of winning the division shot up to 61 percent with the win.
The Eagles defense generated three turnovers, including a Brandon Graham strip sack of Daniel Jones late in the game to seal the victory.
Tripped up — Giants' Daniel Jones falls on a breakaway to the end zone
Daniel Jones is gone! Well … almost.
The Giants quarterback seemed destined for an 88-yard touchdown. Until the turf got him.
With nobody in sight, Jones had a certain touchdown disappear midway through the third quarter when he stumbled and fell at the Eagles' 8-yard line. It still was the longest quarterback run since 2015, when Marcus Mariota had an 87-yard scamper against the Jacksonville Jaguars. Jones reached a max speed of 21.23 miles per hour, the fastest by a quarterback since 2018.
DJ'S GOT TURBO SPEED

Watch Live: https://t.co/y8glCzPbFy pic.twitter.com/AYHl51kypH

— New York Giants (@Giants) October 23, 2020
It drew laughs on the Giants sideline and across the NFL Twitterverse.
Come on Daniel……… 😂😂😂 Boy fell like he was in a horror movie!!

— Gerald McCoy (@Geraldini93) October 23, 2020
I mean i can't even say anything cause i would never be able to run that far either 😂😂😂😂

— Patrick Mahomes II (@PatrickMahomes) October 23, 2020
The slo mo killing me lol … he was sliding low key

— DIGGS (@stefondiggs) October 23, 2020
Yo if the Giants don't score here that's going to be bad

— Reggie Bush (@ReggieBush) October 23, 2020
Fortunately for New York, it eventually scored three plays later on a one-yard run by running back Wayne Gallman.
Follow live: Wentz guides Eagles to second TD of game