Braves ace Max Fried (ankle) expected back for Game 1 of playoffs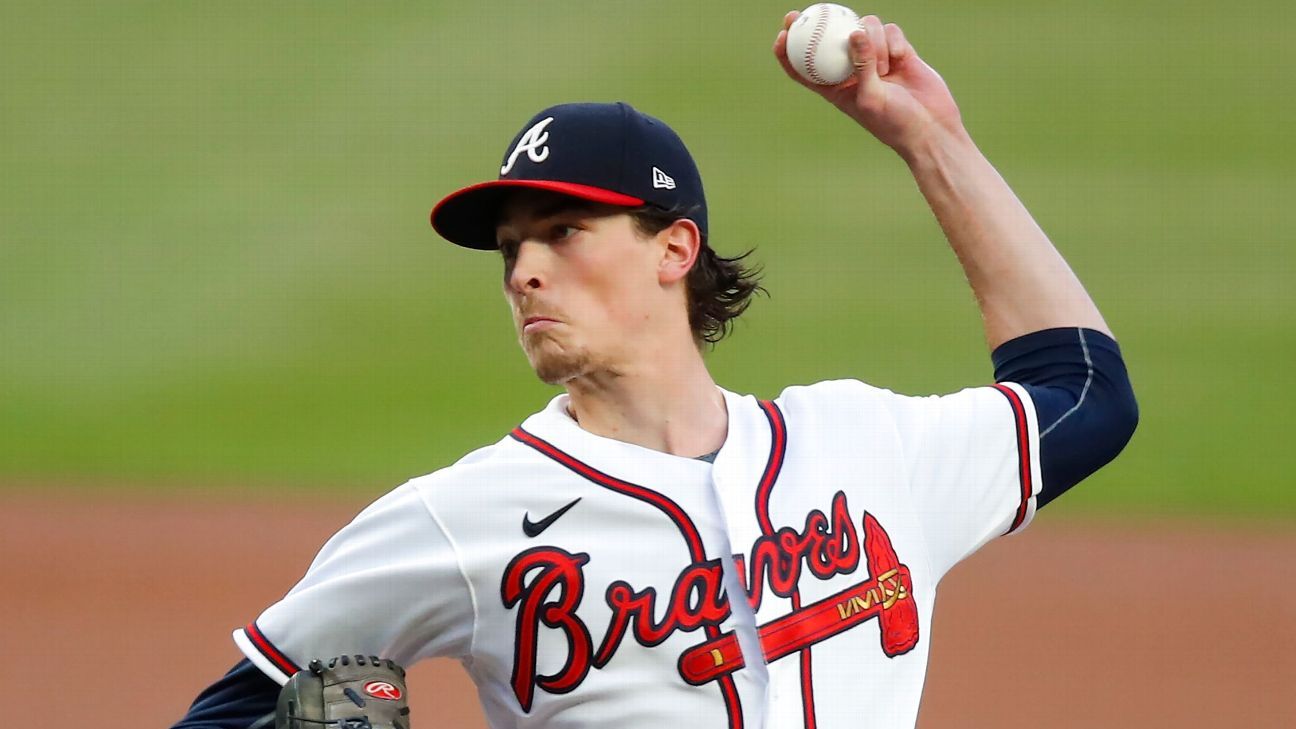 Braves ace Max Fried is expected to be ready for Game 1 of the playoffs after leaving his start Wednesday with an ankle injury.
Braves manager Brian Snitker said Fried is sore but additional tests on the ankle were negative.
Fried was making his final regular-season start for the NL East champions and hoping to boost his Cy Young Award credentials before starting Game 1 of his team's first-round series. He lasted only one inning against the Marlins, tweaking an ankle while fielding a bunt down the third-base line by Starling Marte.
Although Fried didn't appear to be hurt on the bunt, he wasn't the same pitcher after the play.
Having gone the entire season without allowing a homer, covering 55⅔ innings, Fried suddenly gave up two in a row. Jesus Aguilar hit one off the facade of the second deck, Brian Anderson drove one into the empty center-field seats, and Garrett Cooper nearly made it three in a row with a double off the wall.
"Obviously, it bit him a little bit," Snitker said after the game. "I'm sure it was on his mind, too."
The left-hander got the third out, then sat solemnly in the dugout while talking to Snitker and getting an apparent pep talk from teammate Freddie Freeman. Although the decision to remove Fried was described as precautionary, it created more uncertainty for the Braves, who have struggled all season to find three consistent starters to go with Fried.
Atlanta bounced back with three runs in the bottom of the first to beat the Marlins 9-4 and ensure that Fried wouldn't take his first loss. He finished the regular season 7-0 with a 2.25 ERA.
The Associated Press contributed to this report.
Electric Mookie Betts catch protects Dodgers' lead in NLCS Game 6
ARLINGTON, Texas — Mookie Betts ranged back, felt the warning track underneath his feet, exploded vertically, twisted his body the other way and made a miraculous, full-extension catch up against the right-field fence, ending the top of the fifth, robbing Braves slugger Marcell Ozuna of extra bases, saving a run and potentially altering the momentum of Game 6 in this National League Championship Series.
Betts' play, preserving a 3-0 lead by the Los Angeles Dodgers on Saturday afternoon, came less than 24 hours after his shoestring catch on Dansby Swanson's sinking line drive changed the course of Game 5. Betts high-stepped and yelled "Let's go!" after coming down with his latest highlight-reel play. Walker Buehler balled his right hand in a fist and raised it to the sky near the pitcher's mound.
The best play you'll see today. Betts on it. pic.twitter.com/fhvBGbr4I1

— MLB (@MLB) October 17, 2020
Anyone who doesn't think this is a spectacular catch — momentum going backward, leaping high into a wall, having the body control and wherewithal to track the ball — is just wrong. Add in context — potential elimination game, a run would've scored — and it's that much better. https://t.co/lsBjy6xcZG

— Jeff Passan (@JeffPassan) October 17, 2020
ANOTHER RIDICULOUS SNAG FROM MOOKIE 😱 #SCtop10

(via @MLB) pic.twitter.com/dE7EKEKtv6

— SportsCenter (@SportsCenter) October 17, 2020
Hey LA! See that catch? You'd better damn well treasure Mookie. Worst mistake we made since selling The Babe to the Yankees.

— Bob Ryan (@GlobeBobRyan) October 17, 2020
If the Dodgers come back and win this series, and eliminate an Atlanta Braves team that held a 3-1 series lead, Betts' catch might live on forever.
Fenway first — Red Sox's ballpark becomes voting venue amid pandemic
BOSTON — Bostonians who lined up at the nation's oldest ballpark on Saturday were far more focused on the ballot box than the batter's box.
Hundreds of people cast their votes at Fenway Park, which city officials are using as an alternative to indoor venues during the pandemic. Voter Rob Cohen said he's a 3-minute walk from his nearest polling location but he chose to take a 20-minute bus ride and then stand in line 45 minutes to cast his vote at the storied ballpark.
"It was two things I like a lot — democracy and baseball," the diehard Red Sox fan said after his first and only visit to the park this year.
Fenway Park was one of 10 locations across Boston where residents could cast their votes on Saturday, when early voting began across the state. Early voting in the state will run through Oct. 30, but Fenway Park is being used only for this weekend as an early voting location. The ballpark provided a unique experience compared to the other voting venues across Massachusetts.
"This is the first time we've ever done early voting or opened up Fenway Park for any kind of voting in the city of Boston, so we're really excited to be partners with the city on this," said Red Sox spokeswoman Zineb Curran.
With their 60-game season over, the players are long gone. Residents weren't allowed in the stands then, nor were they allowed in the stands on Saturday. Instead, a crowd of upbeat voters formed a line that began on one side of the park and snaked toward the other side.
Voters got a glimpse of the field after filling out their ballots in the concourse and exiting on Lansdowne Street. The ballpark provided a safer voting venue during the pandemic because it's both outdoors and covered, providing protection from the elements while also having plenty of ventilation. Despite providing a voting venue, the Red Sox organization stuck to baseball and staying out of the politics.
"We just want people to exercise their right to cast their ballot," Curran said. Voters were encouraged to wear masks, and masks were provided to those who needed them. But no one was turned away since the goal was to provide access to anyone who wanted to cast a vote.
Follow live: Dodgers attempt to force Game 7 vs. Braves