Oakland A's clinch third straight playoff berth, but 'a lot bigger goals' remain
OAKLAND, Calif. — An AL West title will mean so much more than simply clinching a playoff berth given how the past two seasons have gone for the Oakland Athletics.
Then, the A's might let loose and celebrate a little. But not just yet.
They secured a third straight playoff berth with Seattle's loss to San Diego and a 6-0 win against the San Francisco Giants on Friday night, highlighted by Matt Olson's three-run homer.
"Clinching the playoffs is the goal every single year. Exciting, but winning the division I think is going to be a lot better for us," winning pitcher Chris Bassitt said. "It was literally another win. We have a lot bigger goals."
The A's scoreboard read "POSTSEASON BOUND" high above the cardboard cutouts of fans filling the Oakland Coliseum.
Oakland is in the playoffs for the sixth time in nine seasons and now shifts its attention to the division title, which could be locked up Saturday. The A's haven't captured the West since 2013, winning 97 games each of the past two seasons to finish in second place behind Houston and before losing the AL Wild Card Game both years.
Olson connected in the third inning of a balanced offensive attack for the A's in the opener of the second round of the 2020 Bay Bridge Series.
Jake Lamb's RBI single in the first staked Bassitt to a quick lead. The right-hander struck out seven over 6 2/3 innings to win his third straight start.
"He's been absolutely terrific," manager Bob Melvin said, "probably as consistent as we've had all year."
Tommy La Stella and Marcus Semien also singled in runs for the A's, who finally got a day off Thursday following a grueling stretch with 16 games in 13 days with three doubleheaders.
San Francisco hardly had to travel far to continue its road trip. The Giants were scheduled for games in Seattle earlier this week but smoke from all the West Coast wildfires created dangerous air quality and the clubs instead played at Oracle Park in San Francisco on Wednesday and Thursday. `
The A's played a Monday doubleheader in Seattle, and players expressed concern about the air.
"The air quality is much better than we last saw it here, it certainly is better than Seattle, too," Melvin said.
Right fielder Stephen Piscotty missed his fourth straight game with a sprained right knee. The A's were going to put him through batting practice to determine his status for Saturday.
Also, right-hander Daniel Mengden was medically cleared from a positive COVID-19 test Aug. 28. He has been asymptomatic throughout and resumed throwing off the mound at the club's San Jose alternate site Friday. He is slated for a simulated game Saturday.
Left-hander Jesus Luzardo starts for the A's on Saturday afternoon, looking to end a four-start winless stretch in which he is 0-2.
The Associated Press contributed to this report.
Jon Lester hopes to remain with Chicago Cubs after team declines $25 million option
CHICAGO — The Chicago Cubs declined the $25 million team option on pitcher Jon Lester on Friday, but sources say they are likely to announce picking up the $16.5 million option on first baseman Anthony Rizzo before a Sunday deadline.
Lester, 36, was at the end of a six-year, $155 million contract with the Cubs and still could return on a lesser deal. He's owed a $10 million buyout.
"I know there is some doubt as far as the money that's out there but I would like to think we can definitely get this thing done," Lester said on ESPN 1000 on Friday. "I think it's going to be a long offseason for everybody."
Lester is a three-time World Series winner and was considered a culture-changing addition to the Cubs when he signed with them before the 2015 season. He struggled in the middle of the 2020 campaign but pitched well down the stretch after fixing his mechanics. He has won 193 career games and has previously stated he would like to win No. 200 as a Cub. Lester was 3-3 with a 5.16 ERA in 2020.
Rizzo, 31, will be among players around the league who will have his team option picked up for 2021. The Cubs did the same with him before last season, picking up an option for the same price, $16.5 million. He has been a stalwart at first base and a leader in the clubhouse during the Cubs' competitive years over the past half-decade.
Rizzo struggled some during the shortened 2020 season, hitting .222 with 11 home runs, but over the course of his career he has been a great value for the team after signing a seven-year, $41 million extension in 2013.
The Cubs will also decline an option on infielder Daniel Descalso. He'll be owed $1 million.
Lester was asked when he was hoping to know if he'll be back with the Cubs on a smaller deal.
"Things don't happen until after Thanksgiving for a lot of guys," he said. "Hopefully sooner rather than later."
Indians decline options on Brad Hand, Carlos Santana, Domingo Santana
CLEVELAND — Brad Hand's solid season didn't earn him another one with the Indians.
Feeling the financial pinch from a shortened season, Cleveland declined Hand's $10 million contract option on Friday and also chose not to exercise options for either first baseman Carlos Santana ($17.5 million) or outfielder Domingo Santana ($5 million).
The club did exercise its $5.5 million option for catcher Roberto Perez, who has been exemplary in handling one of the American League's best pitching staffs.
The team owes buyouts of $1 million to Hand, $500,000 to Carlos Santana and $250,000 to Domingo Santana, who are all free agents.
Cleveland previewed the Hand decision on Thursday, when the club placed him on outright waivers, hoping another team might claim him so the Indians would avoid the buyout. The 30-year-old Hand led the majors with 16 saves; but after they were unable to find a trade partner, the Indians decided to move on without the left-hander.
"With Brad, it was a really difficult decision," said Chris Antonetti, the team's president of baseball operations. "He's been such a critical part of our team for the last few seasons. He did an extraordinary job in his role as a closer and also was a leader in the clubhouse, specifically within the bullpen group.
"In the end, we did take some time to explore the trade market for Brad and weren't able to find a fit for him. Again, a very difficult decision."
Antonetti had pointed toward the moves and a substantial cut in payroll earlier this month due to the team's financial hit caused by the COVID-19 pandemic. MLB teams were not permitted to have fans at game in 2020.
There could be other, bigger moves this winter as the Indians consider trading All-Star shortstop Francisco Lindor before his final season under contract. Antonetti isn't sure what's ahead at this point.
"It's very early to tell, and I'm not sure it makes a whole lot of sense to forecast things," he said. "What we've been focused on are the decisions we have in front of us and engaging with teams to help inform those decisions. That's really where we've spent most of our energy."
Hand was acquired by the San Diego Padres at the trade deadline in 2018. In two-plus seasons with the Indians, he had 58 saves and a 2.78 ERA in 111 games. The left-hander went 2-1 with a 2.06 ERA and was 16-for-16 in save chances in the 60-game season.
Carlos Santana struggled in his second season back in Cleveland after leaving as a free agent in 2018. The switch-hitter batted a career-low .199 with eight homers and 30 RBIs in 60 games. Antonetti said it's possible the club could re-sign the 34-year-old Santana, who has spent 10 seasons with the Indians.
"We'd be open to anything," Antonetti said. "In fairness to Carlos, he probably needs to take some time and examine what his alternatives might be and gain some additional information. It will be important for us to get a little bit more clarity as the offseason goes on, but we'll stay in touch because, as you know, Carlos is near and dear to our hearts and has been such a huge part of our team for the better part of the last decade at this point."
Perez was slowed by a shoulder injury for most the season, and the injury might have contributed to him batting just .165 with one homer and five RBIs in 32 games.
"We're excited to have him back as a key component for us, and we've seen the difference he can make when he's behind the plate and leading a pitching staff," Antonetti said of Perez. "He's also been able to put together productive offensive seasons when he's been healthy, so we're hopeful that will be the case again next year."
Chicago White Sox decline options on Edwin Encarnacion, Gio Gonzalez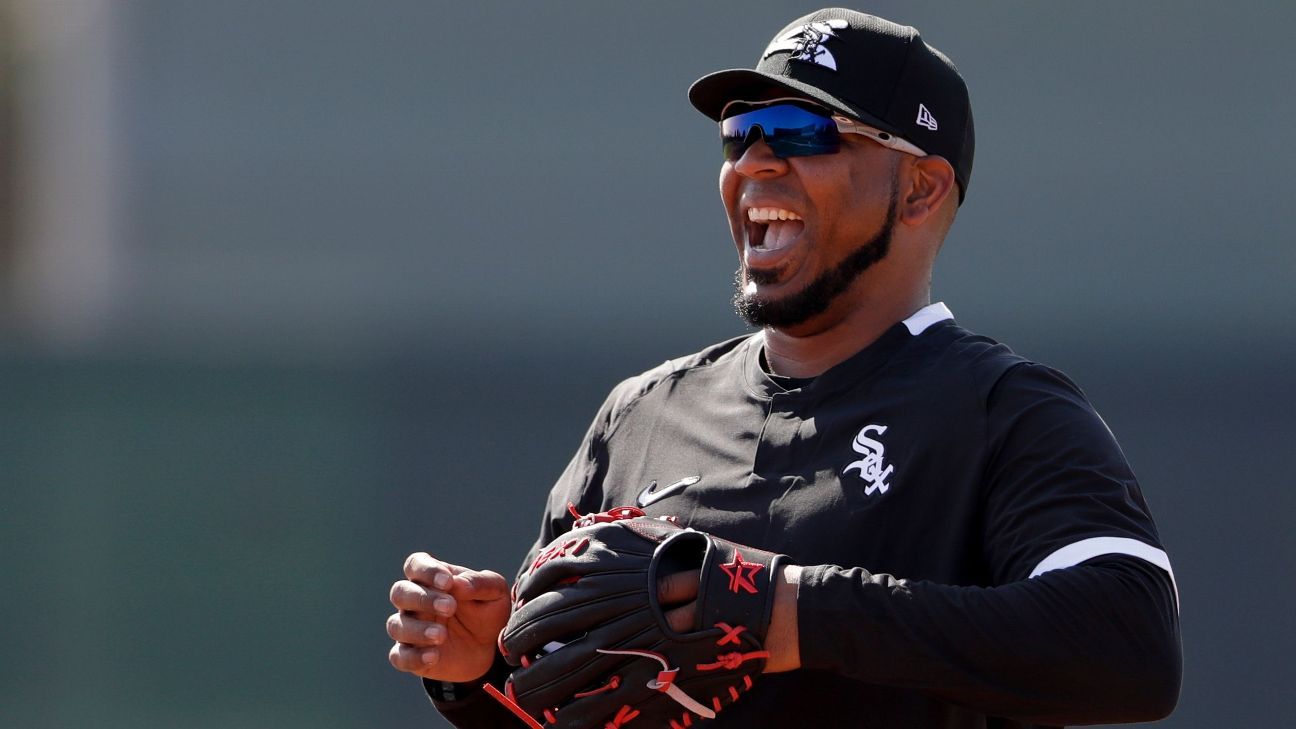 CHICAGO — The Chicago White Sox have declined a $12 million option for designated hitter Edwin Encarnacion and a $7 million option for left-hander Gio Gonzalez.
The team announced the moves Friday, making both players free agents. Encarnacion's deal did not include a buyout, while Gonzalez will receive $500,000.
The team also exercised a $3.5 million option on utility man Leury Garcia, reinstated right-hander Michael Kopech from the restricted list and activated righty Jimmy Lambert from the 60-day injured list. The club lost infielder Yolmer Sanchez on waivers to the Baltimore Orioles.
The 37-year-old Encarnacion hit .157 with 10 home runs during the shortened 60-game season. His .377 slugging percentage was the lowest in his 16-year career and his first time below .450 since 2009.
Gonzalez, 35, had a 4.83 ERA in 12 appearances, including four starts. The 13-year veteran struck out 9.7 batters per nine innings, his best rate since 2009.