NBA playoffs – How the Celtics get back into the East finals
Be careful writing off the Boston Celtics. Our memories get short. The Celtics just took a 2-0 lead over the Toronto Raptors and barely hung on in seven games. The Denver Nuggets have rallied from two 3-1 deficits.
Boston had late leads in both Games 1 and 2 of the Eastern Conference finals. They need Game 3 more than the Miami Heat and should bring season-on-the-line desperation.
But the Heat are playing greedy. They didn't need Game 3 of the last round as much as the Milwaukee Bucks did; they took it anyway. The Heat are 10-1 in the playoffs. They are relentless — steely in the face of big deficits, impossible to rattle.
WATCH: Game 3, Sat., 8:30 p.m. ET, ESPN and the ESPN App
Boston can make dozens of small tweaks, but they aren't getting back into this series unless those tweaks add up to changing two basic things:
Figuring out Miami's zone
The Heat's zone is an ingenious, evolving creature. Miami has played 837 possessions of zone this season, almost double the No. 2 team, per Second Spectrum data. The Heat zone has an interesting backstory that hasn't been fleshed out.
The Heat played only 48 possessions of zone in 2017-18, per Second Spectrum. They barely played it at all last season, until a Dec. 8 game against the LA Clippers when the Heat had only nine healthy players. Erik Spoelstra junked things up with a zone. Derrick Jones Jr. logged 25 minutes at the top of it after being out of the rotation until that point. Miami played 43 possessions of zone in that game — more than they had played combined all season prior.
"That day," Jones once told me, "gave me the confidence that I was here to stay." So was the zone.
Jimmy Butler and Jae Crowder played atop Miami's zone for most of Game 2, as the Heat played 31 zone possessions and held Boston to 0.968 points per possession, according to Second Spectrum. Butler and Crowder are ball hawks with a keen sense of timing for when to jump passing lanes, and when to dip back to cut off drives. Every pass around the perimeter is an adventure.
With Bam Adebayo in the middle, the Heat center the zone around a formidable triangle of defenders: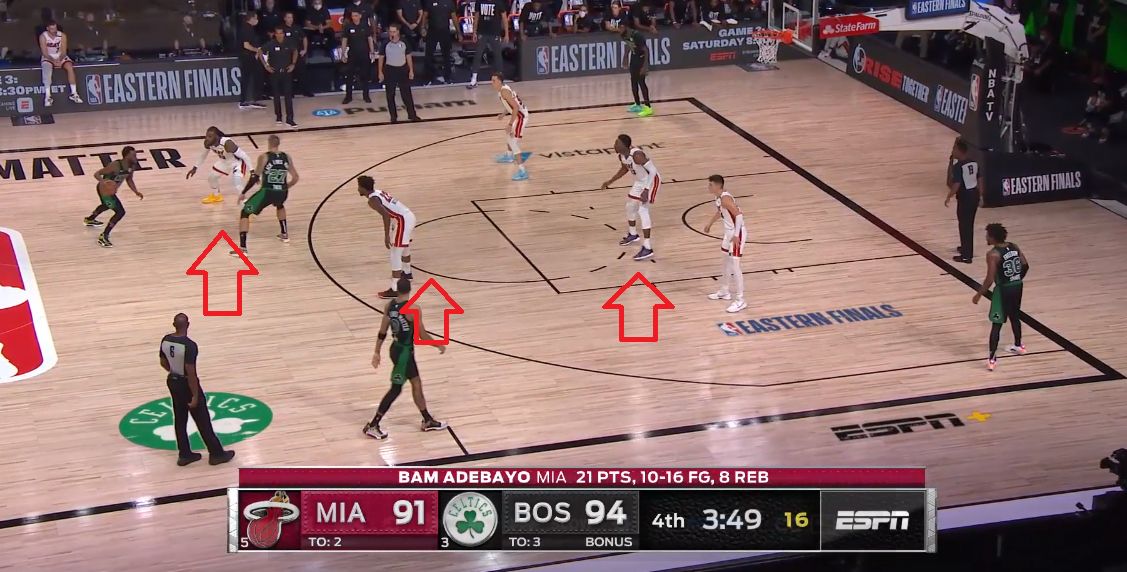 There are entire books and coaches' clinics devoted to attacking zones. Some of the simplest methods involve using normal pieces of your offense as if the zone does not exist: Run a pick-and-roll up top, or find a mismatch and play one-on-one.
The alignment of the Heat's zone makes both tactics difficult by vaporizing the middle of the court — the location of most pick-and-rolls, and the area from which ball handlers have the juiciest passing options. Butler and Crowder can switch two-man actions at the top. Adebayo joins in if required.
A trickle-down effect of slotting Miami's best perimeter defenders at the top is that its weakest ones are hidden in the corners. If you want to hunt an isolation for Jayson Tatum against Tyler Herro, you have to do it from the coffin corner — where the baseline and sideline act as extra defenders:

There are no easy passing lanes there. Miami can overload Tatum's side of the floor, leaving only crosscourt passes that remain airborne long enough for the Heat to rotate and reset.
You can bet Brad Stevens and his staff have spent the past couple of days going over every counter. Getting Gordon Hayward back would be huge. It is unreasonable to expect Hayward to bring peak explosion right away, but Hayward taking 18 minutes from backups would help.
His playmaking style is tailor-made for zones. He is good at making connecting passes in the flow. Hayward also is a threat to score, and a sneaky cutter. Another steady ball handler would reduce the chances of Boston barfing up anything close to the 20 turnovers it committed in Game 2. Boston ranked eighth in forcing turnovers; it needs to play the turnover game to at least a draw.
Beyond that, Boston has to engage those weaker Miami defenders on the sidelines. The Heat have those guys slide up from the corner — sometimes almost to the coach's box — when the action swings there. If Boston can bait that rotation in ways that create a sideline 2-on-1, they might be able to generate corner 3s and drive-and-kick sequences that puncture the heart of the zone: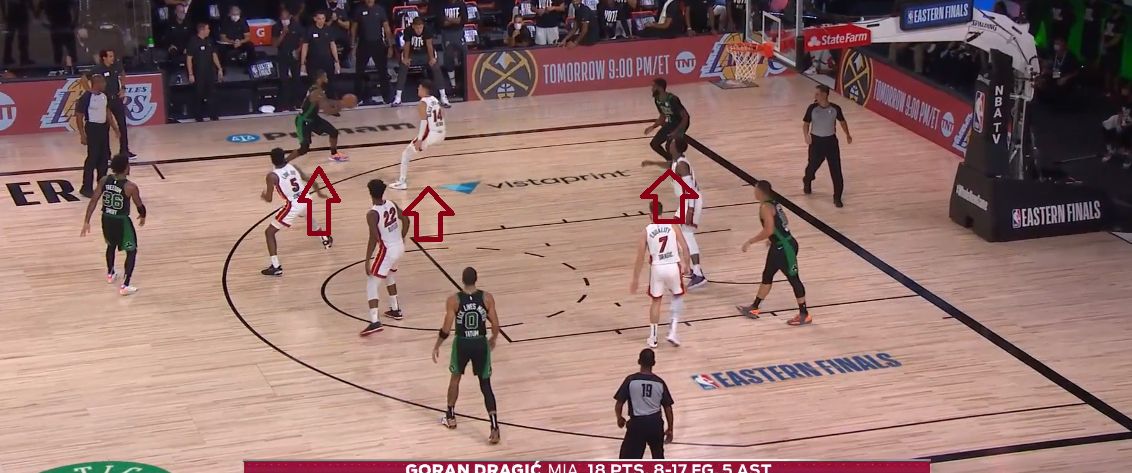 Jaylen Brown's potential game-tying 3 in the last minute of Game 2 came via that kind of pass. Those corner guys have free runs to the offensive glass.
Boston's shooters have to catch and fire. They looked skittish in Game 2. They heard the approaching footsteps of long, mean defenders. But Tatum and Kemba Walker need to let it fly with the brashness of Marcus Smart.
Stationing all five players around the arc would make it impossible for Adebayo to loiter in the paint without committing a defensive three-second violation. Daniel Theis is capable on wide-open 3s. Grant Williams is 9-of-14 from deep in the playoffs, after hitting just 25% in the regular season.
If Hayward returns, Boston could play its five best players — Walker, Smart, Brown, Hayward, Tatum — in a centerless alignment that might help on the other end too. Alternatively, Robert Williams III, whom Stevens benched in Game 2, could lurk as a lob threat behind the zone.
If Miami unleashes three-quarter pressure as a prelude to its zone, Boston can try to spring Walker with picks at half-court — giving him a runway to bust the zone before Miami locks it in. (The Celtics tried this a few times.)
Of course, Miami will be ready for everything. The cool thing about the playoffs is you don't only have to plan for what the opponent did in the previous game. You have to assume in advance it will adjust to your adjustments. Who knows, Miami might try to catch Boston off guard by starting the game in man-to-man. The Heat are good at lots of schemes.
Miami in Game 1 toggled between zone, traditional man-to-man, aggressive blitzing, and a switch-everything scheme. Boston had no idea what was coming. The Heat used that switch-everything gambit a lot when Tatum rested, wagering those Boston lineups did not include any one-on-one threat to exploit mismatches.
Boston was more calculated attacking Miami's man-to-man in Game 2. The Celtics understand the inexorable hopelessness of going at Adebayo on the pick-and-roll, and the need to hunt mismatches elsewhere.
Adebayo can handle Walker and Tatum on switches in the pick-and-roll. He devoured both on critical late-game possessions. Adebayo might be the single-best isolation defender in the league. Only P.J. Tucker and James Harden defended more isos this season, per Second Spectrum. Adebayo allows a miniscule scoring figure — 0.78 points per play, so low it's comical — against them.
Theis — Adebayo's man, and Boston's go-to screener — is not a threat to post up any of Miami's guards on the back end of those switches. Boston pivoted to other pick-and-roll combinations that produce friendlier switches: namely Tatum and Walker against any of Duncan Robinson, Goran Dragic, Herro, and even Crowder. Tatum can cook all of them when he is decisive. If Walker can't do the same, Boston is in trouble.
Walker has had a weird postseason. It leaves you wondering about the knee that troubled him at the outset of the bubble. On some nights — Game 2 — he looks like peak Kemba, able to shake anyone. On others — Game 1 — he has trouble getting by defenders that should be no match for him.
The Heat defense puts up a fight when Boston pursues those mismatches.
They are connected, moving as one, in tune with each other. Tatum thinks he has earned the Robinson matchup, but the Heat refuse to concede it. Butler and Robinson complete a canny instant re-switch. Their rejiggering in theory leaves Theis an open lane, but Crowder and Dragic shut it off with well-timed stunts. Gorgeous.
Boston has barely looked to do it, but I might try posting Brown against Robinson, Herro, or Dragic. Brown can bully smaller guys. Miami sent double-teams on a couple of Brown post-ups, exposing easy kickout 3s.
Boston can fool Miami's man-to-man schemes by slipping picks — which also serves to keep its offense out of the mud:
(That deflection by Crowder is a winning play.)
Theis has slipped screens for dunks. Driving away from screens is a time-tested anti-switch device:
Shifting the Walker-Tatum two-man game off the ball can produce easy buckets:
Miami saw all of that and went zone almost the entire second half. The best way to beat Miami's zone is to get stops so they can't set it up.
Which brings us to …
Stopping the Bam dunk parade
The Dragic-Adebayo pick-and-roll destroyed Boston during Miami's roaring third quarter of Game 2. Robinson was a stealth third participant:
In normal circumstances, Brown — guarding Robinson in the weakside corner — is responsible for crashing inside on Adebayo. Boston is face-guarding Robinson everywhere. It will not leave him, period.
(Notice Herro's snazzy in-and-out dribble that drags Enes Kanter an extra couple of feet toward him, decluttering the lane for Adebayo. Spoelstra has entrusted Herro with a lot of ballhandling, and Herro is paying that trust off. Herro with four Miami starters — in place of Dragic in one lineup variant, Robinson in the other — is a foundational part of Miami's rotation. Those two groups are plus-35 in 90 combined postseason minutes.)
Robinson is going to be in that weakside corner a lot by design. If you aren't helping off him, you have three options:
• The two defenders at the center of the pick-and-roll handle it themselves. If Adebayo's guy — Kanter above — knows no help is coming, he probably needs to drop further back in hopes of forcing a floater while staying in touch with Adebayo. Easier said than done.
When Butler orchestrates, Boston should go under some picks.
• The help comes from someplace else. Check out Smart here:
Once again, Brown does not stray from Robinson. Smart is on Butler along the baseline on the strong side — where the ball is. Helping from the strong side is often a no-no. Smart slides in and becomes Boston's third pick-and-roll defender. If Adebayo's guy — Grant Williams there — knows Smart has his back, he can stick closer to Adebayo and prevent the lob. Boston might want to activate that rotation in Game 3.
Miami has lots of methods of making that rotation tougher. Dragic can toss the lob earlier, before entering Smart's vicinity:
In theory, Smart can sprint across the lane there and try to blockade Adebayo's path. If Boston scripts that rotation, maybe Smart — or whoever is in that spot — can pull it off. But that is asking a lot.
Miami also can clear one side of the floor and shift the three spot-up guys around to confuse help defenders:
Smart slides toward Adebayo, only to retreat when he senses Butler's backdoor cut.
If the Heat know that kind of strongside rotation is coming, they will be ready with cuts and passes.
• Boston can switch. Down the stretch of Game 2, Boston stashed Theis on Crowder and put Brown on Adebayo so the Celtics could switch more. On some trips, the Celtics also had Tatum on Dragic and Smart on Butler — allowing them to switch all two-man actions involving Miami's three best players.
That left Walker on either Robinson or Herro. The latter is not a safe hiding place; the Heat can run Herro-Adebayo pick-and-rolls, or shift into the Herro-Butler two-man game — leaving Butler to brutalize Walker on switches.
Robinson is seven inches taller than Walker; he hit one 3 with Walker in his jersey because he can see over Walker. Miami also ran some nifty stuff to exploit Crowder's speed advantage over Theis.
In theory, Miami pivoting more of its on-ball offense toward Crowder is a win for Boston. Miami using anyone but Adebayo as screen-setter leaves him chilling off to the side — where his man can muck up the lane: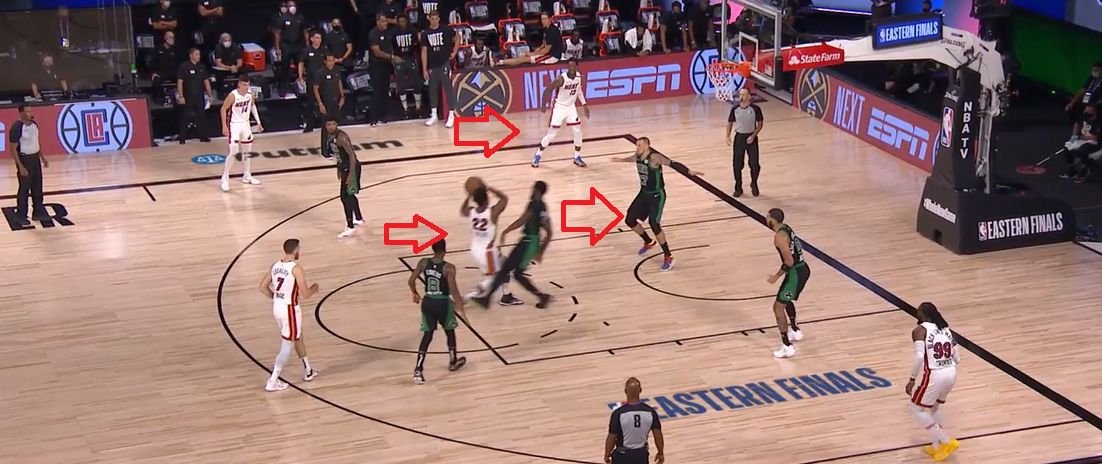 But Crowder has morphed into Klay Thompson in Miami, and the Celtics don't have much time to ride out this prolonged hot streak.
All of this gets easier with Grant Williams as an ultra-switchy center in Theis' place. He can guard Adebayo, allowing Walker to hide on Crowder. Miami might post up Crowder against Walker, but that is not Crowder's game in high volume; he tried once in Game 2, and settled for a fadeaway.
This is also where Boston playing its centerless "five best players" lineup with Hayward might come in handy.
Switching risks Adebayo feasting on the offensive glass, and trucking smaller defenders on post-ups. Adebayo isn't yet a polished post-up threat, but he trucked Giannis Antetokounmpo a few times last round. He might toss some of Boston's wings into the basket stanchion and dunk on their corpses.
Boston can make this a long series, but the Heat have counters to everything. Every possession is a war. The Heat can smell it, and they are giving no quarter.
NBA schedule: Game 3, Sat., 8:30 p.m. ET, ESPN and the ESPN App
New Orleans Saints and Pelicans owner Gayle Benson victim of attempted car theft
New Orleans Saints and Pelicans owner Gayle Benson was the victim of an attempted car theft last Saturday afternoon but was unharmed, Saints spokesman Greg Bensel confirmed.
"I can confirm that an incident did occur in Orleans Parish involving Mrs. Benson while she was in her vehicle," Bensel said in a statement. "While she was very shaken at the time, she was unharmed and is doing fine. She wanted to send her sincere gratitude to the men and women of the New Orleans Police Department that responded so quickly and professionally. We cannot comment further as this is an active investigation."
The New Orleans Police Department could not identify Benson by name. But it confirmed it is investigating an attempted auto theft that occurred around 2:13 p.m. local time on Oct. 10 on South Claiborne Avenue in New Orleans. And Bensel confirmed that was the incident in question.
According to the NOPD, the victim was seated in the vehicle when a truck, described as a white Nissan Titan, parked directly beside her vehicle. One of the subjects exited the Nissan Titan and entered the victim's vehicle. The victim ordered the subject to leave her vehicle. The subject exited the victim's vehicle, reentered the Nissan Titan and fled the scene.
NBA, NBPA extend negotiating window on CBA modifications to Oct. 30
For the third time since May, the NBA and National Basketball Players Association are extending a negotiating window that preserves each side's rights to terminate the collective bargaining agreement due to the pandemic, sources told ESPN on Thursday.
The NBA and NBPA agreed on a new Oct. 30 deadline to complete ongoing discussions on modifications to the CBA for the 2020-21 season, a date that requires the league or union to provide 45 days notice if either decides to terminate the CBA — a scenario that sources continue to believe is a remote possibility.
Talks between the NBA and union have been productive on making the necessary financial allowances on 2020-2021 salary cap and luxury tax thresholds to account for the massive losses in revenues from the pandemic, sources said. There remains uncertainty surrounding the league's ability to have full or partially full arenas with fans next season.
Ongoing talks are centering on increased escrow taken from players' salaries, sources said. The league and union are still awaiting full audits on the Basketball Related Income that accounts for the league's 51-49 revenue split with players.
The NBA and NBPA are working on a resetting of the 2020-21 salary-cap and luxury-tax numbers based upon those audits and financial projections for the next year. This allows for teams, agents and players to have more time to prepare for the financial realities of the pandemic's impact on the league. As the NBA Draft approaches on Nov. 18 — and free agency expected to start soon after — teams are anxious for the league to reach an agreement with the union and deliver them more certainty on the cap and tax bills.
Many teams are hopeful that they'll have a 10-day-to two-week runway prior to the draft to end the moratorium on player movement, allowing franchises to start making trades and free up players' ability to opt-in or out of 2020-2021 contracts.
Among the league's primary motivations to delay the start comes with hope that teams can eventually bring fans safely back into arenas for games and restore an immense part of the league's revenue stream. Silver says game-night receipts account for approximately 40% of the league's revenues.
The possible termination of the CBA would largely be a mechanism to scrap the current financial structure, a move that would likely lead to a significant stoppage in play. The NBA's current CBA extends through the 2023-24 season, with a mutual opt-out available after the 2022-23 season. So far, there's been no signal that the owners are considering such a dramatic move.
In an ordinary year, the NBA and NBPA calculate the new salary cap between the end of the draft and the start of free agency. This time, the NBA's feeling the urgency of teams to have those new cap and luxury tax figures before the draft because it dramatically influences how teams approach decisions — including trades and the buying and selling of picks.
Included in the most dire league scenarios, some small-market teams tell ESPN they are fearful of losing more than $20 million in revenue sharing payouts from big market teams next season. Those sorts of projections affect competitive balance and are the models that the NBA and NBPA would want to sidestep in these CBA discussions.
For example, the CBA has a projected 2020-21 salary cap of $115 million, with a luxury-tax threshold of $139 million. Amid the loss of revenue streams, some teams fear that the cap and tax could fall as far as $25 million to $30 million. Without the NBA and NBPA negotiating a new mechanism for the cap, the league could be facing 25 of its 30 teams stuck in luxury-tax payments based on projected payrolls — something that would chill free agency and limit many organizations' ability to operate in a normal manner in the marketplace.
For instance, the Golden State Warriors' projected tax penalty of $45 million would rise to $160 million before the start of free agency.
"This CBA was not built for an extended pandemic," Silver told the NBPA membership, according to audio obtained by ESPN in May. "There's not a mechanism in it that works to properly set the cap when you've got so much uncertainty, when our revenue could be $10 billion or it could be $6 billion. Or less."
ESPN's Bobby Marks contributed to this report.
What's the legacy of Daryl Morey's Houston Rockets?
Any eulogy for Daryl Morey's groundbreaking tenure as Houston Rockets general manager should probably start with the 2017-18 season — when Houston took a 3-2 lead in the conference finals over perhaps the greatest team ever assembled, and might have upset those Golden State Warriors had Chris Paul not suffered a hamstring injury at the end of Game 5.
Morey's critics — and there are many — might clown him today upon his resignation for failing to win a title; underestimating the importance of chemistry and culture; and tossing away much of Houston's future to build a team — centered around James Harden and Russell Westbrook, but without any centers — that is not good enough to win the title now and only projects to get worse as the Western Conference gets better.
Some of those criticisms have merit, even if some of the critics delivering them do so at least in part out of some visceral and almost personal distaste for what Morey represents: the invasion of analytics into basketball decision-making, and all the stylistic consequences of the revolution Morey portended. Morey is not the only analytics-savvy person to assume a position of enormous power within an NBA team. But he was the forerunner, and his influence on the game — on the rise of the 3-pointer, the advance of metrics to evaluate defense, hiring patterns within teams, much more — has been massive. It is reasonable to argue NBA basketball is both more mathematically efficient and (with some teams) less interesting to watch because of Morey.
But just remember that 2017-18 Rockets team that won 65 games and pushed Golden State to the limit — including in a Game 7 that was closer than some people remember, and close enough for the Rockets (in a fit of bitterness that came back to bite them) to produce a report arguing referees cost them the series.
Morey was good for the league because he was willing to go for it. Some teams cowered before the Warriors' dynasty once Kevin Durant signed there. Morey didn't. He has long argued that any team with a 5% chance to win the title in any given season should go all-in — that any title window, even a 5% sliver, is too precious to squander with risk-averse behavior. He lived up to his word after Houston acquired Harden, a trade years in the making that altered the NBA's landscape in ways that still reverberate.
After the Warriors' 16-1 scorched-earth run to the title in Durant's first season there, Morey told ESPN he still wasn't backing down — that he had "something up [his] sleeve." That something turned out to be a megatrade bringing Paul from the LA Clippers.
No team besides Houston won more than a single game in any playoff series against the Warriors over 2017 and 2018. Houston got three in 2018. There is no shame in losing to the Durant-era Warriors. Sometimes, a historically great team — this one enabled by a fluke salary-cap spike — is just too good.
The second Paul-Harden team bowed out to the Warriors one round earlier in 2019, in one fewer game, even with Durant sitting out the end of Game 5 and all of Game 6 with a calf injury. The Warriors, dancing and sneering all over Houston's home floor down the stretch of Game 6, broke the Rockets' spirit and closed down that era of Houston basketball.
But it wasn't an era, really. Paul and Harden lasted two seasons, and then it was time to pivot again — to chase another star, another identity, another chance to find something sustainable around Harden.
Maybe the constant reshuffling around Harden — the lusting for superstars intrinsic to Morey's stars-over-everything philosophy — cost Houston some ineffable continuity or trust that every champion must have. It's certainly a tempting logical leap. Just remember in taking that leap how close the Rockets got in 2018, and what a juggernaut it took to derail them. Morey's way could have worked.
Maybe the constant reshuffling is linked to Harden himself — the challenges of his style of play. If so, is that about Harden or Morey — or both of them?
Harden and Morey have become so closely connected that it is very hard now to untangle one from the other. From the moment Houston acquired Harden late on a Saturday night in October 2012, Harden became the on-court avatar for so much of what Morey believes about basketball: an algorithm come to life, all 3s, layups, and free throws.
Acquiring Harden was Morey's masterstroke. Houston has made the playoffs all eight years since, the league's longest-running streak. It was the culmination of almost a half-decade's work that began as Yao Ming and Tracy McGrady declined.
Yao and McGrady were true-blue superstars. Morey understood any team hoping to win a championship had to feature a top-10 player, and likely two. There were exceptions, of course. But exceptions were by definition long shots, and Morey was interested only in what gave his team the best shot. History said that was two stars, and you can't get the second without one already on the roster.
The easiest way to get a star is to tank. Easiest is not the same as easy. The NBA's lottery does not guarantee anyone the No. 1 pick, and even picking there does not guarantee the chance to select a franchise superstar. Every path to a superstar is a bad-odds path. Some are less bad than others. Tanking is the least bad. That is why Sam Hinkie, Morey's longtime lieutenant, triggered The Process in Philadelphia — and why Morey would likely not be averse to taking that route if his next job (he does want one, sources say) comes with a green light from ownership to play the draft game and circumstances that favor it.
(There is uncertainty around the league over whether Morey's role in igniting the NBA's China controversy — with a tweet in support of Hong Kong — might make some teams wary about the fallout of hiring him. In a vacuum, Morey should shoot toward the top of the candidate list for any open front-office job.)
Leslie Alexander, the former owner of the Rockets, wanted Houston to stay relevant. Morey would have to tread water while somehow cobbling assets to trade for a star.
Every move the Rockets made was geared toward that theoretical superstar trade. They acquired extra first-round picks for Aaron Brooks, Jordan Hill, and a young Kyle Lowry. When Harden became available, they threw everything they had at Oklahoma City.
It's hard to remember now, but there was skepticism about how good Harden could really be. He came off the bench in Oklahoma City. Some potential suitors did not share Houston's belief in Harden's star potential. There was much snickering, including in the local Oklahoma City media, when Harden shot 2-of-17 in an October 2012 preseason game both Durant and Westbrook sat out: That's what life as a No. 1 option is.
The Rockets saw it all along. They were not the only team to see it, but they were the only one among those that did in the right moment — and with the right assets — to strike an agreeable deal.
Morey then spent his working life crafting an on-court identity around Harden, and searching for second and third stars to complement him. After years hoarding picks, Morey began trading them.
He lured Dwight Howard from the Los Angeles Lakers in the summer of 2013 — considered a coup then. A year later, he tried to sign Chris Bosh away from the Miami Heat as the Heat were reeling from LeBron James' departure. Morey was confident enough in Houston's chances that he gave the Lakers a first-round pick to take Jeremy Lin — and unlock the cap space required for Bosh. (The Rockets also lost Chandler Parsons that summer after declining a cheap option on him, but pivoted by snagging Trevor Ariza — who became an indispensable role player.)
Houston made the conference finals in 2015, and Morey then traded another first-round pick to acquire Ty Lawson from Denver — where Lawson had fallen out of favor in part because of a DUI arrest. As part of the deal, Morey somehow persuaded Lawson to make his contract non-guaranteed for 2016-17. Part of Morey's legacy to date is his stretching the collective bargaining agreement to its breaking point. He helped pioneer the concept of reverse-protected picks in trading Lowry to the Toronto Raptors, and was ahead of the curve extending players — including Harden — before most teams would have contemplated doing so. In other cases, Morey's creativity backfired — including in his attempt a year ago to sign Nene to a bonus-laden deal designed to make his contract an artificial trade asset. (The league vetoed it.)
Houston fell to 41-41 in 2015-16; the Harden-Howard synergy dissipated. Howard walked that summer — a mutually acceptable divorce, something that would become a pattern. The Rockets then veered from character, splurging on Eric Gordon and Ryan Anderson — non-stars. There were rumors Morey was on thin ice. He acknowledged the moves ran counter to his track record. "Last year hurt us in terms of perception around the league," Morey told ESPN at the start of the 2016-17 season. "We felt like if we didn't have a more successful season this year, our ability to be a top destination would be hurt."
Morey traded another first-round pick for Lou Williams in 2017, but the Rockets fell in the second round to the San Antonio Spurs — with Harden wilting in the clincher. Anderson's salary became an albatross. Gordon's extension, which runs through at least 2023, looks like one now.
The Rockets appeared stuck — before Morey traded Williams, Patrick Beverley, Montrezl Harrell, another first-round pick, and some other assets for Paul. Clint Capela was the only homegrown first-round pick left on Houston's roster. Morey also landed P.J. Tucker for about $8 million per season — a shrewd signing. They leaned into a switch-everything defense and more isolation on offense — reinvention after reinvention.
Two years later, the Paul-Harden partnership expired just as the Harden-Howard tandem had. (In fairness, Howard had trouble finding a home before landing with the Lakers this season.) In one last, wild swing, Morey swapped Paul, two first-round picks, and two pick swaps for Westbrook. It was an overpay for a much worse fit. Westbrook's jumper so impinged on Harden's driving lanes that the Rockets had to trade Capela and another first-round pick for Robert Covington.
Harden has become the only constant. He isn't the center of Houston's universe so much as he comprises the entire universe. They get the players he wants — no matter the cost.
They play the way he wants. Perhaps that has a shelf life. Players and coaches talk often about how staying involved on offense — touching the ball, moving around — motivates players to go hard on defense, and keeps morale high.
Mike D'Antoni hoped winning would resolve any chafing from everyone else about standing still to watch the Harden show.
"There is something to the human nature of it," D'Antoni said in 2016. "But I don't want to believe it. Because when they feel their paycheck every two weeks, shouldn't that make you play hard on both ends? Look: You have to be a star in your role. And here, your role is: When James gets the ball to you, shoot it, and then run back and play hard as heck."
Players did chafe, off and on. Houston has not had much of a Plan B in tough playoff games. The math says Harden isolating is the best option, and the Rockets under the Morey-Harden regime obeyed the math. The monotonous predictability of it is one reason Harden has struggled in the biggest moments of his biggest games. Harden refuses to move away from the ball. Take it from him, and he recedes into nothingness.
Morey and Harden have been equal partners in building the Rockets. If Houston has sacrificed culture, continuity, and damn near every future asset at the altar of efficiency, that is on both of them.
Contrary to the popular caricature of him, Morey has said chemistry matters. But he would probably also say it doesn't matter quite as much as we think it does — that we sometimes fetishize it, or assign it importance in hindsight. Star talent matters, above all.
That philosophy got Houston to the precipice of history. Houston falling short does not invalidate Morey's tenure.
The Westbrook trade leaves a stain. For the first time since acquiring Harden, the Rockets' short- and medium-term future feel rickety. They are out so many picks that retooling via the draft and trades will prove difficult. If things go south, they may have to explore the trade market for Harden, who has two guaranteed seasons left on his deal — plus a $47 million player option for 2022-23.
The Rockets are not nearly ready to go there as they fill their coaching vacancy. They want to win, as they did year after year after year under Morey. Perhaps the best sign of Morey's success is that the league at large mimicked Houston's embrace of the 3-pointer — an imitation that flattered Morey, but also reduced his mathematical edge.
He tried to bump it back up by dispensing with centers, and going all-in on small ball. In Year 1, it failed. Houston's next reinvention — another cycle of churn — falls to someone else now.