Can body overhaul mean production upgrade for Rams' Jared Goff? – Los Angeles Rams Blog
THOUSAND OAKS, Calif. — He says he has always taken his job seriously, but this season, Los Angeles Rams quarterback Jared Goff is taking his preparation a step further.
"You can see that there is a different gear with the way he's preparing," right tackle Rob Havenstein said. "I mean, shoot, he even has his own diet going on. Get that body right."
Teammates have taken notice of the new Goff. "He's in the best shape of his life," tight end Tyler Higbee said.
However, Goff's head coach has not.
• Washington's goal: Slow Kyler Murray
• How Stanley found his drive at a drive-thru
• MVP Lamar Jackson up next for Texans
• Why Derrick Henry's stiff-arm is so effective
• Fans allowed in your stadium? Check here
"No," Sean McVay said, chuckling, when asked if he could see a difference in Goff because of his newfound diet. "I haven't seen him with his shirt off — so, I'd be able to tell you if I saw him with his shirt off."
The 6-foot-4, 222-pound Goff is hoping the results will be noticeable with his shirt on.
After an uneven 2019 season that included a statistical downturn in several major categories, Goff is not only ready to return to form, but wants to perform even better than when he helped the Rams to consecutive division titles and a Super Bowl appearance to end the 2018 season.
"Put in a lot of work this offseason," said Goff, who signed a four-year, $134 million extension before the 2019 opener. "Had a lot time to really reflect and figure out what [I] wanted to get better at and really focus on."
Last Sunday, Goff and the Rams got off to a promising start, opening the season with a 20-17 victory over the Dallas Cowboys at SoFi Stadium.
In Week 2, they'll embark on their first road trip of this unusual coronavirus season to play the Philadelphia Eagles and quarterback Carson Wentz, the No. 2 pick behind Goff in the 2016 NFL draft, at Lincoln Financial Field.
With Goff now in his fifth season, the Rams' offense firmly belongs to the former top overall selection, who becomes the focal point of a unit that no longer includes running back Todd Gurley II.
"I've been very pleased with his decision-making, his ownership, his command of the offense," said McVay, now in his fourth season as coach.
Goff intends to take advantage of 1,000-yard receivers Robert Woods and Cooper Kupp, Higbee, as well as a trio of running backs. But to do that, Goff took extended measures to improve himself.
"I have the whole thing going now," said Goff, who turns 26 in October. "And I feel really good."
He worked with a trainer over the offseason, hired a nutritionist to examine and shape his diet and a chef to prepare meals. Goff says it was partly an effort to become more mobile and quicker on his feet, though he didn't divulge his new superfoods.
"Hopefully, I can extend plays a little bit better than I have throughout my career," he said.
A season after being ravaged by injuries and inexperience, an improved and sturdier offensive line will help Goff's attempt to bounce back from a season in which he threw 16 interceptions to 22 touchdown passes. So will his intangibles, including an accurate arm and bad memory.
"I remember being with him in camp and he would have stretches in camp where I'd be like, 'My goodness Jared, this is bad, like you're making bad decisions, you're late with the football, it's coming out of your hand funny,'" said Dan Orlovsky, an ESPN NFL analyst, former NFL quarterback and a brief teammate of Goff's during training camp in 2016. "And then you'd have the very next period, he'd look like Joe Montana."
Even with an arm that can place any pass with precision, it might be Goff's ability to move on from disappointment that could be considered his best asset, and his best hope to rebound.
"It's always been a strength of mine," Goff said. "And something that a lot of people have noticed as teammates throughout my life."
It helped him quickly put behind the seven winless starts he made as a rookie under former coach Jeff Fisher, and he went on to put together an 11-win season in 2017, helping spark the Rams to their first division title in 14 seasons.
And it will help him move on from the disappointment of 2019, when the Rams finished 9-7 and missed a playoff appearance only a year after a Super Bowl run. Goff passed for 10 fewer touchdowns (32 to 22) than 2018 while throwing four more interceptions (12 to 16). His total quarterback rating plummeted from 63.7 in 2018 to 50.6, dropping him from a top-10 ranked quarterback to 22nd in the league.
Along with Goff's self-improvement efforts, McVay also took the initiative to hire Kevin O'Connell as offensive coordinator, filling a role that sat vacant the past two seasons after Matt LaFleur's departure.
O'Connell not only will assist with preparing the offensive game plan, but has become the de facto quarterbacks coach.
Goff expressed excitement over the arrival of O'Connell, who was Washington's coordinator last season and spent five seasons as an NFL backup quarterback.
"He's played the position," Goff said. "He understands the little intricacies that go along with playing it."
O'Connell and Goff choose different skills to work on daily, including Goff's fundamentals, stance and posture. They've also continued to focus on his footwork, an effort Goff honed in on during the offseason.
Goff's accuracy has proved to be a difference-maker in the Rams' past three seasons. But could his diet help provide an extra boost this year? That's still to be determined.
"We'll see if that pays off," Goff said.
For McVay, diet or not, he likes what he sees from his quarterback … at least on the field.
"He's feeling good, he's playing good football," McVay said. "So that's the most important thing. Whether he looks better or not without his shirt off. I think [Goff's girlfriend] Christen cares about that more than me."
RB Le'Veon Bell to sign with Kansas City Chiefs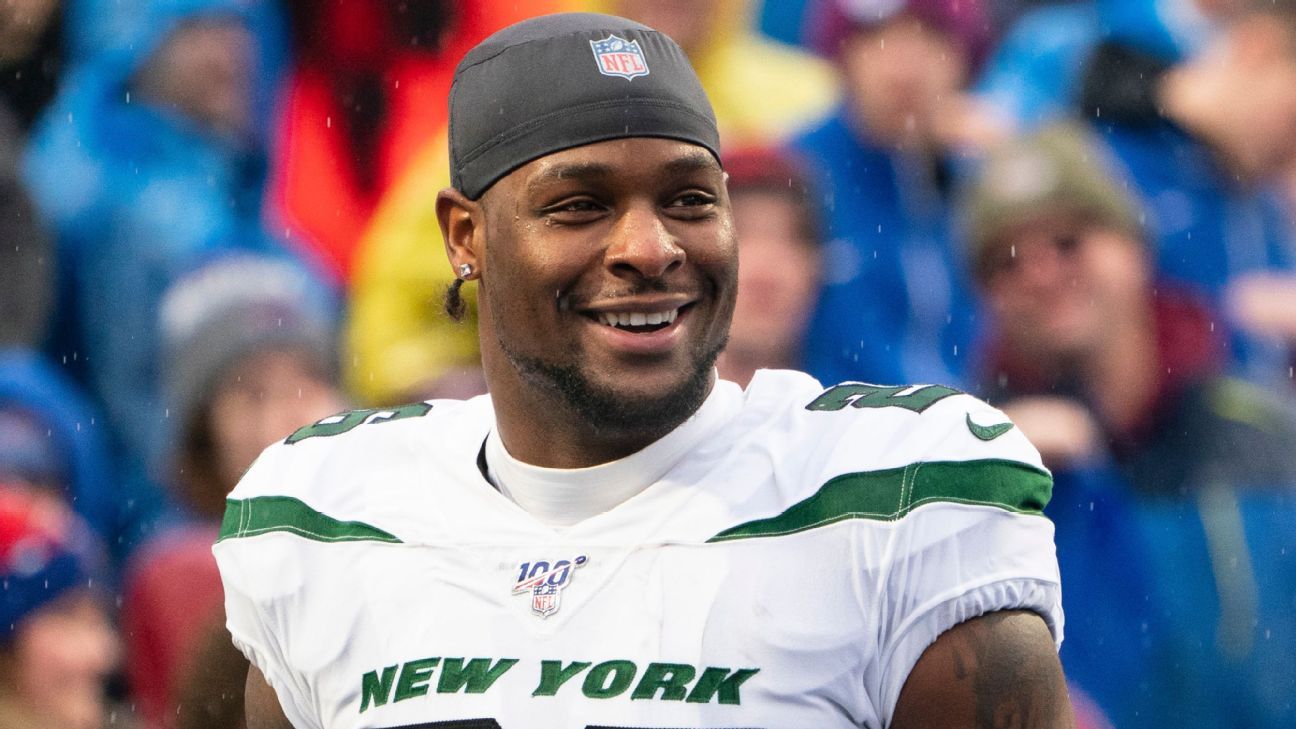 KANSAS CITY, Mo. — The Kansas City Chiefs added some potential punch to their running game Thursday as veteran back Le'Veon Bell told ESPN's Jeremy Fowler he intends to sign with the defending Super Bowl champions.
Bell, who was released by the New York Jets earlier this week, will sign a one-year contract, a source told ESPN's Adam Schefter.
He had narrowed his choices to the Chiefs, Miami Dolphins and Buffalo Bills, a source told Fowler earlier on Thursday.
The Chiefs play the Jets in Week 8.
Bell will have to go through five days of COVID-19 testing before he can join the Chiefs, per league protocols, so he won't be available to play on Monday, when the Chiefs visit the Bills.
The 4-1 Chiefs are 13th in the league in rushing at 119 yards per game and 10th at 4.5 yards per carry. But most of their best work in the running game came in Week 1, when rookie Clyde Edwards-Helaire rushed for 138 yards and a touchdown in a win over the Houston Texans.
Since then, the Chiefs are 19th in the league in rushing (108 yards per game) and don't have a rushing touchdown from a running back.
The Chiefs lost starting running back Damien Williams before the start of the season when he opted out for COVID-19 reasons. They also have Darrel Williams, Darwin Thompson and DeAndre Washington at running back.
The Jets released Bell on Tuesday, ending a 19-month tenure that was filled with disappointment. Bell, who arrived as a marquee free agent in 2019, never clicked with coach Adam Gase, who opposed the signing from the outset.
Frustrated by his lack of involvement in the offense, Bell met with Gase and general manager Joe Douglas on Monday, a source told ESPN's Rich Cimini. They told Bell they would explore a trade and gave his agent permission to speak with other teams.
Bell, a three-time Pro Bowl selection, was a disappointment since signing a four-year, $52.5 million contract last year with the Jets, averaging only 3.3 yards per carry — 51st out of 53 qualifying runners in the NFL during that span.
In 17 games with the Jets, Bell rushed for 863 yards and three touchdowns. He was hurt by mediocre line play and a system that didn't cater to his strengths as a versatile player.
The Jets are responsible for the remaining $6 million on Bell's 2020 base pay, but there is an offset clause that will defray it by the amount of the salary on a new contract with the Chiefs.
Bell, 28, joined the Jets after sitting out the entire 2018 season after receiving the franchise tag from the Pittsburgh Steelers for a second straight year. After gaining nearly 2,000 total yards during the 2017 season, Bell opted to eschew the $14.5 million franchise tag in 2018 — forgoing about $855,000 per game — so he could preserve his long-term viability for a big contract in free agency.
After the 2017 season, Bell showed his conviction by turning down a five-year, $70 million offer from the Steelers because of what he called a low true guarantee of $17 million, and he was able to miss games because he was unsigned and thus not bound to the team.
In five seasons with the Steelers, Bell rushed for 5,336 yards and 35 touchdowns. He also had 312 receptions for 2,660 yards and seven scores.
Vaughn McClure, ESPN Atlanta Falcons reporter, dies at 48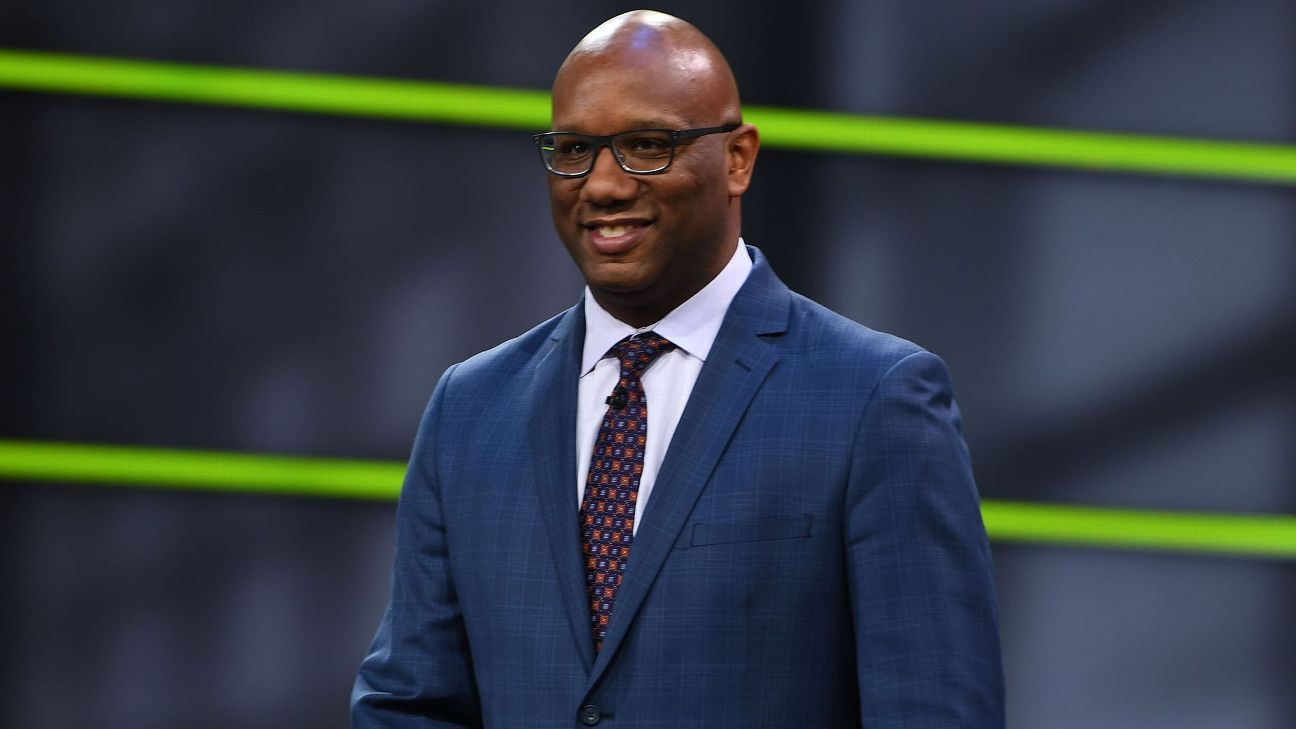 Vaughn McClure, a member of ESPN's NFL coverage team since 2013, died this week at his home near Atlanta. He was 48.
McClure joined ESPN to cover the NFL, and settled in on the Atlanta Falcons beat as part of NFL Nation. He covered the team during its run to Super Bowl LI in 2017. He contributed to ESPN's television and radio coverage of the Falcons and NFL as well.
"We all loved Vaughn," said John Pluym, senior deputy editor for digital NFL coverage at ESPN. "He had a heart of gold. He was so helpful to our reporters. In the last few hours, we've heard so many stories about how Vaughn had helped them with a story or how he put in a good word for them with a coach or player."
Pluym added: "Talking to Vaughn on the phone was always a joy. I loved how you could just sense the excitement in his voice for being able to cover the Falcons for ESPN. We will all miss him greatly. And I'll end this the way Vaughn ended every phone call with a colleague: 'Appreciate you. Love you.' We all loved him, too."
McClure came to ESPN after covering the Bears for the Chicago Tribune six seasons.
"People will probably remember how Vaughn was able to connect and develop trusting relationships with many of the athletes he covered, or how diligent he was about deadlines, or the countless times he volunteered to help out a colleague on another sport," said Patricia Mays, senior director of content strategy and distribution at ESPN, who brought McClure to the company. "But what I respected most was how committed he was to continually improving. One of the last emails I received from him was asking for feedback. He wrote: 'Would love to talk to you after the season about how I can get better at a lot of things. I want to be great at this job.' "
Among his other assignments at the Tribune was covering the Bulls in the postseason. Previously, he covered Notre Dame football for the Chicago Sun-Times and Fresno State basketball for the Fresno Bee. He also worked at the South Bend Tribune and DeKalb Daily Chronicle.
McClure graduated from Northern Illinois University in 1994 and was a Chicago native.
Sick NFL players must isolate even if negative
The NFL has enacted a policy that will require players and team staff members to isolate if they experience COVID-19 symptoms, even if their most recent test result was negative, chief medical officer Allen Sills said Thursday.
As a result, there will likely be an uptick in missed practices and perhaps games as the team medical staffs work to determine the source of the symptoms. The coming cold and flu season will add a new level of complexity to the task and will serve as a sharp break in routine for players and coaches who in previous years have routinely pushed through illnesses to get onto the field for games.
"We're always going to err on the side of safety and we're going to support the medical judgment of the medical staff," Sills said in a conference call with reporters. "Everyone has the same goal here, and that's to operate as safely as we can. … When you look at the big picture, our goal is to make sure we don't put someone on the field that we think might be actively infected. If we're going to make a mistake, we would rather make a mistake on the side of being cautious and keeping people off the field. If it turns out that those were non-COVID symptoms, I think we would all be happy with that outcome."
Cleveland Browns receiver Odell Beckham Jr. was sent home from the team facility Thursday because of an illness, although Sills did not speak to Beckham's specific situation. There will be no set timetable to guide the return of people asked to isolate under this policy. Instead, Sills said, they will be judged on a "case-by-case basis" while testing for other ailments such as influenza and other respiratory viruses.
Lions running back Adrian Peterson was listed as not practicing Thursday due to an illness. A Lions source told ESPN it is not related to COVID-19. Peterson has been Detroit's leading rusher since signing with the team just before Week 1, with 54 carries for 245 yards and a touchdown.
The Lions have been stringent about protocols since the start of training camp and have not had a player placed on the reserve/COVID-19 list since the beginning of August. At that point, eight Lions players were placed on the reserve/COVID-19 list in the first days after reporting for training camp, including Matthew Stafford, who had a false positive.
The NFL is testing all Tier 1 and Tier 2 employees for COVID-19 on a daily basis, including on game day. But Sills has said often that the league will not rely on testing alone.
"Just because someone has one negative test," Sills said, "we can't say that they're absolutely not infected."
Information from ESPN's Mike Rothstein was used in this report.