MLB, MLBPA agree to hold playoffs in bubble settings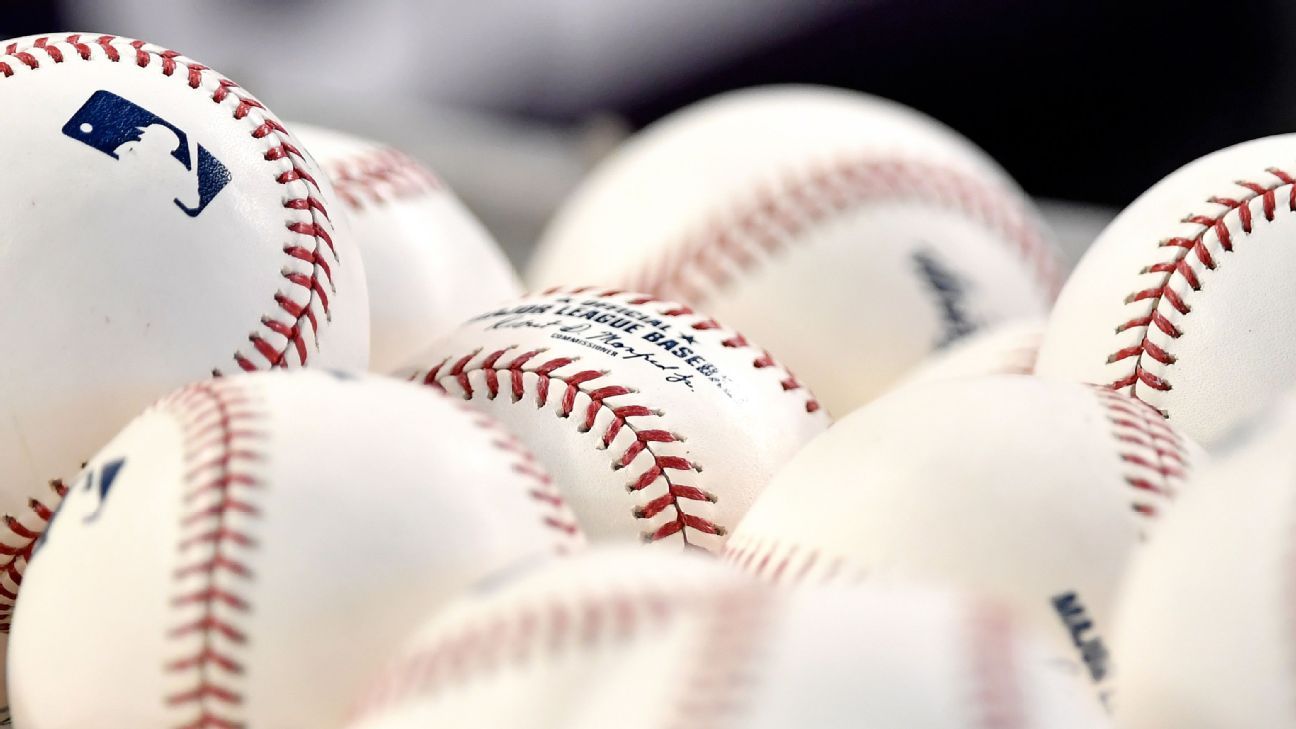 Major League Baseball and its players' union have reached an agreement on playing this year's postseason in bubble settings, sources confirmed to ESPN.
The Athletic earlier reported MLB and MLB Players Association have reached agreement.
ESPN's Jeff Passan reported on Friday that under the plan, which awaited the MLBPA's approval, the World Series would start Oct. 20 at Globe Life Field in Arlington, Texas, and would end no later than Oct. 28. It would culminate a month of playoff games that begins with the top four seeds in each league hosting all the games in a best-of-three wild-card series. The four American League series would run Sept. 29, Sept. 30 and Oct. 1, and the National League would play Sept. 30, Oct. 1 and Oct. 2.
The highest remaining seed in the NL would play its division series in Arlington, while the next-highest seed would face its opponent at Houston's Minute Maid Park. The top seed from the AL would be the home team at San Diego's Petco Park, while the other series would be held at Los Angeles' Dodger Stadium. The AL Championship Series would take place in San Diego and the NLCS in Arlington, giving the NL's top seed — likely the Los Angeles Dodgers — a path to a stationary October.
Indians decline options on Brad Hand, Carlos Santana, Domingo Santana
CLEVELAND — Brad Hand's solid season didn't earn him another one with the Indians.
Feeling the financial pinch from a shortened season, Cleveland declined Hand's $10 million contract option on Friday and also chose not to exercise options for either first baseman Carlos Santana ($17.5 million) or outfielder Domingo Santana ($5 million).
The club did exercise its $5.5 million option for catcher Roberto Perez, who has been exemplary in handling one of the American League's best pitching staffs.
The team owes buyouts of $1 million to Hand, $500,000 to Carlos Santana and $250,000 to Domingo Santana, who are all free agents.
Cleveland previewed the Hand decision on Thursday, when the club placed him on outright waivers, hoping another team might claim him so the Indians would avoid the buyout. The 30-year-old Hand led the majors with 16 saves; but after they were unable to find a trade partner, the Indians decided to move on without the left-hander.
"With Brad, it was a really difficult decision," said Chris Antonetti, the team's president of baseball operations. "He's been such a critical part of our team for the last few seasons. He did an extraordinary job in his role as a closer and also was a leader in the clubhouse, specifically within the bullpen group.
"In the end, we did take some time to explore the trade market for Brad and weren't able to find a fit for him. Again, a very difficult decision."
Antonetti had pointed toward the moves and a substantial cut in payroll earlier this month due to the team's financial hit caused by the COVID-19 pandemic. MLB teams were not permitted to have fans at game in 2020.
There could be other, bigger moves this winter as the Indians consider trading All-Star shortstop Francisco Lindor before his final season under contract. Antonetti isn't sure what's ahead at this point.
"It's very early to tell, and I'm not sure it makes a whole lot of sense to forecast things," he said. "What we've been focused on are the decisions we have in front of us and engaging with teams to help inform those decisions. That's really where we've spent most of our energy."
Hand was acquired by the San Diego Padres at the trade deadline in 2018. In two-plus seasons with the Indians, he had 58 saves and a 2.78 ERA in 111 games. The left-hander went 2-1 with a 2.06 ERA and was 16-for-16 in save chances in the 60-game season.
Carlos Santana struggled in his second season back in Cleveland after leaving as a free agent in 2018. The switch-hitter batted a career-low .199 with eight homers and 30 RBIs in 60 games. Antonetti said it's possible the club could re-sign the 34-year-old Santana, who has spent 10 seasons with the Indians.
"We'd be open to anything," Antonetti said. "In fairness to Carlos, he probably needs to take some time and examine what his alternatives might be and gain some additional information. It will be important for us to get a little bit more clarity as the offseason goes on, but we'll stay in touch because, as you know, Carlos is near and dear to our hearts and has been such a huge part of our team for the better part of the last decade at this point."
Perez was slowed by a shoulder injury for most the season, and the injury might have contributed to him batting just .165 with one homer and five RBIs in 32 games.
"We're excited to have him back as a key component for us, and we've seen the difference he can make when he's behind the plate and leading a pitching staff," Antonetti said of Perez. "He's also been able to put together productive offensive seasons when he's been healthy, so we're hopeful that will be the case again next year."
Chicago White Sox decline options on Edwin Encarnacion, Gio Gonzalez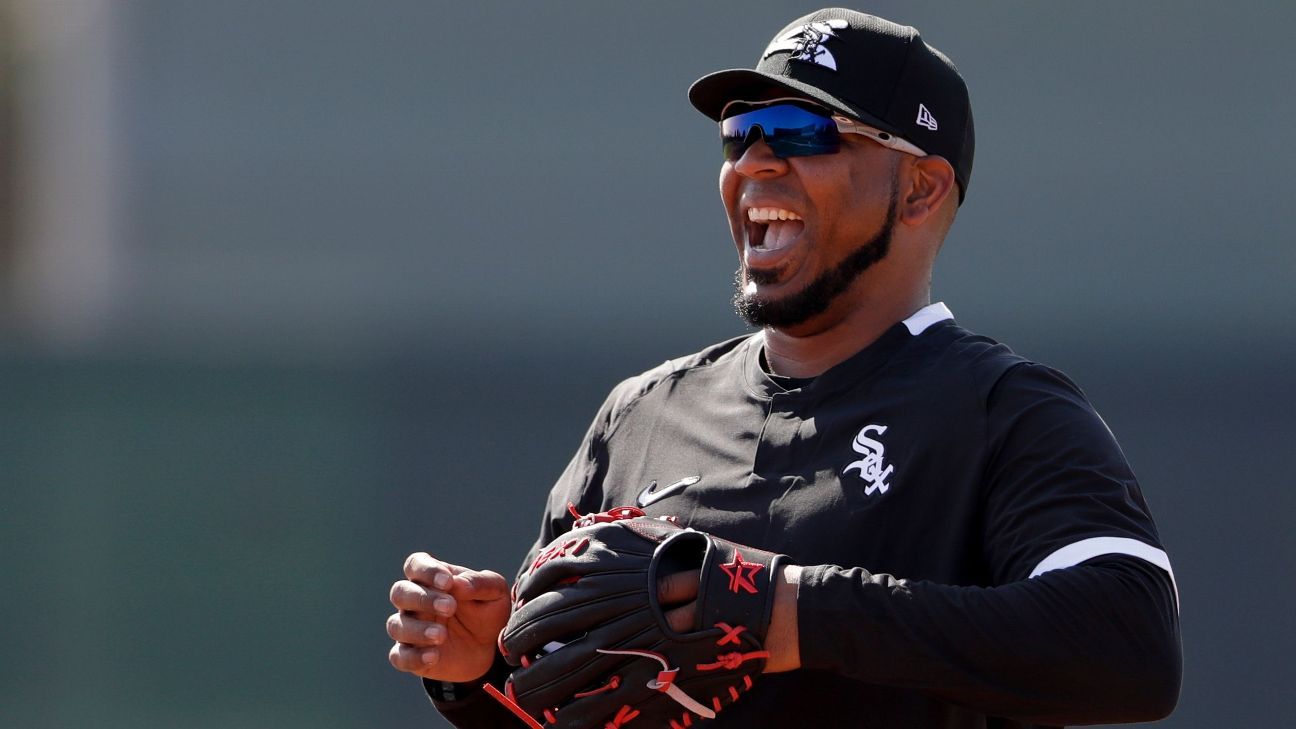 CHICAGO — The Chicago White Sox have declined a $12 million option for designated hitter Edwin Encarnacion and a $7 million option for left-hander Gio Gonzalez.
The team announced the moves Friday, making both players free agents. Encarnacion's deal did not include a buyout, while Gonzalez will receive $500,000.
The team also exercised a $3.5 million option on utility man Leury Garcia, reinstated right-hander Michael Kopech from the restricted list and activated righty Jimmy Lambert from the 60-day injured list. The club lost infielder Yolmer Sanchez on waivers to the Baltimore Orioles.
The 37-year-old Encarnacion hit .157 with 10 home runs during the shortened 60-game season. His .377 slugging percentage was the lowest in his 16-year career and his first time below .450 since 2009.
Gonzalez, 35, had a 4.83 ERA in 12 appearances, including four starts. The 13-year veteran struck out 9.7 batters per nine innings, his best rate since 2009.
Corey Kluber becomes free agent after Texas Rangers pass on $18M option
ARLINGTON, Texas — The Texas Rangers on Friday declined the $18 million contract option on right-hander Corey Kluber, who lasted just one inning in his only start before a shoulder injury ended his season.
Kluber gets a $1 million buyout, and the club has said it is interested in re-signing Kluber to a less expensive deal.
The Rangers acquired the two-time Cy Young Award winner from Cleveland last offseason in exchange for hard-throwing reliever Emmanuel Clase, who was suspended 80 games after testing positive for a banned performance-enhancing substance.
Kluber threw 18 pitches in his only inning for the Rangers, leaving with shoulder tightness in a 5-2 loss to Colorado in the third game of the season. The 34-year-old was diagnosed with a small tear in his shoulder muscle the next day.
It was Kluber's first appearance with a team other than Cleveland, and his first start in almost 15 months after his right forearm was broken by a line drive in what ended up being his final start for the Indians on May 1, 2019. Kluber was close to returning later that season when an oblique injury sidelined him again.
Kluber's five-year run as an Opening Day starter ended this past season. He was 98-58 with a 3.16 ERA for the Indians and pitched at least 200 innings five straight seasons before breaking his forearm.
The Rangers planned to have Lance Lynn, Mike Minor and Kluber as their top three starters this past season. Lynn is all that remains for now. Texas hung on to its best pitcher despite being out of contention at the trading deadline in the pandemic-shortened season. Minor was traded to Oakland for two minor leaguers.
Texas also assigned right-hander Luke Farrell to the minor leagues, and right-handed reliever Ian Gibaut was sent to Minnesota on a waiver claim.