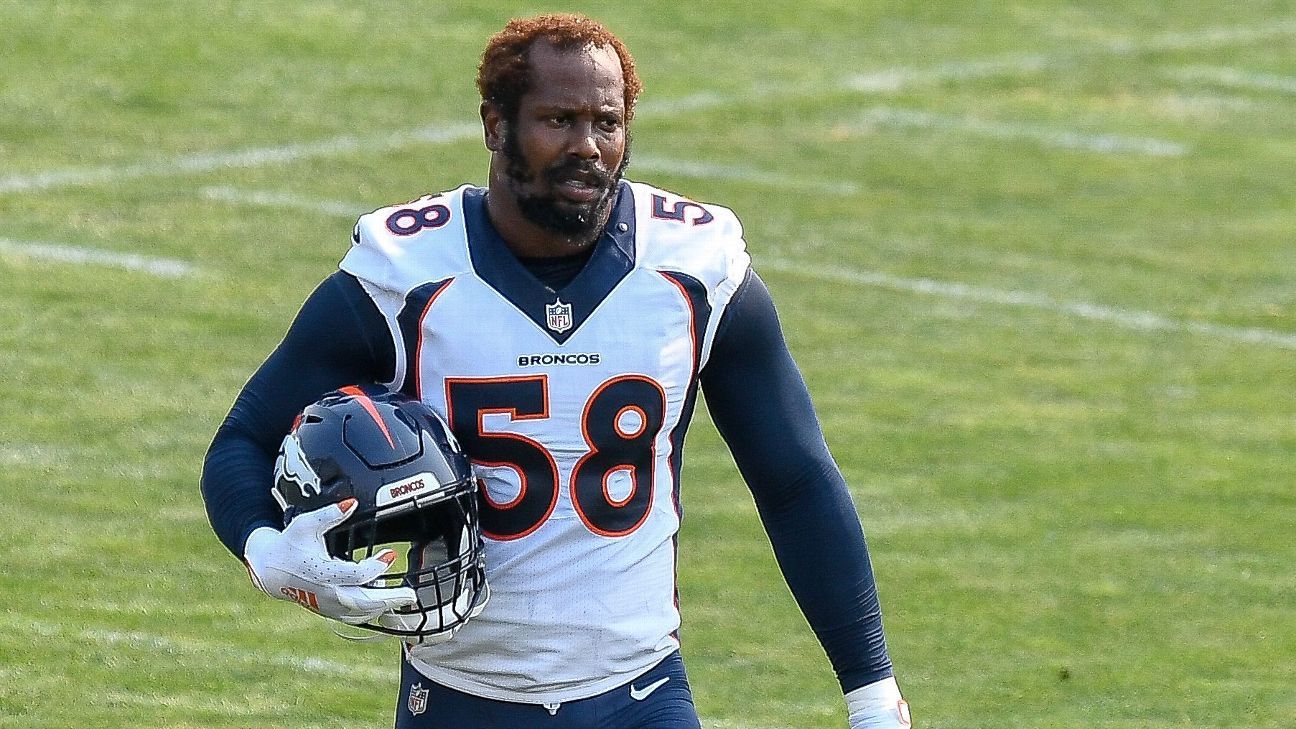 ENGLEWOOD, Colo. — There are your plans. Then there is 2020.
As it has for many of us, 2020 has not gone according to plan for Denver Broncos linebacker Von Miller.
"2020? 2020, man, it's a lot right now — a lot," Miller said. "But, you know, you have to get up every day, put in that work, try to be that person you want to be, keep grinding, no matter what comes at you. Just try, try at things, have passion. That's where I'm at right now. Be consistently committed to the things that are important."
Miller said these words just days before his football season likely ended thanks to an awkward step on the final play of an otherwise nondescript Tuesday practice. Miller had surgery on his ankle on Friday and recovery time is considered to be between four to six months, but a best-case scenario would be a three-month recovery. The injury comes during a year in which the would-be 10th-year pro has already fended off COVID-19 — "I was scared as hell" — and was distressed by police violence against Black men and women that has caused him to reflect — "I could have stood taller with [Colin] Kaepernick" — while inspiring him to take a leading role in the push for social justice.
Miller will push forward. But for his Broncos, who open the season against the Tennessee Titans on Monday Night Football (10:10 p.m. ET, ESPN), Miller's ankle injury changes everything in 2020: on the field, in the locker room and anywhere else Miller's talents, attitude, joy, desire and humanity have reached during his decade with the team.
"My own personal feelings, I was sad, when [the injury] happened [Tuesday], for a lot of reasons," Broncos coach Vic Fangio said. "One, mainly for Von, because Von has had a hell of an offseason … he was of a mindset where he was going to come out and have a hell of a season.
"So, I'm sad that he's not going to be able to get the season that he worked for because that would be fun to watch, for me, for him, for you, for everybody. … The good thing about his injury is once it's healed, it's healed. It's not one of those where he'll have lingering effects."
Miller will keep pushing. The injury certainly isn't the first hurdle he has faced during his life or his career, and it won't be the last.
How Miller got to this point will play a big part in where he goes from here, how he lifts himself out of 2020 and what's to come. Recently, Miller took some time to talk about the ups and downs of a career that was set to reach its 10th season. Just days before his latest injury Miller said he "hasn't reached the high point, that's my goal, keep going for a better high point."
For now, that high point will have to wait.
The staircase
This summer, Miller didn't take anything for granted as he climbed the stairs each day on his way to the socially distanced outside linebackers meeting room in the Broncos' facility.
"Every day, no joke, every day, I go up those stairs right now and reflect," Miller said. "The way this year has been, I — those are the exact same stairs where it all started, my first day as a Bronco.
"There was a lockout [in 2011], so we were going to come in after the draft real quick and that was going to be it. So they flew me in and I walked up those stairs to meet Mr. B. And back then when you met Mr. B, that's when you were a Bronco."
"Mr. B" was late Broncos owner Pat Bowlen. And 2011, the year Miller arrived as the No. 2 overall pick, was pivotal for Bowlen, who had just hired Hall of Fame quarterback John Elway to be the team's chief decision-maker and guide the Broncos out of a 4-12 mess. Miller was the first player Elway selected in the draft.
"So, every day already this year I remember walking up these same stairs, right by Mr. B's office," Miller said. "I walked up those stairs losing my breath because the altitude and the situation, but just losing my breath. I remember that first time every time I walk up those stairs. I wanted to be great. Great for the Denver Broncos. Great for Mr. B. Great for myself. … I'll always feel that way no matter what."
'2013 was the test'
Even as 2020 has tried its best to pile on, 2013 laid a foundation for how Miller deals with adversity and how he will power through the post-surgery work he'll begin soon.
Miller was an immediate success in the league, but after two consecutive Pro Bowl seasons to begin his career, 2013 was a setback. He was suspended for the first six games for violating the league's substance-abuse policy. He missed a court date for traffic violations that resulted in an arrest warrant being issued. Questions about where he was, whom he was with and who he was becoming when he didn't have a football helmet on were swirling.
"Man, 2013 really made me take a look, like a real look, like you look in the mirror and really look at what's there," Miller said. "It really made me prioritize me, what I was doing and how I was doing it. I found my real priorities in 2013, I had to really think about what I really wanted to do, who I wanted to be, because 2013 was the test everybody warns you about.
"The hardest thing was to step out there and talk after the suspension … thinking to myself earning people's trust back was going to be hard, but I had to get right. My first move was my parents, they moved in and we said we were going to get through it, but I had to clean up those things. Me."
His parents, Von and Gloria, did move in with him for a time. And Miller returned to play in nine games that season, some good, some not so good. He had five sacks before tearing his ACL in Week 16 against the Houston Texans.
But pain will get your attention if it doesn't overwhelm you, the notion that a fresh start has usually arrived because of a painful ending.
"He attacked that injury," Chris Harris Jr. said "We both had ACLs, we both had to be in there every day and we both decided we were coming back from that. But he attacked it. You could tell everything about that year was coming out of him in that rehab. He might not agree, but that torn ACL, man, that pushed Von out again, beyond what he did before. He was going to do some things after that."
Fangio expects Miller to do the same this time around. So much so that this past week Fangio wouldn't even rule out Miller returning this season, saying he told the team "we'll move forward [while] never forgetting Von and hoping that he returns at some point this year."
Super Bowl MVP
Miller has seen his share of football heights as well. Super Bowl 50 was a lot of things — quarterback Peyton Manning's final game, Elway's pinnacle as a football executive and a showdown between the Broncos' historic defense and the Panthers' league-leading offense.
And it was all overwhelmed by Miller. After an audible, of course.
"Let me tell you about plans," former Broncos defensive coordinator Wade Phillips said with a wry laugh. "The plan was, we started out the game, the plan was to rush four and Von was going to be the spy on [Cam Newton] because of all Von could do athletically and we just thought that was our best chance to keep [Newton] under wraps a bit.
"Well, we got in the first quarter, our rush is too good overall and Von isn't even in it. I'm sitting there saying 'We can't not rush Von right now.' I said 'Von has got to rush.' We changed; we decided to put the five-man rush package, instead of four and a spy.
"Well, he caused a fumble, we recover for a touchdown and caused another at the 5-yard line and just disrupts everything and everybody until the clock is out. That's an MVP for sure."
Phillips has coached in the NFL since 1981. He has coached Hall of Famers such as Reggie White, Rickey Jackson and Bruce Smith. Last season he coached a Rams defense with the guy many people in the league believe might be the NFL's best player in Aaron Donald.
And Miller's Super Bowl 50 will always have a special place on his mantel.
"Von is just one of the greatest players to ever play his position," Phillips said. "To be as versatile as he is, rush the passer, he can cover people, too. People don't realize, he can cover a tight end, he can cover man-to-man — he knocked that pass away down the field in the Super Bowl which would have been the highlight for some guys, but he had already wrecked so much other stuff by then nobody remembers. He can drop in zone. He can do everything. Now, you don't want him doing all those things because he can rush the passer like few others I've ever seen, but he's just really, really versatile.
"Like all those great ones, he's focused on being the best. They've got something, whether it's heart, I don't know what you call it, whatever it is, those guys I've been around, the Reggie Whites, the Bruce Smiths, the great, great players, have that inside of them that they want to excel, even though they're great, they want to be better. Von has that."
Winning back his football soul
Recent struggles on the field have further motivated Miller. Before quarterback Patrick Mahomes was the league's "it" player and his Chiefs had won four consecutive AFC West titles, the Broncos owned the West. With Miller leading the defense, Denver won five consecutive titles from 2011 to 2015, but those seem like distant days now.
To make matters worse, the Broncos have missed the playoffs four consecutive times. In two of those seasons they lost at least 10 games. Miller has had moments of brilliance during this span, but not nearly enough to offset the carousel at quarterback and offensive coordinator. It's all affected Miller and explains why he attacked this offseason like no other before in his career.
Following a December loss to the Chiefs in what became a disappointing eight-sack season — his lowest total since 2013 — Miller said losing "just defeats my soul." It all sent Miller into a workout frenzy of sorts just days after the 2019 season ended.
"He has sent me some videos and pictures," Fangio said earlier this offseason. "I do think he's had a hell of an offseason. I know he's worked extremely hard. I do sense that he's got a hunger to his game and to his attitude that I don't think he's had the last few years in the league."
And the target of Miller's push was the mirror, again.
"When you get there and you win and you experience that, then every time after that you lose, you don't go, it's devastating," Miller said. "You think it's devastating to lose before, but after you've won it all, been at the top as a team, you really know what that feels like, when everything you do turns to gold.
"But this offseason, with everything going on, I figured out what I should have been doing more is pointing the finger at myself, figuring out what I can do, what more I can do."
Lessons from COVID-19 quarantine
On April 17, Von Miller detailed his symptoms since testing positive for the coronavirus.
In April, as Miller watched images of overwhelmed health-care workers and cities on lockdown, the coronavirus reached his own house.
When Miller, an asthmatic who uses an inhaler, first felt symptoms he said he couldn't catch his breath at night. He had a fever and a strange sense this wasn't like any cold or flu he had before. A test confirmed he had COVID-19 and Miller's diagnosis made headlines from coast to coast.
"Man, I was extremely nervous. It's all over, you see the videos of the hospitals, the stay-at-home orders, all of these things going on and suddenly I'm one of the first guys [in the NFL] to get it. I was scared, I ain't even going to lie, I was scared," Miller said. "I've got asthma. I was like, 'This thing could kill me.' And when you can't catch your breath in the middle of the night, when you can't breathe, it's hard not to be scared. I eventually just did everything they say to get better, but yeah, initially, I was scared as hell. I tell these guys take it seriously or they might be scared as hell, too."
Miller quarantined for two weeks and said it took another few weeks after that before he could resume his workout regimen. During that time he read about leadership — delving into Kobe Bryant's career in particular.
He now believes he wasn't pushing himself or teammates hard enough. He believes he can still be the player who brings others together, but he also can push to the front of the line with a little more forcefulness on football issues, social justice matters and the state of the Broncos.
"That's what quarantine was," Miller said. "The only good thing about quarantine is I could really look at myself in that light. Look in the mirror and really try to figure out what I can do, what should be on my plate. I'm the easiest thing that I control, the easiest thing I can influence."
Standing up for social justice, fighting to return
Von Miller addresses the crowd at a Denver protest against police brutality and racism.
Miller's teammates have seen the fire stoked in this offseason. They saw it each day in training camp, right up until the last play of Tuesday's practice. They say it will fuel him moving forward, fuel him to return to demonstrate just how much he believes he has to show on the field and off.
"That was the thing that I think I was most hurt for him about was seeing that we won't be able to see how great he was going to be this year," safety Justin Simmons said. "[But] I'm a firm believer that that mentality that he had this offseason though, he'll transition that into rehabbing and getting back to where he needs to be to be even better next year when he comes back."
Miller said this past summer he felt "better than ever," but he has said that before. Still, teammates like Simmons have used the word "hunger" based on what they have seen from him on the field and in the community.
In recent months Miller has spoken of football as a platform for social justice and penned in Time Magazine, "the love of my country compels me to use it." In the essay, Miller described publicly the racism he encountered from the time he was an elementary school student through high school, college and into his NFL career — he called it pain that "sears me every day now."
He closed the essay with: "Say their names. Hands up. Don't shoot. I can't breathe."
Miller was among the Broncos who spoke to a large crowd in downtown Denver this past June after marching during a Black Lives Matter rally just weeks after he had recovered from COVID-19.
"I felt like I could have stood taller with [Colin] Kaepernick at the time; I could have supported him better."

Von Miller
"I felt like I could have stood taller with [Colin] Kaepernick at the time; I could have supported him better," Miller said. "… I apologize for not being a strong leader at the time. It's all part of what I've been thinking about me as a person, a person who happens to play football. You can try to be really good at your job, try to be one of the best ever and try to be everything you can be as a person, too."
Miller's fire seemed equally stoked on the field, where he seemed to take pride in reaching his 10th NFL season, especially given the struggle for most players to maintain a career half that length.
"If you still have a passion for it and you're still doing it at a high level, I don't think I should even think about not playing," Miller said. "I still feel like I'm able to compete; I still feel like I'm fast, most importantly. As long as I can keep doing that, I'm going to play. … Every year I get to play, every play I get to play, I'll just keep pushing and at the end I'll see how many [years] it is and I'll look up and I'll be cool with that."
If you want a sense of how Miller will overcome this latest obstacle, consider how he answered this question: What is the single most important lesson you have learned since that April day in 2011 when you were drafted?
After pausing for nearly 40 seconds, almost geologic time for a guy who often responds in rapid fire, Miller spelled out his mentality.
"Over time I've really learned what effort means," Miller said. "You can't get complacent. It's impossible to do that and succeed. When you start doing that, that's when you go downhill. When you get complacent — you don't take advantage of every day. So, do more, commit to it more. As time goes on, you've got to relearn that process every single year. You've got to keep going at it every single year.
"You can't get bored with trying to be great; you can't get bored with winning or thinking it just happens. You don't want to get bored with whupping other people's ass. You don't want to get bored with success, don't want to get bored with coming in here every day with the mindset of giving to your teammates and pushing yourself. Because if you do, you're done, that's it."
Seattle Seahawks' Chris Carson, Jamal Adams highlight injury concerns
The Seattle Seahawks list running back Chris Carson and All-Pro strong safety Jamal Adams as questionable for Sunday's game against the San Francisco 49ers.
That's just the start of the injury concerns in Seattle's backfield and secondary.
Carson's primary backup, Carlos Hyde, is listed as doubtful, and No. 3 running back Travis Homer is also questionable. All three were injured in Seattle's overtime loss to the Arizona Cardinals last week. Homer (knee bruise) was limited Friday. Carson (foot sprain) and Hyde (hamstring) didn't practice all week.
They'll work out on the field before Sunday's game, according to coach Pete Carroll.
"We're going all the way to game time on all three guys and just see what happens then," Carroll said. "We did not practice them this week and that was just to give them every single day to have a chance to get back."
Rookie fourth-round pick DeeJay Dallas is the Seahawks' only healthy tailback. They also have fullback Nick Bellore on their 53-man roster but no other running backs on their practice squad they could elevate for game-day depth. Carroll and offensive coordinator Brian Schottenheimer have said this week that the Seahawks' backfield situation might force them to get creative Sunday and use other skill players at running back.
The Seahawks (5-1) brought in Alex Collins to begin COVID-19 testing Friday, but he won't be eligible to join their practice squad until next week at the earliest.
Dallas has a total of 41 scrimmage yards on six touches in four games.
"He's had an excellent week," Carroll said. "He's really right in the middle of the plan. He's really jacked about the opportunity to carry the load if that would be what happens in this thing. He had a good week. Later as the week wore on, I was making sure we were taking care of him. I didn't want to overwork him. He wanted to take every snap and we didn't let him do that, but he's ready to play."
Defensive tackle Damon Harrison could make his Seahawks debut Sunday — a potential boost for a defense that's allowed the most yards through six games in NFL history. Carroll stopped short of declaring that the 31-year-old veteran would play but said he had his best week "without question." Harrison, a first team All-Pro in 2016, hadn't played since last season when he joined Seattle's practice squad on Oct. 7.
"This week really … would make you think that he's ready to come back and play," Carroll said. "He's getting there. The first couple weeks, that wasn't the case. He was just getting back in shape. He's lost some weight. He looks a lot better moving around. He's on his stuff. He knows what he's doing. He's in it. So I'm really fired up that he's competing to get on the field right now."
The Seahawks could either sign Harrison to their active roster indefinitely — they have two open spots — or elevate him for game day.
"This week or next week, he's ready to play," Carroll said. "So he would play whatever the game plan allowed him to, so there would be no play count on him. But he's a situational player and does a great job inside tying things up. Our guys are doing OK in there and battling. We don't have any issues rotationwise right now, but he's really made a big step forward this week."
The Seahawks list left guard Mike Iupati (back) as doubtful and defensive end Benson Mayowa (ankle) as questionable. Mayowa was limited Friday.
Adams was limited also Friday as he practiced for the first time since injuring his groin in Week 3. He was set to practice earlier in the week before coming down with a non-COVID illness. Adams was sent home, per NFL guidelines, and returned to the team's facility Thursday afternoon after testing negative.
Carroll called it a "real good sign" that Adams practiced Friday but acknowledged the team's reservations about playing Adams on Sunday after just one practice over the past month.
"It's a big concern," Carroll said. "That's a lot to ask. He's worked out great in his conditioning work and all that. The fact that he had to miss a couple days here really kind of threw a wrench into the works for a smooth comeback, so we'll have to see what happens at game time."
The Seahawks ruled out cornerback Shaquill Griffin (hamstring/concussion) and list nickelback Ugo Amadi as questionable. Adams' backup, Ryan Neal, is also listed as questionable, though Carroll said he "looks pretty good." Tre Flowers will likely start for Griffin. Seattle has Linden Stephens and Damarious Randall as options at nickelback and strong safety, respectively. Carroll said D.J. Reed is ready to be activated off the non-football injury list. The former 49er can play cornerback, nickelback and free safety.
Fantasy football last-minute pickups for NFL Week 8
The roster percentages for this column are updated every Friday morning, and any players from Thursday's Falcons-Panthers game have been taken out.
Each week of the NFL season, we will identify fantasy football waiver-wire pickups specifically for those of you looking for streaming options in deeper formats (including IDP leagues). These are players available in a majority of ESPN Fantasy leagues who have enticing matchups in the week ahead that make them worthy of consideration for your lineup.
While you might notice some overlap with Field Yates' pickup column that publishes on Mondays, an important distinction is that the options mentioned in this column are focused solely on this week's matchup and not the players' values for the remainder of the season.
Do you need replacement options for injured players? Or are you merely dealing with depth issues? A roundtable of fantasy analysts and NFL Nation reporters will join me to identify some choice names to consider each week.
Here are some of our favorites for Week 8:
Quarterback
Jimmy Garoppolo, San Francisco 49ers (26.0% rostered; at Seahawks)
Speaking of historically generous pass defenses facing efficient offenses, this setup for Garoppolo should see him bounce back nicely from last week's poor fantasy showing. Seattle is sitting 29th in pressure rate, so Jimmy G should have time to throw. Even with a depleted crew of receivers and a thin backfield, there are enough playmakers still in the mix to support Garoppolo in this soft matchup. -J.M.
Running Back
Carlos Hyde, Seattle Seahawks (44.9% rostered; vs. 49ers)
I know Hyde isn't an exciting young back with breakout potential, but luckily there are no "style points" in fantasy. And he should definitely get the volume as long as Chris Carson is out of the lineup. Hyde had 15 carries for 68 yards and a TD in Week 7 — not to mention 1,070 yards in Houston last season. ESPN Seahawks reporter Brady Henderson said they have a couple of other pass-catching backs they might use in a rotational role, but they specifically liked Hyde in free agency because he has "the size and physicality to approximate what Carson gives Seattle on early downs." -Mike Triplett, NFL Nation Saints reporter
Zack Moss, Buffalo Bills (36.5% rostered; vs. Patriots)
Far more efficient last week than peer Devin Singletary and with nearly equal touch and snap rates in the win over the Jets, Moss is seemingly rising in the Buffalo backfield. Earning an endorsement for a second straight week in this space, there are some key positives to consider with the rookie. Moss was the primary goal-line back earlier in the season, while the team has rarely deployed Singletary in such scenarios since the start of last season. Another angle in his favor is New England has struggled against the rush, allowing a generous 4.6 yards per carry to backs and more than 24 fantasy points per game to backfields, leaving room for both Buffalo backs to flirt with flex value this weekend. -J.M.
Wide Receiver
Brandon Aiyuk, San Francisco 49ers (57.0% rostered; at Seahawks)
The talented rookie wideout has everything going for him this week. He is coming off a career-best performance against a tough New England Patriots defense, Deebo Samuel will miss Week 8 with an injury, and the 49ers face the hapless Seahawks secondary, which has allowed the most fantasy points to wideouts (by a mile) this season. -Tom Carpenter, ESPN Fantasy editor
A first-round draft pick who just tapped into his potential in Week 7 is enticing enough. But throw in the fact that the 49ers' leading receiver, Deebo Samuel, is expected to miss this week's game with a hamstring injury. Then consider that San Francisco is about to face a vulnerable Seahawks pass defense that has allowed by far the most fantasy points to WRs this season. Finally, ESPN 49ers reporter Nick Wagoner said Aiyuk has been growing more comfortable and taking on a bigger role in the offense in recent weeks. This feels like a no-brainer as a Week 8 pickup with the chance to be a savvy long-term addition as well.-Triplett
Donovan Peoples-Jones, Cleveland Browns (1.6% rostered; vs. Raiders)
If you play in a 12-to-14-team league with non-PPR scoring, I would give Peoples-Jones a look as a WR3/4. The rookie out of Michigan caught all three of his targets for 56 yards and a game-winning score in Week 7 against the Bengals. And with Odell Beckham Jr. down for the season with a knee injury, Peoples-Jones will get snaps in Cleveland's three-WR sets. He has the skills to create explosive plays, and there will be opportunities here versus the Raiders' zone-heavy defensive scheme. -Matt Bowen, NFL writer and analyst
Preston Williams, Miami Dolphins (33.2% rostered; vs. Rams)
If you're scanning the wire, you want upside and what better way to find it than with a super-sized receiver in a new-look offense? Williams has scored in three of his past four games and logic would suggest that the Rams will do everything they can do to take away Tua Tagovailoa's primary read in DeVante Parker. With Los Angeles on short rest and Miami off its bye, look for a creative game plan to get this 6-foot-5 athlete in favorable spots for his rookie signal-caller. -Kyle Soppe, ESPN Fantasy researcher
Tight End
Trey Burton, Indianapolis Colts (8.9% rostered; at Lions)
The Colts' bye this past week sort of hid Burton's breakout Week 6 performance from the fantasy market. Since coming back from injury, Burton has been a key target for Philip Rivers and creative usage even saw him score on the ground in that epic comeback against the Bengals a few weeks back. Next up is a meeting with a Lions back seven that has been solid in coverage against tight ends, but Burton's healthy target share should support another solid showing.-J.M.
Richard Rodgers, Philadelphia Eagles (21.5% rostered; vs. Cowboys)
The Eagles lean on their tight ends to move the chains more than any other team in the league. Even when down to third string on the depth chart due to injuries, Philly allocated eight targets to Rodgers this past week. Next up is a Dallas defense allowing 14.8 fantasy points to tight ends. In a uniquely good week for streamers at this position, Rodgers is among the most bankable given his place in such a friendly scheme.-J.M.
Defense/Special Teams (D/ST)
Denver Broncos (30.2% rostered; vs. Chargers)
Denver's defense has tallied 14 sacks in its past three outings and prior to facing the Chiefs had been solid this season in terms of points allowed. While rookie slinger Justin Herbert has been fairly awesome thus far, it's worth noting the Chargers have yielded the third-highest pressure rate to opposing defenses in the league, setting up some big-play potential for this group.-J.M.
New Orleans Saints (52.9% rostered; at Bears)
The Saints have struggled to produce big defensive plays since the opener against the Bucs, but they are facing a Chicago offense struggling to move the ball this season, as the Bears' offense ranks in the bottom five in both yards and points per game.-J.M.
Individual Defensive Players (IDP)
Defensive Line
Brandon Graham, Philadelphia Eagles (13.8% rostered; vs. Cowboys)
With two big games in a row and Graham really heating up off the edge, this matchup against a patchwork Dallas offensive line offers potential for a big line from the proven vet. -J.M.
Linebacker
Dre Greenlaw, San Francisco 49ers (4.5% rostered; at Seahawks)
The 49ers have faced injuries in the front seven throughout the season, vaulting players such as Greenlaw into bigger roles. He has tallied at least six tackles in three straight games and given he's on the field often, there's a good chance he extends this streak to four games.-J.M.
Defensive Back
Ryan Neal, Seattle Seahawks (8.4% rostered; vs. 49ers)
Seventeen total tackles the past two weeks signals Neal is both heavily targeted in the passing game and is helping stop runners that leak past the front seven. With a uniquely steady target and tackle rate, Neal is in a nice spot this week against the rival 49ers.-J.M.
Culture over cash: Ravens beating odds by keeping All-Pro talent – Baltimore Ravens Blog
OWINGS MILLS, Md. — When the Baltimore Ravens announced they had signed Ronnie Stanley to a five-year deal Friday, this was far more than a celebration of keeping the best left tackle in the NFL. It represented another victory lap for the Ravens' culture.
It's remarkable that Baltimore was able to sign two All-Pro players — Stanley and Marlon Humphrey — to long-term deals in the same month. It's unreal that the Ravens were able to retain both without making them the highest-paid players at their positions.
Stanley and Humphrey believe this is the start of a special time in Baltimore. With Lamar Jackson in his second full season as a starting quarterback, there's a feeling inside the locker room that the Ravens are beginning an extended run as a Super Bowl contender.
For Stanley and Humphrey, the top priority wasn't about breaking the bank. It was more important that they didn't break up this team.
"We all know we're a family here," Stanley said. "I think all the guys are on the same page on what we're trying to build here in Baltimore and that's long-term success."
Ravens officials faced an untimely predicament this year when Laremy Tunsil shattered the market value for offensive tackles in April with a three-year, $66 million contract and Jalen Ramsey did the same at cornerback in September with a five-year, $100 million deal. Tunsil and Ramsey used the leverage of being traded to their teams before signing a long-term deal and knew neither the Rams nor the Texans would allow them to walk.
Tunsil's $22 million-per-year average was $5.5 million higher than that of any other left tackle, and Ramsey's $20 million-per-year average was nearly $3 million more than that of any cornerback. Baltimore knew there was no way it could keep this team intact if it surpassed these deals. So, the Ravens offered Humphrey and Stanley deals that fell just below top of the market — and crossed their fingers.
On Oct. 1, Humphrey signed a five-year, $97.5 million extension ($19.5 million per season). On Friday, Stanley agreed to a five-year, $98.75 million extension ($19.75 million per year).
"For me, being the highest paid never really was a factor," Humphrey said earlier this month. "The biggest thing for me was just staying a Raven. I remember when I first got here, me and [wide receiver] Chris Moore used to joke around saying that we're Ravens for life. And it's a very good feeling to actually be one."
When Eric DeCosta took over for Ozzie Newsome as Ravens general manager in January 2019, he emphasized that he wanted to keep young talent before reaching free agency.
The month of March has long become a frustrating period for the organization. Limited by cap space, the Ravens couldn't come close to outbidding teams for the likes of inside linebacker C.J. Mosley, outside linebacker Za'Darius Smith, center Ryan Jensen, guard Kelechi Osemele, offensive tackle Rick Wagner and fullback Kyle Juszczyk.
In his 20 months as general manager, DeCosta has signed nearly a dozen players to extensions including kicker Justin Tucker and cornerback Marcus Peters. But the biggest achievement was holding on to a top defensive playmaker in Humphrey and Jackson's blind-side protector in Stanley.
"I'm proud of the fact that guys want to be here, for sure," Ravens coach John Harbaugh said. "I'm proud of the fact that guys want to come here. That's kind of been established for quite a period of time. We're just trying to do things the right way."
Signing Stanley and Humphrey were just the first significant steps in keeping this core of Ravens players together. This offseason, Baltimore might have to use the franchise tag on one of its top pass-rushers (Yannick Ngakoue appears to be the prime candidate over Matthew Judon).
Jackson, reigning NFL MVP, has outplayed his rookie contract and could command a new deal over the next two years. Tight end Mark Andrews and and right tackle Orlando Brown Jr. will be free agents in 2022.
"I feel the Ravens do a really good job of picking out good talent and trying to keep that culture the way it's always been," Stanley said. "It's just Ravens football."