Smoke from nearby wildfires creates eerie baseball scene in Bay Area
OAKLAND, Calif. — The Oakland Coliseum lights shone brightly for miles through a sunless, smoky sky in the middle of the afternoon — hours before they usually would be on for a night baseball game. By mid-morning across San Francisco Bay, the Giants' Oracle Park resembled a black-and-orange horror scene.
A number of Northern California wildfires sent a thick, sometimes orange-glowing haze over the area Wednesday that left the Bay Area in an eerie darkness all day. The sun was blocked by the smoke.
"The lights were on when I first got here. It's like we're in a dome. It has been dark out there all day. I don't have any sunglasses to go out there with today," Athletics manager Bob Melvin said, later adding, "I have a white hat on today, see what color it is when I come in afterward. Little experiment on my behalf today."
Still, the air quality was below 100 about two hours before first pitch. The A's played games last month with the air quality index up to 150-160, what is considered the upper end of unhealthy, and games aren't typically considered for cancellation until it reaches the 200 range, according to Melvin.
It made for a strange baseball scene to say the least. AL West-leading Oakland was set to face the Houston Astros, while across San Francisco Bay the Giants were hosting the Seattle Mariners.
The sky around Oracle Park matched the Giants' black and orange colors, while the smell of smoke permeated the air leading up to first pitch with chunks of ash falling.
"Certainly a strange look when we all woke up this morning and found kind of the orangeish-red hue to the sky," Giants manager Gabe Kapler said. "Walking onto the field today was certainly different, in the middle of the afternoon and having the sky look a little bit dark. But my understanding is that the air quality is OK. Of course we'll keep tabs on it and if anything changes we'll make the best decisions for the health and well being of our players."
Astros manager Dusty Baker said there were discussions with the players union about the air quality and safety of playing in such thick smoke.
"We don't know if it's going to have impact or not," said Baker, who still owns homes in Northern California. "I've seen it before and I've talked to everybody at home and they said they've never seen it this bad this long. There are fires all over the West Coast here and I was actually playing Jimi Hendrix today, `The Sky is Crying.' The sky was crying today. I thought I was going to go outside and see Marlon Brando in `Apocalypse Now.' It's just a strange and eerie feeling."
Small particles of ash sprinkled down during the Astros-A's doubleheader Tuesday night and by Wednesday cars were covered in gray dust that required windshield wipers to remove it for visibility.
The Associated Press contributed to this report.
Toronto Blue Jays clinch first playoff berth since 2016 season
BUFFALO, N.Y. — Hyun-Jin Ryu pitched seven shutout innings and the Toronto Blue Jays clinched their first postseason spot since 2016, beating the Yankees 4-1 Thursday night and further damaging New York's chances of hosting a first-round playoff series.
New York lost for the fourth time in five games and remained two games behind the slumping White Sox for the fourth seed. Chicago lost 5-4 at Cleveland, its fifth straight defeat.
Toronto secured at least an AL wild-card spot and ensured its eighth trip overall to the postseason.
Blue Jays players embraced on the diamond at their temporary home of Sahlen Field in Buffalo after Rafael Dolis struck out Aaron Hicks to end it.
The Blue Jays trail the Yankees by two games for second place in the AL East. Both teams have three games remaining. Toronto hosts Baltimore in Buffalo while the Yankees host the Marlins.
New York failed to hit a homer for the fourth straight game, matching its longest drought since June 2016. It's the first time the Yankees have failed to homer in a four-game series since doing so at Texas in July 2013.
New York loaded the bases with two outs in the eighth, but pinch-hitter Gary Sanchez flied out to deep center, where Randal Grichuk made a leaping catch at the wall.
Vladimir Guerrero Jr. homered for Toronto.
Ryu (5-2) scattered five hits, walked two and struck out four. Luke Voit and Hicks hit back-to-back singles to begin the sixth but Ryu struck out Giancarlo Stanton, got Gleyber Torres to fly out and retired Gio Urshela on a ground ball.
Dolis got four outs for his fifth save in six chances.
Ryu became the first Blue Jays starting pitcher since Aug. 22, 2019, to pitch into the seventh, pitching around Clint Frazier's leadoff single by setting down the next three, including pinch hitter Aaron Judge. The left-hander lowered his ERA from 3.00 to 2.69.
The Blue Jays finished 5-5 in their 10-game regular season series against the Yankees.
The Associated Press contributed to this report.
Auction of Vin Scully's Dodgers memorabilia tops $2 million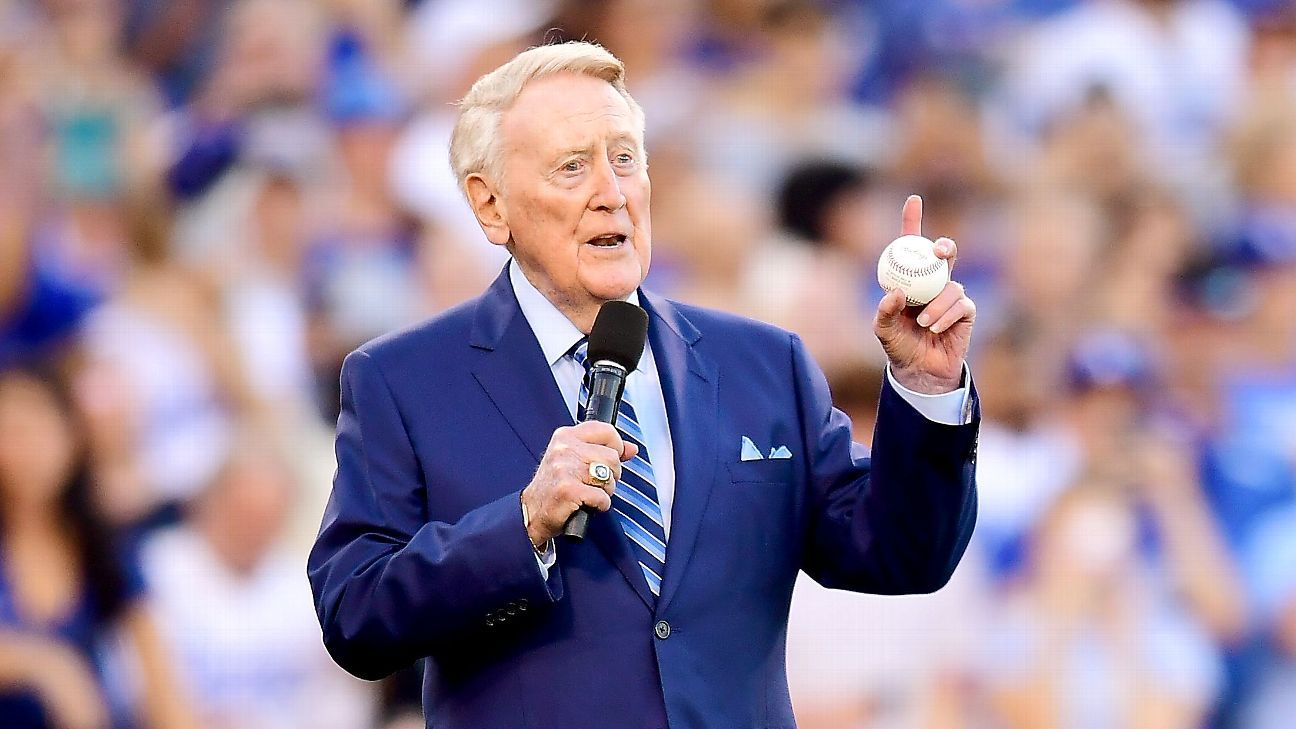 LOS ANGELES — Items from the personal collection of Hall of Fame broadcaster Vin Scully sold at auction for over $2 million, including World Series rings from the Dodgers' championships in 1955 and 1988.
Each ring sold for $188,000 during online bidding that ended Wednesday, according to David Hunt, owner of Hunt Auctions in Exton, Pennsylvania. The Dodgers won their only World Series title in Brooklyn in 1955, and their most recent title was won in Los Angeles in 1988.
A Brooklyn Dodgers ring presented to Scully in the 1950s sold for $184,475.
Another item that sold for six figures was a Dodgers Centennial limited-edition serigraph by LeRoy Neiman that went for $105,750.
Scully's ring from the 1981 World Series went for $83,425; his ring from the 1963 World Series sold for $76,375.
His personal scorebook from his final season behind the mic for the Dodgers in 2016 sold for $82,250.
A World Series trophy presented to Scully in 1981 sold for $70,500; a similar trophy from the 1988 World Series drew a winning bid of $64,625.
An autograph that Scully obtained in person from Babe Ruth went for $18,800. A baseball signed by President Ronald Reagan for Scully sold for $11,750.
The auction was originally scheduled for All-Star Weekend in Los Angeles in July but was moved online when the game was canceled because of the coronavirus pandemic.
Scully and his wife, Sandra, plan to use some of the auction proceeds to help their five children, 16 grandchildren and three great-grandchildren with expenses that include parochial school tuition. The rest of the proceeds will be donated to UCLA for neuromuscular research. Scully said his wife suffers from a condition related to amyotrophic lateral sclerosis, the incurable disease that forced Yankees great Lou Gehrig to retire at 36.
Most of the 310 lots came from a trophy cabinet at Scully's Los Angeles-area home.
Los Angeles Dodgers bring Walker Buehler off IL as playoffs approach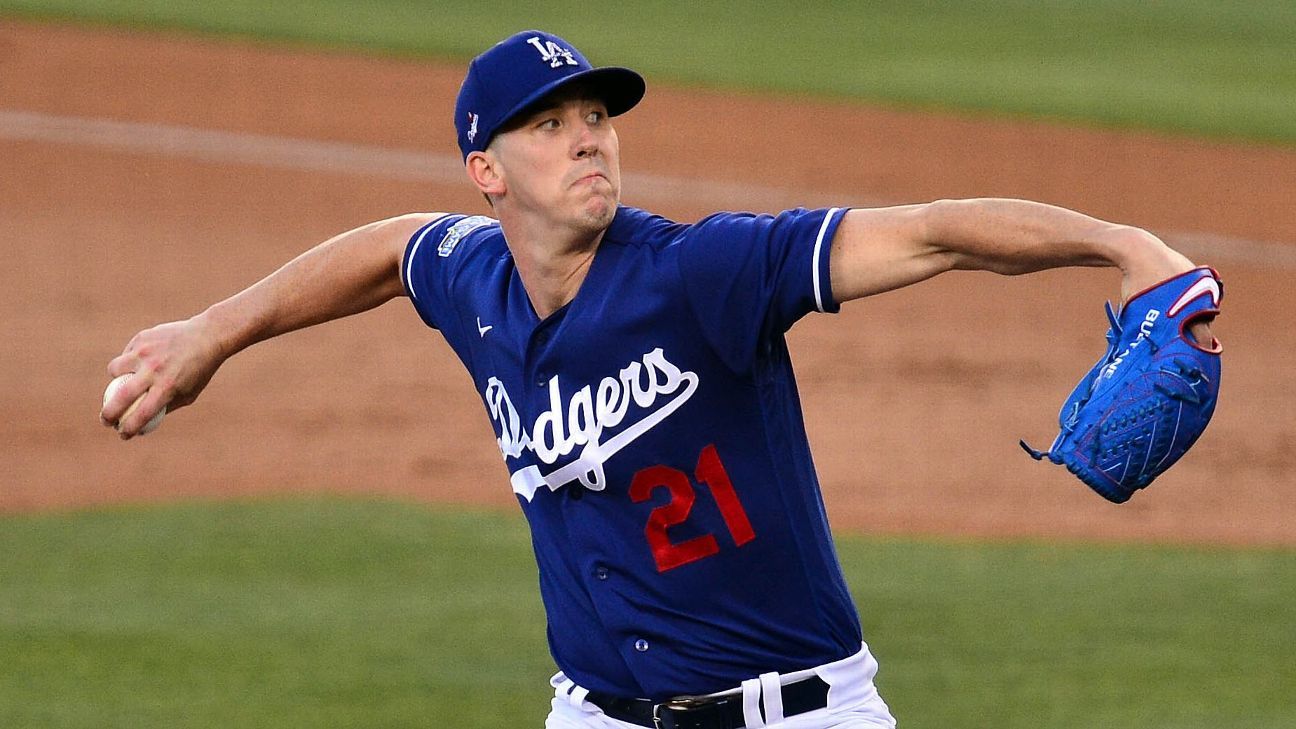 The Los Angeles Dodgers activated Walker Buehler, who has been dealing with a blister on his right index finger for about a month, off the injured list Thursday for one final tuneup start before the postseason.
Buehler, 26, was placed on the IL because of that blister for the second time in two weeks on Sept. 10, but the right-hander threw a six-inning, 90-pitch simulated game at Dodger Stadium on Saturday, throwing the first 75 pitches with his finger uncovered.
Dodgers manager Dave Roberts said he would be monitoring Buehler "pretty closely" in his return against the Oakland Athletics and that the primary objective is to ensure he doesn't suffer a setback. Buehler recently sought advice from former Dodgers starter Rich Hill, who has dealt with blisters throughout his career.
"Walker feels really good, confident, the finger itself in a good place," Roberts said. "It's just up to all of us to make sure we just manage it tonight. He wouldn't be making this start if we didn't feel good as far as him taking on a regular start."
The Dodgers are still ironing out most of their pitching plans for the best-of-three wild-card series that begins at Dodger Stadium on Wednesday, partly because they might not learn their opponent until the end of the week.
Buehler and Clayton Kershaw are expected to start the first two games, but the Dodgers have yet to determine the order. A potential Game 3 could see the Dodgers deploy an opener, with the traditional No. 3 starter — either Julio Urias, Dustin May or Tony Gonsolin — pitching bulk innings later in the game.
Buehler wasn't properly stretched out when Major League Baseball restarted and has logged only 32⅔ innings heading into his final regular-season start, posting a 3.86 ERA with 36 strikeouts and 10 walks. Most of his recent work has come in controlled environments.
"He's still pitched and understood what's at stake in these sim games, and I expect him to be sharp," Roberts said. "You're one start away from the postseason, so I expect him to be sharp and ready to go."