Cleveland Indians' Terry Francona gets tests, return unknown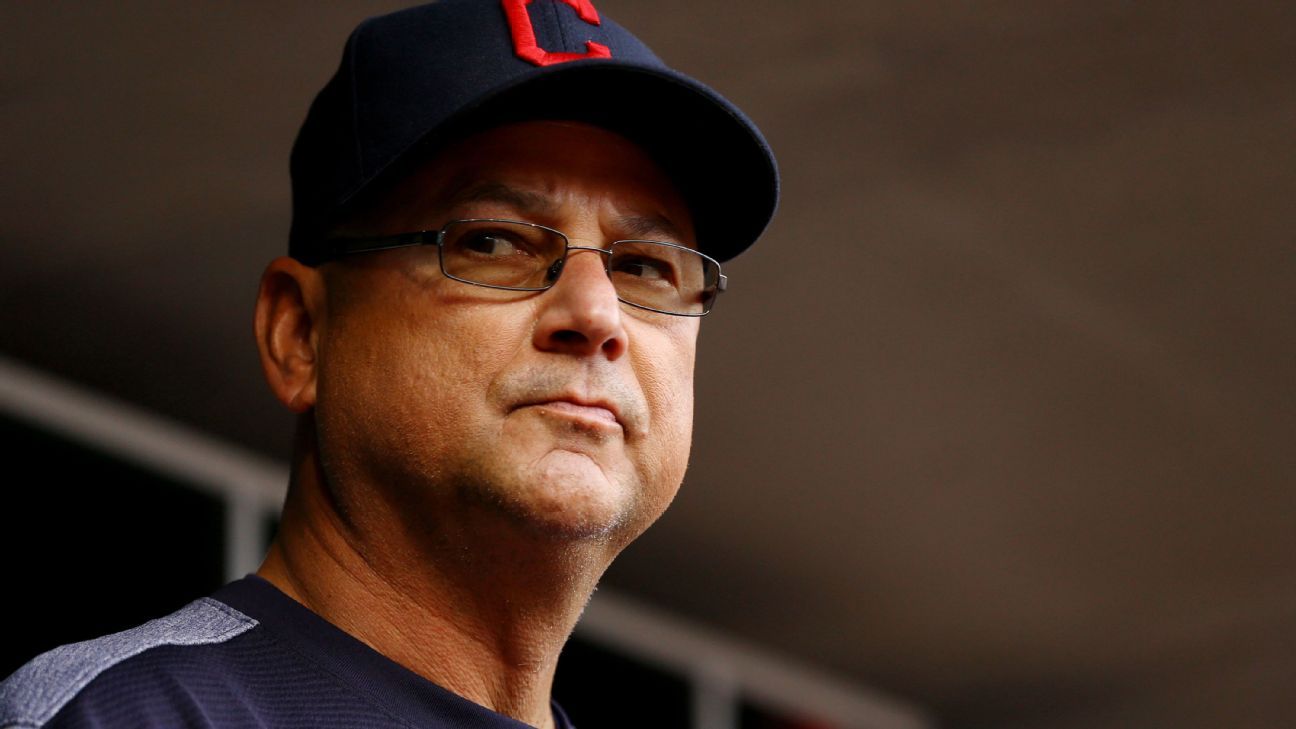 CLEVELAND — Indians manager Terry Francona continues to undergo medical tests for a gastrointestinal issue, and there remains no clear timetable for when he'll return to the team.
Francona has scheduled appointments with "a series of doctors" at the Cleveland Clinic on Tuesday and Wednesday, said team president Chris Antonetti, who is with the team in Cincinnati. Antonetti doesn't know when Francona will be back and doesn't believe he will be sidelined for a significant period.
"That's not our expectation at this point," Antonetti said shortly after speaking with Francona. "But as I've shared and have been pretty consistent, our first priority will always be Tito's health and well-being and whatever puts him in the best position to be healthy and feel better that will always take priority. But that's not our expectation at this point."
Antonetti said Francona has not been admitted to the hospital. The Indians open a two-game series at home with the Reds on Wednesday.
Francona has been bothered by a stomach issue since spring training opened earlier this year. He was forced to miss a couple games because he wasn't feeling well.
On Sunday, the 61-year-old left the ballpark and returned to the team's hotel in Minnesota and he skipped the Indians' two-game series against the Reds in order to get checked out.
"He's not happy about it, but he understands it's the right thing to do," Antonetti said. "He wants to feel better and that's what we all want and for him to get back to doing what he loves, which is managing the team every day and hopefully that can happen in the not-to-distant future."
The Indians have lost four straight games, three without Francona, going into Tuesday night's matchup in Cincinnati.
First-base coach Sandy Alomar is filling in for Francona while he's away.
Chicago Cubs' Willson Contreras on bat flip — 'No regrets'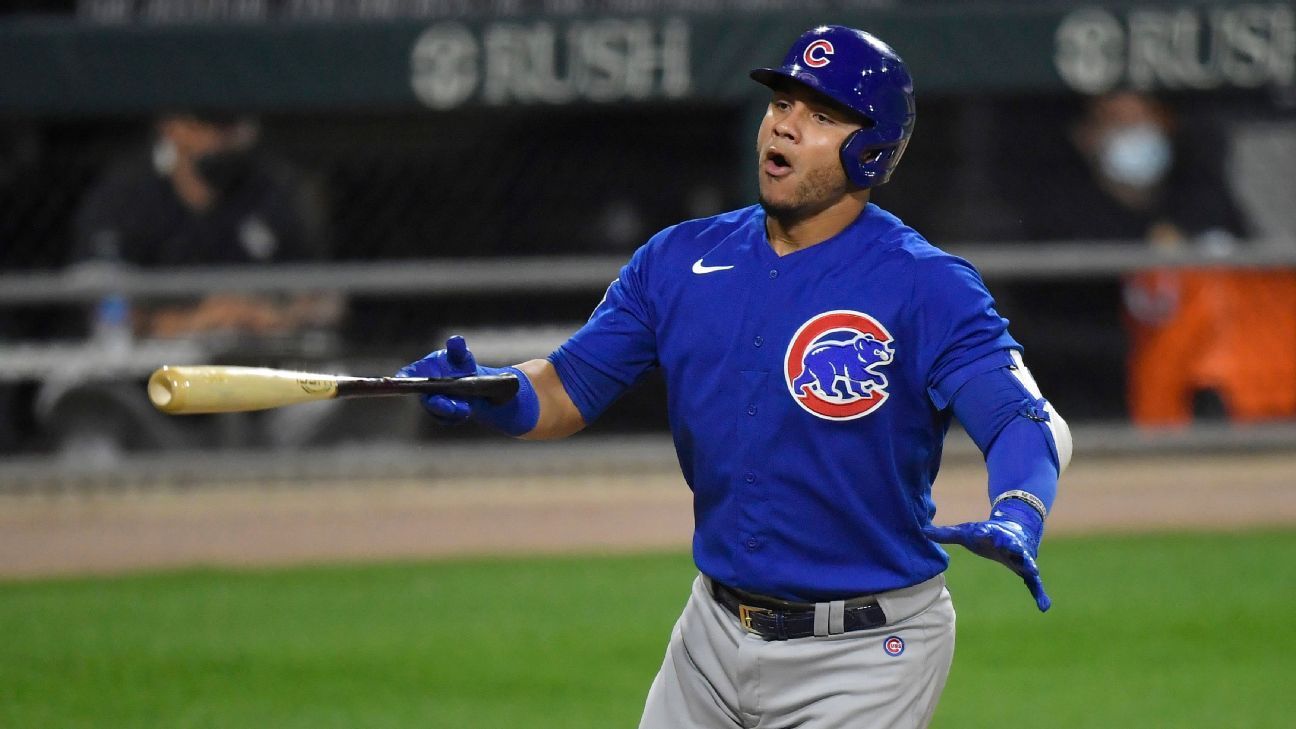 CHICAGO — Tempers flared Friday night after catcher Willson Contreras was plunked by White Sox hurler Jimmy Cordero in the seventh inning of the Cubs' 10-0 victory at Guaranteed Rate Field.
The hit by pitch came several innings after Contreras threw his bat high into the air to celebrate a three-run homer as he began to circle the bases.
"I knew it was coming," Contreras said afterward. "I have no regrets, zero regrets. Once they hit me, I don't think that's the smartest thing to do. He got thrown out. And who knows if he's going to get suspended?"
The Cubs immediately began yelling from their dugout after Contreras was hit, prompting the umpires to gather before deciding to eject Cordero. Soon after, both White Sox manager Rick Renteria and pitching coach Don Cooper were kicked out.
Renteria said he disagreed with the ejections.
"The ball got away from him," Renteria said of Cordero's pitch. "We couldn't convince him [the umpire] of that. … There was no warning. They just gathered and ejected him."
Though Cubs manager David Ross admitted it might not have been his style to flip his bat after a home run, he backed his catcher, who led a five-home run barrage for the Cubs. The team has struggled offensively all month, so Ross said he viewed what happened as cathartic.
"It wasn't to disrespect the other group," he said. "It was because we've been struggling offensively and he brought some swagger. He brought some edge. I loved every second of it.
"I don't think he deserved to get hit, at all."
Ross recalled a time when White Sox shortstop Tim Anderson bat-flipped himself into some controversy in 2019. Anderson has been outspoken about letting players show their emotions.
"All the hype is on the guy on the other side when he bat-flipped, right?" Ross said. "I thought Tim Anderson's bat flip last year where he flipped it and looked in his dugout, that's what you want. That's what Willson did."
Contreras is known as an emotional, and at times hot-headed, player, but he said he felt he was right in line with the way the game is in 2020 — bat flips are in and retaliation is out.
"I'm not going to change anything," Contreras said. "I play hard for my team. I always want to do the best for my team. But if they don't like me, that's fine. I don't play for other teams to like me, anyways. And if I have to do it again, I will do it again."
He added one caveat.
"I didn't mean to throw it that high," he said with a smile.
Miami Marlins make playoffs year after 105-loss season
NEW YORK — The Marlins clinched an improbable playoff berth in their coronavirus-decimated season, beating the New York Yankees 4-3 in 10 innings Friday night to seal a postseason trip on the field of the team that Miami CEO Derek Jeter and manager Don Mattingly once captained.
Miami earned its first postseason trip since 2003 when it won the World Series as the Florida Marlins, capped by a Game 6 victory in the Bronx over Jeter and his New York teammates at the previous version of Yankee Stadium.
The Marlins had the worst record in the NL last year at 57-105, then were beset by a virus outbreak early this season that prevented them from playing for more than a week.
After Jesus Aguilar hit a sacrifice fly in the top of the 10th, Marlins reliever Brandon Kintzler got major league batting leader DJ LeMahieu to ground into a game-ending double play with the bases loaded.
Miami players ran onto the field, formed a line and exchanged non-socially distant hugs.
The Marlins became just the second team in MLB history to reach the postseason the season after losing at least 100 games, joining the 2017 Minnesota Twins. Their 16-season playoff drought was the second-longest active streak in majors, behind the Seattle Mariners (18). Miami has been to the playoffs only twice before in franchise history; they won the World Series both times.
Miami was one of baseball's great doubts at the start of the shortened season, forced off the field when 18 players tested positive for COVID-19 following the opening series in Philadelphia.
Mattingly captained the Yankees from 1991-95 and is in his fifth season managing the Marlins. Jeter captained the Yankees from 2003-14 as part of a career that included five World Series titles in 20 seasons and is part of the group headed by Bruce Sherman that bought the Marlins in October 2017.
Miami is second in the NL East at 30-28 and improved to 19-13 on the road. The Marlins will play 34 road games due to the schedule disruption caused by the coronavirus. They arrived at their hotel at 5:30 a.m. ET on Friday following a rain-delayed win in Atlanta.
The Associated Press contributed to this story.
Atlanta Braves' Ronald Acuna Jr. smashes 495-foot homer, longest in MLB this season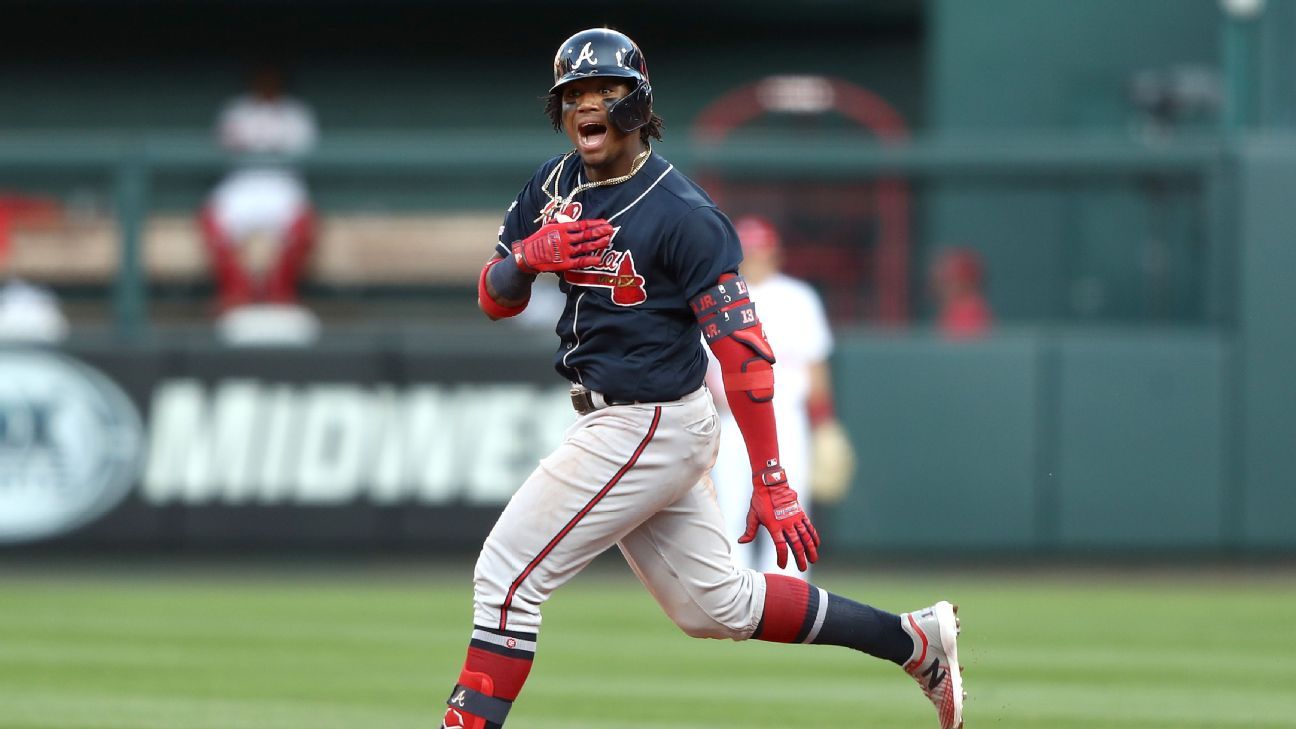 Atlanta Braves center fielder Ronald Acuna Jr. belted a tape-measure home run that won't soon be forgotten in the first inning Friday against the Boston Red Sox.
Acuna rocked a 495-foot leadoff shot that measured as the longest homer in MLB this season and tied for the fifth-longest in the Statcast Era (since 2015).
Acuna's homer came on a 3-1 count off Chris Mazza. He has 13 home runs this season after hitting 41 last year.
Acuna, the 2018 Rookie of the Year, is batting .257 with 28 RBIs and a .997 OPS.
Information from ESPN Stats & Information was used in this report.