Saints QB Drew Brees says his flag comment was a 'missed opportunity'
METAIRIE, La. — Drew Brees on Saturday reiterated his vow to stand with the Black community for social justice, saying it "broke my heart" and was "crushing" that his June comments about disrespecting the flag by kneeling during the national anthem made people feel differently.
The New Orleans Saints quarterback, who began his first training camp news conference with a prepared statement, said he will always stand for the national anthem because of what it means to him, but respects those who don't to bring attention to social injustices.
"I acknowledge and respect anyone who chooses to kneel or any other form of peaceful protest to bring attention to the social injustices and systemic racism that so many have endured and continue to endure in our country," Brees said.
Brees said he has continued to have many positive talks with teammates who were critical of his comments in June — specifically mentioning veteran safety Malcolm Jenkins, whom he called a friend and an "ally."
Brees said he and his teammates have reconciled and "all of our goals are aligned" both on and off the field.
"This is not about me. Our focus as a team and group of leaders is on this season and all the things we can accomplish together for social justice," Brees said.
"I've always been someone who has felt compelled to serve," Brees said to begin his statement, adding that it was the main reason why he and his wife Brittany chose to come to New Orleans and help the community rebuild in the wake of Hurricane Katrina when he was a free agent in 2006. "I knew I had a chance to be a part of something much greater than myself. And the last 15 years in New Orleans have been some of the proudest, most rewarding moments of our lives.
"Going back to my comment on June 3rd, to think for a second that New Orleans or the state of Louisiana or the Black community would think that I was not standing with them for social justice, that completely broke my heart. It was crushing. Never ever would I feel that way. Now, I recognize that I missed an opportunity that day. I had an opportunity to talk about and emphasize the social injustices that exist for our Black community and our need as a country to support them and to advocate for systemic change. And my lack of awareness in that moment hurt a lot of people.
"I will always support and advocate for the Black and Brown communities in the fight for social justice. Always. … I'm the same person now that I've always been. I'm someone who cares deeply for people in my community, New Orleans, the state of Louisiana, people everywhere. I'm someone who will always address the inequities and the disparities that exist. I'm someone who has great empathy for those who are hurting, struggling or victims of injustice. And I'm someone who feels a great sense of responsibility to serve and to lead and to bring true equality to everyone."
Several of Brees' teammates have publicly accepted his apologies and applauded his sincerity — especially after he directed a message to President Donald Trump on social media insisting that, "We can no longer use the flag to turn people away or distract them from the real issues that face our Black communities."
Brees and his wife have also pledged a total of $10 million in donations to Louisiana this offseason for coronavirus relief, including their recent pledge of $5 million dedicated to providing health care in underserved communities. The Brees family was also the presenting sponsor of the Black College Football Hall of Fame's "The Road to Equality" event.
Saints left tackle and team captain Terron Armstead said this week that he is "extremely confident" that Brees and his teammates will move forward in a positive manner.
"Drew faced everything head-on, and that's all you can ask for," Armstead said. "The best way to move forward is to face everything head-on. Invite any questions, comments or concerns."
Saints coach Sean Payton also addressed the issue head-on following Brees' comments in June, encouraging the team to have open, heartfelt discussions about their feelings instead of a regularly-scheduled team meeting over video conferencing.
Nearly two months later, Payton said he believes the team is ready to move forward.
"I think the locker room is in good shape," Payton said. "I don't see any need to address anything relative to that. I think the players' focus will be on earning a roster spot and that'll be most important. That'll be the same for the coaches."
Meanwhile, the 41-year-old Brees, who has already lined up a post-football career as a television analyst for NBC, said he has not made any decision on whether his 20th NFL season will be his last.
Although Payton hinted in the spring that he thought this could potentially be the quarterback's last season, Brees said, "Man, I am not looking past one day at a time."
"With the new normal, we're navigating that. And I'm just taking it literally one day at a time," Brees said. "Listen, I'm excited for this season. There's obviously a lot of unknowns and a lot of variables and a lot of things that we're gonna have to navigate. But I think that's something we've always been good at.
"And going back to the reason I came back [for this season]. My wife and I had this conversation back when I made the decision. Yes, I'm coming back and I want to play for my team. But I also feel that this year is gonna be about something much greater than football. And, at this point, I think that was an understatement."
Vikings LB Cameron Smith discovers heart condition after positive COVID-19 test
MINNEAPOLIS — Minnesota Vikings linebacker Cameron Smith said he will miss the 2020 NFL season due to a congenital heart condition he only discovered after testing positive for COVID-19.
Smith, a fifth-round pick in 2019, announced Saturday he will have to undergo open-heart surgery to fix a bicuspid aortic valve. It's a procedure he didn't realize he needed until he tested positive for the coronavirus and underwent further testing.
"Although this will unfortunately end my 2020 season, it is really a blessing that we found this as my heart is severely enlarged and wouldn't have lasted much longer," Smith wrote in an Instagram post.
The linebacker said that the surgery will allow him to continue to play football once healed and that he "didn't think twice about going with that one."
Smith was a four-year starter at USC, where he totaled 354 tackles for the Trojans and earned All-Pac-12 honors in three seasons. He appeared in just five games for the Vikings in his rookie year and notched eight tackles.
Minnesota added linebacker depth on Saturday by signing former Raiders linebacker Quentin Poling. The team waived running back Tony Brooks-James as the corresponding move.
NFL training camp 2020 – Larry Fitzgerald still has it, while Browns and Lions get key weapons back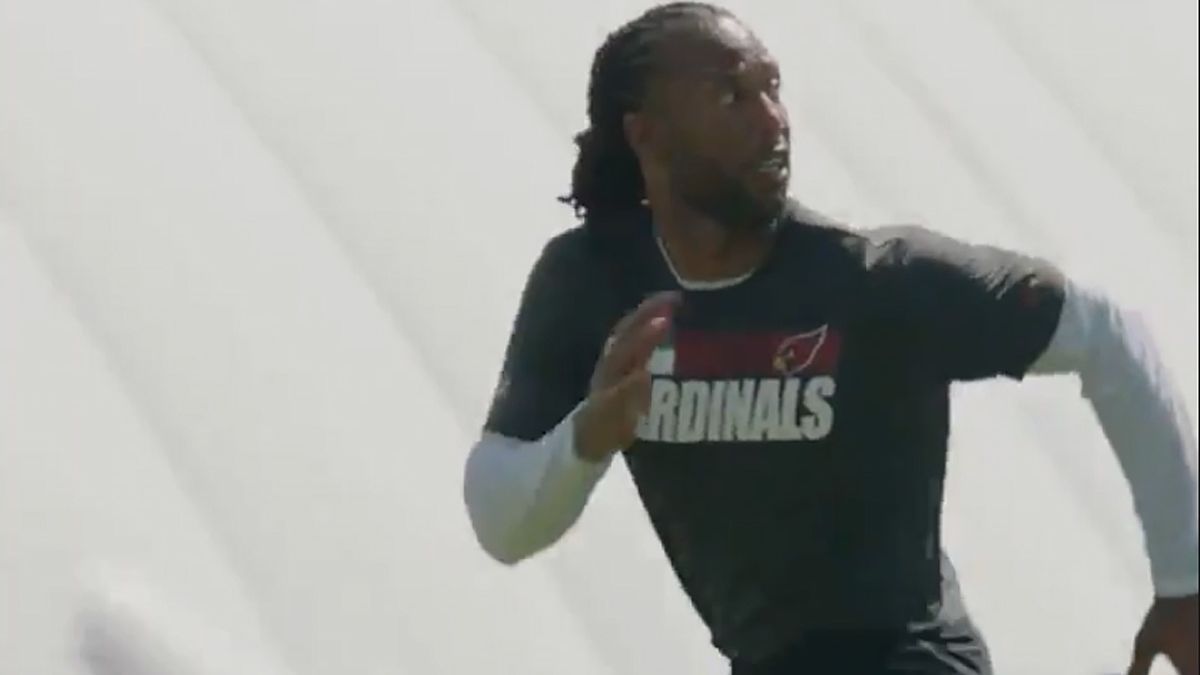 As 2020 NFL training camps continue, Arizona Cardinals receiver Larry Fitzgerald shows that age is nothing but a number while the Cleveland Browns and Detroit Lions each got key offensive weapons back in the fold.
Here's what you need to know from camps across the league:
Jump to the best of the day:
Photos | Videos | Quotes

Top news of the day

Browns WR Jarvis Landry passes physical, rejoins active roster
Browns wide receiver Jarvis Landry has been activated off the physically unable to perform list after passing his physical and has rejoined the active roster. Landry, who hasn't missed a game over his six years in the NFL, underwent hip surgery on Feb. 4 after battling an injury there throughout last season. The Browns on Saturday also activated safety Karl Joseph (foot) and tight end Pharaoh Brown (foot) from the off physically unable to perform list, and claimed cornerback M.J. Stewart off waivers.
Lions' T.J. Hockenson among 3 removed from reserve/COVID-19 list
The Lions activated tight end T.J. Hockenson off the COVID-19 reserve list Saturday, over a week after he first went on the list at the start of training camp. Hockenson, the team's first round pick last season, had 32 catches for 367 yards and two touchdowns in his rookie season before suffering a right ankle injury on Thanksgiving against Chicago that ended his year.

Source: Seahawks' Quinton Dunbar to be removed from commissioner's exempt list
Seahawks cornerback Quinton Dunbar is being removed from the commissioner's exempt list, a source told ESPN, confirming an NFL Network report. The move is expected to become official Sunday. Dunbar's removal from the exempt list allows him to re-join the Seahawks at team headquarters, which he's expected to do as early as Sunday. Dunbar could still face an NFL suspension.
Washington releases RB Derrius Guice shortly after arrest
The Washington Football Team released Guice on Friday night, less than two hours after he was arrested on domestic violence charges in Loudoun County, Virginia. Washington wasted little time in releasing Guice, saying in a statement that it had learned of a domestic violence-related incident Thursday. The team alerted the NFL and met Friday with Guice to let him know he was excused from all team activities.
Best videos
Leading by example i̶n̶ ̶Y̶e̶a̶r̶ ̶1̶7̶ always. pic.twitter.com/GzpMCJGiNs

— Arizona Cardinals (@AZCardinals) August 8, 2020
Solid week of work 💪@budlight | #SteelersCamp pic.twitter.com/WSl2WeOJuV

— Pittsburgh Steelers (@steelers) August 8, 2020
Production day is the gift that keeps on giving 😂 pic.twitter.com/aSzu9n3AhK

— Carolina Panthers (@Panthers) August 8, 2020
🗣 WHOSE HOUSE?! pic.twitter.com/uVe54wbKUU

— Los Angeles Rams (@RamsNFL) August 8, 2020
Gearing up! pic.twitter.com/ALKI2rm8bJ

— Houston Texans (@HoustonTexans) August 8, 2020
One week closer to the season 🙌#GoBucs pic.twitter.com/GMqPUa4vAK

— Tampa Bay Buccaneers (@Buccaneers) August 8, 2020
Water the sweet corn ✅
Say hi to @I_CU_Boy ✅
Put that work in ✅

A behind-the-scenes look at a day in the life at #BroncosCamp with @Dalton_Risner66 👇 pic.twitter.com/oyE4b6MHGK

— Denver Broncos (@Broncos) August 8, 2020
Hot potato. 🏈 pic.twitter.com/jIhHtshPfi

— Chicago Bears (@ChicagoBears) August 8, 2020
This feels good. 😃 pic.twitter.com/osZ5H1AX3B

— Tennessee Titans (@Titans) August 8, 2020
💪😤 @saquon 💪😤 pic.twitter.com/HCzNZhaqdP

— New York Giants (@Giants) August 8, 2020
---
Best photos
Chapter IV. Let's Go. pic.twitter.com/iFqS07d0eU

— JuJu Smith-Schuster (@TeamJuJu) August 8, 2020
When it's FINALLY the weekend 🙌 pic.twitter.com/8ByWeHfiRv

— New York Giants (@Giants) August 8, 2020
Mask mode ACTIVATED. 😷

More practice photos: https://t.co/xwLVP0OcWV pic.twitter.com/jemrO3tMeO

— Buffalo Bills (@BuffaloBills) August 8, 2020
Learning from the best. #RunItBack pic.twitter.com/QhFmGTuXwO

— Kansas City Chiefs (@Chiefs) August 8, 2020
Specialist appreciation post. 🙌@thekidmcmanus | @SamMartin_6 pic.twitter.com/LI6jrAFybd

— Denver Broncos (@Broncos) August 8, 2020
QB Scott Hunter rolling to practice in 1971 🚴@amfam #DreamDrive Flashback 📸 pic.twitter.com/tQgArcxGpd

— Green Bay Packers (@packers) August 8, 2020
---
Quotes of the day
"Duce has always been someone that can control the room. He demands respect and guys do respect him."

Eagles TE Zach Ertz, on Duce Staley.
---
What our NFL Nation reporters saw today
On Sunday morning, Cory Undlin will step in front of his defense for the first time at the Detroit Lions practice facility in Allen Park, Michigan. He's seen them for months now, but until Sunday he hasn't been able to actually be face-to-face with any of them. At least in real life. The Lions new defensive coordinator was hired in January and met with his players over Zoom all spring until now. "To say excited would be an understatement, obviously," Undlin said. "The respect that I have for virtual meeting right now and the way that whole spring was, and I talked about this a lot in June, if you're having a conversation with somebody and you're able to look them in the eye, like we are right now, I don't care if you're in person or not, this classroom, this media situation we're in right now, we've been doing this all spring and I've got a great feel for all those guys and I think they all have a great feel for me, whether we're in the meeting room or virtual however. But there is obviously a different feel after you can do it for six months and now you're physically in the same room. There is a difference. We know that. And I can't wait." — Michael Rothstein

The transition from Doug Pederson to Duce Staley has been "seamless" according to tight end Zach Ertz. Staley is manning the day-to-day operations while Pederson quarantines after testing positive for the coronavirus. "Duce has always been someone that can control the room," said Ertz,. "He demands respect and guys do respect him." Pederson continues to lead a lot of the team meetings virtually, "giving us direction at the end of the day," Ertz said. — Tim McManus

Panthers coach Matt Rhule is optimistic there will be football this season at Bank of America Stadium even though the North Carolina governor this week extended Phase 2 of COVID-19 re-opening another five weeks to at least September 11. Rhule says he can't imagine a safer environment than the one that has been created at BOA for coaches, players and staff members. So far the Panthers haven't placed a player on the NFL's Covid-19 list. Whether all this will lead to some fans attending games Rhule can't say. He's preparing for all scenarios. "Obviously, we want to play in front of fans," Rhule said. "We also want to be safe." — David Newton
ESPN
The Rams have placed DT A'Shawn Robinson on the active/non-football injury list, the team announced Saturday.

Following up on Jeremy Fowler's report that Panthers LT Russell Okung considered the NFL's COVID-19 opt out and hasn't ruled out retirement. According to Okung's agent, J.I. Halsell, retirement only is on the board if Okung is "not feeling comfortable in his work environment due to an outbreak of COVID. At this moment, we're nowhere near that scenario, meaning consideration of retirement is nowhere near imminent." Okung missed 10 games last season with the Chargers with a pulmonary embolism due to blood clots. Halsell said Okung fully plans to play for Carolina this season unless the current COVID-19 situation takes a turn for the worse. — David Newton

Giants veterans had their first day off. This after they completed their fifth day of the acclimation period Friday. The acclimation period is eight days total before they enter a four-day ramp-up period when they can actually do 7-on-7 and 11-on-11 drills (without pads). — Jordan Raanan
Lions' T.J. Hockenson among 3 removed from reserve/COVID-19 list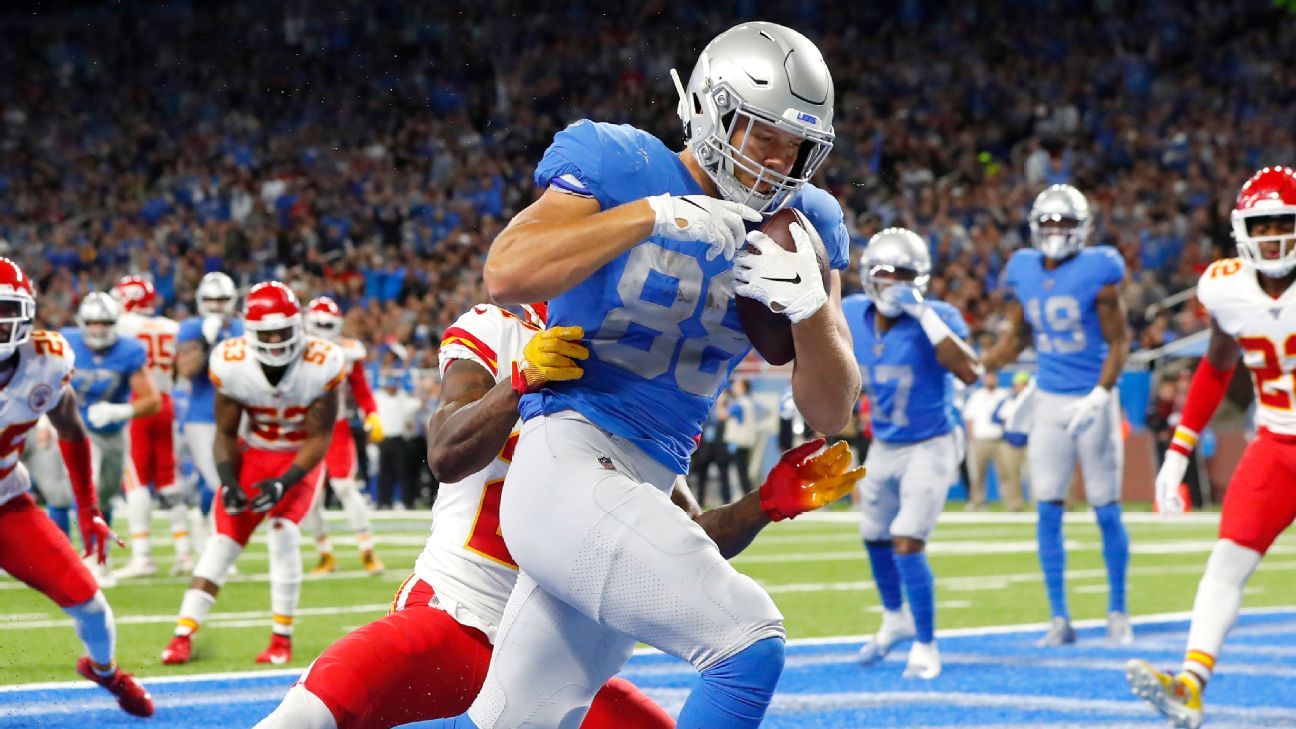 The Detroit Lions activated tight end T.J. Hockenson off the COVID-19 reserve list Saturday, over a week after he first went on the list at the start of training camp.
Hockenson, the team's first-round pick last season, had 32 catches for 367 yards and two touchdowns in his rookie season before suffering a right ankle injury on Thanksgiving against Chicago that ended his year.
The Lions are counting on Hockenson to play a pivotal role in his second year as the team's top tight end, paired with Jesse James.
The Lions have slowly returned to health after having eight players land on the COVID-19 list in the first week — including quarterback Matthew Stafford, who ended up with a false positive that helped lead to alterations to the NFL's testing protocol. Stafford was activated Tuesday.
In addition to Hockenson, cornerback Amani Oruwariye and punter Arryn Siposs were also activated from COVID reserve on Saturday. Oruwariye is in line to be Detroit's top depth cornerback. Siposs, a former professional Australian Rules football player who then went to Auburn, is competing for the team's punting job with Jack Fox.