Mets' Luis Rojas not saying if Edwin Diaz has lost closer's role
ATLANTA — New York Mets manager Luis Rojas wants to get Edwin Diaz back on the mound quickly.
Rojas won't say if the next outing for Diaz will come in a save situation.
Diaz's role as the Mets' closer again is being watched closely for the second straight season after the right-hander walked two batters, hit a batter and gave up a run while recording only one out in Thursday night's 4-2 loss to Boston.
"It was a little bit surprising, just kind of how the outing went," Diaz said through a translator before Friday night's game at the Atlanta Braves. "It had been five days since I last threw, so I felt like I didn't have my mechanics in order."
Diaz said he was "trying to overpower my pitches too much."
Diaz said he told Rojas he would like to be used more frequently — no matter when he enters the game.
"I'm open to pitching whenever," Diaz said. "That doesn't matter to me. It's just one of those things where I would like to pitch more frequently, as opposed to having those long layoffs."
Rojas said he had "a healthy conversation" with Diaz about the goal "to get him back on track when we get the chance."
Rojas said "the stuff is there, obviously," but he was worried about the emotions and lack of control Diaz showed against the Red Sox.
"We didn't talk about a specific role moving forward but we talked about looking forward to getting him back in there as soon as we can," Rojas said.
The Mets' ninth-inning options also include Seth Lugo, Jeurys Familia and Dellin Betances.
"Diaz is part of the depth that we have for pitchers that have experience closing games," Rojas said. "For us, we always talk about how much of a luxury that is."
Diaz has one save in two chances this season after losing the closer's role in 2019, when he had a 5.59 ERA. He had 57 saves and a 1.93 ERA with Seattle in 2018.
Giants' Hunter Pence feels 'awful' spoiling Johnny Cueto's no-hit bid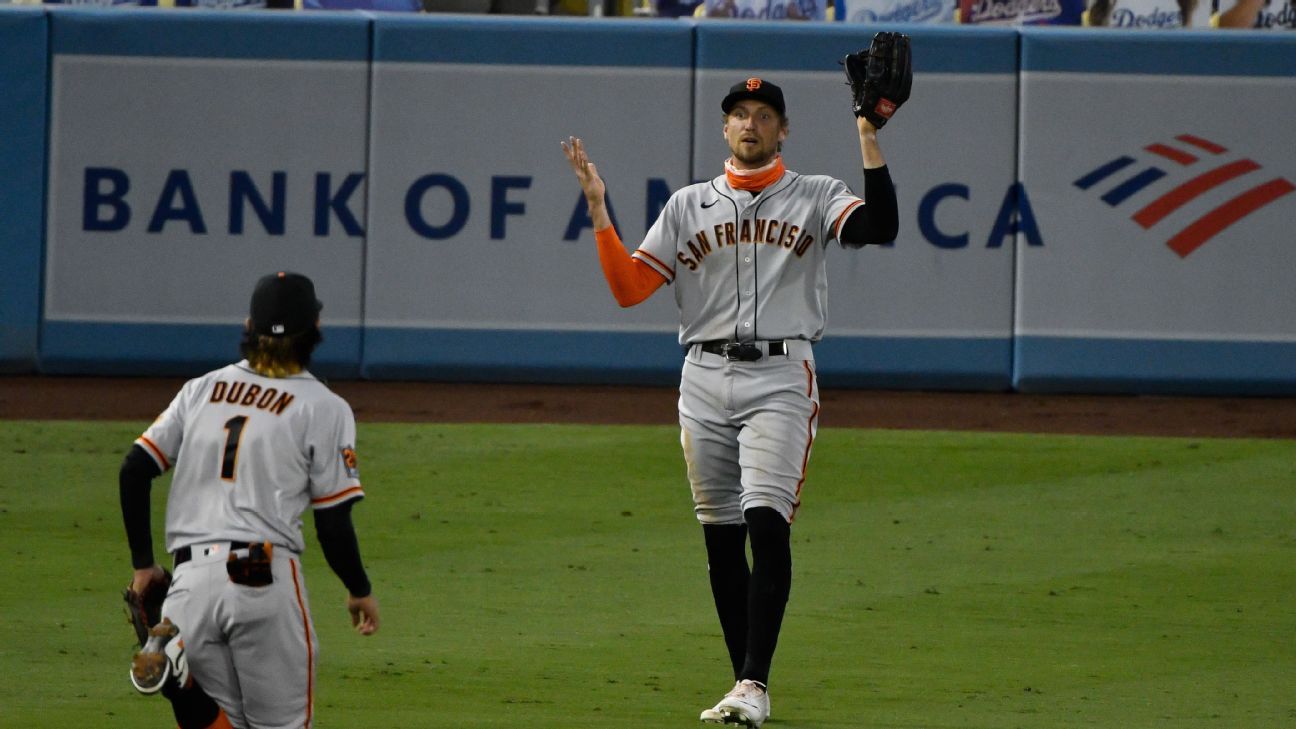 San Francisco Giants outfielder Hunter Pence said he felt "awful" that his defensive miscue in Saturday night's 5-4 win over the Los Angeles Dodgers spoiled teammate Johnny Cueto's bid for a no-hitter.
Cueto was dominant most of the night and carried a no-hitter into the sixth inning, when Enrique Hernandez led off by lofting a fly ball to left field for what appeared to be a routine out.
Pence, playing in left, lost track of the ball in the Dodger Stadium twilight, and it sailed over his head as Hernandez coasted to third base for the Dodgers' first hit of the night.
"Johnny had the magic and everything working," Pence said. "To spoil that feels absolutely awful. He deserves better."
Cueto appeared to unravel after that, and the Dodgers scored four runs in the inning to come within a run. His biggest mistake was a hanging curve ball to Justin Turner that resulted in a three-run homer. That was his final pitch of the night.
Before the sixth, Cueto (1-0) had allowed only a third-inning walk to Chris Taylor. He went 5 2/3 innings, marking his second straight outing where he was gone at least five innings. The right-hander allowed four runs on two hits with three walks and three strikeouts.
"Through five innings, Cueto could have shut anyone out in my opinion," Dodgers manager Dave Roberts said. "The stuff kept us off balance and everything was at the hollow of the knee. We didn't hit a ball hard all night outside of the homer from Justin."
Cueto developed a blister on his right big toe and said it started to bother him in the fourth inning. Manager Gabe Kapler and a trainer came to check on him in the sixth, but Cueto remained in the game.
"All my pitches were working fine and I felt comfortable," said Cueto, who became the eighth pitcher born in the Dominican Republic to make 300 starts. "I think the most frustrating thing was the ball that was lost. If that is caught the game changes and maybe I pitch out of the inning. I didn't throw a lot of pitches. It's hard to tell how far I could have gone."
The Associated Press contributed to this report.
Cardinals vs. Pirates on Monday postponed due to coronavirus
The Pittsburgh Pirates' flight to St. Louis on Sunday has been canceled and their game on Monday against the Cardinals has been postponed, sources told ESPN's Jeff Passan.
By Sunday, the teams will have a better sense as to whether they'll play Tuesday and Wednesday, sources told Passan.
The Cardinals' three-game series against the Chicago Cubs this weekend was postponed after the league said two Cardinals players and one staff member tested positive for the coronavirus from samples collected over the past two days.
In total, nine Cardinals players and seven staffers have tested positive since last week. The Cardinals haven't played since July 29.
Padres activate Eric Hosmer from IL, option Abraham Almonte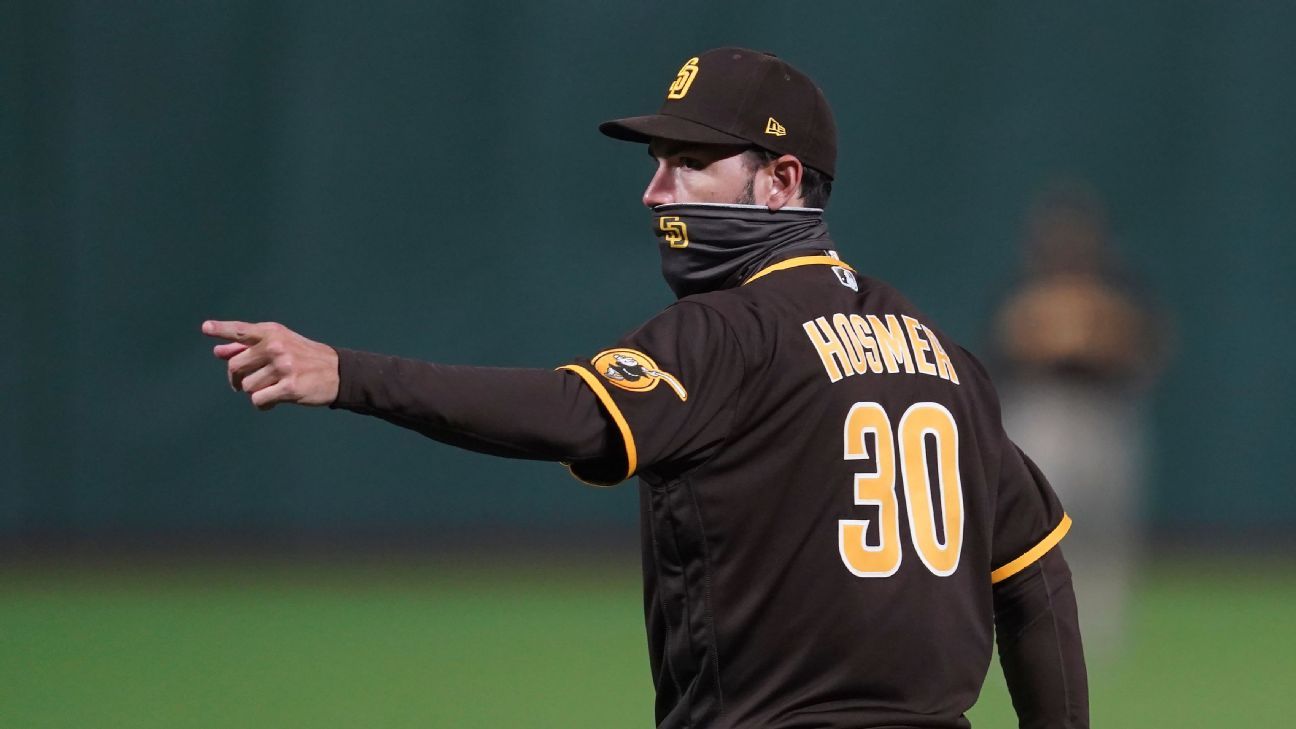 SAN DIEGO — San Diego Padres first baseman Eric Hosmer was activated from the injured list Saturday after missing 11 of the first 14 games with gastritis.
To make room on the roster, outfielder Abraham Almonte was optioned to the alternate training site.
Hosmer was placed on the IL on Aug. 1, retroactive to July 29. He was scratched from the lineup three previous games.
"I'm feeling a lot better," he said Saturday. "I'm feeling like I'm getting a lot of my strength back, gaining a lot of the weight I lost. Feels good to be back, being able to do something with the guys."
Hosmer said he never received a precise diagnosis of the ailment and plans to see specialists after the season.
The team said it was not related to COVID-19.
"I went a couple weeks there struggling to get fluids down, nutrients down," Hosmer said. "I've been on a pretty consistent schedule now as far as eating."
He has yet to hit a ground ball. He hit a pair of bases-clearing doubles in a 7-2 victory against Arizona in the season opener and a home run in a loss to the Diamondbacks two days later.
He was back at first base and batting fifth against the Arizona Diamondbacks on Saturday night. Rookie Jake Cronenworth, who made seven starts at first during Hosmer's absence, started at second base and hit seventh. Cronenworth has been impressive with his bat and glove.