How DeMarcus Ware opened a fitness center during a pandemic – Dallas Cowboys Blog
TROPHY CLUB, Texas — As DeMarcus Ware walks around 3 Volt Fitness he envisions the center's three different rooms bustling with activity. From the Lagree room that focuses on high-intensity, low-impact muscular endurance, to the cardio room filled with state-of-the-art Woodway treadmills, to the weight room that most would closely associate with the Dallas Cowboys' all-time leader in sacks (117 with Cowboys and 138.5 career).
From the concept, which he developed with fellow owners Angela Daniel and Randi Chapman, to completion, 3 Volt Fitness took about 18 months to finish. Opening any business, let alone a fitness operation, during the coronavirus pandemic is a tricky proposition. But the group never thought about shutting down or postponing the July 20 opening.
Sixty years ago, America's Team became the NFL's 13th team. For more on the franchise's storied history:
» Photos: 60 years of Cowboys moments
» All-time teams: Tom Landry vs. Jerry Jones
» More: Cowboys coverage on ESPN
"I'll never say I'm not going to make it because you've already lost with that mentality. I just say, 'I accept the challenge.' When I played, I accepted the challenge of a new opponent and knew what I needed to do to make sure that I'd win. It's the same in business. I'm going to research what I need to improve on, what I needed to get better at. It's like preparing for a game every day," Ware said.
The Cowboys' 2005 first-round pick (No. 11 overall), who played nine seasons for Dallas and three for the Denver Broncos including winning Super Bowl 50, searched for his next career after retiring from the NFL in 2016. At that time he was 34 and considered old in the NFL. But in the real world, he was young again.
Ware dabbled with some television work. He was a silent partner in some gyms in Dallas and Denver. He lent his name to other projects, but he kept coming back to fitness. During the NFL lockout in 2011, he rented out a car dealership that was not in use and held workouts with teammates and players across the league. He built a gym in his garage where he would train and mentor players.
"It's what I know," Ware said.
He had to learn about the finer details of how the body works to be successful in the fitness industry. He knew about the body from first-hand experience, too. Buried inside a box in his house, Ware has papers documenting the 51 injuries he suffered during his 12-year pro career.
"I remember my last year playing, I couldn't hardly walk," Ware said. "I said, 'I don't want my life to be like this.' I just wanted to be healthy and I got to that point and I started thinking, 'How did I do it?' because I know there's a lot of other people out there in pain, they don't want to work out, they're not motivated. I wasn't motivated. … But then I got back to what made me me, and that's fitness. It was like a light bulb went off."
Ware recently became a certified personal trainer, and he is in the process of earning certificates as a nutrition coach, a correction exercise specialist and a performance-enhancement specialist.
"He wants to be involved," said Chapman, who first worked with Ware while with SportsTrust Advisors in Atlanta. "He doesn't want to be one of these owners that doesn't know what's going on. It's, 'If I have to ring somebody up, I want to know. If someone needs to clock in, I want to know how to do it.' Some owners give money to someone and that's it. He said he wanted to be involved every step of the way."
Ware, 38, hopes to lead the 45-minute sessions in the various rooms at 3 Volt, but for now he is content to take the classes and help out.
"Somebody said the floor was slippery, so I came in and mopped it up and they said, 'Oh, thank you so much,'" Ware said. "I took my mask off and they [said], 'Oh, that was DeMarcus. He just mopped the floor.'"
When Jerry Jones purchased the Cowboys in 1989, he famously said he would be involved in everything from "socks to jocks," when it came to all aspects of the franchise. Ware is taking a similar approach with 3 Volt. During his nine-year run with the Cowboys, Ware spoke with Jones often and it was rarely about football — their conversations involved business and smart investing practices.
As Ware turned 3 Volt into a reality, he had numerous conversations with Jerry Jones Jr., the Cowboys' chief sales and marketing officer, and Mark Mastrov, founder of 24 Hour Fitness. Jones and Mastrov partnered to open a fitness operation called Cowboys Fit at The Star in Frisco, Texas.
"There was a lot of what you should do and what you shouldn't," Ware said of the advice he received.
Cleanliness already was at the top of Ware's list of concerns before the country was affected by the pandemic, but it has been emphasized even more so now. There are high-tech air filtration systems in each room of 3 Volt. To maintain social distancing, spaces for each workout session have been limited. After a piece of equipment is used, it gets wiped down, and following each class, the room and equipment are sanitized again. Masks are required upon entrance and temperatures are taken as a precaution.
"I want us to go above and beyond when it comes to this," Ware said.
In the first 12 days after opening, 3 Volt sold out its 50 founding memberships and has added more members since. Ware's long-term goal is to open more fitness centers in the Dallas and Denver areas.
They will all have the same boutique feel, but there will be something they won't feature.
Nowhere in the facility is anything that sparks memories of the career that one day will land Ware in the Hall of Fame.
"It won't be a success just throwing your name on something," Ware said. "I think what makes something really work is to see the person that's part of it working. You're not just a propaganda guy. They have to know this is you."
Vikings LB Cameron Smith discovers heart condition after positive COVID-19 test
MINNEAPOLIS — Minnesota Vikings linebacker Cameron Smith said he will miss the 2020 NFL season due to a congenital heart condition he only discovered after testing positive for COVID-19.
Smith, a fifth-round pick in 2019, announced Saturday he will have to undergo open-heart surgery to fix a bicuspid aortic valve. It's a procedure he didn't realize he needed until he tested positive for the coronavirus and underwent further testing.
"Although this will unfortunately end my 2020 season, it is really a blessing that we found this as my heart is severely enlarged and wouldn't have lasted much longer," Smith wrote in an Instagram post.
The linebacker said that the surgery will allow him to continue to play football once healed and that he "didn't think twice about going with that one."
Smith was a four-year starter at USC, where he totaled 354 tackles for the Trojans and earned All-Pac-12 honors in three seasons. He appeared in just five games for the Vikings in his rookie year and notched eight tackles.
Minnesota added linebacker depth on Saturday by signing former Raiders linebacker Quentin Poling. The team waived running back Tony Brooks-James as the corresponding move.
NFL training camp 2020 – Larry Fitzgerald still has it, while Browns and Lions get key weapons back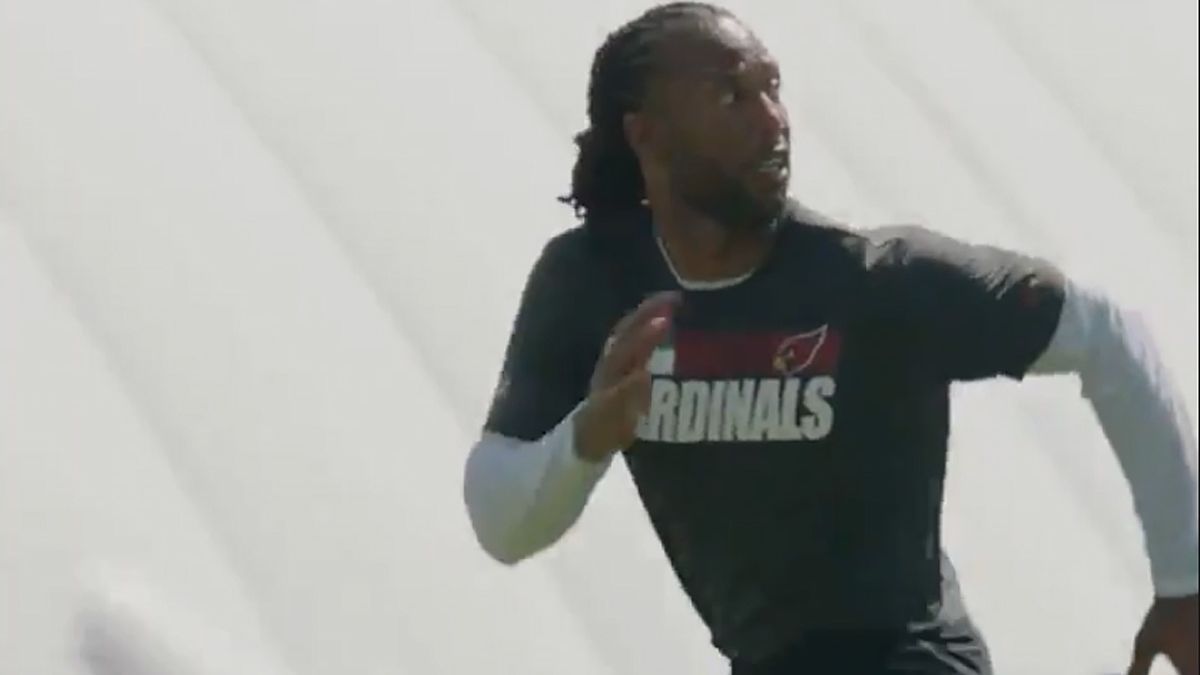 As 2020 NFL training camps continue, Arizona Cardinals receiver Larry Fitzgerald shows that age is nothing but a number while the Cleveland Browns and Detroit Lions each got key offensive weapons back in the fold.
Here's what you need to know from camps across the league:
Jump to the best of the day:
Photos | Videos | Quotes

Top news of the day

Browns WR Jarvis Landry passes physical, rejoins active roster
Browns wide receiver Jarvis Landry has been activated off the physically unable to perform list after passing his physical and has rejoined the active roster. Landry, who hasn't missed a game over his six years in the NFL, underwent hip surgery on Feb. 4 after battling an injury there throughout last season. The Browns on Saturday also activated safety Karl Joseph (foot) and tight end Pharaoh Brown (foot) from the off physically unable to perform list, and claimed cornerback M.J. Stewart off waivers.
Lions' T.J. Hockenson among 3 removed from reserve/COVID-19 list
The Lions activated tight end T.J. Hockenson off the COVID-19 reserve list Saturday, over a week after he first went on the list at the start of training camp. Hockenson, the team's first round pick last season, had 32 catches for 367 yards and two touchdowns in his rookie season before suffering a right ankle injury on Thanksgiving against Chicago that ended his year.

Source: Seahawks' Quinton Dunbar to be removed from commissioner's exempt list
Seahawks cornerback Quinton Dunbar is being removed from the commissioner's exempt list, a source told ESPN, confirming an NFL Network report. The move is expected to become official Sunday. Dunbar's removal from the exempt list allows him to re-join the Seahawks at team headquarters, which he's expected to do as early as Sunday. Dunbar could still face an NFL suspension.
Washington releases RB Derrius Guice shortly after arrest
The Washington Football Team released Guice on Friday night, less than two hours after he was arrested on domestic violence charges in Loudoun County, Virginia. Washington wasted little time in releasing Guice, saying in a statement that it had learned of a domestic violence-related incident Thursday. The team alerted the NFL and met Friday with Guice to let him know he was excused from all team activities.
Best videos
Leading by example i̶n̶ ̶Y̶e̶a̶r̶ ̶1̶7̶ always. pic.twitter.com/GzpMCJGiNs

— Arizona Cardinals (@AZCardinals) August 8, 2020
Solid week of work 💪@budlight | #SteelersCamp pic.twitter.com/WSl2WeOJuV

— Pittsburgh Steelers (@steelers) August 8, 2020
Production day is the gift that keeps on giving 😂 pic.twitter.com/aSzu9n3AhK

— Carolina Panthers (@Panthers) August 8, 2020
🗣 WHOSE HOUSE?! pic.twitter.com/uVe54wbKUU

— Los Angeles Rams (@RamsNFL) August 8, 2020
Gearing up! pic.twitter.com/ALKI2rm8bJ

— Houston Texans (@HoustonTexans) August 8, 2020
One week closer to the season 🙌#GoBucs pic.twitter.com/GMqPUa4vAK

— Tampa Bay Buccaneers (@Buccaneers) August 8, 2020
Water the sweet corn ✅
Say hi to @I_CU_Boy ✅
Put that work in ✅

A behind-the-scenes look at a day in the life at #BroncosCamp with @Dalton_Risner66 👇 pic.twitter.com/oyE4b6MHGK

— Denver Broncos (@Broncos) August 8, 2020
Hot potato. 🏈 pic.twitter.com/jIhHtshPfi

— Chicago Bears (@ChicagoBears) August 8, 2020
This feels good. 😃 pic.twitter.com/osZ5H1AX3B

— Tennessee Titans (@Titans) August 8, 2020
💪😤 @saquon 💪😤 pic.twitter.com/HCzNZhaqdP

— New York Giants (@Giants) August 8, 2020
---
Best photos
Chapter IV. Let's Go. pic.twitter.com/iFqS07d0eU

— JuJu Smith-Schuster (@TeamJuJu) August 8, 2020
When it's FINALLY the weekend 🙌 pic.twitter.com/8ByWeHfiRv

— New York Giants (@Giants) August 8, 2020
Mask mode ACTIVATED. 😷

More practice photos: https://t.co/xwLVP0OcWV pic.twitter.com/jemrO3tMeO

— Buffalo Bills (@BuffaloBills) August 8, 2020
Learning from the best. #RunItBack pic.twitter.com/QhFmGTuXwO

— Kansas City Chiefs (@Chiefs) August 8, 2020
Specialist appreciation post. 🙌@thekidmcmanus | @SamMartin_6 pic.twitter.com/LI6jrAFybd

— Denver Broncos (@Broncos) August 8, 2020
QB Scott Hunter rolling to practice in 1971 🚴@amfam #DreamDrive Flashback 📸 pic.twitter.com/tQgArcxGpd

— Green Bay Packers (@packers) August 8, 2020
---
Quotes of the day
"Duce has always been someone that can control the room. He demands respect and guys do respect him."

Eagles TE Zach Ertz, on Duce Staley.
---
What our NFL Nation reporters saw today
On Sunday morning, Cory Undlin will step in front of his defense for the first time at the Detroit Lions practice facility in Allen Park, Michigan. He's seen them for months now, but until Sunday he hasn't been able to actually be face-to-face with any of them. At least in real life. The Lions new defensive coordinator was hired in January and met with his players over Zoom all spring until now. "To say excited would be an understatement, obviously," Undlin said. "The respect that I have for virtual meeting right now and the way that whole spring was, and I talked about this a lot in June, if you're having a conversation with somebody and you're able to look them in the eye, like we are right now, I don't care if you're in person or not, this classroom, this media situation we're in right now, we've been doing this all spring and I've got a great feel for all those guys and I think they all have a great feel for me, whether we're in the meeting room or virtual however. But there is obviously a different feel after you can do it for six months and now you're physically in the same room. There is a difference. We know that. And I can't wait." — Michael Rothstein

The transition from Doug Pederson to Duce Staley has been "seamless" according to tight end Zach Ertz. Staley is manning the day-to-day operations while Pederson quarantines after testing positive for the coronavirus. "Duce has always been someone that can control the room," said Ertz,. "He demands respect and guys do respect him." Pederson continues to lead a lot of the team meetings virtually, "giving us direction at the end of the day," Ertz said. — Tim McManus

Panthers coach Matt Rhule is optimistic there will be football this season at Bank of America Stadium even though the North Carolina governor this week extended Phase 2 of COVID-19 re-opening another five weeks to at least September 11. Rhule says he can't imagine a safer environment than the one that has been created at BOA for coaches, players and staff members. So far the Panthers haven't placed a player on the NFL's Covid-19 list. Whether all this will lead to some fans attending games Rhule can't say. He's preparing for all scenarios. "Obviously, we want to play in front of fans," Rhule said. "We also want to be safe." — David Newton
ESPN
The Rams have placed DT A'Shawn Robinson on the active/non-football injury list, the team announced Saturday.

Following up on Jeremy Fowler's report that Panthers LT Russell Okung considered the NFL's COVID-19 opt out and hasn't ruled out retirement. According to Okung's agent, J.I. Halsell, retirement only is on the board if Okung is "not feeling comfortable in his work environment due to an outbreak of COVID. At this moment, we're nowhere near that scenario, meaning consideration of retirement is nowhere near imminent." Okung missed 10 games last season with the Chargers with a pulmonary embolism due to blood clots. Halsell said Okung fully plans to play for Carolina this season unless the current COVID-19 situation takes a turn for the worse. — David Newton

Giants veterans had their first day off. This after they completed their fifth day of the acclimation period Friday. The acclimation period is eight days total before they enter a four-day ramp-up period when they can actually do 7-on-7 and 11-on-11 drills (without pads). — Jordan Raanan
Lions' T.J. Hockenson among 3 removed from reserve/COVID-19 list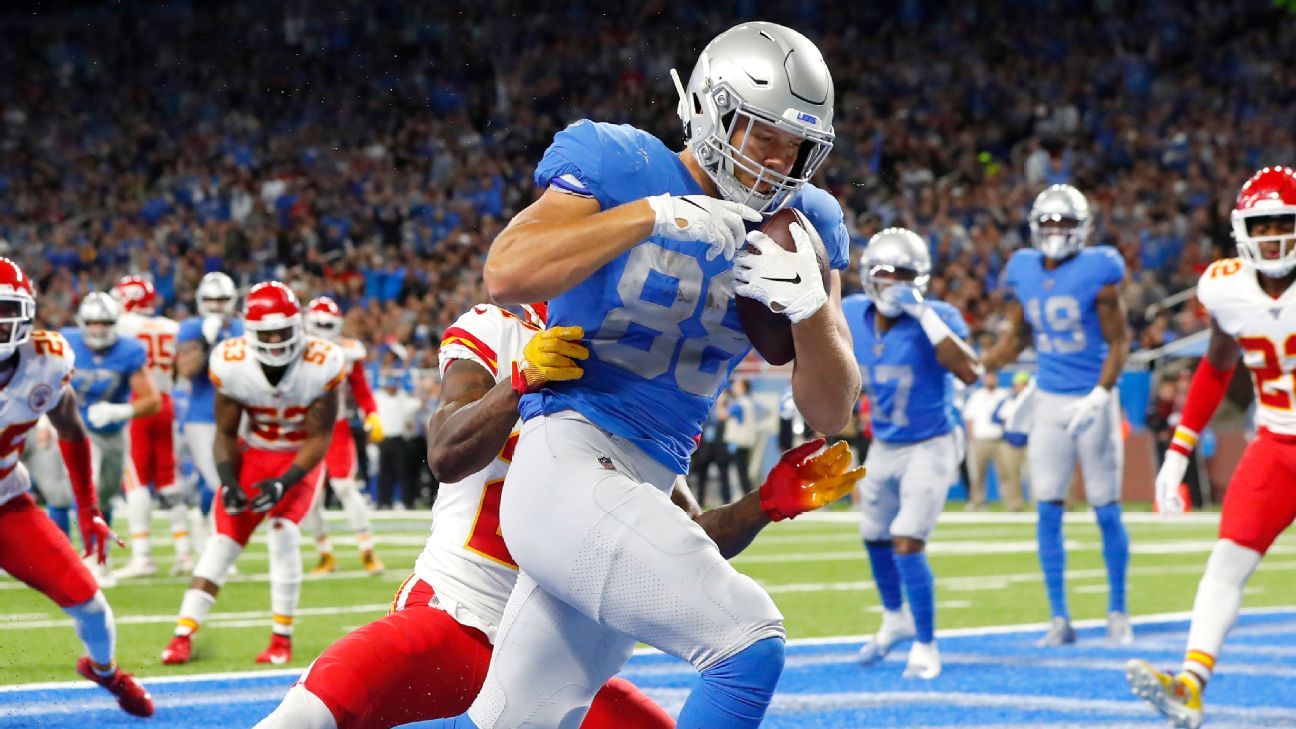 The Detroit Lions activated tight end T.J. Hockenson off the COVID-19 reserve list Saturday, over a week after he first went on the list at the start of training camp.
Hockenson, the team's first-round pick last season, had 32 catches for 367 yards and two touchdowns in his rookie season before suffering a right ankle injury on Thanksgiving against Chicago that ended his year.
The Lions are counting on Hockenson to play a pivotal role in his second year as the team's top tight end, paired with Jesse James.
The Lions have slowly returned to health after having eight players land on the COVID-19 list in the first week — including quarterback Matthew Stafford, who ended up with a false positive that helped lead to alterations to the NFL's testing protocol. Stafford was activated Tuesday.
In addition to Hockenson, cornerback Amani Oruwariye and punter Arryn Siposs were also activated from COVID reserve on Saturday. Oruwariye is in line to be Detroit's top depth cornerback. Siposs, a former professional Australian Rules football player who then went to Auburn, is competing for the team's punting job with Jack Fox.