New England Patriots' Jason McCourty voices concern for season
New England Patriots cornerback Jason McCourty, set to enter his 12th year in the NFL, expressed concern that the league will be able to complete a 2020 season.
The first group of Patriots players is scheduled to report to the team's facility Monday for coronavirus testing, and on the eve of his arrival, McCourty explained why he's not optimistic.
"I'm not going to lie, for me as a fellow player, I go on social media and it makes me very nervous to think there will be a season," he said Sunday night on his "Double Coverage" podcast with his brother, Patriots defensive back Devin McCourty.
"Because I've seen guys posting a video in a nightclub, and it's just like, 'Yo, we're attempting to play football. That's not going to be OK.' You see guys working out in one city on a Monday, working out in another city on a Tuesday, and another city the next week, and it's just like, 'Dang, if they're working out here, here and here, that means you have to be traveling and you come across however many people.' Or you see a guy posting pictures and there's hundreds of [people], whether it's anywhere. So for me, it is nerve-wracking."
McCourty, 32, shared on the podcast that it's not in his nature to be negative. His remarks came before news broke that the Miami Marlins' home opener against the Baltimore Orioles on Monday night has been postponed as coronavirus cases continue to pop up among the team.
Major League Baseball, like the NFL, is attempting to complete a season outside of a bubble environment.
"Those are the things that for me, make it nervous to say, 'Are we going to be able to have an entire season?' Because of small things like that that go a long way … it only takes one person testing positive, you come into the building, and that thing will spread like wildfire," McCourty said.
McCourty entered the NFL as a sixth-round draft pick of the Tennessee Titans in 2009. He's played for the Titans (2009-2016), the Cleveland Browns (2017) and Patriots (2018-present).
He played football at Rutgers, which over the weekend stopped all in-person team activities and quarantined the entire football program after six additional positive tests for COVID-19 were announced Saturday.
New Orleans Saints' Michael Thomas ruled out vs. Green Bay Packers with ankle injury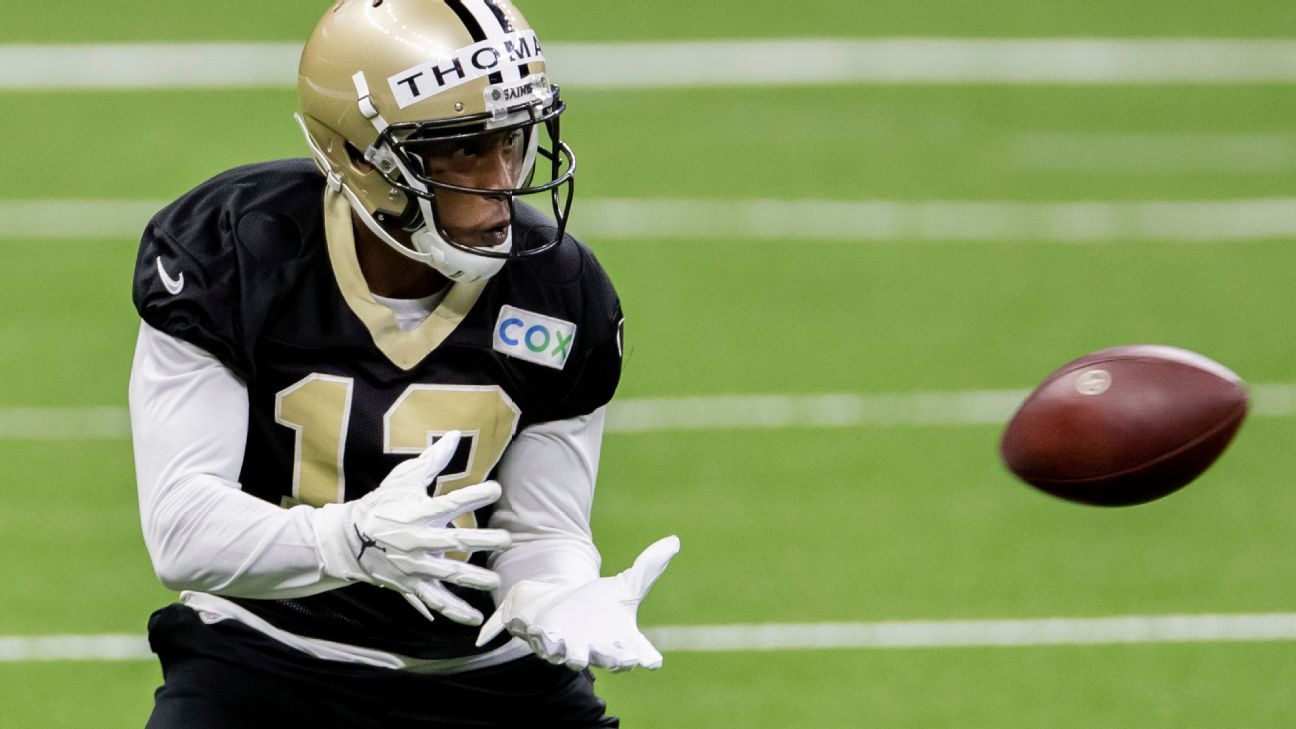 METAIRIE, La. — New Orleans Saints receiver Michael Thomas won't play in Sunday night's game against the Green Bay Packers after he was ruled out for the second straight week with his high ankle sprain.
Thomas has not practiced since he suffered the ankle injury during the final minutes of New Orleans' Week 1 victory over the Tampa Bay Buccaneers. However, the team chose not to place him on injured reserve — which would have required him to miss at least three games. So there is still hope that he could potentially return as soon as next week.
The Saints' offense struggled without Thomas in Monday night's 34-24 loss to the Las Vegas Raiders, which led to scrutiny over Drew Brees' lack of downfield passes.
Brees completed 26 of 38 passes for 312 yards with one touchdown and one interception. Third-year receiver Tre'Quan Smith caught five passes for 86 yards, but newly signed veteran receiver Emmanuel Sanders had just once catch for 18 yards.
"Obviously with the loss of Mike Thomas last week, we're having to fit some guys in new roles, get some guys some significant playing time, maybe in different situations that they haven't been in before," Brees said earlier this week. "I think there definitely is that element of just getting everybody on the same page, everybody in sync. And man, I'm confident with the guys that we have, with the system that we have and everything that we're gonna be able to get back on track."
Thomas is obviously vital to New Orleans' offense. He won the NFL's Offensive Player of the Year award last season after setting the NFL record with 149 catches in a season.
Thomas isn't the only star receiver who might be missing from Sunday night's marquee matchup, however. Packers receiver Davante Adams is listed as doubtful after missing practice all week with a hamstring injury.
Raiders rookie WR Henry Ruggs III ruled out vs. Patriots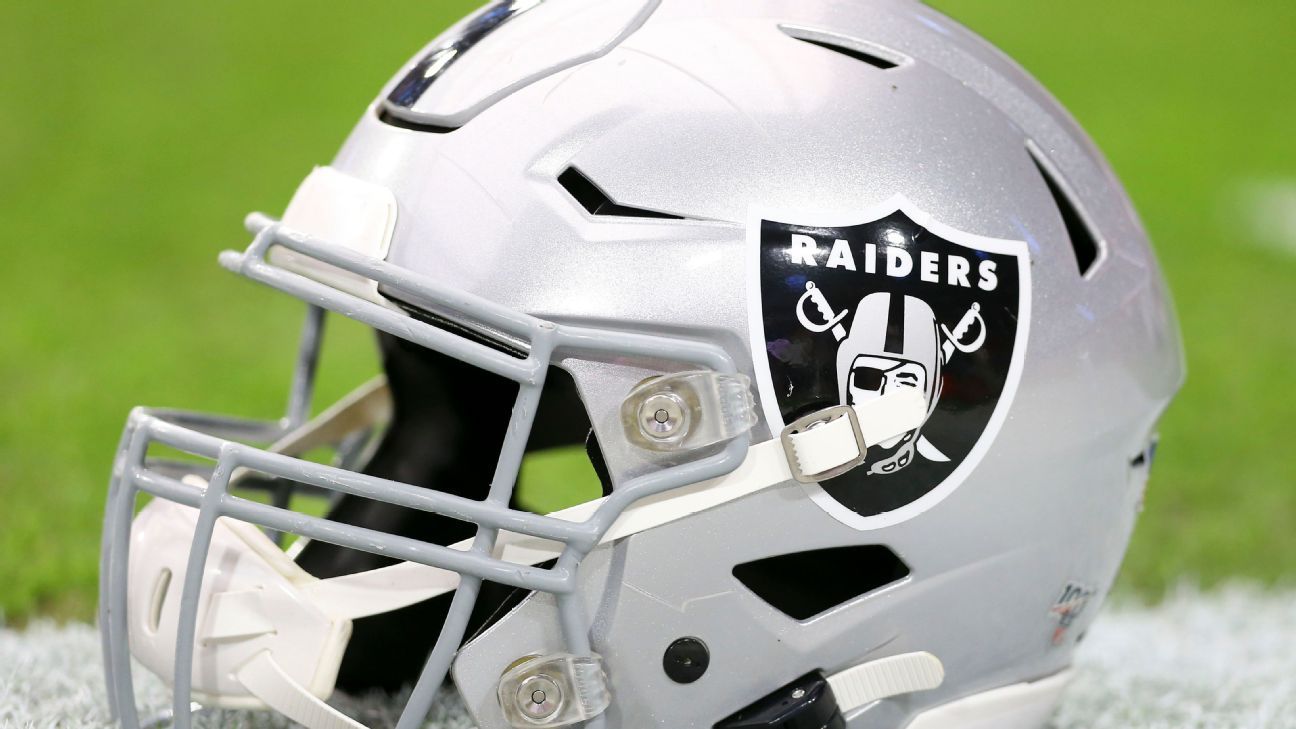 HENDERSON, Nev. — Las Vegas Raiders rookie receiver Henry Ruggs III, the fastest player in the 2020 draft, was ruled out Sunday against the New England Patriots with knee and hamstring injuries.
Ruggs injured his hamstring in practice on Thursday.
Ruggs, who caught three passes for 55 yards and carried the ball twice for 11 yards in the Raiders' season-opening win at Carolina, tweaked a knee in the first half of that game. He was mainly a decoy in Monday night's defeat of the New Orleans Saints, with one catch for 4 yards on three targets, though he did draw a crucial pass interference penalty in the fourth quarter on a deep pass from Derek Carr.
Two other Raiders starters were also ruled out in right tackle Trent Brown (calf) and middle linebacker Nick Kwiatkoski (pectoral). Both were injured at Carolina and neither played against the Saints.
Meanwhile, Raiders running back Josh Jacobs (hip) and tight end Darren Waller (knee) both practiced Friday for the first time since Monday night's home opener and were both listed as questionable to play in New England.
Also, left guard Richie Incognito went on IR earlier this week with an Achilles injury.
Detroit Lions' Kenny Golladay (hamstring) hopes to make debut vs. Arizona Cardinals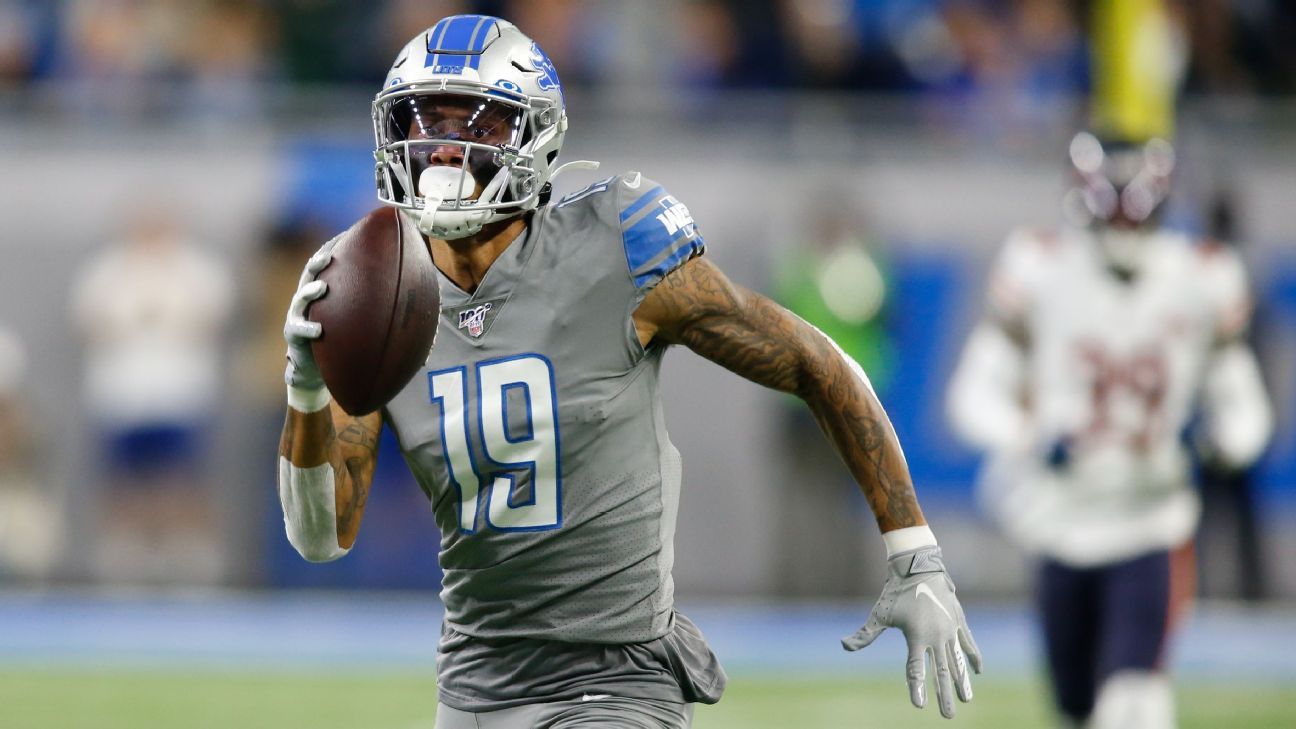 The Detroit Lions seem to be closer to getting their top wide receiver back.
Kenny Golladay said he hopes to make his season debut against the Arizona Cardinals on Sunday after missing the first two games with a hamstring injury. "God-willing, I'm going to try everything in my power to be out there with the guys," Golladay said.
The Pro Bowl wide receiver practiced on a limited basis Wednesday, Thursday and Friday and said while he doesn't feel 100 percent — he wouldn't put a percentage on how healthy he is — he's going to do everything he can and show enough to play against Arizona.
In three career games, Golladay has three touchdowns against Arizona.
Golladay said the injury has been frustrating, but that unlike his rookie year when he also had a hamstring injury, he listened to his body more this time around. He also said he understood his body more and wanted to make sure there wouldn't be any setbacks. So he listened to his trainers and didn't push anything.
"Me missing a couple of games to try and be back hopefully for Week 3," Golladay said. "That's better than me missing six games."
Detroit is getting healthier. In addition to Golladay, right tackle Halapoulivaati Vaitai (foot) is questionable but practiced all week. Cornerback Desmond Trufant (hamstring) is doubtful, safety C.J. Moore (calf) is questionable and tight end Hunter Bryant (hamstring) is out.