Red Sox pitcher Eduardo Rodriguez tests positive for COVID-19
Boston Red Sox left-hander Eduardo Rodriguez has been diagnosed with coronavirus and is "not feeling 100 percent," according to manager Ron Roenicke.
Roenicke also announced Tuesday that third baseman Bobby Dalbec has tested positive for the virus.
Because of ace Chris Sale's season-ending Tommy John surgery and David Price's departure to the Los Angeles Dodgers, Rodriguez was expected to take a lead role in Boston's starting rotation this year.
Rodriguez, 27, enjoyed a breakthrough 2019 season and was one of the bright spots on the Red Sox staff, going 19-6 with a 3.81 ERA and 213 strikeouts. He posted career-bests in wins, ERA, strikeouts and innings (203.1).
Marlins cleared to play vs. Orioles after test result delay, source says
The delay in the Miami Marlins' first game back after a COVID-19 outbreak on the team put their season on pause has been resolved, a source confirmed to ESPN's Jeff Passan.
Major League Baseball released a statement around three hours before the scheduled 7:35 p.m. start saying the game "may be delayed as we await the final test results clearing the Marlins to resume play."
Multiple coronavirus tests for the Marlins had come back inconclusive, but were re-run and all came back negative, the source said.
The Marlins, who haven't played a game since July 26, are now set to resume their season against the Baltimore Orioles on Tuesday night. At least 18 players, and 21 in the traveling party, tested positive after a series against the Philadelphia Phillies, forcing an eight-day hiatus that included nine missed games.
Tuesday's night's game is a makeup from July 29, which was supposed to be Baltimore's home opener. The Orioles instead played the New York Yankees.
Baseball reporter Craig Mish was first to report that the Marlins had been cleared to play.
The Associated Press contributed to this report.
Juan Soto reinstated from COVID IL; not in lineup for Washington Nationals
WASHINGTON — Left fielder Juan Soto was reinstated by the Washington Nationals from the COVID-19 injured list Tuesday after missing the team's first seven games of the season.
Manager Dave Martinez did not put the slugger in Washington's starting lineup against the New York Mets for the opener of a two-game series Tuesday night. Martinez did say Soto was available to pinch hit.
"I talked to him last night and he really felt like he probably could use another day or two. He said his legs felt a little heavy. His arm was a little sore," Martinez said. "He tried to ramp it up. … The last four days, he probably got about 20 at-bats. In that respect, he doesn't feel that bad, but I want to make sure we keep him healthy. We just got him back. He missed a lot of time."
Soto was sidelined on Opening Day, July 23, after testing positive for the coronavirus.
He was allowed to return to workouts on Saturday, part of an unusual four-day break for the Nationals caused by the suspension of the Miami Marlins' season after a team outbreak of COVID-19.
The Nationals also reinstated right-handed reliever Wander Suero from the IL before Tuesday's game and optioned outfielder Andrew Stevenson to the club's alternate training site. Only one corresponding move was necessary because the Nationals already had placed reliever Will Harris on the IL last week.
The 21-year-old Soto is a big part of Washington's offense. He had 34 homers and 110 RBIs during the 2019 regular season before becoming a postseason star while helping the franchise win its first World Series championship.
During a 3-4 start to the truncated season, the Nationals are averaging 3.4 runs per game and their team OPS is just .704.
Clearly, Martinez wants Soto in the middle of the order. But he also wants to be cautious.
"I told him: 'You've got to understand, too, we do have a DH now. So these days where you need a day off, we can plop you at DH.' And he said, 'Yeah, I forgot about that,'" Martinez said.
Meanwhile, World Series MVP Stephen Strasburg will throw a simulated game Wednesday. He has missed his first two starts of 2020 because of a nerve issue in his right hand and only recently began throwing off a mound.
Cleveland Indians' Terry Francona gets tests, return unknown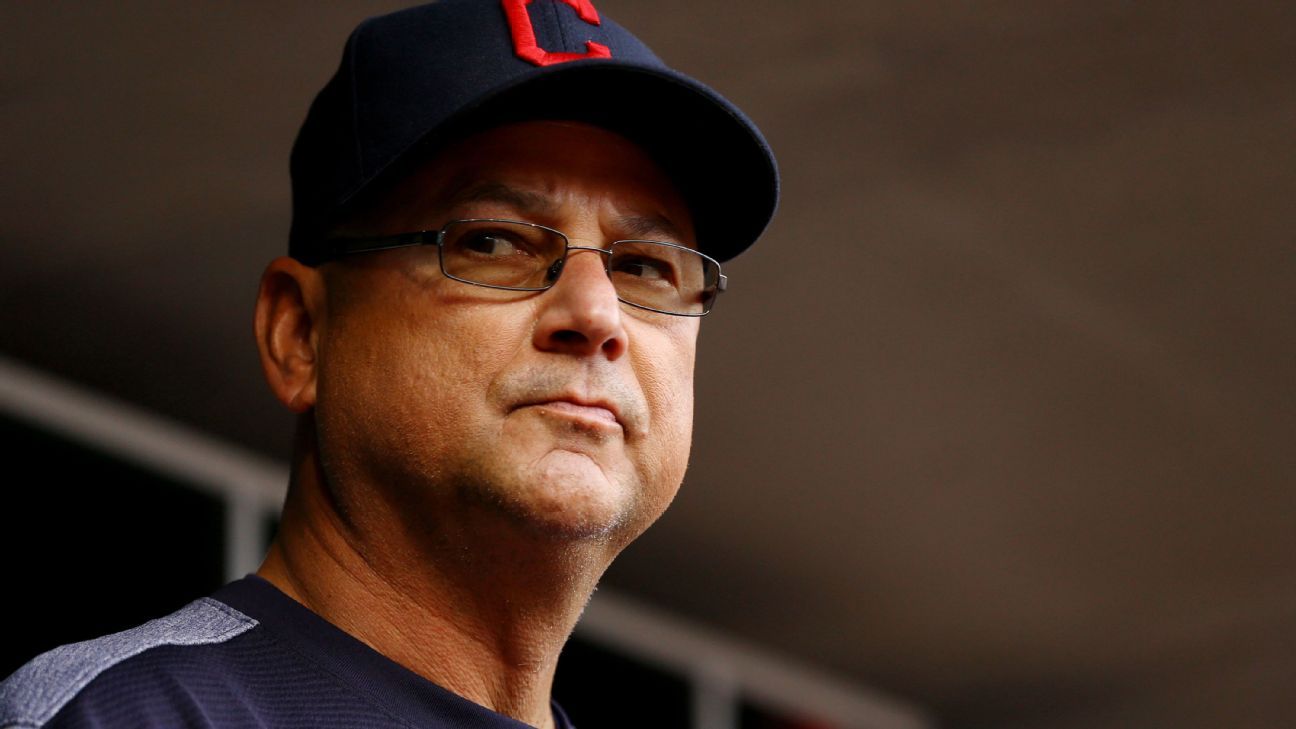 CLEVELAND — Indians manager Terry Francona continues to undergo medical tests for a gastrointestinal issue, and there remains no clear timetable for when he'll return to the team.
Francona has scheduled appointments with "a series of doctors" at the Cleveland Clinic on Tuesday and Wednesday, said team president Chris Antonetti, who is with the team in Cincinnati. Antonetti doesn't know when Francona will be back and doesn't believe he will be sidelined for a significant period.
"That's not our expectation at this point," Antonetti said shortly after speaking with Francona. "But as I've shared and have been pretty consistent, our first priority will always be Tito's health and well-being and whatever puts him in the best position to be healthy and feel better that will always take priority. But that's not our expectation at this point."
Antonetti said Francona has not been admitted to the hospital. The Indians open a two-game series at home with the Reds on Wednesday.
Francona has been bothered by a stomach issue since spring training opened earlier this year. He was forced to miss a couple games because he wasn't feeling well.
On Sunday, the 61-year-old left the ballpark and returned to the team's hotel in Minnesota and he skipped the Indians' two-game series against the Reds in order to get checked out.
"He's not happy about it, but he understands it's the right thing to do," Antonetti said. "He wants to feel better and that's what we all want and for him to get back to doing what he loves, which is managing the team every day and hopefully that can happen in the not-to-distant future."
The Indians have lost four straight games, three without Francona, going into Tuesday night's matchup in Cincinnati.
First-base coach Sandy Alomar is filling in for Francona while he's away.