Patrick Mahomes sought security, flexibility for Chiefs in landmark deal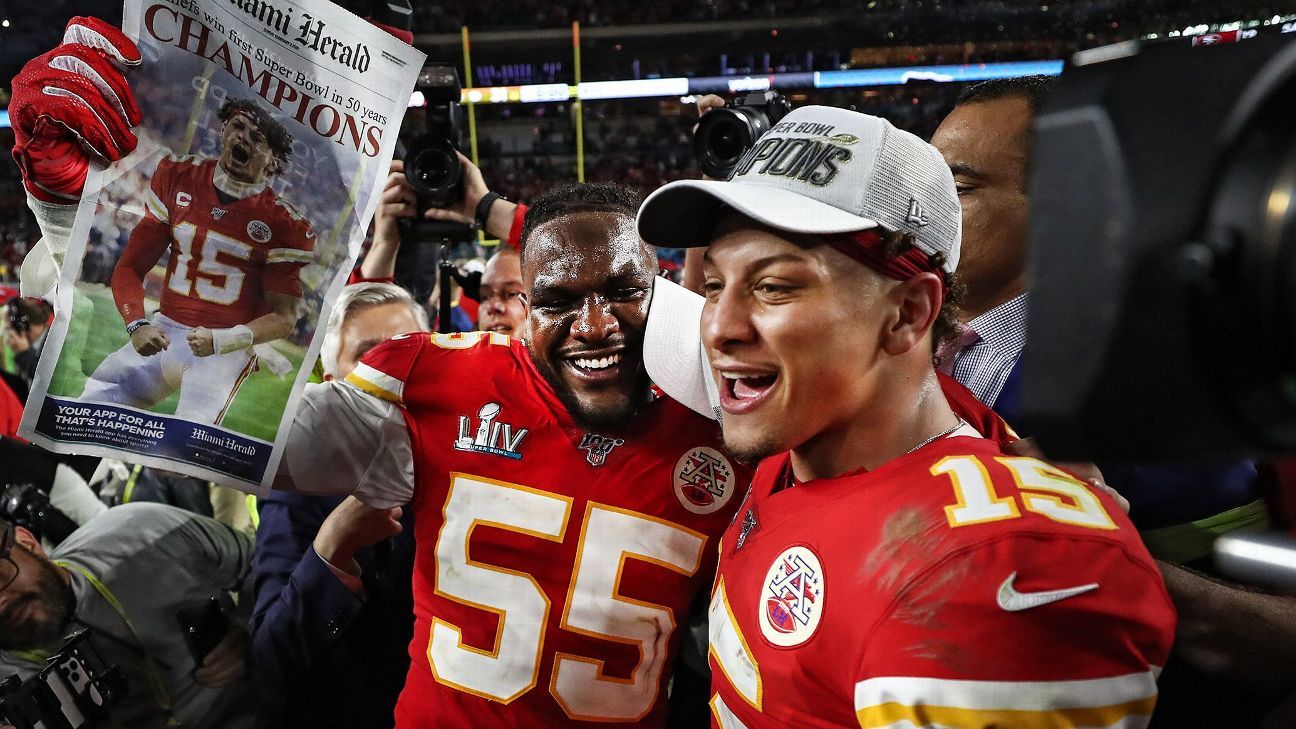 Patrick Mahomes said he had two goals for his new contract when extension talks began with the Kansas City Chiefs earlier this summer: He wanted long-term security and he wanted to leave the Chiefs enough financial flexibility to otherwise build a strong team around him.
Mahomes said Tuesday he's confident he attained both by signing a 10-year extension that could pay him up to $503 million and is the richest valued contract in American professional sports. Combined with the two seasons on his existing deal, Mahomes is bound to the Chiefs through the 2031 season.
"Not only does it give me the security that I've always wanted but also it allows an opportunity for the team to be great around me the entire duration of my career," Mahomes said. "I have full trust things will be handled the right way as we go throughout this career and that we will be in a position to win a lot of football games and hopefully win a lot more championships as my career goes on.
"It's an exciting time. I'm just glad that I get to continue to build this legacy in Kansas City."
Mahomes said he leaned on his father Pat and godfather LaTroy Hawkins for advice. Both were long-time major-league baseball pitchers.
"They didn't sign that long-term contract but they saw players who did and . . . how they were able to go out there and play free knowing they had the security that they had always wanted," Mahomes said. "The biggest thing they preached to me is kind of the same thing I already thought. It was good to just hear them. You want to have great players around you. You don't want to be a guy that takes up all the money and then all of a sudden you're having to sign different guys that will take cheaper deals. We're going to be able to reward players and keep a lot of these guys around that have built the culture even before I was here."
To sign for the next 12 seasons required a great deal of trust on the part of Mahomes. It's impossible to know what the Chiefs will have in place around him much beyond the immediate future. Coach Andy Reid, for instance, is 62 years old though he seems to be enjoying coaching as much now as he ever did. Mahomes said he consulted with Reid before signing such a long extension.
"He said he had no thoughts of being retired any time soon," Mahomes said. "Obviously, that's a huge part of it. Having Brett Veach, a young general manager who's done a great job of drafting and putting a lot of great players round me, was definitely another huge boost of confidence to sign this 10-year extension.
"You can't do this with every single organization. When you have an organization with the stability and the culture that we have in the Chiefs' organization, I felt very comfortable. I have a lot of trust that I can do a contract like this knowing that we were going to have that same stability by the time I'm at the end of that contract."
The Chiefs said they had no problem in giving Mahomes, who is still only 24 years old, a long extension. He has yet to disappoint them in his two seasons as their starting quarterback. He was the NFL's MVP in 2018 and last season led the Chiefs to their first Super Bowl championship in 50 years.
"There's still a lot of improvement for Pat in his game," Veach said. "He's still growing and learning. He's hungry. He's a special kid. At such a young age he's so mature."
As the 2018 season started and it quickly became evident what kind of player Mahomes is, Veach met with the Chiefs' salary cap managers and they started preparing for what he called a "baseball contract" for Mahomes. Mahomes' deal tops the contract signed last year by Los Angeles Angels star Mike Trout, who signed for 12 years and almost $427 million.
"If there was ever a player that was truly deserving of the largest contract in U.S. sports history, it's definitely Pat Mahomes," Veach said.
49ers receiver Travis Benjamin says he's opting out of 2020 season
San Francisco 49ers wide receiver Travis Benjamin has opted out of the 2020 NFL season, he announced Tuesday night.
Benjamin is the first member of the 49ers to opt out for the season and his announcement comes one day after general manager John Lynch said he had yet to have a conversation with a player who had planned on opting out. NFL players have until 4 p.m. ET on Thursday to opt out for the season.
After signing a one-year contract with the 49ers in March, Benjamin announced he was opting out via his Twitter page.
"First, I would like to thank the 49ers organization for their continued support," Benjamin wrote. "After much consideration and discussion with my family I have decided to opt out of the 2020 NFL season as I feel this is the best decision for my family. I will continue to support my teammates and many friends around the league this season. As we continue to navigate the pandemic I wish that everyone stays safe."
— Travis Benjamin (@TravisBenjamin3) August 5, 2020
Benjamin was expected to compete for a roster spot at wide receiver and, likely, as a returner in what would have been his first season with the 49ers. He had previously played for San Francisco coach Kyle Shanahan when Shanahan was the Cleveland Browns' offensive coordinator in 2014.
Shanahan said Monday that he understood and respected any player who made the decision to opt out, noting that every situation is different.
"You want everyone to know that there's no right or wrong answers," Shanahan said. "It's what you're comfortable with … I think we all feel the same."
Benjamin entered the league as a fourth-round pick of the Browns in 2012. He spent four years in Cleveland and four years with the Chargers before signing with the Niners in the offseason. For his career, Benjamin has 208 receptions for 3,143 yards and 19 touchdowns as well as four punt return touchdowns.
On the same day Benjamin opted out, the Niners moved wide receiver Richie James Jr. from the reserve/COVID-19 list to the active non-football injury list. James, who is dealing with a broken right wrist, was the Niners' primary kick and punt returner in 2019.
Vikings-Raiders trade nixed after P.J. Hall fails physical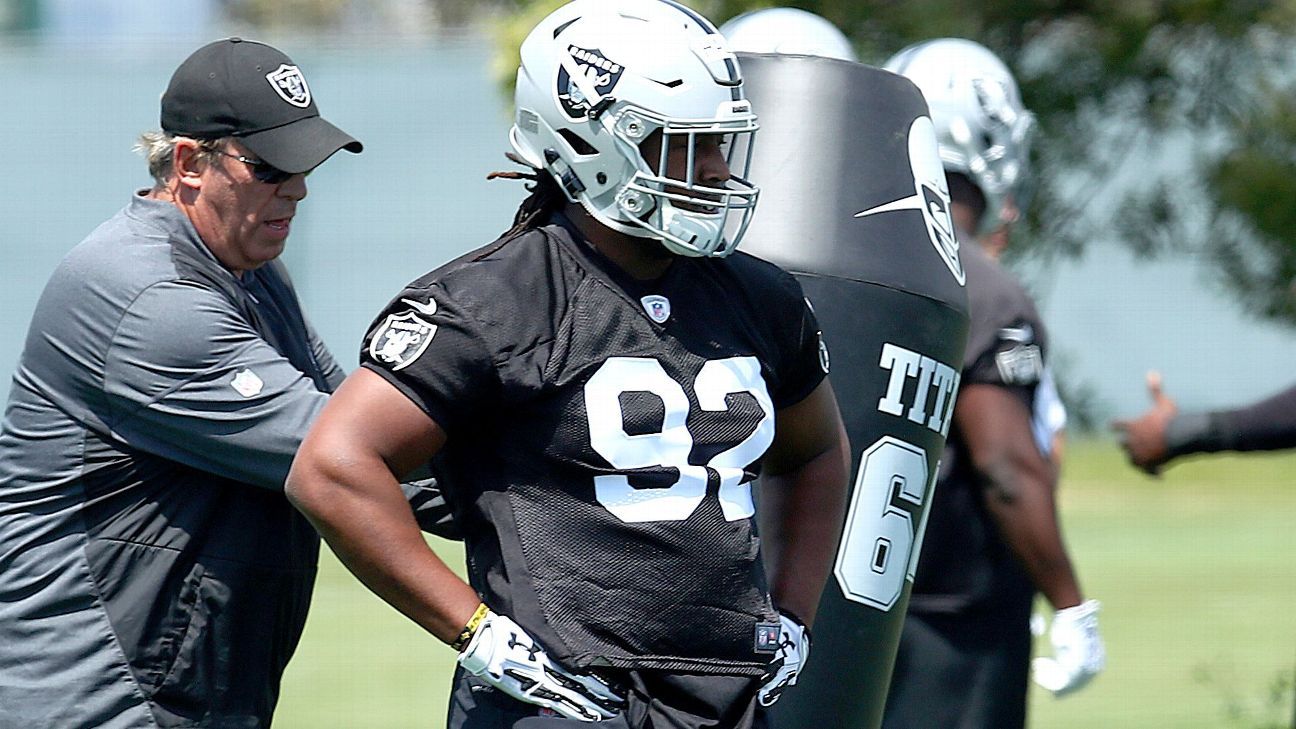 MINNEAPOLIS — The Vikings' trade with the Las Vegas Raiders is off after defensive tackle P.J. Hall failed his physical on Tuesday.
The Vikings on Monday had sent a conditional 2021 seventh-round draft selection to the Raiders in exchange for Hall. After the failed physical, Hall reverts back to the Raiders, who are expected to cut the former second-round pick.
The 25-year-old Hall played in 30 games (18 starts) over the past two seasons but had just 1.5 sacks in that time.
The Vikings' trade for Hall came a week after nose tackle Michael Pierce opted out of the 2020 season due to respiratory concerns.
Minnesota's defensive line took another hit Tuesday when defensive tackle Armon Watts was placed on the reserve/COVID-19 list. The Vikings activated rookie receiver Justin Jefferson and safety Brian Cole II off the reserve/COVID-19 list.
Derek Carr wearing arm sleeve to honor Kobe Bryant – Las Vegas Raiders Blog
HENDERSON, Nev. — Las Vegas Raiders quarterback Derek Carr was a fan of Kobe Bryant when the former NBA star was leading the Los Angeles Lakers on the court. And Carr befriended the basketball star after Bryant retired in 2016.
With Bryant perishing in a helicopter crash along with eight others, including his daughter Gianna, on Jan. 26, Carr will "honor" Bryant this season by wearing a sleeve on his left arm in games.
"He meant so much to me."@derekcarrqb will wear an arm band this year as a tribute to the late Kobe Bryant. pic.twitter.com/iJKr16LuYs

— Las Vegas Raiders (@Raiders) August 4, 2020
"This is a personal thing, I don't care what anybody else thinks about it, this is for me," Carr said on a Zoom call with reporters Tuesday. "What would be a cool way to honor Kobe Bryant? He always wore an arm sleeve on his [right] arm — I can't wear one on my right [passing] arm, so I was like, 'You know what, I'll wear one on my left arm.' It's really just to honor Kobe."
Carr, 29, said Philadelphia Eagles cornerback Darius Slay was also going to pay tribute to the late Bryant, who would have turned 42 on Aug. 23, this season and suspected other NFL players would as well.
"As a kid, I watched every YouTube video, I watched every game," Carr recalled. "I would tell my dad by the way [Kobe] ran down the court, 'Oh, this is going to be a post-up fadeaway. He set him up last time, this is a fadeaway.' And it would happen. I just watched everything.
"He meant so much to me and then when I got to know him, I got to talk to him and then he followed me on Twitter, that blew my mind. That was the day of my life, so to speak."
Carr laughed.
In 2016, three days after Carr suffered a season-ending broken right fibula, and 81 minutes after Carr tweeted out that surgery had gone well, Bryant tweeted at Carr.
Come back better than ever @derekcarrqb #muse #dominaterecovery https://t.co/AsWubGEfhW

— Kobe Bryant (@kobebryant) December 28, 2016
"Just getting to know him and talk to him, have conversation with him, just what he meant to me as an athlete, the 'Mamba Mentality' is trying to be the best version of yourself every day," Carr said. "I have a big poster in my weight room now with that 'Mamba Mentality' mantra on it and it's just a way that I can honor him.
"So, I'll wear [the sleeve] all year … to honor him and just what he meant to me as a kid growing up. That's the extent of it. I don't care about looking good unless it's for how my wife wants me to look at dinner. It's to honor Kobe and just what he meant to me."