Fantasy baseball prospects – Top 50 for 2020 relaunched
For years, I have started this list by saying something to the effect of these rankings are unlike traditional rankings. After the events over the past 12 weeks, truer words have never been typed. The current world of prospecting is completely different from what we have become accustomed to. Instead, we are left with summer camp and player pools.
Below, the top-50 list has been modified to reflect the current environment as best as one could. Teams, for the most part, have included their top prospects as part of their 60-man pool. There is a lot of talent out there to choose from. Will teams use them? That's the question that keeps us intrigued.

1. Luis Robert, OF, Chicago White Sox
For the second straight year, the South Side of Chicago has a potential stud outfielder knocking on the door of the majors. It was Eloy Jimenez last year. Robert gets the nod this year, and he has the potential to be even better, as he possesses not only power but speed. Until 2019, the power was more projection than production, but that changed quickly, with 32 combined home runs across three levels and an additional 43 other extra-base hits. He also swiped 36 total bases and crossed home plate 108 times. It's plus-raw power that is now game power, with plus-speed and the ability to play center field with a strong arm. He has a superstar profile, and with the service time question answered by a long-term extension, he is someone who warrants draft consideration immediately.
SUMMER UPDATE: Robert narrowly remains at the top of the list. He is a multipurpose player on an offense that should be a lot of fun. If he were a middle infielder, he would be a unanimous choice for No. 1 in 2020, but you could make the case for No. 2 and 3 on my list as well. To me, in a shortened format, a player that can provide value in a bunch of categories will be key. Robert has a special blend of power and speed in a lineup that projects to score a lot. That means a combination of home runs and steals, which should lead to a bunch of runs scored. Without service time concerns, he should get as much playing time as a 60-game season can provide.
Mets' Luis Rojas not saying if Edwin Diaz has lost closer's role
ATLANTA — New York Mets manager Luis Rojas wants to get Edwin Diaz back on the mound quickly.
Rojas won't say if the next outing for Diaz will come in a save situation.
Diaz's role as the Mets' closer again is being watched closely for the second straight season after the right-hander walked two batters, hit a batter and gave up a run while recording only one out in Thursday night's 4-2 loss to Boston.
"It was a little bit surprising, just kind of how the outing went," Diaz said through a translator before Friday night's game at the Atlanta Braves. "It had been five days since I last threw, so I felt like I didn't have my mechanics in order."
Diaz said he was "trying to overpower my pitches too much."
Diaz said he told Rojas he would like to be used more frequently — no matter when he enters the game.
"I'm open to pitching whenever," Diaz said. "That doesn't matter to me. It's just one of those things where I would like to pitch more frequently, as opposed to having those long layoffs."
Rojas said he had "a healthy conversation" with Diaz about the goal "to get him back on track when we get the chance."
Rojas said "the stuff is there, obviously," but he was worried about the emotions and lack of control Diaz showed against the Red Sox.
"We didn't talk about a specific role moving forward but we talked about looking forward to getting him back in there as soon as we can," Rojas said.
The Mets' ninth-inning options also include Seth Lugo, Jeurys Familia and Dellin Betances.
"Diaz is part of the depth that we have for pitchers that have experience closing games," Rojas said. "For us, we always talk about how much of a luxury that is."
Diaz has one save in two chances this season after losing the closer's role in 2019, when he had a 5.59 ERA. He had 57 saves and a 1.93 ERA with Seattle in 2018.
Dodgers' Clayton Kershaw to make season debut Sunday
Clayton Kershaw will make his 2020 debut for the Los Angeles Dodgers on Sunday vs. the Arizona Diamondbacks.
Kershaw was scratched just four hours before he was set to throw the first pitch of the Dodgers' season because of back stiffness.
Kershaw's back originally stiffened up while he went about his normal routine in the weight room in the days leading up to the Dodgers' opener, but an MRI later that day came back clean. He received treatment over the next couple of days but couldn't get his back loose enough to make his first start.
Walker Buehler will get the start on Monday against the Padres.
Kershaw will be a welcome addition to the Dodgers' rotation, which lost starter Alex Wood to the injured list because of shoulder inflammation earlier this week.
MLB commissioner warns of shutdown if coronavirus isn't better managed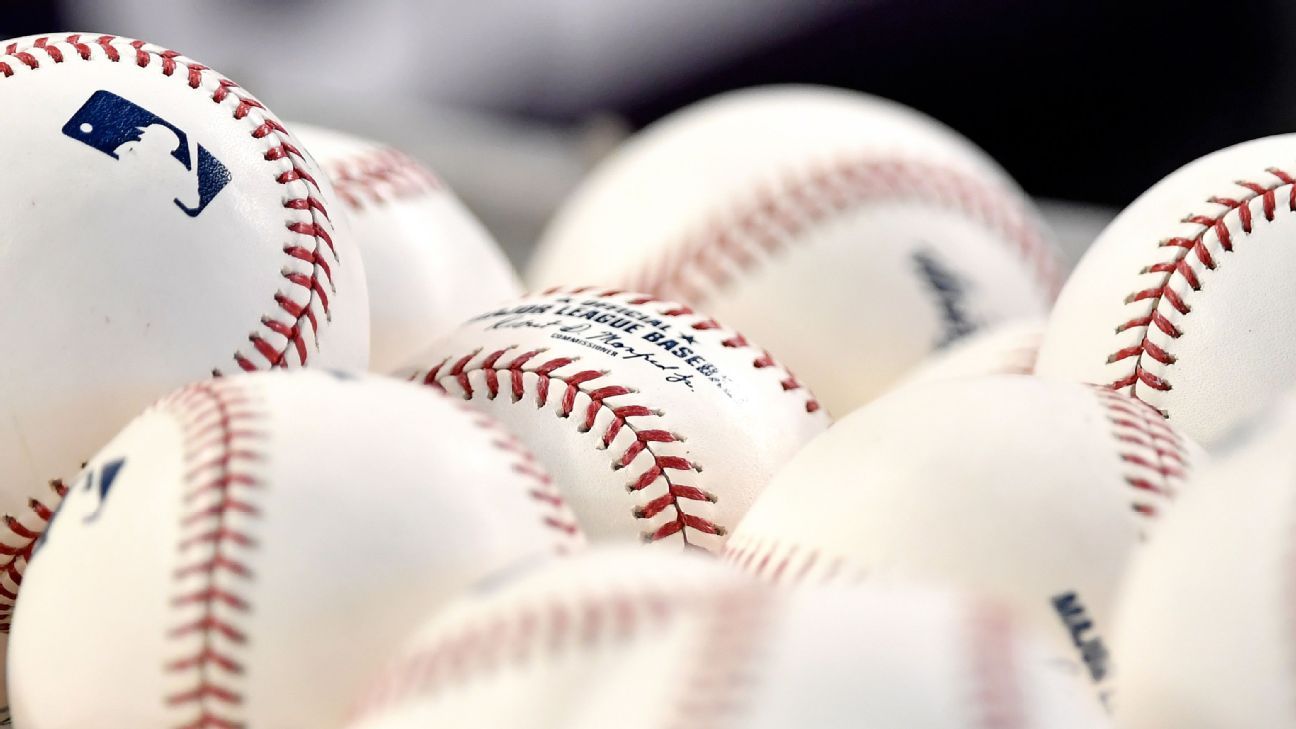 Major League Baseball commissioner Rob Manfred told MLB Players Association executive director Tony Clark on Friday that if the sport doesn't do a better job of managing the coronavirus, it could shut down for the season, sources familiar with the conversation told ESPN.
The league and players recognize the coming days are a critical juncture following an outbreak among the Miami Marlins in which 18 players and two coaches have tested positive for COVID-19. Two positive tests by St. Louis Cardinals players on Friday exacerbated concerns inside the sport about the presence of the coronavirus and whether the jointly agreed-upon protocols are being followed properly to prevent outbreaks similar to Miami's.
Should another outbreak materialize, Manfred, who has the power to shut down the season, could move in that direction. Multiple players briefed on the call fear the season could be shut down as soon as Monday if positive tests jump or if players continue not to strictly abide by the league's protocols.
State and local governments have pressured baseball about players skirting the mandates outlined in the league's 113-page operations manual, sources told ESPN. Broadcasts that have shown players high-fiving, spitting and not wearing masks have left government officials wondering how seriously players are taking the protocols, sources said.
Further, there is concern about off-the-field choices, with one high-ranking official saying: "There are some bad decisions being made."
The Cardinals' game against the Milwaukee Brewers was postponed Friday and rescheduled to a doubleheader Sunday. Already, the Marlins and Philadelphia Phillies, who last played Miami on Sunday, were missing scheduled games, leaving 20% of the league's Friday slate empty.