22 minor league baseball teams now suing insurers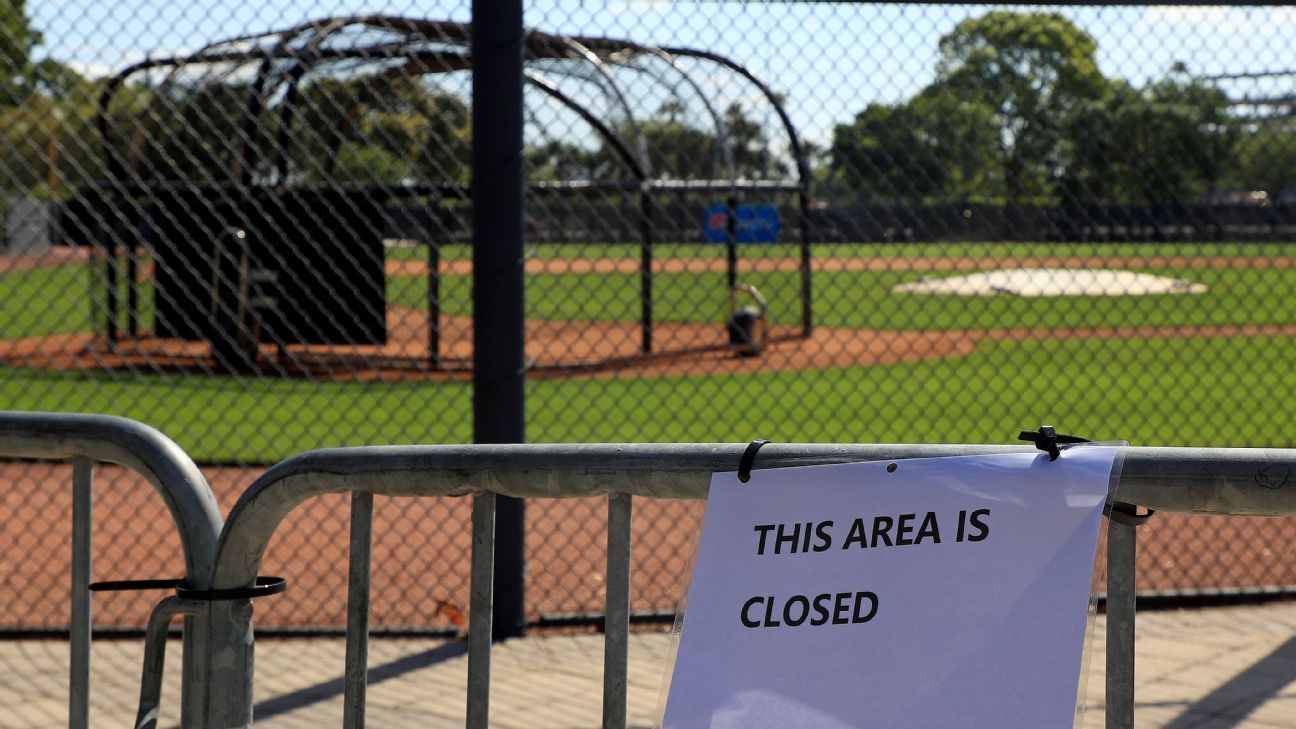 Two days after the cancellation of the 2020 season due to the coronavirus pandemic, 22 minor league baseball teams filed lawsuits Thursday against insurance companies over rejections of business interruption claims.
Fourteen of the 22 teams withdrew the federal suit filed last week in Pennsylvania in favor of the new cases.
A 15th team in that June 23 suit, the Binghamton Rumble Ponies, also withdrew it Thursday. Binghamton, however, did not file a new suit against its insurer as the others did.
Andy Sandler of Mitchell Sandler, co-counsel with McKool Smith for the plaintiffs and other ballclubs, declined to comment about specific teams but told ESPN additional lawsuits are planned.
Thursday's filings were in three jurisdictions.
One is in the U.S. District Court of Arizona, with 16 teams as complainants: the Amarillo Sod Poodles, Augusta GreenJackets, Boise Hawks, Chattanooga Lookouts, Columbia Fireflies, Eugene Emeralds, Fort Wayne TinCaps, Fredericksburg Nationals, Frisco RoughRiders, Idaho Falls Chukars, Inland Empire 66ers, Lancaster JetHawks, Myrtle Beach Pelicans, San Antonio Missions, Stockton Ports and West Virginia Power.
The other two filings were in the U.S. District Court of New Jersey, with the Asheville Tourists, Everett AquaSox and West Michigan Whitecaps as plaintiffs, and in the Philadelphia County Court of Common Pleas, for the Delmarva Shorebirds, Greenville Drive and Staten Island Yankees.
The teams say they incur more than $2 million in expenses to operate "without regard to whether they suffer interruption of their operations."
The majority of the teams have policies with subsidiaries of Nationwide Insurance, which said in a statement last week that business interruption coverage due to a virus outbreak has been excluded from standard policies, such as these, for quite some time — and that including it would "make such coverage unaffordable or even unavailable."
The complaints assert that such exclusions are "void, unenforceable and inapplicable." The teams also contend that insurers are failing to recognize that being unable to use ballparks due to restrictions on gatherings and lack of access to players (players are normally provided by Major League Baseball, which pays their salaries) constitutes direct physical loss — and should be covered under the policies.
As ESPN first reported, the teams place some of the blame for their "catastrophic losses" on the U.S. and state governments, alleging that in the first few months of the year the federal government "failed to recognize the severity of the pandemic and did not contain the virus." And they note a "failure of the federal government to build an effective wall preventing the continued migration of the virus from states that were hit early to the rest of the country."
Our not-as-early-as-you-think MLB hot takes and bold predictions
We will grant that a week or so into the baseball season is typically a bit early to make any proclamations about what we have seen. But as you might have heard, this is not a typical baseball season.
In 2020, 10 games represents one sixth of the season, which would put us into May on a normal MLB calendar, and that certainly isn't too early for some hot takes based on what has happened on the field so far.
We asked our group of baseball experts for their hottest hot takes and boldest predictions, then ranked them by their spiciness.
---
Mild
The era of the dominant closer is over.
Last year, only 16 relievers recorded at least 25 saves. The most recent non-strike season with fewer was 1991, when only 13 closers reached 25. So far, it seems like most teams are still trying to figure out whom to give the ball in the ninth inning. Aroldis Chapman and Will Smith haven't pitched because of coronavirus-related illnesses (though Chapman has been cleared to pitch). Roberto Osuna, Ken Giles and Jose Leclerc are injured. Craig Kimbrel, owner of a 1.91 ERA from 2010 to 2018, is completely lost. Kirby Yates and Brad Hand have struggled. Edwin Diaz might have already lost his job with the Mets on the heels of a disastrous 2019. Kenley Jansen has been OK but is hardly the force he was from 2012 through 2017. Some teams — St. Louis Cardinals and Tampa Bay Rays — don't appear to have one guy they will rely upon. And yet … when leading after eight innings through Sunday, teams are 107-6, a .947 winning percentage. That's basically the same as the .955 mark from last year, only a little lower than the .965 mark from 2015 (when a record 24 pitchers recorded at least 25 saves) and indistinguishable from the .943 mark of 1991. Closers? Can't live without them … unless you can. — David Schoenfield
The Boston Red Sox should trade J.D. Martinez and Jackie Bradley Jr.
We're 10 games into the Red Sox's season, and this team looks nothing like a playoff team, even with the expanded field this year. Given the transition from Dave Dombrowski to Chaim Bloom, Boston figured to use 2020 as a transition year, especially in the wake of Chris Sale's Tommy John surgery in March and with Eduardo Rodriguez out for the season because of a heart condition that apparently stemmed from COVID-19. The Red Sox's lack of starting pitching depth has already been a major issue.
That brings us to J.D. Martinez and Jackie Bradley, Boston's two highest-profile pending free agents. Martinez opted to stay in Boston after the 2019 season but has the option to opt out again after the 2020 season. With the National League implementing a DH this season and potentially beyond, the number of suitors for Martinez widely expands. He could provide a big bat for a team chasing a playoff spot, and Bradley brings elite defensive ability in center field. The return for either player could accelerate Bloom's mission to replenish the Red Sox's farm system. — Joon Lee
Shane Bieber will be the one player who breaks a "real" record this year.
Maybe this feels more bandwagon than spicy, considering that Bieber hasn't allowed a run yet, has struck out 27 batters while walking one and carved up perhaps the scariest lineup in baseball (the Minnesota Twins) in his second start. But this isn't just acknowledging Bieber's ascendance to ace status. If the schedule plays out as planned — a humongous if, obviously — Bieber appears to be in line to start 10 more games against these opponents: Reds, White Sox, Tigers, Tigers, Cardinals, Royals, Royals, Twins, Tigers, White Sox. According to projection systems, that's just one top-10 offense in baseball — the Twins — and five starts against bottom-five offenses. Plus, it would take only a one-game tweak — say a game gets rained out — for him to dodge the Twins (for the lesser might of the Cubs) and dodge the second start against the White Sox (for the far inferior Pirates).
Bieber obviously isn't going to throw 162 innings to make this a fully qualified season. But he should throw as many innings as a typical full season by a reliever, and he could threaten some of the records held by relievers. His FIP is currently -.038 — that's a negative FIP and a full run lower than Craig Kimbrel's reliever-record 0.78, the lowest by any pitcher with at least 20 innings. Perhaps harder to break will be Zack Britton's record for ERA (0.54), but it's faintly plausible if Bieber can hold this weak slate of opponents to five total runs in the next 10 starts. Plus, at the moment, he has struck out 54% of the batters he has faced, higher than Aroldis Chapman's record 52% — one of only two seasons ever (minimum 50 innings) over 50%. — Sam Miller
---
Warming up
The Colorado Rockies will host a first-round playoff game — and 2020 NL MVP Trevor Story will carry them there.
Predicting the Rockies to make the playoffs might have seemed bold a week ago, but after a 7-2 start and with eight NL teams making the postseason, I'm going to take it a step further: The Rockies will host a first-round playoff game as one of the four top teams in the NL.
The Rockies were a postseason team by this year's format 60 games into the 2019 season — before the wheels completely came off — and many of the team's issues are about depth when players start to get hurt or wear out at altitude. A season that involves less back-and-forth from altitude to sea level, brings far fewer innings for pitchers to cover at Coors Field and allows hitters Trevor Story (see the second half of that prediction) and Nolan Arenado to carry a team for a few weeks at a time sets up nicely for Colorado. — Dan Mullen
Corey Seager will lead the Dodgers in WAR
That's right – a team with Mookie Betts, Cody Bellinger, Justin Turner, Walker Buehler and Clayton Kershaw will be led, in essence, by Seager, a 26-year-old two-time All-Star who everybody seems to have forgotten about. Seager underwent Tommy John surgery 26 games into the 2018 season and was solid-yet-unspectacular last year, batting .272/.335/.483. The key for Seager, though, is that he is nearly two full years removed from hip surgery, a more troublesome procedure than Tommy John. Through the Dodgers' first 11 games, Seager is 15-for-40 with seven extra-base hits and seems to hit the ball hard every time he swings at it. In case you forgot, he's really good. — Alden Gonzalez
---
Extra spicy
The Pirates will have the worst winning percentage in modern baseball history.
The Pittsburgh Pirates will set the modern-day record for worst winning percentage in a season, currently held by the 1916 Philadelphia Athletics (.235). That would translate to 14 wins in a 60-game season, which is on pace for a team that was 2-7 with a team batting average of .177 at the start of play Monday. I've started to tune in to their games to see their latest bizarre baserunning gaffes, unusual defensive alignments and pointless replay reviews. The culture might well be changing, and I think Derek Shelton should be given a chance to stick around for a "real season" in 2021, but for now, I'm on board with these lovable losers to continue to be just that — in record-breaking style. — AJ Mass
---
Flaming hot
A full-season cellar dweller will make the playoffs.
The early results are telling in that there will be at least one playoff team that, if the season had played out normally, would have been in the running for the No. 1 pick in next year's draft. It could be the Orioles. It could be the Tigers. It could be the Pirates, Royals, Giants or Marlins. But a team like those is going to be playing in October. The short season is part of it, but so is the instability of the rosters and the schedule and the likelihood of an absolute jumble in the middle of the pack. Plus, the bar is low: Both leagues could see a sub-.500 team get into the eight-team bracket. Good, bad? That's in the eye of the beholder. However, as we approach the trade deadline, there should be virtually no team that shifts into sell mode because it doesn't see the playoffs as a realistic 2020 goal. — Bradford Doolittle
NL East adds big twist to already chaotic 2020 MLB season
Nothing says watching Major League Baseball in 2020 quite like watching Monday's New York Mets–Atlanta Braves game in Atlanta, hearing a loud clap of thunder and having Mets announcer Gary Cohen explain that the thunder was actually from Citi Field in Queens, where he, Ron Darling and Keith Hernandez were broadcasting the game.
The Mets have had their usual measure of stormy weather already, including a couple of bullpen meltdowns and the sudden departure of Yoenis Cespedes on Sunday, when he opted out of playing the remainder of the season. The Mets entered Monday's game with a five-game losing streak and the division rival Braves looking to sweep their four-game series and gain a five-game lead less than two weeks into the 60-game schedule.
It seemed like one of those games with a little extra must-win urgency for the Mets. After all, they were sitting at 3-7 after one sixth of the schedule, and the Braves were already 5-1 against them on the season. The Mets had two-time reigning Cy Young winner Jacob deGrom on the bump, but the Braves countered with sensational sophomore Mike Soroka in what promised to be a great pitcher's duel, especially because the Mets usually struggle to score runs for their ace.
Instead, the night took an ugly turn, as Soroka suffered a season-ending torn Achilles tendon in the third inning, when he tried to bounce off the mound to cover first base. Meanwhile, deGrom was dominant other than one hanging slider that Travis d'Arnaud hit for a home run, finishing with 10 strikeouts in six innings. Soroka struggled with his control before his injury, and the Mets scored some runs for deGrom for a change, winning 7-2. In one game, the NL East took a sudden twist in plot as the stumbling, bumbling Mets righted their ship and the Braves now have a huge hole in their rotation.
It's hard to imagine deGrom getting better than he's been the past two years, but that's the case through three starts. He has always had elite velocity, but he's averaging 98.7 mph so far on his four-seam fastball and has hit 100 mph 10 times this season — after doing it just twice previously in his career. His swing-and-miss rate is at 38.0%, up from 31.4 last season. He even dropped in a few curveballs against the Braves, registering a couple strikeouts with it, because, you know, his fastball/slider/changeup combo isn't enough.
Sure, deGrom has electric stuff, but he's also smart and knows how to make adjustments. When he does throw the curveball — and it's usually only a handful of times in a game — it's usually later in the game, but he threw several early in Monday's game. Afterwards he explained that his changeup was a little flat and he wanted to give hitters something "with a little different speed difference." He struck out Freddie Freeman in the first with a curve and then Marcell Ozuna in the second on a nine-pitch battle. Imagine seeing eight pitches from deGrom — including one fastball at 100.7 mph — and then he drops in a curveball? That's how you can join Greg Maddux and Randy Johnson as the only pitchers to win three straight Cy Young Awards.
Still, deGrom is the one constant with Mets. Everything else, in true Mets fashion, remains a bit chaotic. Cespedes' departure caught the team by surprise, but given the unique circumstances of 2020, understandable. "Every guy has to take into (account) their own personal situation and with all that's going on and recent outbreaks with certain teams, I completely respect Cespedes' decision," Pete Alonso said on a Zoom call earlier in the day with reporters. "I don't think anything less of him. He's a great teammate. If he felt he was at risk, then by all means, this is an unprecedented time."
The slugging first baseman, coming off that record-setting 53-homer rookie season, is the focal point of the Mets' offense, but is off to a slow start, hitting .167 with just one extra-base hit, a home run. In many ways, he's also the emotional center of the Mets and his energy was a big reason the team went 46-26 in the second half.
"I always try to refine my craft and try to be the best player I can be, so to not produce is frustrating," Alonso said. "It's my job. It's been tough stringing together the results, but they're going to come. I know they are. I know what I'm capable of. I work hard, I work diligently, I'm a smart ballplayer, so for me I know it's rough now but it's only going to be temporary."
He went 0-for-2 on Monday, but to back up that approach, he did draw three walks. He mentioned a couple mechanical things to work on and the Mets broadcast showed side-by-side images of 2019 and 2020, with 2020 showing his shoulder a little more tucked, his hands resting a little higher and going a little deeper as he begins his swing. For now, it's watching a lot of footage from 2019 and doing a lot of work in the cage.
The Mets still have rotation issues after deGrom, with Noah Syndergaard out for the season, Marcus Stroman gone for an extended period with a torn calf and Rick Porcello and Michael Wacha struggling so far.
Assistance is needed to carry Mike Soroka off the field in the Braves' game against the Mets after he suffers a noncontact injury to his right leg while attempting to cover first base.
The Braves, meanwhile are now without the three starters who pitched for them into last year's NL Division Series against the Cardinals — Soroka, Dallas Keuchel (signed with the White Sox) and Mike Foltynewicz (designated for assignment after one bad outing and now at the team's alternate training site). Cole Hamels, signed to replace Keuchel as the veteran lefty, is on the 45-day IL and will miss more than half of the truncated season.
"To sum it up, this night just sucks," Freeman said. "When you lose, in my mind, one of the top pitching arms in the game for the whole season, it's pretty tough. It just sucks. There's no sugarcoating this night."
Soroka and Max Fried had been the only Braves starters to pitch five innings in a game, so now even more pressure falls on Sean Newcomb, Touki Toussaint and Kyle Wright. Options to replace Soroka include Bryse Wilson and Tucker Davidson or veteran Josh Tomlin, who is currently working out of the bullpen.
That's a group not without potential. Newcomb went 12-9 with a 3.90 as a starter in 2018, before pitching mostly out of the bullpen in 2019. Toussaint is a big power arm who was former top-100 prospect. Wright was the fifth pick in 2017 out of Vanderbilt, but in 31 ⅔ career innings in the majors he's walked 26 batters. Wilson is still just 22 and has a few big league innings and Davidson had a 2.15 ERA in the minors in 2019. Tomlin might get first crack, but the Baby Braves are going to have to step up.
"Somebody else is going to get an opportunity," Braves manager Brian Snitker said after the game. "Things like that happen. These guys will regroup. Somebody is going to get an opportunity to do something really good. Our young guys are going to continue to get better. We're going to be fine."
Given the pandemic that wiped out a week of games for the Marlins and Phillies, no division is in chaos like the NL East. If we get through this season, it just got a lot more chaotic.
MiLB president installs new committee to handle MLB negotiations
Five weeks after Minor League Baseball president Pat O'Conner announced the cancellation of the 2020 season, he disbanded the MiLB committee that was handling negotiations with Major League Baseball over the future structure and governance of the minors.
ESPN confirmed a report Monday night by Baseball America that also said O'Conner installed a new committee — including Triple-A team presidents Sam Bernabe of the Iowa Cubs and Ken Schnacke of the Columbus Clippers — "viewed by numerous MiLB owners as having much closer ties to O'Conner and more sympathetic to attempts to save St. Petersburg's MiLB offices and MiLB's independence."
The pandemic has put talks on hold between MiLB and MLB over their agreement that expires Sept. 30. MLB, which provides the players and coaches and pays their salaries, has proposed reducing the number of affiliated teams from 160 to 120 and eliminating some low-level minor leagues.
Contacted Monday night by ESPN, Bernabe said the new committee also includes D.G. Elmore Jr., a holdover from the disbanded group, and Chuck Greenberg, the former managing partner of the Texas Rangers. Elmore and Greenberg both own multiple minor league teams.
"We want to get a deal," Bernabe said.
One minor league owner reached by ESPN said O'Conner broke the news to the members of the disbanded committee via email on Monday after MLB had been informed of the change.
A member of the MiLB Board of Trustees told ESPN O'Conner sent an email memo to the board Monday saying the new negotiating committee would be developing a proposal for delivery "directly to the Commissioner (Rob Manfred) in confidence." Multiple sources told ESPN that when the disbanded committee was engaged in talks with MLB, they were with deputy commissioner Dan Halem and executive vice president Morgan Sword.
When the MiLB season was canceled on June 30, O'Conner said the minors are in "dire straits" and that perhaps half of all teams would have trouble surviving without financial help.