Rockies' Ian Desmond opting out of playing in 2020, citing high risk amid pandemic
Ian Desmond will opt out of playing this season, the Colorado Rockies' outfielder announced Monday.
"The COVID-19 pandemic has made this baseball season one that is a risk I am not comfortable taking," he wrote at the end of a lengthy post on Instagram that touched on race and opportunities for youth baseball players.
Desmond, who was born in Sarasota, Florida, wrote that he's not "leaving baseball behind for the year. I'll be right here, at my old Little League, and I'm working with everyone involved to make sure we get Sarasota Youth Baseball back on track. It's what I can do, in the scheme of so much. So, I am."
Desmond has played 11 seasons, the past three with the Rockies. He batted .255 with with 20 home runs and 65 RBI in 140 games in 2019.
"With a pregnant wife and four young children who have lots of questions about what's going on in the world, home is where I need to be right now," he wrote.
Earlier Monday, Arizona Diamondbacks pitcher Mike Leake and Washington Nationals first baseman Ryan Zimmerman and pitcher Joe Ross announced they are opting out of the 2020 season.
Pitchers Max Meyer, Nick Vincent agree to terms with Miami Marlins
MIAMI — No. 3 overall draft pick Max Meyer, a right-hander from the University of Minnesota, has agreed to terms with the Marlins and is expected to be added to the 60-man player pool this week.
Meyer has chance to pitch in the majors this year.
Right-handed reliever Nick Vincent, an eight-year veteran who pitched for the Giants and Phillies last year, also agreed to terms with the Marlins and will join the 60-man pool.
—
More AP MLB: https://apnews.com/MLB and https://twitter.com/AP-Sports
MLB umpires may work entire homestands to curtail travel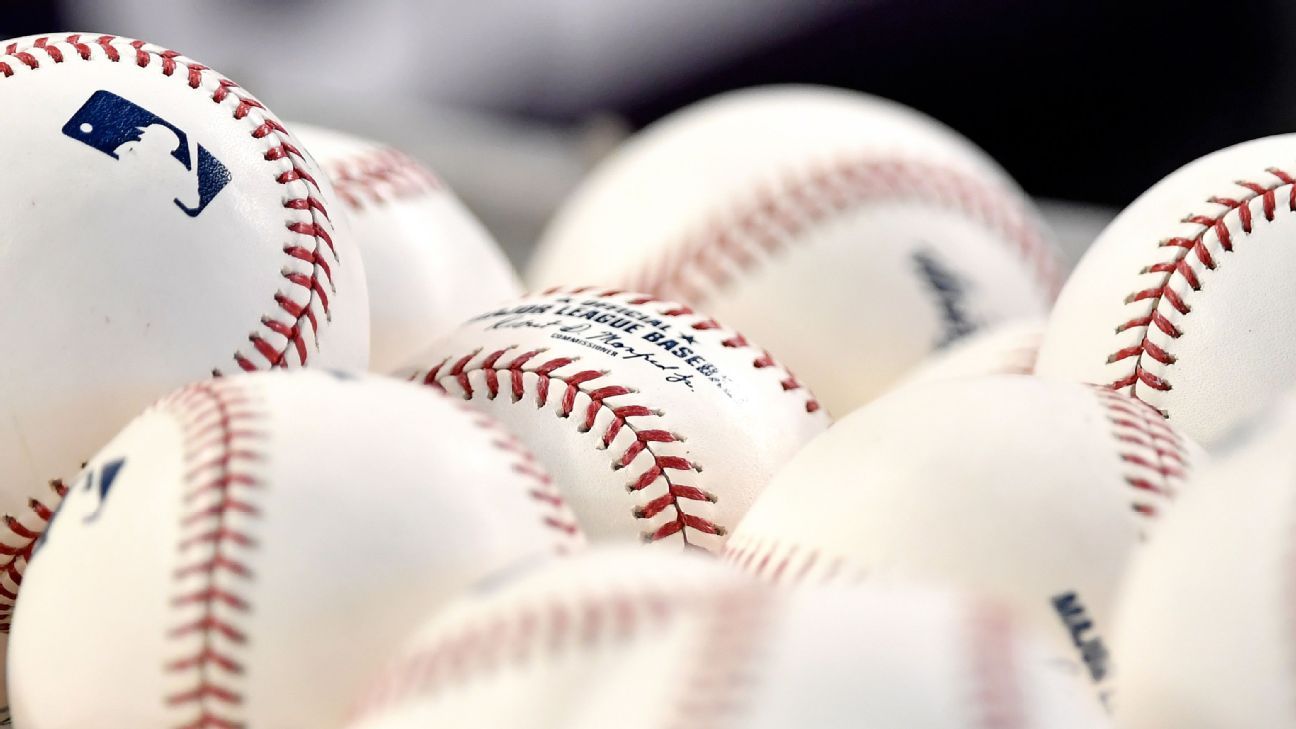 Driving from one city to the next for games, umpiring entire homestands, even staying at team hotels. Those are just a few of the things under contemplation for umpires as Major League Baseball works towards restarting, according to sources familiar with the discussions.
And like the players, umpires need another round of 'spring training' to prepare for the upcoming 60-game season. A crew of three will report to each summer league camp on July 10. After passing Covid-19 testing, they'll work live bullpen sessions and intra-squad games, culminating in a few regional-based exhibition contests, featuring the six umpires who have been embedded with the two teams.
Once the season begins, umpires will still have to travel the country but perhaps at a reduced rate than normal. Usually, a crew works a series then moves on, making sure they rotate around the league so as not to grow grudges based on the same teams seeing the same umpires all the time. Now, if the schedule permits, that umpiring crew might stay a team's entire homestand, helping reduce travel.
If umpires are in a two-team city, like Chicago and New York, or in the Los Angeles/Anaheim area or San Francisco and Oakland, they might bounce from one park to the other. Perhaps, after working a series in Los Angeles, they'll drive the hour down to San Diego — or the five up to the Bay Area.
Safety is of utmost importance to a group that is naturally at higher risk simply due to age. It's unclear if there will be an opt-out program for higher risked individuals like there will be for players. In other words, will umpires who opt out for health reasons still be paid? Unlike players, MLB umpires are paid year round, so they have received 4.5 months of their salary already — through May 15. Also, a higher risk is working inside in the replay room in New York. Every crew normally rotates in there a couple times a year.
In discussion is whether they will wear face coverings underneath their masks behind home plate. Outdoor temperatures in July and August, especially, may not be conducive to wearing a mask under a mask. Umpires will go through Covid-19 testing just like Tier 1 players and coaches.
There won't be much in the way of on field arguments, at least not face-to-face, which has been a staple for the game for as long as anyone can remember. With no fans in the stands, umpires will be able to hear everything from the dugout, so reduced trolling might be in order. And lineup changes will most likely be yelled from a distance, to keep managers and umpires socially distanced from each other.
Mets hopeful Yoenis Cespedes can contribute as DH, GM Brodie van Wagenen says
NEW YORK — In the first three years of his contract with the New York Mets, outfielder Yoenis Céspedes played in only 119 games — and in just 38 since 2017 — but the team remains optimistic he'll be an active player this upcoming abbreviated 2020 season.
"Céspedes has been working hard. We are looking forward to him getting into camp, and believe that he should be closer to being game ready than we were when we saw him last in March," Brodie van Wagenen said of the outfielder, one of the many topics discussed by the second-year Mets general manager during a conference call Monday afternoon.
Van Wagenen said the team hopes Céspedes, in the final year of the four-year $110-million deal he signed after the 2016 season, will be able to contribute in part as a designated hitter this season, with the universal DH will becoming a part of MLB's planned 60-game regular season.
"Céspedes is an incredible athlete; when he's 100% healthy. He's got a dynamic skill set with all five tools; we'll want to make sure that we put him in a position to be able to utilize those tools from an overall lineup construction," Van Wagenen said. "The ability to have a DH for our players I think can help manage workload. We feel like our lineup can be as deep as anybody's in baseball. We think we have punch, guys that can impact the game with the bat, so we're looking forward to utilizing the DH spot to both protect our guys' health and to put up some offensive force."
Céspedes had to undergo surgeries to remove bone calcifications from his right and left heels last year, which were expected to sideline him for at least half of the 2019 season, but double ankle fractures eliminated any hope of a return.
The GM provided updates on two other injured Mets. Of Michael Conforto, who suffered an oblique injury in the spring, Van Wagenen called the hiatus caused by the COVID-19 pandemic, "a gift for him," and expected the 27-year-old to be ready to go for camp "without restrictions."
Van Wagenen added he believes Jed Lowrie, sidelined much of last season and this spring because of a variety of lower body injuries, can soon transition out of the leg brace he's been wearing and participate in some drills when camp opens.
Without offering further details, Van Wagenen confirmed the Mets had "only one player in the 40-man roster" test positive for COVID-19 since February.
"I don't want to get into the specifics of it, but he's recovering and we feel like he's in a good position but we'll wait and see once we get everybody here again," he said. "We'll have to evaluate how the next couple of days go, but we are optimistic."
Van Wagenen stressed that the team still had 10 spots to fulfill in their 60-man summer player pool, and that he expects to add more names to that roster. That could possibly include Tim Tebow, who was notably absent from the list released by the team.
A few hours before Van Wagenen spoke, the Mets added several veterans, including outfield insurance in Melky Cabrera, infielder Gordon Beckham and right-handed pitcher Hunter Strickland.
Cabrera, 35, played for the Pittsburgh Pirates last season, batting .280 with seven home runs in 378 at-bats. In 15 seasons, Cabrera, who started his career with the Yankees, and won the 2009 World Series with them, has a .285 lifetime batting average.
Strickland, 31, spent limited time last season with the Mariners and the Nationals, compiling a 5.55 ERA in 24 1/3 innings. He was released by the Nationals in March. Strickland has a lifetime 3.16 ERA, his best years coming with the Giants from 2014 to '18.
Beckham, 33, hit .215 in 83 games for the Tigers last season. He spent most of his 11-year career with the Chicago White Sox.