Yankees' Aroldis Chapman buys custom-made Jeep for $150K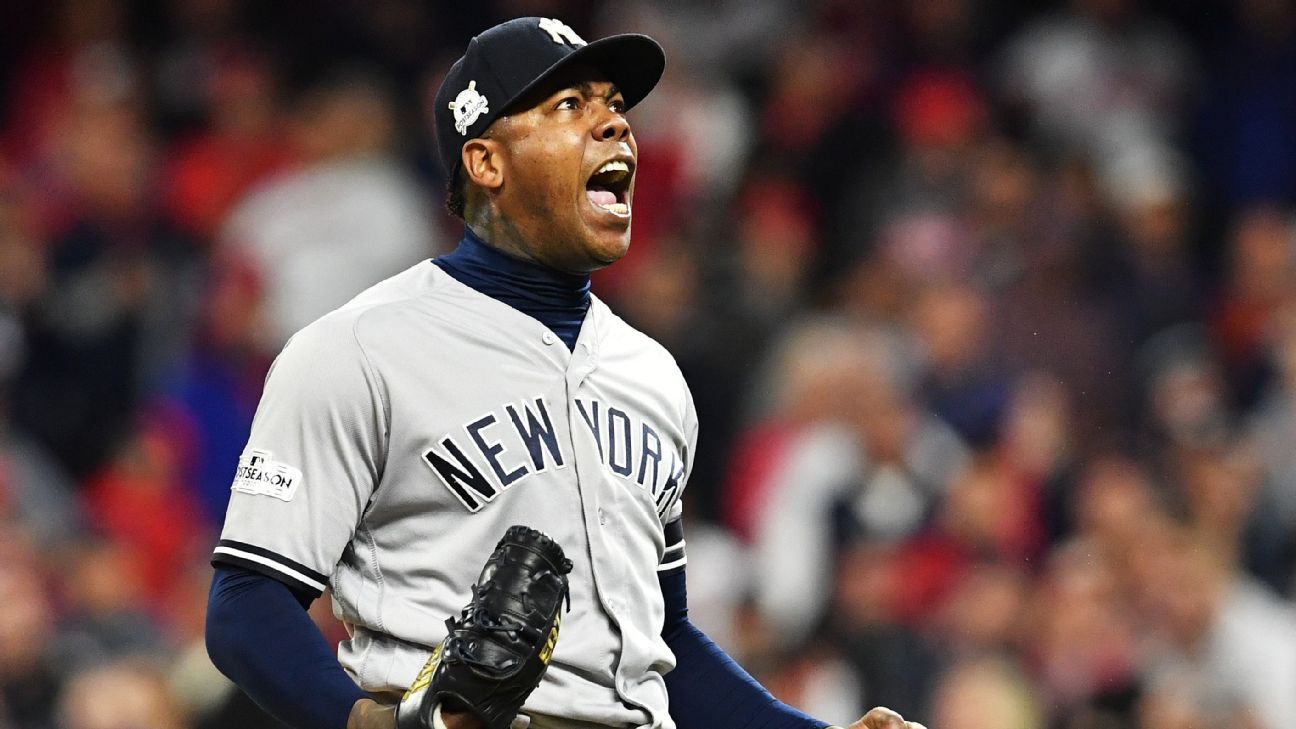 New York Yankees closer Aroldis Chapman could be arriving to camp in style this week as he has a new, custom-made, six-wheel Jeep that cost $150,000. Chapman's ride has a black Kevlar coating, with a bright red interior that features his "Cuban Missile" logo.
Chapman visited South Florida Jeeps in Fort Lauderdale, which specializes in custom Jeeps, this spring, as first reported by TMZ. Chapman was looking for "something really wild," dealership owner Joseph Ghattas told the New York Post. Wild is what he got, as shown on the South Florida Jeeps Instagram account.
To make Chapman's vehicle, the frame of the Jeep was cut in half, then extended by 4 feet. Ghattas and his crew added a third axle, built out the rest of the Jeep, then decked it out, according to the Post. It has a twin-turbo diesel engine with 600 horsepower.
"The thing is an absolute monster," Ghattas told the Post. "It's huge, it's loud and it's just offensive to all the senses.
"He came and test drove it the other day. He doesn't speak a whole lot of English, but he was smiles from ear to ear."
The Yankees are expected to open training camp Wednesday in New York.
San Francisco Giants prospect Hunter Bishop tests positive for coronavirus
San Francisco Giants minor leaguer Hunter Bishop has tested positive for the coronavirus, president of baseball operations Farhan Zaidi said Monday..
Bishop, the Giants' first-round draft pick in 2019, got his test result Friday and has mild symptoms, according to Zaidi.
Bishop, a 22-year-old outfielder, would have been on the club's roster of 51 players announced Monday for the start of camp later this week. Zaidi said. Bishop is in Arizona and wasn't around any others from the organization.
The Giants selected Bishop 10th overall out of Arizona State last year.
The team is planning its first workout Friday.
Nationals' Ryan Zimmerman, Joe Ross opt out of 2020 season
Washington Nationals first baseman Ryan Zimmerman and pitcher Joe Ross are opting out of the abbreviated 2020 season "for the personal health and safety of themselves and their loved ones," the team announced on Monday.
Zimmerman, 35, was the Nationals first-ever draft pick when the franchise moved out of Montreal, and has played for the team since making his debut on September 1, 2005.
"After a great deal of thought and given my family circumstances — three young children including a newborn, and a mother at high risk — I have decided not to participate in the 2020 season," Zimmerman said in a statement.
Zimmerman batted .257 with six home runs and 27 RBIs in 171 at-bats last season, and had a dramatic home run in Game 1 of the team's World Series-winning title run.
"Everyone knows how much it means to me to be a part of a team, and I will miss that camaraderie dearly this year. Of course I would love to pursue back-to-back titles. I cannot speak for anyone else, but given the unusual nature of the season, this is the best decision for me and my family, and I truly appreciate the organization's understanding and support."
He had been scheduled to play on a one-year, $2 million contract this season, after the Nationals declined to exercise an $18 million club option.
"To be clear, I am not retiring at this time. I have not decided on my future in baseball past 2020. But this year, I'll be staying safe at home and pulling as hard as anyone for our guys to defend their championship."
The right-handed Ross, 27, was 4-4 with a 5.38 ERA for Nationals last season.
Nationals general manager Mike Rizzo issued a statement of support Monday.
"Ryan Zimmerman and Joe Ross have decided not to participate in the 2020 season for the personal health and safety of themselves and their loved ones. We are one hundred percent supportive of their decision to not play this year. We will miss their presence in the clubhouse and their contributions on the field."
Zimmerman and Ross became the second and third players known to opt out of the 2020 season on Monday, following Diamondbacks pitcher Mike Leake.
Blue Jays close to receiving approval to play in Toronto, Ontario's premier says
TORONTO — Major League Baseball is close to winning approval to play in Toronto amid the coronavirus pandemic, the premier of Ontario said Monday.
Ontario Premier Doug Ford said city, provincial and federal authorities "kind of gave their approval," but the Toronto Blue Jays are waiting for a letter of support from the federal government.
He also said Dr. David Williams, Ontario's chief medical officer, requires a few tweaks to MLB's submitted plan to play, which health authorities have been reviewing.
Ford said he has been in conversation with Blue Jays president Mark Shapiro all weekend.
He said the Blue Jays will arrive July 1 for training.
MLB requires an exemption, as anyone entering Canada for nonessential reasons must self-isolate for 14 days, and the U.S.-Canada border remains closed to nonessential travel until at least July 21.
A senior Canadian government official said last week that if MLB submitted an acceptable restart plan to the government, an exemption letter similar to the one provided to the National Hockey League could be provided. The official spoke to the AP on condition of anonymity because he was not authorized to speak publicly about the matter.
MLB announced last week that it will have a 60-game regular season that will start July 23 or 24 in ballparks without fans.
There has been talk the Blue Jays could play at their spring training facility in Dunedin, Florida, but several players and staff members of the Blue Jays tested positive for the coronavirus and the facility was shuttered.
The rise in cases of the virus in Florida upended plans of many clubs to resume training at their spring facilities. Most teams intend to work out in their regular-season ballparks.
Federal and local health authorities in Canada have approved a plan for the NHL to play in either Toronto, Edmonton, Alberta, or Vancouver, British Columbia, but the plan does not involve travel back and forth between the United States and Canada. That decision last week comes as the NHL enters the advanced stages of selecting its hub cities — most likely two — from a list of seven in the U.S. and three in Canada.