Mets hopeful Yoenis Cespedes can contribute as DH, GM Brodie van Wagenen says
NEW YORK — In the first three years of his contract with the New York Mets, outfielder Yoenis Céspedes played in only 119 games — and in just 38 since 2017 — but the team remains optimistic he'll be an active player this upcoming abbreviated 2020 season.
"Céspedes has been working hard. We are looking forward to him getting into camp, and believe that he should be closer to being game ready than we were when we saw him last in March," Brodie van Wagenen said of the outfielder, one of the many topics discussed by the second-year Mets general manager during a conference call Monday afternoon.
Van Wagenen said the team hopes Céspedes, in the final year of the four-year $110-million deal he signed after the 2016 season, will be able to contribute in part as a designated hitter this season, with the universal DH will becoming a part of MLB's planned 60-game regular season.
"Céspedes is an incredible athlete; when he's 100% healthy. He's got a dynamic skill set with all five tools; we'll want to make sure that we put him in a position to be able to utilize those tools from an overall lineup construction," Van Wagenen said. "The ability to have a DH for our players I think can help manage workload. We feel like our lineup can be as deep as anybody's in baseball. We think we have punch, guys that can impact the game with the bat, so we're looking forward to utilizing the DH spot to both protect our guys' health and to put up some offensive force."
Céspedes had to undergo surgeries to remove bone calcifications from his right and left heels last year, which were expected to sideline him for at least half of the 2019 season, but double ankle fractures eliminated any hope of a return.
The GM provided updates on two other injured Mets. Of Michael Conforto, who suffered an oblique injury in the spring, Van Wagenen called the hiatus caused by the COVID-19 pandemic, "a gift for him," and expected the 27-year-old to be ready to go for camp "without restrictions."
Van Wagenen added he believes Jed Lowrie, sidelined much of last season and this spring because of a variety of lower body injuries, can soon transition out of the leg brace he's been wearing and participate in some drills when camp opens.
Without offering further details, Van Wagenen confirmed the Mets had "only one player in the 40-man roster" test positive for COVID-19 since February.
"I don't want to get into the specifics of it, but he's recovering and we feel like he's in a good position but we'll wait and see once we get everybody here again," he said. "We'll have to evaluate how the next couple of days go, but we are optimistic."
Van Wagenen stressed that the team still had 10 spots to fulfill in their 60-man summer player pool, and that he expects to add more names to that roster. That could possibly include Tim Tebow, who was notably absent from the list released by the team.
A few hours before Van Wagenen spoke, the Mets added several veterans, including outfield insurance in Melky Cabrera, infielder Gordon Beckham and right-handed pitcher Hunter Strickland.
Cabrera, 35, played for the Pittsburgh Pirates last season, batting .280 with seven home runs in 378 at-bats. In 15 seasons, Cabrera, who started his career with the Yankees, and won the 2009 World Series with them, has a .285 lifetime batting average.
Strickland, 31, spent limited time last season with the Mariners and the Nationals, compiling a 5.55 ERA in 24 1/3 innings. He was released by the Nationals in March. Strickland has a lifetime 3.16 ERA, his best years coming with the Giants from 2014 to '18.
Beckham, 33, hit .215 in 83 games for the Tigers last season. He spent most of his 11-year career with the Chicago White Sox.
Yankees' Aroldis Chapman buys custom-made Jeep for $150K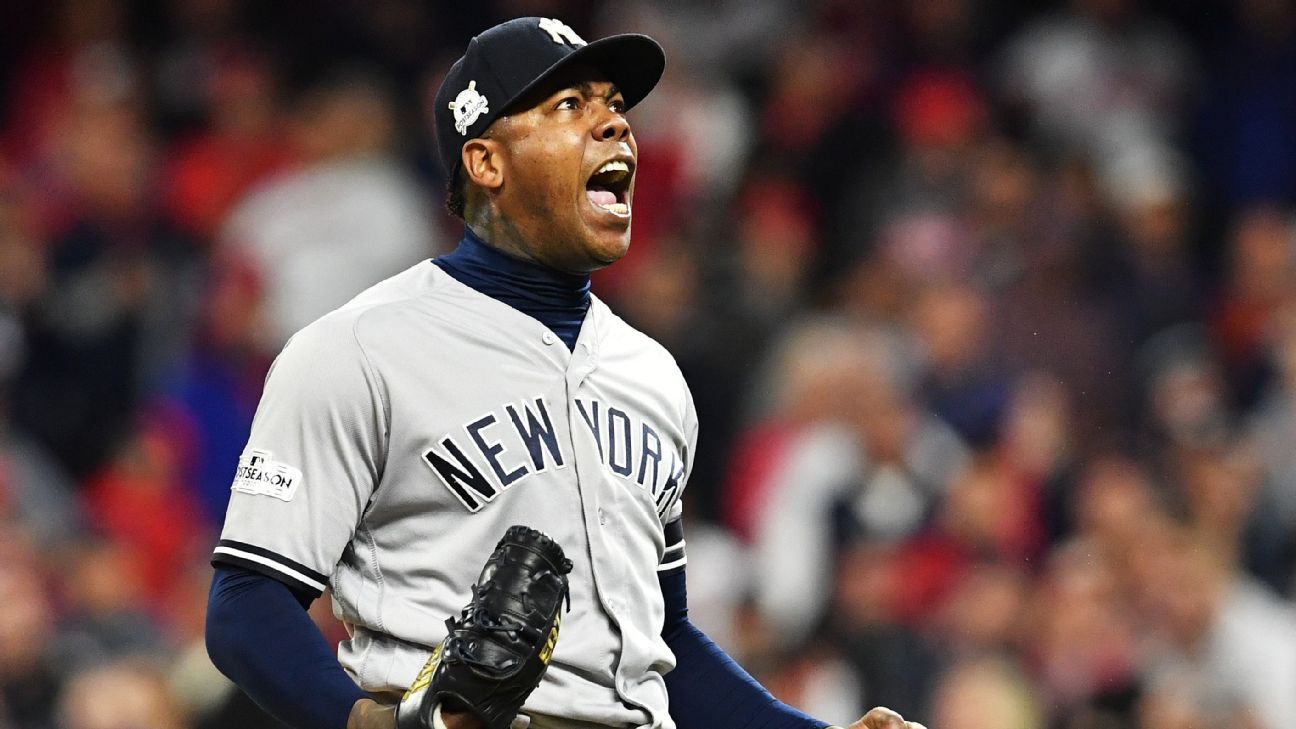 New York Yankees closer Aroldis Chapman could be arriving to camp in style this week as he has a new, custom-made, six-wheel Jeep that cost $150,000. Chapman's ride has a black Kevlar coating, with a bright red interior that features his "Cuban Missile" logo.
Chapman visited South Florida Jeeps in Fort Lauderdale, which specializes in custom Jeeps, this spring, as first reported by TMZ. Chapman was looking for "something really wild," dealership owner Joseph Ghattas told the New York Post. Wild is what he got, as shown on the South Florida Jeeps Instagram account.
To make Chapman's vehicle, the frame of the Jeep was cut in half, then extended by 4 feet. Ghattas and his crew added a third axle, built out the rest of the Jeep, then decked it out, according to the Post. It has a twin-turbo diesel engine with 600 horsepower.
"The thing is an absolute monster," Ghattas told the Post. "It's huge, it's loud and it's just offensive to all the senses.
"He came and test drove it the other day. He doesn't speak a whole lot of English, but he was smiles from ear to ear."
The Yankees are expected to open training camp Wednesday in New York.
San Francisco Giants prospect Hunter Bishop tests positive for coronavirus
San Francisco Giants minor leaguer Hunter Bishop has tested positive for the coronavirus, president of baseball operations Farhan Zaidi said Monday..
Bishop, the Giants' first-round draft pick in 2019, got his test result Friday and has mild symptoms, according to Zaidi.
Bishop, a 22-year-old outfielder, would have been on the club's roster of 51 players announced Monday for the start of camp later this week. Zaidi said. Bishop is in Arizona and wasn't around any others from the organization.
The Giants selected Bishop 10th overall out of Arizona State last year.
The team is planning its first workout Friday.
Nationals' Ryan Zimmerman, Joe Ross opt out of 2020 season
Washington Nationals first baseman Ryan Zimmerman and pitcher Joe Ross are opting out of the abbreviated 2020 season "for the personal health and safety of themselves and their loved ones," the team announced on Monday.
Zimmerman, 35, was the Nationals first-ever draft pick when the franchise moved out of Montreal, and has played for the team since making his debut on September 1, 2005.
"After a great deal of thought and given my family circumstances — three young children including a newborn, and a mother at high risk — I have decided not to participate in the 2020 season," Zimmerman said in a statement.
Zimmerman batted .257 with six home runs and 27 RBIs in 171 at-bats last season, and had a dramatic home run in Game 1 of the team's World Series-winning title run.
"Everyone knows how much it means to me to be a part of a team, and I will miss that camaraderie dearly this year. Of course I would love to pursue back-to-back titles. I cannot speak for anyone else, but given the unusual nature of the season, this is the best decision for me and my family, and I truly appreciate the organization's understanding and support."
He had been scheduled to play on a one-year, $2 million contract this season, after the Nationals declined to exercise an $18 million club option.
"To be clear, I am not retiring at this time. I have not decided on my future in baseball past 2020. But this year, I'll be staying safe at home and pulling as hard as anyone for our guys to defend their championship."
The right-handed Ross, 27, was 4-4 with a 5.38 ERA for Nationals last season.
Nationals general manager Mike Rizzo issued a statement of support Monday.
"Ryan Zimmerman and Joe Ross have decided not to participate in the 2020 season for the personal health and safety of themselves and their loved ones. We are one hundred percent supportive of their decision to not play this year. We will miss their presence in the clubhouse and their contributions on the field."
Zimmerman and Ross became the second and third players known to opt out of the 2020 season on Monday, following Diamondbacks pitcher Mike Leake.