Tim Kurkjian's Baseball Fix – All the reasons everyone loved Don Zimmer
You love baseball. Tim Kurkjian loves baseball. So while we await its return, every day we'll provide you with a story or two tied to this date in baseball history.
ON THIS DATE IN 2014, Don Zimmer died.
The Rangers were riding a 13-game losing streak when a young beat writer dragged himself into manager Zimmer's office on yet another scorching Texas day in May 1982.
"What's wrong with you?" Zimmer said with that famous Zim glare.
"Covering this team isn't as much fun as I thought it would be," the writer said.
"Ah, quit complaining!" Zimmer snapped. "Look at you. You're young, you have your whole life ahead of you. Look at me. I'm old, I'm fat, I'm bald, I'm ugly, I have a plate in my head. And I have this team to manage. I'm the one with the worries."
The full "On this date …" archive
And then he flashed that Zim smile, that unmistakable, moon-faced smile that could light up a room, especially one in which baseball was spoken. No one, but no one, loved the game more than Don Zimmer. He married his beloved wife, Soot, at home plate in Elmira, N.Y. He wore a uniform for 66 years as a player, coach and manager. He was as tough a player as there has even been. He overcame two horrific beanings. He played for the world champion Dodgers in 1955. He managed four major league teams for 13 years, with a .508 winning percentage. In 1989, he managed the Cubs to an unlikely division title. And, as Joe Torre's bench coach for many years with the Yankees, he became the game's grandfather, baseball's Buddha. In his final job, as a senior advisor for the Rays, he was revered.
The day he died, Zimmer was perhaps the mostly widely loved and respected person in the game.
For Zimmer's last few years, Jim Leyland, a former Tigers manager, called him on the phone every day, sometimes two and three times, just to check in, and to pick his brain.
"I love Zim," Leyland said.
Everyone loved Zim. After being fired by the Red Sox, Zimmer became a coach with the Yankees, and rented Bucky Dent's house in New Jersey. Dent, of course, hit an enormous three-run homer for the Yankees in the famous playoff game that beat Zimmer's Red Sox.
"Over top of my bed," Zimmer said with a classic laugh, "there was a framed newspaper story with the headline: SOX DENTED! I went to bed every night with that hanging over my head."
Other baseball notes for June 4
In 1955, Willie Mays hit an extra-inning home run. He would hit 22 extra-inning home runs in his career, most of all time.

In 2013, John Mayberry Jr. became the first player to hit two home runs in extra innings, the second being a walk-off grand slam.

In 1957, Tony Pena was born. He was an excellent defensive catcher. But he caught the most games of all time (1,950) of any catcher who never caught a no-hitter.

In 1964, Sandy Koufax threw his third no-hitter.

In 1956, catcher Terry Kennedy was born. Great guy, great historian of the game. And a really big catcher (6-foot-4, 230 pounds) who had some trouble at times with agility behind the plate. "Whenever I needed help, they'd send me a catching instructor who was this tall [roughly 5-8]," Kennedy said. "I'd tell the guy, 'Thanks, but you can't help me. The reason I'm having trouble back there is I'm so big."'

In 1990, Ramon Martinez, brother of Pedro, struck out 18 in a 2-0 shutout of the Braves. "Did you look at his forearms? Look at how long they are," said teammate Eric Karros. So I looked. Ramon had unusually long forearms, which allowed for such great whip action, especially on his breaking ball.
MVPs say time to pull Landis name off plaques
NEW YORK — Something still bothers Barry Larkin about his Most Valuable Player award.
The other name engraved on the trophy: Kenesaw Mountain Landis.
"Why is it on there?" said Larkin, the Black shortstop voted National League MVP in 1995 with the Cincinnati Reds.
"I was always aware of his name and what that meant to slowing the color line in Major League Baseball, of the racial injustice and inequality that Black players had to go through," the Hall of Famer said this week.
Hired in 1920 as the sport's first commissioner to help clean up rampant gambling, Landis and his legacy are "always a complicated story" that includes "documented racism," official MLB historian John Thorn said.
This much is true, in black and white, about the son of a Union Army doctor wounded at the Battle of Kennesaw Mountain in Georgia during the Civil War: No Blacks played in the majors during his quarter-century tenure; Jackie Robinson broke the barrier in April 1947, about 2 1/2 years after Landis died.
"Landis is a part of history, even though it was a dark history," Houston Astros manager Dusty Baker said.
Fact is, few fans realize Landis' name is plastered all over the Most Valuable Player trophies. Most people just call it the MVP.
But there it is, prominently displayed on every American League and NL MVP plaque since 1944 — Kenesaw Mountain Landis Memorial Baseball Award, in shiny, gold letters literally twice as big as those of the winner.
With a sizable imprint of Landis' face, too.
To some MVPs, it's time for that 75-year run to end.
"If you're looking to expose individuals in baseball's history who promoted racism by continuing to close baseball's doors to men of color, Kenesaw Landis would be a candidate," three-time NL MVP Mike Schmidt of Philadelphia said.
"Looking back to baseball in the early 1900s, this was the norm. It doesn't make it right, though," the Hall of Famer said. "Removing his name from the MVP trophy would expose the injustice of that era. I'd gladly replace the engraving on my trophies."
Added 1991 NL MVP Terry Pendleton of Atlanta, who is Black: "This is 2020 now and things have changed all around the world. It can change for the better."
"Statues are coming down, people are looking at monuments and memorials," he said. "We need to get to the bottom of things, to do what's right. Yes, maybe it is time to change the name."
"I've always thought about that, why is that still on there?" Pendleton said. "No doubt, MVP stands on its own. It doesn't need a name."
Many hallowed baseball trophies are graced by the names of the greats: Robinson, Hank Aaron, Roberto Clemente, Cy Young, Willie Mays, Ted Williams and more.
How Landis got etched into the list is easy to trace.
A federal judge in Chicago, Landis quickly established his powerful authority as commissioner, banning Shoeless Joe Jackson and the Black Sox for throwing the 1919 World Series.
In 1931, Landis decided members of the Baseball Writers' Association of America would pick and present the MVP awards. Before that, the leagues had their own mishmash system.
Then during the 1944 World Series, the BBWAA voted to add Landis' name to the plaque as "an acknowledgement of his relationship with the writers," longtime BBWAA secretary-treasuer Jack O'Connell said.
A month later, Landis died at 78. He soon was elected to the Hall of Fame.
"Landis is who he is. He was who he was," Thorn said. "I absolutely support the movement to remove Confederate monuments, and Landis was pretty damn near Confederate."
His precise role in racial issues has been debated for decades.
Landis broke up exhibitions between Black and white All-Star teams. He invited a group of Black newspaper publishers to address owners in what became a cordial but totally fruitless presentation.
Toward the end of his tenure, he told owners they were free to sign Black players. But there is no evidence he pushed for baseball integration, either, as the status quo of segregation remained.
"If you have the Jackie Robinson Award and the Kenesaw Mountain Landis Award, you are at diametrically opposed poles," Thorn said. "And it does represent a conundrum."
O'Connell said no MVP had voiced a complaint to him about Landis since taking his post in 1994. He said Landis' name on the plaque wasn't pledged or part of the BBWAA constitution.
Any BBWAA member could raise an objection to Landis' presence. Normally, that would be discussed at the organization's next gathering, currently scheduled for December at the winter meetings in Dallas. The coronavirus pandemic has put the event in peril.
O'Connell said if someone raised the issue now, it could be brought up to the board and opened to discussion and a vote. To pull Landis' name "would be a simple matter of redesigning the plaque," he said.
To Larkin, that would remove the tarnish from the trophy.
Larkin recalled that shortly after he was voted MVP, he got a call from two-time NL MVP Joe Morgan. The star Black second baseman of the Big Red Machine talked about Landis' legacy and "he said it never sat well with him, having that name on there," Larkin recalled.
Larkin agrees.
"His name should not be represented on a plaque or award of honor, especially at this day and time," he said. "If his name was taken off, I would not be opposed to it at all."
MLB Stock Watch – How much has changed for all 30 teams since we saw them last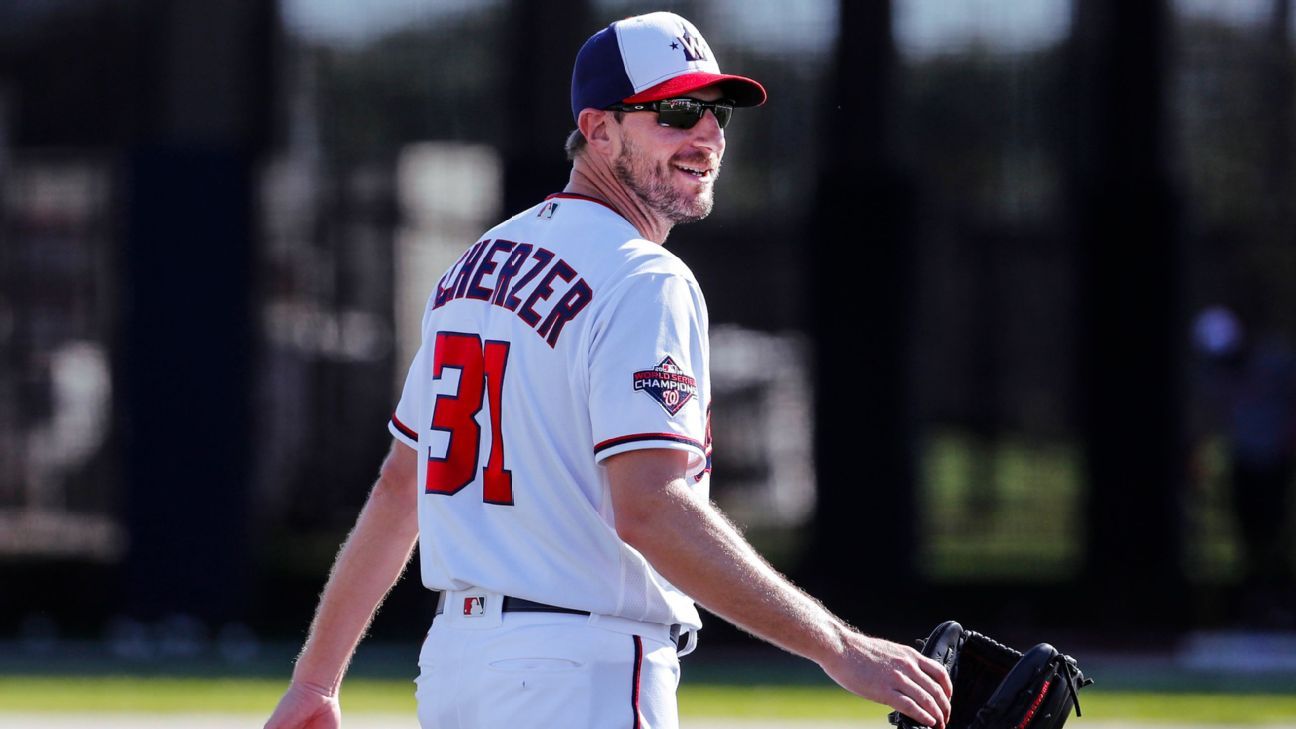 In around three weeks, if fate smiles upon us all in a way that it hasn't for most of 2020, we will have regular-season baseball. We will have just longer than a three-month sprint to crown a World Series champion, one whose validity will be debated forever after. A 60-game season isn't what any of us in and around baseball wanted. Sixty games is what we got.
Before the world seemed to stop spinning in March, we sized up the baseball world through the prism of our recurring Stock Watches, which were supposed to be the first of the annual nine-month run of the concept. With everything shut down since then, there has been no reason to offer a new one. Even now, as teams have announced their player pools for the summer camps that kick off later this week and the transaction freeze across baseball has been lifted, the rosters and depth charts for the 30 clubs has changed very little. Yet so much about the truncated season will be different, and some of those things change the probabilities even before any significant roster shuffling can take place.
Tim Kurkjian's Baseball Fix – 'Trying to hit Sandy Koufax was like drinking coffee with a fork'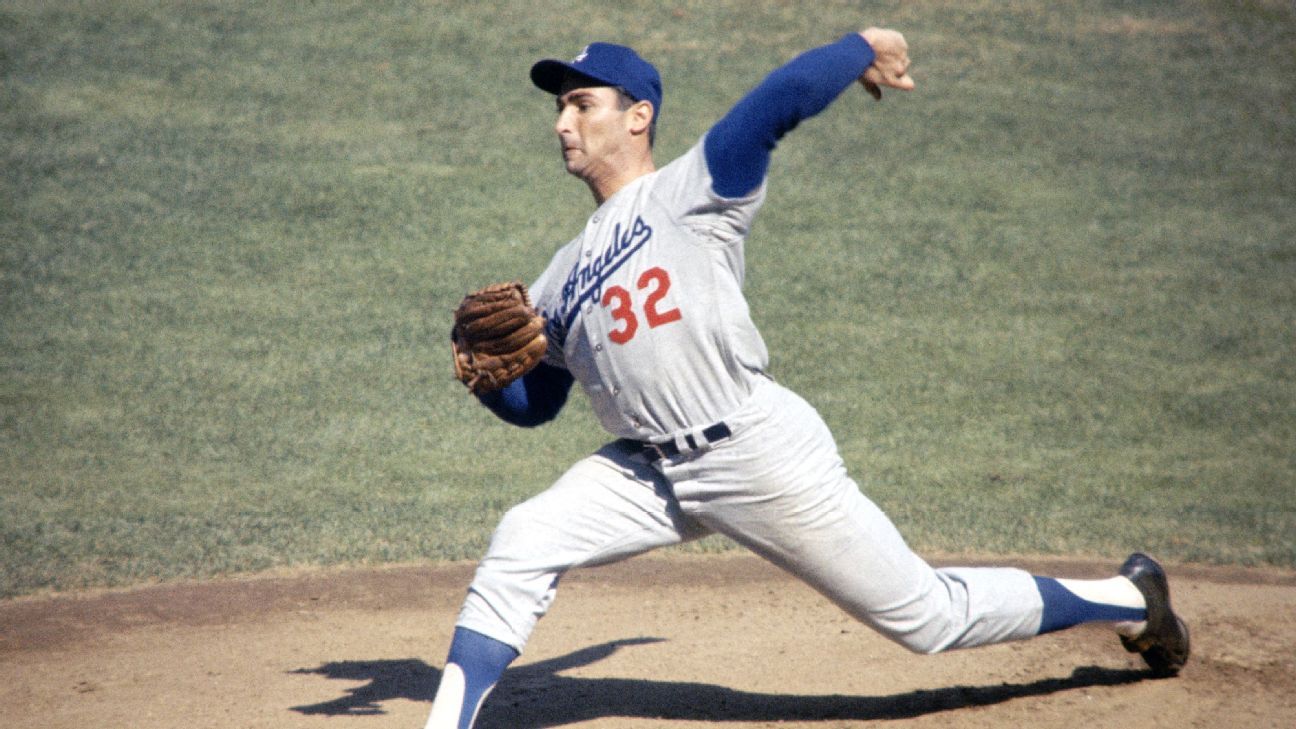 You love baseball. Tim Kurkjian loves baseball. So while we await its return, every day we'll provide you with a story or two tied to this date in baseball history.
ON THIS DATE IN 1962, Sandy Koufax threw his first no-hitter.
He would finish with four no-hitters — only Nolan Ryan had more. One of Koufax's no-hitters was a perfect game. In Koufax's first no-hitter, he struck out 13, including the side on nine pitches in the first inning. When it comes to peak value for a pitcher, few in major league history could match Sandy Koufax. Former teammate Don Sutton, a 300-game winner, said, "The most dominating pitcher I ever saw, without a doubt, without recourse, is Sandy Koufax."
The full "On this date …" archive
In his final four seasons, Koufax won three Cy Young Awards and went an astounding 97-27. Then he retired at age 30 because of an arm injury. He remains the youngest player (36) ever to be inducted into the Hall of Fame. He led the National League in ERA in each of his last five seasons. In 1965-66, his final two seasons, he won the pitching Triple Crown: the league leader in victories, ERA and strikeouts. In his final two seasons, he had 27 complete games each year, and he led the league in innings pitched in each season.
Koufax led the league in strikeouts four times; in 1965, he struck out 382 batters, which established a major league record. That season, he walked only 71 — he remains the only pitcher in major league history to have a season in which he had 300 more strikeouts than walks. "Trying to hit Koufax," Willie Stargell once said, "was like drinking coffee with a fork."
Koufax was at his best in the postseason, when it mattered most. He pitched in eight World Series games, starting seven of them. He went 4-3 with a 0.95 ERA and two shutouts. He threw 57 innings, allowed 36 hits, walked 11 and struck out 61. In 1963 against the mighty Yankees, he set the record for most strikeouts in a World Series game with 15.
Koufax was a tremendous basketball player at the University of Cincinnati thanks in part to his enormous hands. In baseball, those hands allowed him to wrap his exceptionally long fingers around the ball in a way to manipulate it. His vicious overhand curveball was one of the best ever. Hall of Famer Frank Robinson was one of the best, most confident hitters of all time. He hated pitchers, and there wasn't one he didn't think he could hit. I asked how he did against Hall of Famers Juan Marichal, Bob Gibson and Don Drysdale. Robinson answered, to each one, "Oh, I hit him good." Yet when I asked about Sandy Koufax, Robinson's tone and body language changed. "No one," Robinson said, "could hit that man."
Other baseball notes for June 30
In 1912, Shoeless Joe Jackson hit three triples in one game. "His glove is where triples go to die," Ray Kinsella said.

In 1995, Eddie Murray collected his 3,000th hit. He, Willie Mays, Hank Aaron, Rafael Palmeiro, Alex Rodriguez and Albert Pujols are the only members of the 3,000-hit, 500-home run club.

In 1964, Doug Dascenzo was born. He is 5-foot-7. He pitched in four games in his career. "I really was the short reliever," he said.

In 1957, pitcher Bud Black was born. On one day in 1992, his career record was 92-92, and the teams for which he played were 796-796. The ultimate .500 pitcher. I tracked that stat for months, then when it all lined up perfectly. I flew from Dallas to San Francisco to tell Black. He looked at me, smiled and said, "You flew 1,500 miles just to tell me that? Is that all you have to do with your life?"