49ers' Kyle Shanahan frustrated Colin Kaepernick's message still misunderstood
Kyle Shanahan was not yet the head coach of the San Francisco 49ers when quarterback Colin Kaepernick began kneeling during the national anthem in protest of systemic racism and oppression in 2016.
From afar, Shanahan said, he watched and understood the message Kaepernick was trying to convey. But now, nearly four years later, Shanahan expressed frustration that it's taken others so long to get the point.
"I think the biggest thing that is so hard with the Colin thing is people misunderstanding what he was doing," Shanahan said. "And I think that's why the reactions have been hard the last couple of days over things that people are still confused [about]. Regardless of whether you agree with how he did it or not, that doesn't matter. What Colin was protesting was something that should be respected by all humans. That did take a lot of courage. That is something that is 1,000 percent wrong and what he was trying to fix and bring light to. And gosh it was hard to bring light to the whole country because people didn't want to totally hear it and it got diluted with so much different stuff."
George Floyd's death in Minneapolis last week has again brought Kaepernick's 2016 protest to the forefront. Floyd, who was black, died when Derek Chauvin, a white police officer, kneeled on his neck for more than eight minutes on May 25. Floyd's death sparked protests in cities across the United States over the past week.
Chauvin has been fired from his job and charged with second-degree murder and second-degree manslaughter. The three other officers on the scene — Thomas Lane, J. Kueng and Tou Thao — have been charged with aiding and abetting second-degree murder and second-degree manslaughter, according to criminal complaints.
Floyd's death and the ensuing protests have been a primary topic for the 49ers during their virtual meetings this week, Shanahan said. On Thursday, Shanahan spoke to the media via a Zoom call and spent most of the 30-minute session discussing racism and race relations in the country.
When asked about Kaepernick, Shanahan spoke at length about how he believes the former 49ers quarterback's message was lost and how Shanahan gained a deeper appreciation for what Kaepernick did after he became the Niners head coach in 2017.
Soon after their hiring, Shanahan and general manager John Lynch informed Kaepernick that they intended to release him, which led to Kaepernick opting out of his contract and departing San Francisco. But other players, such as safety Eric Reid, who knelt alongside Kaepernick in 2016, remained on the team.
"Those were the guys who started it and it was very clear when they would articulate it why they were doing it," Shanahan said. "So, the debate on all the other stuff, the flag, everything, like people don't want to hear that. What he was doing was a big deal and whether you disagree with how he did it or not doesn't matter.
"It's three years later and there's still some people not understanding what his message was and regardless, that's too many people not understanding the message that everyone has been giving for a long time. And Colin did it the strongest out of anyone. And people should respect him a ton for that and admire that."
Kaepernick has remained unsigned since leaving the 49ers, but other players, including Reid, continued their protest after Shanahan took over.
Shanahan offered public support for those protests at the time, including a 2017 game in Indianapolis in which more than 20 players knelt during the national anthem with their hands over their hearts and teammates at their side.
Vice President Mike Pence attended that game and departed after the national anthem, pointing to the Niners' demonstration as the reason for his exit.
Asked Thursday how he would handle player protests if they occur again this year, Shanahan reiterated his support for his players, noting it would come "probably with more passion."
"I'm all for protests," Shanahan said. "I'm all for change. I hope the protests cause change. Whatever we've got to do to get the change, I'm for it. And I know our organization is, I know [CEO] Jed [York] is, I know our players are. We always have been. What's different now from then? It's embarrassing to say, probably, but I think white people are more passionate about it now than then. That's our ignorance and that's what upsets black people. And they have every right to be upset because they haven't just been telling us this the last few weeks. They've been telling us this since our grandparents. … It's all the time and it's too long. So, whatever has got to get changed, let's do it."
York announced Saturday night that the 49ers are donating $1 million to local and national organizations "committed to social change." Shanahan said his discussions with players this week have included possible actions they can take as a team to help out.
Those discussions have included topics such as where best to dedicate their time and money, ways to encourage people to register to vote, and how to help young people in their communities.
"I think we all know it's not an easy answer," Shanahan said. "It's the whole country admitting what is wrong, which isn't debatable. So, people need to come out from being sheltered or ignorant, whatever it is. And whoever those people are, kids need to help their parents. The parents need to help their parents. We all need to speak about it and do stuff. … We're going to do a lot. It's not specific yet, but I know our guys are working that hard."
NFLPA board votes to recommend canceling all preseason games this year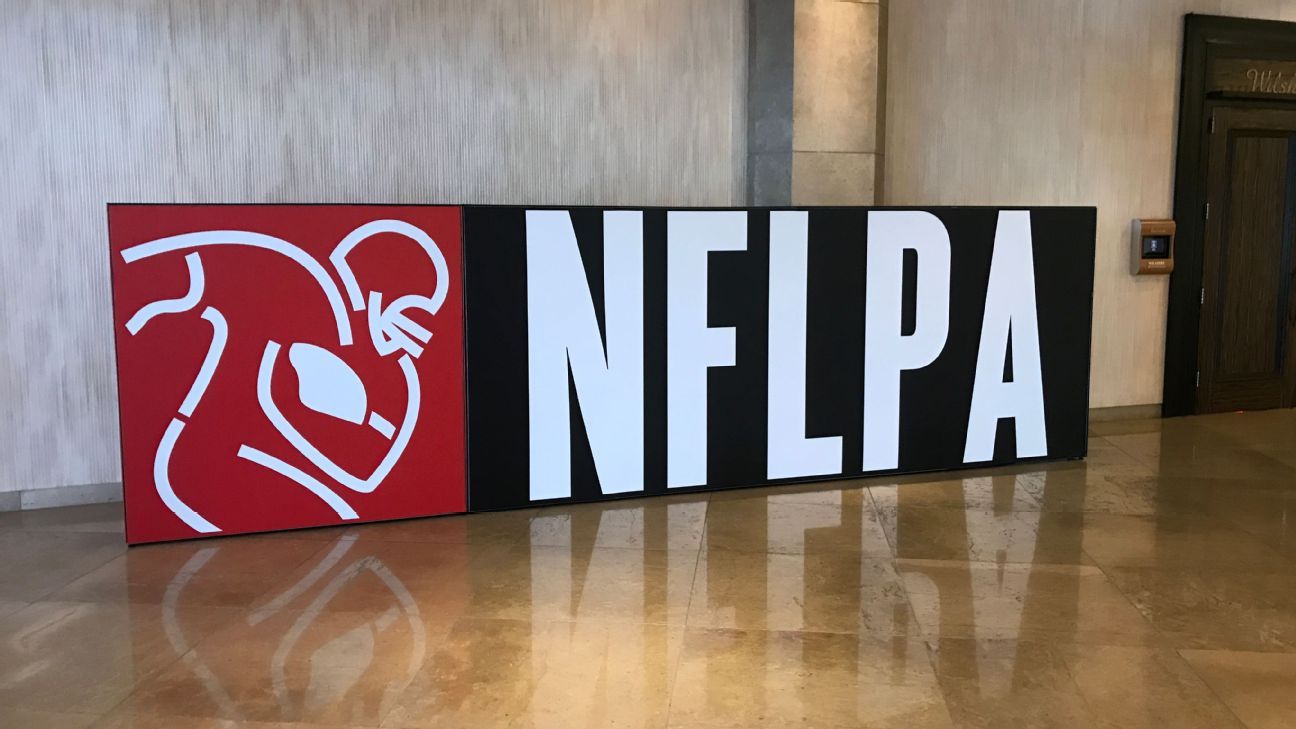 Earlier this week, the NFL decided to shorten its preseason from four weeks to two to account for the coronavirus pandemic and the ways in which it's affecting the league's ability to start the season. But the NFL's players don't think that move went far enough.
An NFL Players Association source said Friday that the union's board of player representatives had voted to recommend scrapping all 2020 preseason games. The matter came to a vote during Thursday evening's conference call with NFLPA player reps, and the source said the vote was unanimous.
It's unclear whether the NFL will consider the players' recommendation. The league has yet to formally announce the reduction of the preseason from four games to two, though a source told ESPN's Kevin Seifert on Wednesday that the decision had been made.
The league does not believe it needs the union's approval to set its preseason schedule, though the players would argue that the changes in work rules brought on by the pandemic allow them the right to be involved in the decision.
Training camps for most NFL teams are set to begin July 28, only weeks away, and the league and union are still finalizing health and safety protocols to protect players and team personnel from the virus. Many of those protocols were discussed on the Thursday night call with the player reps and union medical director Thom Mayer. They range from newly designed protective face masks to reduced sizes of training camp rosters to possible fines for players who spread the virus after circulating in public outside of the team facility.
Sources familiar with the content of Thursday's call said players had many unanswered questions about how they can safely return to practice and play. The NFL has so far maintained that it plans to start camp and the regular season on time.
Cleveland Browns TE David Njoku asks for trade, agent says
Tight end David Njoku has asked the Cleveland Browns to trade him before training camp, his agent, Drew Rosenhaus, told ESPN's Adam Schefter on Friday.
The Browns told Njoku, 23, that they would like to keep him, but Rosenhaus told the team he's intent on a trade.‬
"It is in David's best interest to find a new team at this time,"‬ Rosenhaus told Schefter.
The Browns announced in April that they would pick up Njoku's fifth-year option, worth $6.4 million.
They had already signed Pro Bowl tight end Austin Hooper to a four-year, $44 million deal with $23 million guaranteed in March. And then they drafted tight end Harrison Bryant in the fourth round of the 2020 draft. But new coach Kevin Stefanski values tight ends and said after the draft he could see all three playing.
Njoku, a 2017 first-round pick out of Miami, broke his wrist and suffered a concussion in Week 2 of the 2019 season. He played only two more games after that and finished the season with five receptions for 41 yards and one touchdown.
In 2018, he had 56 receptions for 639 yards and four touchdowns.
Former Tampa Bay Buccaneers president Gay Culverhouse, advocate for player safety, dies
TAMPA, Fla. – Former Tampa Bay Buccaneers team president and senior executive Gay Culverhouse, who devoted her life to helping former NFL players dealing with health issues including chronic traumatic encephalopathy (CTE), has died at the age of 73, a family spokesperson told the New York Times.
Culverhouse, the daughter of late Buccaneers owner Hugh Culverhouse, died Wednesday at her home in Fernandina Beach, Florida. Culverhouse suffered from complications from myelofibrosis, a form of chronic leukemia inhibiting the production of red blood cells. She had battled the condition, which left her severely anemic, since 2003.
She was originally given just five years to live and survived 17 years with the illness.
"We are saddened to hear of the passing of Gay Culverhouse earlier this week," Buccaneers owner and co-chairman Bryan Glazer said in a statement. "During her family's ownership of the Buccaneers, Gay was a leading figure in and around the Tampa Bay community who was defined by her compassion for helping others. Her tireless work as an advocate for retired NFL players is also an important part of her personal legacy. We send our heartfelt condolences to her children, Leigh and Chris, and the entire Culverhouse family."
Culverhouse joined the Buccaneers in 1986, years after her father was awarded the expansion Buccaneers in 1974. Before joining the Buccaneers, she worked as an instructor at the University of South Florida College of Medicine from 1982-1986, specializing in child psychiatry after earning her doctorate from Columbia University.
She remained with the organization until 1994, resurfacing 15 years later to serve as an advocate for retired players, testifying in a House Judiciary hearing on head injuries among NFL players in 2009.
"One of the things you, as a committee, need to understand very clearly is the fact that the team doctor is hired by the coach and paid by the front office," Culverhouse said. "This team doctor is not a medical advocate for the players. This team doctor's role is to get that player back on the field, even if that means injecting the player on the field."
"My men have headaches that never stop. They cannot remember where they are going or what they want to say without writing it down. Some are on government welfare. Some are addicted to pain medication. Some are dead."
She called for mandatory benching of players suffering from concussions and for independent neurologists not affiliated with teams to be on the field for every game evaluating players. Thanks to her efforts, the league implemented this policy in 2013, which includes fines and even forfeiture of draft picks should teams fail to follow concussion guidelines.
It was the death of former Buccaneers lineman Tom McHale of an accidental drug overdose in 2008 that prompted Culverhouse to take up the cause of helping former players. McHale was just 45, but his brain, researchers found, was marked by signs of the neurological disease CTE.
"I became very concerned and started looking more thoroughly into concussions," she said. "And I thought, 'I've got to do something. I can't let this fester.' "
She formed the nonprofit Gay Culverhouse Players' Outreach Program, paying for medical exams for dozens of retired players while assisting them with the necessary paperwork to receive medical benefits.
When asked why she chose to adopt the cause of retired NFL players, Culverhouse said in 2010, "Because it needs to be done. If not me, then who?"
Culverhouse didn't shy away from her father's unpopular and often controversial decisions, which included a low-ball salary offer to then-Buccaneers quarterback Doug Williams, who would later become Super Bowl MVP as a member of the Washington Redskins.
"My father has to answer on his own merit," Culverhouse said to ESPN. "No one can make up for someone else's mistakes."
Nor did she shy away from criticism of the league, its owners, its doctors and its culture when player came safety second, serving as an important moral compass at a time when it was desperately needed.
"This game has to change. 'Game' is a misnomer. This business has to change. My grandson means too much to me to sit on the sidelines and not mandate change," Culverhouse said of her grandson, who was at the time, 8. "I have seen his future in the bodies and eyes of my former players. I know what is happening in the locker room. Please change football before my grandson is damaged."
"One of my former players referred to me as a 'rebel with a cause.' By breaking ranks with the National Football League, I have become that rebel. My cause is the health and well-being of all football players whether they are 8-year-olds or 22-year-olds. Safety must come first. Business must come second."