NFL says camps only at team facilities due to coronavirus
The NFL has decide that teams must hold training camps this summer at their main practice facilities due to the coronavirus pandemic, sources told ESPN on Tuesday.
The NFL plans to announce that plan, along with a tentative start to camps in late July.
Among teams that would have held camp away from their home facility this year are the Dallas Cowboys, Carolina Panthers, Washington Redskins, Kansas City Chiefs and Pittsburgh Steelers.
The Panthers have prepared for every season since their first in 1995 at Wofford College in Spartanburg, South Carolina. WSPA-TV in Spartanburg, citing sources, first reported this new development.
The league announced in mid-May that teams could begin re-opening their facilities on a limited basis when state and local governments allowed it.
The next phase of re-opening began on Monday with clubs allowed to re-open ticket offices, retail shops and other customer-facing facilities, as long as the openings fully comply with state and local regulations.
Currently, no coaches are allowed in team facilities, although that could change in the near future.
Patrick Mahomes sought security, flexibility for Chiefs in landmark deal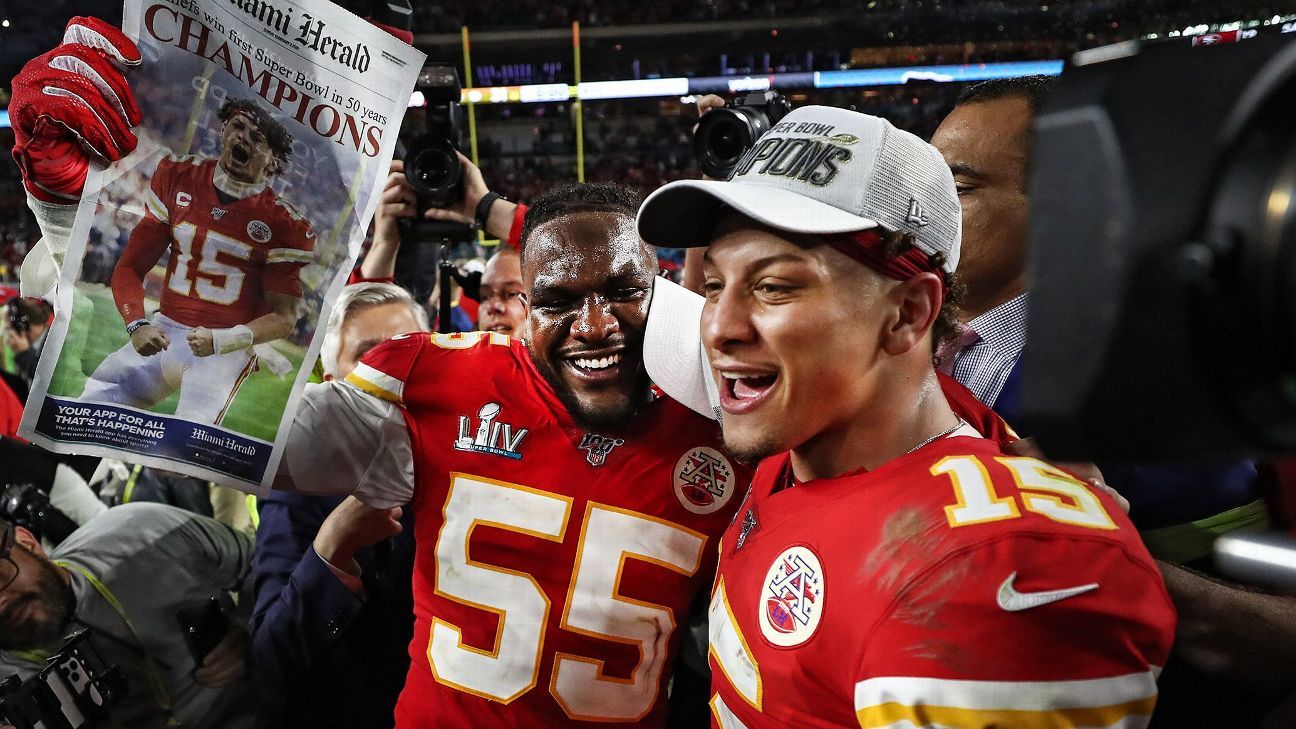 Patrick Mahomes said he had two goals for his new contract when extension talks began with the Kansas City Chiefs earlier this summer: He wanted long-term security and he wanted to leave the Chiefs enough financial flexibility to otherwise build a strong team around him.
Mahomes said Tuesday he's confident he attained both by signing a 10-year extension that could pay him up to $503 million and is the richest valued contract in American professional sports. Combined with the two seasons on his existing deal, Mahomes is bound to the Chiefs through the 2031 season.
"Not only does it give me the security that I've always wanted but also it allows an opportunity for the team to be great around me the entire duration of my career," Mahomes said. "I have full trust things will be handled the right way as we go throughout this career and that we will be in a position to win a lot of football games and hopefully win a lot more championships as my career goes on.
"It's an exciting time. I'm just glad that I get to continue to build this legacy in Kansas City."
Mahomes said he leaned on his father Pat and godfather LaTroy Hawkins for advice. Both were long-time major-league baseball pitchers.
"They didn't sign that long-term contract but they saw players who did and . . . how they were able to go out there and play free knowing they had the security that they had always wanted," Mahomes said. "The biggest thing they preached to me is kind of the same thing I already thought. It was good to just hear them. You want to have great players around you. You don't want to be a guy that takes up all the money and then all of a sudden you're having to sign different guys that will take cheaper deals. We're going to be able to reward players and keep a lot of these guys around that have built the culture even before I was here."
To sign for the next 12 seasons required a great deal of trust on the part of Mahomes. It's impossible to know what the Chiefs will have in place around him much beyond the immediate future. Coach Andy Reid, for instance, is 62 years old though he seems to be enjoying coaching as much now as he ever did. Mahomes said he consulted with Reid before signing such a long extension.
"He said he had no thoughts of being retired any time soon," Mahomes said. "Obviously, that's a huge part of it. Having Brett Veach, a young general manager who's done a great job of drafting and putting a lot of great players round me, was definitely another huge boost of confidence to sign this 10-year extension.
"You can't do this with every single organization. When you have an organization with the stability and the culture that we have in the Chiefs' organization, I felt very comfortable. I have a lot of trust that I can do a contract like this knowing that we were going to have that same stability by the time I'm at the end of that contract."
The Chiefs said they had no problem in giving Mahomes, who is still only 24 years old, a long extension. He has yet to disappoint them in his two seasons as their starting quarterback. He was the NFL's MVP in 2018 and last season led the Chiefs to their first Super Bowl championship in 50 years.
"There's still a lot of improvement for Pat in his game," Veach said. "He's still growing and learning. He's hungry. He's a special kid. At such a young age he's so mature."
As the 2018 season started and it quickly became evident what kind of player Mahomes is, Veach met with the Chiefs' salary cap managers and they started preparing for what he called a "baseball contract" for Mahomes. Mahomes' deal tops the contract signed last year by Los Angeles Angels star Mike Trout, who signed for 12 years and almost $427 million.
"If there was ever a player that was truly deserving of the largest contract in U.S. sports history, it's definitely Pat Mahomes," Veach said.
Broncos turning to 2011 lockout offseason for direction – Denver Broncos Blog
ENGLEWOOD, Colo. — In almost every way, this offseason has been unlike any other for almost every player on the Denver Broncos' roster.
The coronavirus pandemic has impacted every part of the Broncos' offseason, even as the team tries to implement a plan for training camp in the weeks to come. Other than workouts quarterback Drew Lock organized with a small group of teammates, the Broncos' offseason was largely a virtual-only affair. Only the team's recovering injured players spent any time at the team complex.
"And that part, it's kind of like my rookie year, a lot like that year," is how linebacker Von Miller put it in recent weeks. " … Coming in for camp, getting on the field for the first time, it will be something like that year this year."
• Big questions » | Power Rankings »
• Free agency: Tracker » | Grades »
• Draft: All 255 picks » | Grades »
• Fantasy: Cheat sheets » | Projections »
• 2020 schedule » | More NFL coverage »
Beyond the health protocols that will be in place whenever the Broncos' players and coaches return to work, when it comes to practices, ramping up their conditioning and working through the playbook, the 2011 training camp may provide at least some direction.
That year a lockout by the NFL's team owners washed out the offseason programs around the league. The two sides didn't hammer out a new collective bargaining agreement until July 25th that summer and training camps opened only after the 132-day lockout ended.
"But we won't be behind any more than anyone else is," Broncos coach Vic Fangio said. "It'd be different if half the teams were shut down and half weren't and luckily me and a bunch of the other coaches have had experience with the lockout in 2011. From a football standpoint, it's very similar to that. … It so happens that in 2011 I was with the Niners then and we were a totally new staff where everything was new. We hadn't even met our players and we didn't meet our players until training camp started, and we did fine that year. I don't see it as a big issue."
Fangio was Jim Harbaugh's defensive coordinator in the 2011 season as Harbaugh, in his first year in that job, led the team to a 13-3 finish as the 49ers advanced to the NFC Championship Game to close out that season.
Only three Broncos were in the league that season — Miller, safety Kareem Jackson and defensive tackle Jurrell Casey — and only Miller was with the Broncos at the time. Miller and Casey were rookies while Jackson was entering his second season.
The Broncos also had a new coaching staff that season as John Fox had been hired in January of that year.
"We didn't even meet the guys, really, until they came in after the CBA got signed — it was like a three-day sprint between the CBA was done and we opened camp, like hey let me introduce everybody, see you at practice in 20 minutes," Fox said. "At that point, right in the beginning, your biggest thing is kind of conditioning and seeing where all of the guys are at in that regard — you didn't want to practice and have a bunch of guys go down because you didn't ramp it up the right way. Installing things, you just deal with timetable you have, but guys did have to cram for the test a little bit."
In terms of football, the Broncos' virtual meetings have put this year's rookie class ahead of where Miller and the rest of the Broncos' rookies were at this point in 2011. This year's Broncos spent weeks in daily online meetings with coaches and teammates, with their position groups.
"What I can tell you is we have everybody where they'll have all the tools they'll need when they hit the field," Broncos defensive coordinator Ed Donatell said. "We can't tell you how it will be physically. We've just created ways to use film and create interaction, have them talking to each other. It's a very big plus."
"I feel like we'll all have a good handle on what we're doing when we get on the field," linebacker Bradley Chubb said. "If I was a rookie right now, I think I'd feel like, after our virtual meetings and all that, I understood the basics of what we're doing. I don't think it will take too long for everybody to get in the flow on the field. It might be a little different if we didn't have those meetings. I've talked to Von about [2011], I think that would have been tough as a rookie, just to jump in during camp and try to get it."
Because of the health and safety protocols that are expected to be place when teams get the green light to open training camp, which will limit how the players meet and gather in the facility, there will be plenty to deal with unlike any other of their years in football.
"And practices might be different, how we do it, we'll see," Miller said. "But coming in without any practices, OTAs or anything like that, I've done that. At least I know what that looks like and the older guys like me will just help the younger guys. That's how it has to be."
Broncos to add Mike Shanahan to Ring of Honor in '21
The Denver Broncos have selected former head coach Mike Shanahan for their Ring of Honor, the team announced on Tuesday. Shanahan will be the franchise's 34th Ring of Famer.
The ceremony is expected to be held next year due to the ongoing coronavirus pandemic.
Shanahan spent 14 seasons as head coach of the Broncos, leading the team to back-to-back Super Bowl titles during the 1997 and 1998 seasons and finishing as the winningest coach in franchise history with 146 total wins. He also spent seven seasons as an assistant with Denver.
"Mike Shanahan is the greatest coach in Denver Broncos history and among the winningest coaches of all-time," President and CEO Joe Ellis said in a team statement. "He brought an unmatched standard and intensity as head coach, leading this franchise to its first two Super Bowl wins and building the Broncos into perennial contenders. We are thrilled that Mike has now been elected to the Broncos' Ring of Fame."
Shanahan is one of seven head coaches in NFL history with more than 175 career wins and two Super Bowl titles joining Don Shula, Bill Belichick, Tom Landry, Chuck Noll, Bill Parcells and Tom Coughlin.
Before coaching the Broncos, Shanahan coached the Los Angeles Raiders in 1988 and for four games of the 1989 season before being fired. He then spent 14 seasons with Broncos followed by four seasons with the Washington Redskins finishing with a career coaching record of 178-144.
Shanahan also captured a Super Bowl title as the offensive coordinator for the San Francisco 49ers during the 1994 season.