Arizona Diamondbacks cut about quarter of staff with layoffs, furloughs
The Arizona Diamondbacks have laid off or furloughed about one-quarter of the team's employees because of lost revenue due to the coronavirus pandemic.
The organization made the moves on Friday. Remaining staff will take pay cuts that average less than 15%, with the team's highest earners losing a bigger percentage of their income. The D-backs will continue to pay their minor league players through at least the end of June.
The team's baseball operations department was largely unaffected. Many of the jobs lost were on the business side, particularly in ticket sales.
"We care deeply about our employees which makes these decisions even more difficult," owner Ken Kendrick and team president Derrick Hall said in a joint statement. "We have tried to minimize the impact as much as possible but these are truly unprecedented economic times and we recognize that this is affecting everyone in our organization and community.
"We continue to hope and believe that we will play baseball in 2020, but it has become clear that this will be without fans, that the financial losses will be very significant and will undoubtedly carry into next season. Unfortunately, these changes were necessary in order to be in a position to recover when we are able to return to normal operations."
The Arizona Republic first reported the job cuts.
The MLB season was suspended during spring training in March. The players' union and owners are in discussions to possibly begin an abbreviated 82-game season in July, but likely without fans in attendance.
Felix Hernandez opts out of trying to make Braves due to virus concerns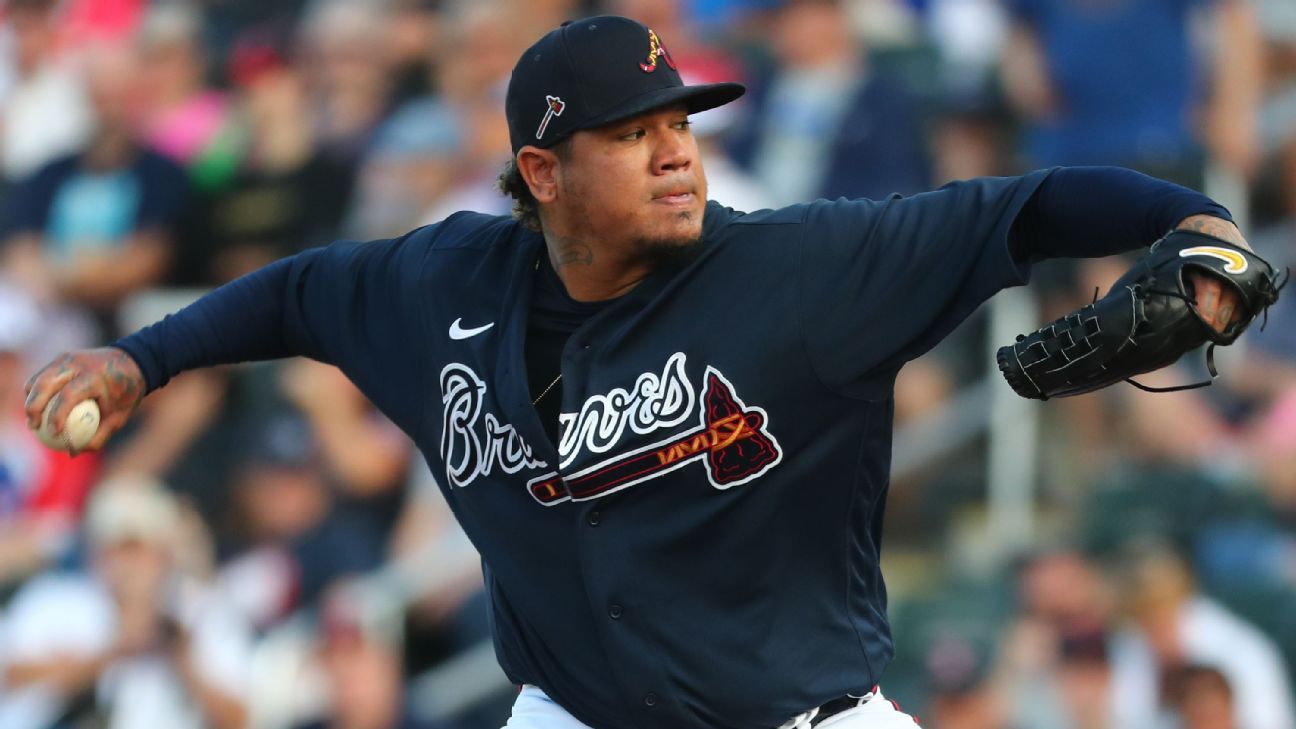 Felix Hernandez is opting out of the 2020 season, his agent announced on Saturday.
The longtime Seattle Mariner signed a minor-league deal with the Braves in January and was competing for a spot in the rotation.
Hernandez, 34, is coming off his worst season in the majors. King Felix went 1-8 with a 6.40 ERA in 15 starts for the Mariners and lost his place in the rotation.
Hernandez was among the best and more durable pitchers in the majors for more than a decade, a stretch that included six All-Star selections and the 2010 AL Cy Young Award. He was a huge crowd favorite at Safeco Field, with fans holding up K cards in The King's Court to mark his many strikeouts.
Before coronavirus shut down the sport, the right-hander was set to earn $1 million on a one-year contract if he was added to Atlanta's 40-man roster.
Miguel Sano, DJ LeMahieu, Salvador Perez among MLB players to test positive for coronavirus
Minnesota Twins third baseman Miguel Sano, New York Yankees infielder DJ LeMahieu and Kansas City Royals catcher Salvador Perez are among a host of MLB players who have tested positive for the coronavirus, it was revealed Saturday.
Four Atlanta Braves players — All-Star first baseman Freddie Freeman, reliever Will Smith, right-hander Touki Toussaint and infielder Pete Kozma — also had the team disclose their positive tests Saturday with their permission.
Along with Sano, Twins catcher Willians Astudillo, shortstop Nick Gordon and right-handed reliever Edwar Colina tested positive, according to the team.
Yankees manager Aaron Boone announced positive tests for LeMahieu and reliever Luis Cessa. He said both players are at home and gave the team permission to release their status. Boone said LeMahieu was asymptomatic and Cessa had mild symptoms.
Kansas City's Perez announced his diagnosis on a call with reporters. Perez told reporters he was asymptomatic and could play baseball today if needed, though regulations in the operations manual for the 2020 season amid the coronavirus pandemic would prevent that. Perez said he would miss at least 12 days before he could rejoin the team.
Boston Red Sox left-handers Josh Taylor and Darwinzon Hernandez tested positive and were isolated from their teammates, manager Ron Roenicke said.
St. Louis Cardinals president of baseball operations John Mozeliak announced that left-handers Ricardo Sanchez and Genesis Cabrera had tested positive, with a few test results still pending.
The Miami Marlins said four players have tested positive, including one during this week's screening that preceded the start of summer camp. The team didn't disclose their identities.
Major League Baseball and the players' association announced Friday that 31 players and seven staff members had tested positive for COVID-19, a rate of 1.2%.
MLB will not identify which players test positive for the coronavirus, citing privacy laws. Teams also will not specifically announce a COVID-19 injured list placement for a player who is removed from the club after testing positive; it will be just a trip to the IL.
The Philadelphia Phillies are not confirming whether players have tested positive, but manager Joe Girardi said Saturday that ace Aaron Nola, outfielder Adam Haseley and catcher Christian Bethancourt had yet to report to camp. Earlier this week, the Phillies placed Scott Kingery, Tommy Hunter, Hector Neris, and Ranger Suarez on the injured list without explaining why.
Players announced Friday as testing positive were Cleveland Indians outfielder Delino DeShields and San Diego Padres outfielder Tommy Pham.
Braves manager Brian Snitker said Freeman had a fever but added it's too early to know if the four-time All-Star's status for the start of the season could be jeopardized. Snitker said concerns will remain even after the four Braves players return to workouts.
"Guys have gotten it more than once," Snitker said. "We're going to have to be careful all year, and it's going to be the new normal for the next three months."
The Associated Press contributed to this report.
Brewers' Ryan Braun says he's now more likely to play beyond 2020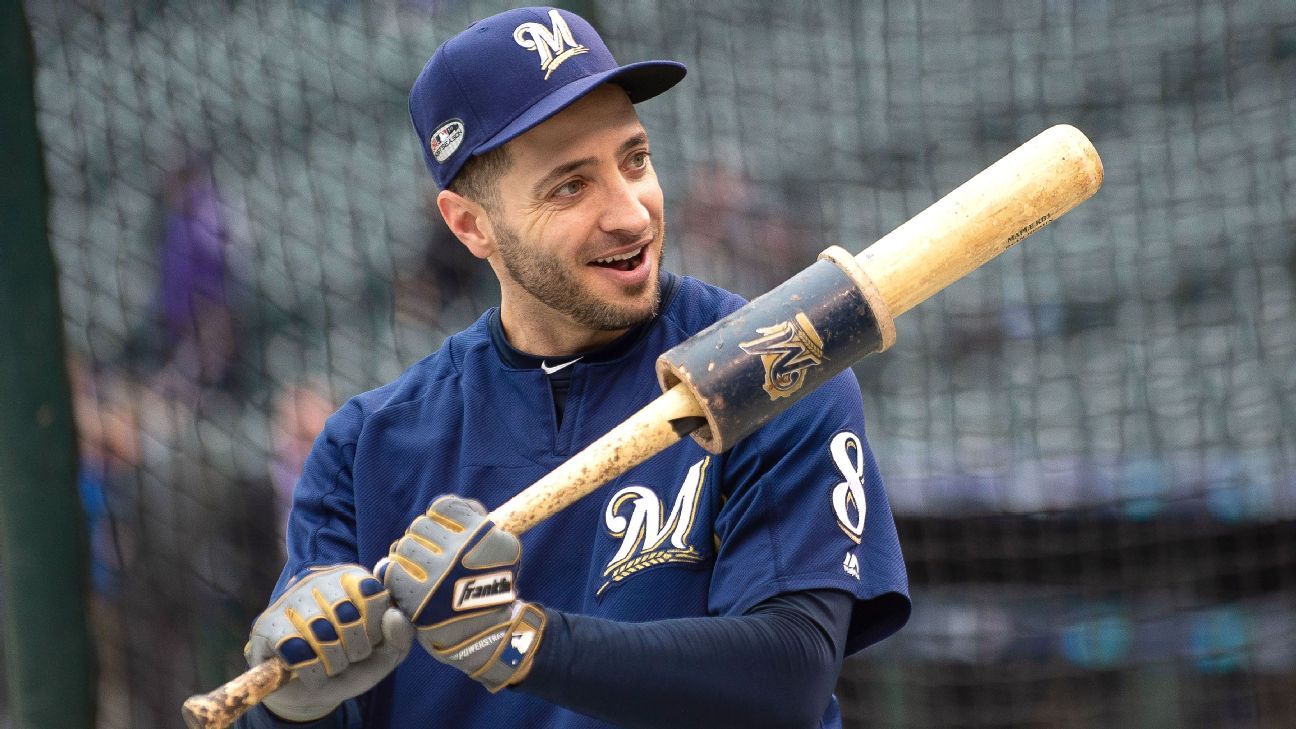 MILWAUKEE — Milwaukee Brewers veteran Ryan Braun said he's more likely to continue playing beyond 2020 because of the unusual circumstances of this pandemic-shortened season.
Braun said in January that he was considering retiring after the season. He was more bullish on his baseball future Saturday as the Brewers held the first full-squad workout of their summer camp ahead of the 60-game season that starts later this month.
"I feel like it's more likely that I play another year than I anticipated a few months back," Braun said.
Braun, the 2011 NL MVP, is entering the final season of a five-year, $105 million contract and will turn 37 in November.
Those circumstances help explain why Braun was uncertain in January about whether he would play in 2021.
"I don't take for granted this could be my last year playing baseball," Braun said at the time. "Obviously, there's a sense of urgency every year, but for me, knowing that this could be my last chance ever, it's something that adds to that sense of urgency."
Braun knows he'll be fresher at the end of this season than he would be after a 162-game schedule. The NL also is adopting the designated hitter this season, a move that could help Braun lengthen his career.
"Obviously at this age and where I'm at in my career, it's very appealing to me to have the option to DH for a decent percentage of my at-bats," Braun said.
Brewers manager Craig Counsell has said Braun will spend some time at DH but would also play right field and first base.
"We'll have a number of people in that role," Counsell said. "There will not be a starting DH. For our team, you'll see Ryan there. I probably liked it for Christian Yelich just as much when I saw the rule, the ability to keep him in the lineup for more games, especially at the start here when we're going to just have to be really careful with soft-tissue injuries for guys. Those are the two names that come to mind right off the bat."
Braun said he was skeptical at times that there would even be a season as coronavirus cases surged in the U.S. and baseball's labor negotiations dragged on. He also considered not playing this season, and he still hasn't completely ruled out taking the year off.
Braun's wife, Larisa, gave birth to the couple's third child — a boy named Carter James — on May 31. Larisa and the kids haven't yet left the family's southern California home to join Braun in Milwaukee.
"The more I learned about the health and safety protocols that were in place, the more comfortable I felt with everything," Braun said. "But again, I'm continuing to assess on a day-to-day basis, and Larisa and I continue to have conversations about what this looks like, whether it's safe for me to be here, whether it would be safe for them to join me here. And I think a lot of players are in that same situation in trying to assess it on a day-to-day basis and see what makes the most sense for them."
When healthy, Braun remains productive.
He batted .285 with 22 homers and 75 RBI with a .343 on-base percentage and .505 slugging percentage last year while playing 144 games, his most since 2012. He had an OPS of 1.018 in August and .912 in September as the Brewers made a late-season surge toward their second straight playoff berth.
Braun believes the shorter season could boost his production.
"For me personally, playing a smaller number of games is something that's beneficial," Braun said. "I think I've been able to be pretty good the last few Septembers because when I know it's a smaller sample size we're working with, I can just focus on sprinting to the finish line."