Tim Kurkjian's Baseball Fix – The day Mike Schmidt realized it was time to go
You love baseball. Tim Kurkjian loves baseball. So while we await its return, every day we'll provide you with a story or two tied to this date in baseball history.
ON THIS DATE IN 1989, Mike Schmidt retired.
Schmidt had played in 42 games that season, he was tied for second in home runs (six) by National League third basemen at the time, and he was the active career leader in homers, RBIs, runs scored and total bases. But, at age 39, his recent play had been unacceptable to him.
The full "On this date …" archive
"We were on the bus, leaving [San Francisco's] Candlestick [Park] for the airport to fly to San Diego," said Bob Dernier, then a Phillies outfielder. "Mike was in the back of the bus with Chris James, Bedrock (Steve Bedrosian) and a few others. Mike looked at us and said, 'I think that's it, I'm done.' Chris James started bawling. He said, 'No, no, Mike, you can't!' Mike told me, 'I can't catch. I can't throw.' He was embarrassed about his defense. Defense was so important to him. He used to tell me that the All-Star team should be the Gold Glove team. He valued that more than anything, even when he was leading the league in home runs."
Schmidt won 10 Gold Gloves; only Brooks Robinson (16) won more at third base. Schmidt led the National League in home runs eight times, which remains an NL record. He finished with 548 homers, most by a third baseman. His combination of power offensively and grace and skill defensively was breathtaking; indeed, he could play the piano and move it, too. Schmidt won three MVPs, including back-to-back years, and finished third two other times. By most measures, he is the greatest third baseman ever.
And yet it was never enough for Schmidt; he was constantly fretting about his swing. Nearly 30 years after retirement, he told me, "When I was struggling, if you had told me that I should set up in the box with my back to the pitcher, I would have tried it."
Schmidt was hitting .203 at the time he retired. So he accompanied the team to San Diego that night, and officially announced his retirement the following day. It was so emotional. He broke down several times.
"As soon as Mike said he was done, Bedrock and I started planning the celebratory party," Dernier said. "We were going to get Harry [Kalas, the club's legendary play-by-play broadcaster] to speak, we were thinking about getting some Heinkens on ice. We had a great party. We were all so sad to see him go, but he had so much pride in his play, who was I to argue with that? I saw him do some amazing things. Mike was just mesmerizing."
Other baseball notes for May 29
In 1981, Ellis Valentine was traded from the Expos to the Mets. In 1982, Valentine pointed his right pinky finger in my face and said, "I have more talent in this finger than most players have in their entire body."

In 2010, Roy Halladay pitched a perfect game. He won the NL Cy Young Award that year. He had a replica Cy Young made for his catcher, Carlos Ruiz, because, Halladay said, Ruiz had so much to do with his success.

In 1941, Joe DiMaggio struck out for the third time all year. He would finish the season with 30 homers, 13 strikeouts and a 56-game hitting streak. I wrote that stat 35 years ago, and a radio guy got a little mixed up, saying, "I just read the other day an amazing stat: In the year that Babe Ruth hit 60 homers, he struck out only 13 times." Yikes.
22 minor league baseball teams now suing insurers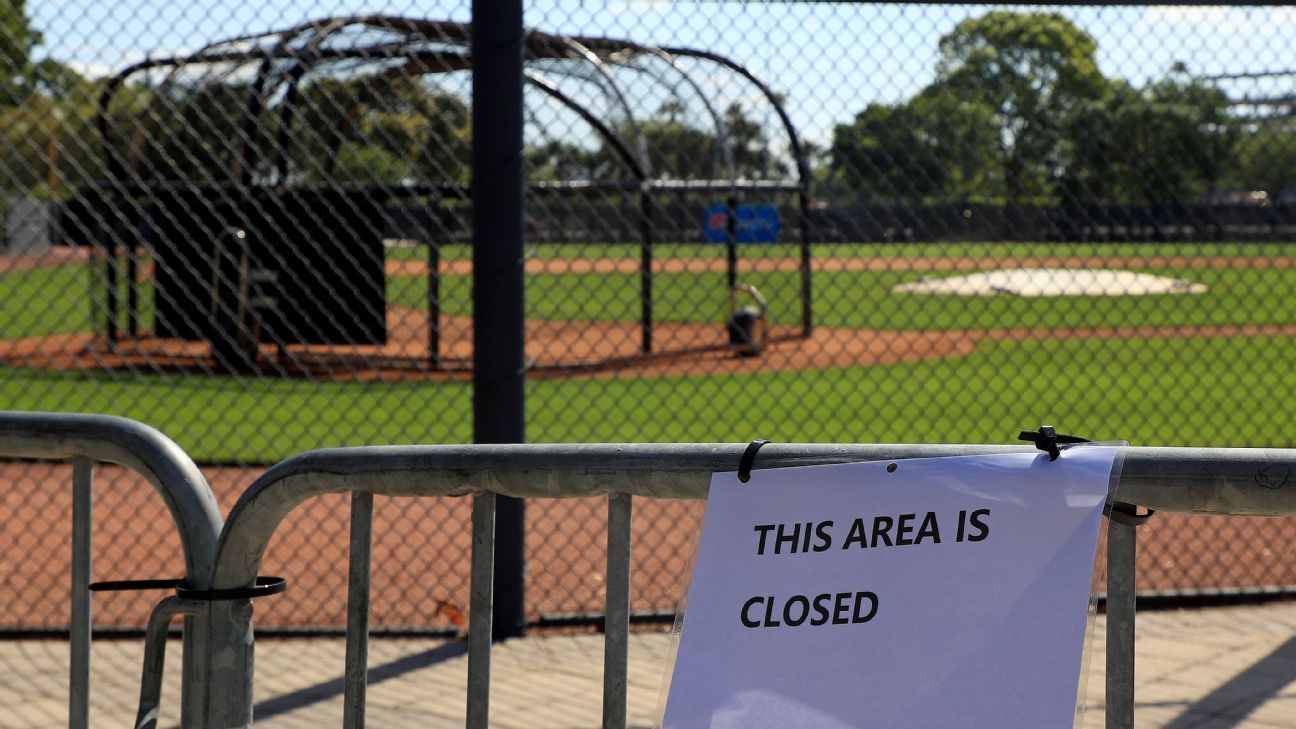 Two days after the cancellation of the 2020 season due to the coronavirus pandemic, 22 minor league baseball teams filed lawsuits Thursday against insurance companies over rejections of business interruption claims.
Fourteen of the 22 teams withdrew the federal suit filed last week in Pennsylvania in favor of the new cases.
A 15th team in that June 23 suit, the Binghamton Rumble Ponies, also withdrew it Thursday. Binghamton, however, did not file a new suit against its insurer as the others did.
Andy Sandler of Mitchell Sandler, co-counsel with McKool Smith for the plaintiffs and other ballclubs, declined to comment about specific teams but told ESPN additional lawsuits are planned.
Thursday's filings were in three jurisdictions.
One is in the U.S. District Court of Arizona, with 16 teams as complainants: the Amarillo Sod Poodles, Augusta GreenJackets, Boise Hawks, Chattanooga Lookouts, Columbia Fireflies, Eugene Emeralds, Fort Wayne TinCaps, Fredericksburg Nationals, Frisco RoughRiders, Idaho Falls Chukars, Inland Empire 66ers, Lancaster JetHawks, Myrtle Beach Pelicans, San Antonio Missions, Stockton Ports and West Virginia Power.
The other two filings were in the U.S. District Court of New Jersey, with the Asheville Tourists, Everett AquaSox and West Michigan Whitecaps as plaintiffs, and in the Philadelphia County Court of Common Pleas, for the Delmarva Shorebirds, Greenville Drive and Staten Island Yankees.
The teams say they incur more than $2 million in expenses to operate "without regard to whether they suffer interruption of their operations."
The majority of the teams have policies with subsidiaries of Nationwide Insurance, which said in a statement last week that business interruption coverage due to a virus outbreak has been excluded from standard policies, such as these, for quite some time — and that including it would "make such coverage unaffordable or even unavailable."
The complaints assert that such exclusions are "void, unenforceable and inapplicable." The teams also contend that insurers are failing to recognize that being unable to use ballparks due to restrictions on gatherings and lack of access to players (players are normally provided by Major League Baseball, which pays their salaries) constitutes direct physical loss — and should be covered under the policies.
As ESPN first reported, the teams place some of the blame for their "catastrophic losses" on the U.S. and state governments, alleging that in the first few months of the year the federal government "failed to recognize the severity of the pandemic and did not contain the virus." And they note a "failure of the federal government to build an effective wall preventing the continued migration of the virus from states that were hit early to the rest of the country."
White Sox pitcher Michael Kopech missing start of camp
Chicago White Sox prospect Michael Kopech missed the start of summer camp Friday due to a personal matter.
General manager Rick Hahn said he doesn't have a timeline for the return of the 24-year-old right-hander.
"Given the time we're living through together, I will try to answer the question that's probably now at the top of everybody's mind and just share the fact that currently Michael is healthy," Hahn said on a video conference call.
Kopech is coming back from Tommy John surgery in September 2018. He hit triple digits on the radar gun during his first spring training appearance.
He was optioned to Triple-A Charlotte on March 26 and likely would have began the year in the minors had the season started on time, but it was pushed back by the coronavirus pandemic. Now Kopech is in the mix for a spot in the starting rotation depending on how long he is away from the team because of the personal matter.
"I know it's very general, and I'm not going to get more specific than that, other than we fully support Michael and are going to provide him whatever time and resources he needs and look forward to seeing him in the future," Hahn said. "This doesn't just apply to Michael, this applies to everything related to this entire season. You know, things are a little bit day to day."
Kopech was acquired by Chicago in the December 2016 trade that sent Chris Sale to the Boston Red Sox. He made his big league debut in 2018, going 1-1 with a 5.02 ERA in four starts.
Hahn said infielder Cheslor Cuthbert also missed the start of the camp because of travel issues coming from Nicaragua. Cuthbert is expected to join the team next week.
Delino DeShields Jr. tests positive for COVID-19
Indians outfielder Delino DeShields Jr. has tested positive for the coronavirus and is being quarantined from his teammates.
Chris Antonetti, the team's president of baseball operations, said DeShields tested positive before coming to Cleveland. The Indians held their first workout at Progressive Field on Friday.
Antonetti said DeShields is doing well and has only had "very mild symptoms" at this point. He'll have to twice test negative before he's permitted to rejoin the ballclub.
The 27-year-old DeShields spent the past five seasons with Texas. He was acquired by the Indians in the offseason trade that sent two-time Cy Young Award winner Corey Kluber to the Rangers.