David Price to pay Los Angeles Dodgers minor leaguers $1,000 to help during coronavirus
David Price has yet to throw an official pitch for the Los Angeles Dodgers, but he has already made a profound impact throughout their organization.
The All-Star left-hander will pay each minor league player who is not on the Dodgers' 40-man roster $1,000 for the month of June, sources confirmed to ESPN. The remarkable act of generosity will impact just over 200 people facing unprecedented difficulty.
The development was first reported by Francys Romero.
The Dodgers had already committed to continuing their $400-a-week payments to minor league players — domestic as well as those training out of the team's academy in the Dominican Republic — through the month of June, but the Oakland Athletics recently decided to cease those payments at the end of this week and other teams might soon follow suit.
Minor League Baseball is unlikely to take place in 2020 and upwards of 1,000 minor league players could end up getting released over the coming days. Most of those cuts would've taken place at the end of spring training had the coronavirus pandemic not shut down sports in the middle of March, but the strong likelihood of a reduced draft and fewer affiliates in 2021 and beyond puts minor league players in an especially precarious situation.
Most minor league players earn below minimum wage and are not protected by the Major League Baseball Players Association, which is engaged in a contentious negotiation with MLB over compensation for what will at most be a significantly shortened season in 2020. Players were previously given an advance of $170 million for April and May and won't receive any more than that if the season is cancelled.
Price, the No. 1 overall pick out of Vanderbilt in 2007, joined the Dodgers alongside Mookie Betts in a five-player deal with the Boston Red Sox on Feb. 10. If baseball is played this summer, the former Cy Young Award winner and five-time All-Star will enter the fifth season of a seven-year, $217 million contract he signed in December of 2015.
Yankees' Aaron Judge 'game ready' but plate timing still lacking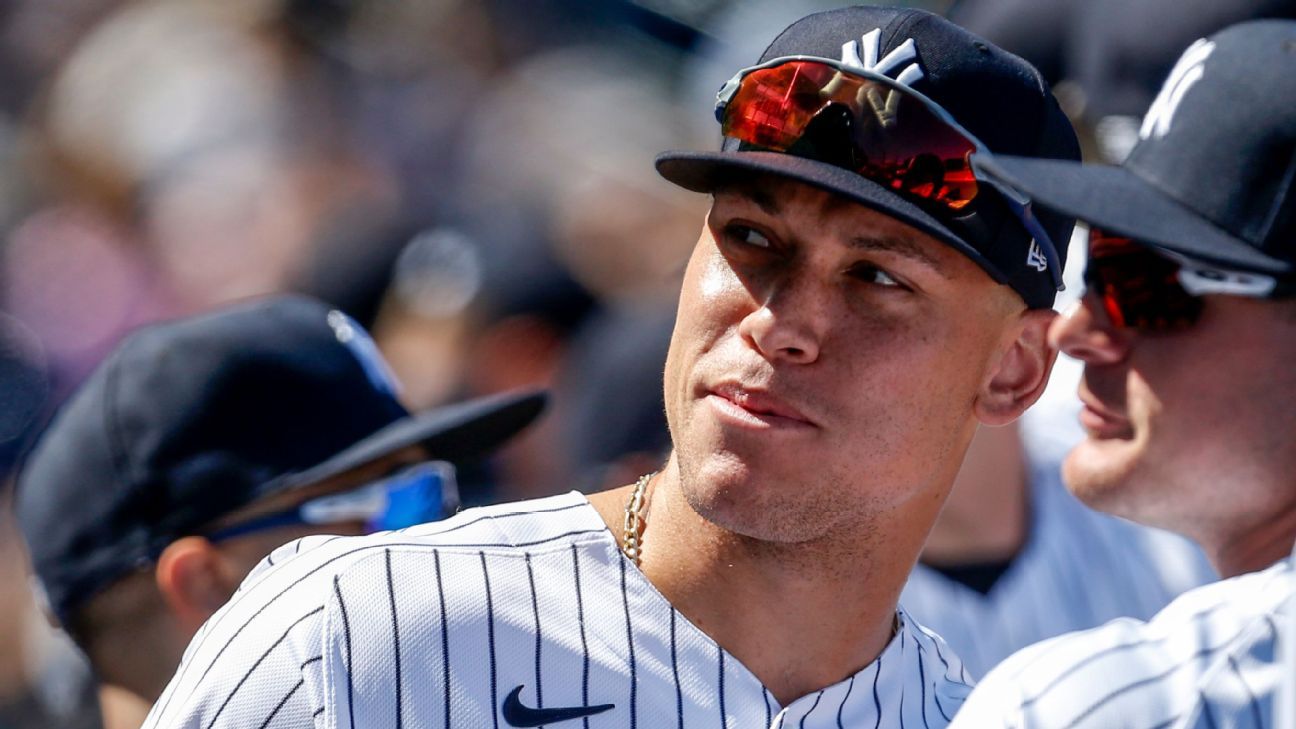 NEW YORK — All-Star outfielder Aaron Judge is one of the many Yankees who have benefited from this 3½ month hiatus, declaring himself "game ready" after the first instrasquad game at Yankee Stadium on Monday night.
Major League Baseball's shutdown because of the coronavirus pandemic has been a blessing in disguise for the Yankees, particularly for Judge, who was greatly limited in the spring because of a stress fracture to his first right rib, and a subsequent punctured lung. Judge attributed the injury to an attempted diving catch in right field Sept. 18 against the Angels in the Bronx.
"I'm game-ready. Like I told you guys in spring training, I was going to be ready for Opening Day," said Judge, with a smile, at the end of a scrimmage where he went 0-for-2 with a strikeout. He batted second in a lineup that played against the "Bombers," a squad mostly composed of bench players and minor leaguers. "I'm feeling good. The biggest thing now is just getting the reps in because I missed so many at-bats in spring training. I didn't get all the reps in the outfield, reps on the bases. Right now, it's just about getting my timing back in the game and just getting my game reps in and go out there for 60 games."
Judge, 28, added: "It feels good to be back on the field. I kept inching, trying to push them on the regimen a little bit on what we could do because my body was feeling great. I know we had a limited time to get ready for the season because we never knew when it was going to start."
Regarding the increasing number of players who have opted out this season, Judge said there was "never a doubt in my mind" when it came to playing this abbreviated season.
"There's obviously a risk, of anything," he said. "Just walking outside there's a risk. Leaving your apartment there's a risk. There's risk everywhere, but I love this game and I love the team that we've got here and the opportunity we have here."
Judge also addressed the protocols contained in the 2020 Operations Manual, an extensive document detailing rules and regulations that intend to protect the health and safety of players and team employees.
"That's what we talked about as a team and with each other, hammering being accountable for each other," Judge said. "Watching out for each other. Making sure you're washing your hands, making sure you wear your mask, making sure you're doing the things so that everybody stays healthy and stays on the field."
The Yankees were scheduled to open in Baltimore in March, with many important players out with injuries. They placed a major league record 30 players on the injured list 39 times last season. But with the delay because of the coronavirus pandemic, the team had a chance to get back most of their injured players for the rescheduled Opening Day, July 23 at the defending World Series champion Washington Nationals.
Giancarlo Stanton, who strained his right calf in the spring after playing in only 18 games last season due mostly to lower body injuries, also benefited from the time off. The Yankees hope he'll be the designated hitter on Opening Day.
"It's been pretty recent, [my calf] feeling 100 percent," said Stanton, who hopes to eventually play the outfield. "We're going to go through camp, make sure that the schedule lines up to be ready to DH and go from there. With the season being so short, this is really a one-stop shop of getting it right. I think we have a good schedule down and a good formula to get it right."
The Yankees will hold another intrasquad scrimmage Tuesday night, with $324 million right-hander Gerrit Cole starting and scheduled to throw four innings.
Dave Dombrowski joins group trying to bring Major League Baseball to Nashville
Former Boston Red Sox general manager Dave Dombrowski has joined Music City Baseball LLC, a Nashville-based group intent on bringing Major League Baseball back to the city.
The group lists Dombrowski as a baseball adviser on its website.
"It's clear to me that Nashville is ready for Major League Baseball, and Music City Baseball is making smart and exciting decisions as it works to bringing a team here," Dombrowski said in a statement. "From its relationship with the Negro Leagues Baseball Museum to its community support, Music City Baseball has built a strong foundation."
Dombrowski, 63, won a ring as the architect of Boston's 2018 World Series championship team but was fired just a year later amid a disappointing 2019 campaign. After beginning his career with the Chicago White Sox in 1978, Dombrowksi spent time with the Expos, Marlins and Tigers. He won another World Series ring as a member of the Marlins' front office in 1997.
Music City Baseball was formed in 2019 with the goal of bringing an expansion franchise to Nashville in the next few years. Their advisory board includes other MLB luminaries like Dave Stewart and Tony La Russa,
"Nashville is a city with deep baseball roots, and as we emerge from the uncertainty surrounding COVID-19, I believe baseball, and more specifically Music City Baseball, can play an important role in bringing the city back together," Dombrowski said. "My wife Karie and I are looking forward to becoming part of the Nashville community."
Aaron Nola clears virus protocol, reports to Phillies camp
PHILADELPHIA — Phillies ace Aaron Nola reported to camp on Monday after waiting a few extra days because he was in contact with someone who tested positive for the coronavirus.
"All my tests came back negative," Nola said. "If you don't have symptoms and you come in contact with somebody who ends up testing positive, you're out for probably at least seven days. That could possibly be two starts. It's obviously going to be a hard part of it. And sometimes it's out of our control. We just have to try to do our part every day."
The Phillies have had seven players and five staff members test positive for the virus. None has been identified.
Infielder Scott Kingery and pitchers Hector Neris, Ranger Suarez and Tommy Hunter were placed on the 10-day injured list with no specified injuries last week. Outfielder Adam Haseley and catcher Christian Bethancourt still haven't reported to camp.
Nola threw a bullpen upon arriving and would likely start Philadelphia's season opener later this month if he's ready. Nola finished third in NL Cy Young Award voting in 2018 when he was 17-6 with a 2.37 ERA. He was 12-7 with a 3.87 ERA last year.
"I was impressed by his bullpen [Monday] considering he hadn't done a lot for a week," manager Joe Girardi said. "It's too early to tell where he'll fit in. He would've been our Opening Day starter. I have to see where he's at. I'm not saying he won't be. I'm not ready to say."
Nola said he is committed to playing this season amid the pandemic.
"Nothing has crossed my mind about opting out," Nola said. "I want to play as bad as everyone else does. The guys who opted out, it's understandable."
The Phillies are scheduled to open the 60-game season at home against Miami on July 24.
Zack Wheeler, the No. 2 starter behind Nola, is in camp but uncertain about staying because his wife is due to deliver the couple's first child later this month.
"It's a very difficult decision. It's something that is still playing in my head. I have to be very careful here at the field, outside of the field, wherever I go," Wheeler said. "The baby's and Dominique's health are most important to me. So whatever I can do to make sure they are safe, that is the No. 1 goal for me. Baseball comes after that."