Bengals' Joe Burrow, Dolphins' Brian Flores among reaction to George Floyd killing
Cincinnati Bengals rookie quarterback Joe Burrow said that the "black community needs our help" in the wake of George Floyd's death while in police custody Monday night in Minneapolis.
"They have been unheard for far too long," the recent Heisman Trophy winner and No. 1 overall pick said Friday on Twitter. "Open your ears, listen, and speak. This isn't politics. This is human rights."
The comments came after a night of outrage and unrest in Minneapolis, where Floyd, who is black, died after Derek Chauvin, a white police officer, kneeled on his neck for several minutes.
Chauvin was arrested Friday afternoon and charged with third-degree murder and manslaughter, local authorities announced.
Miami Dolphins coach Brian Flores, who is one of four current minority coaches in the 32-team NFL, issued a statement to ESPN on Friday in the aftermath of several high-profile incidents involving black people.
"Many people who broadcast their opinions on kneeling or on the hiring of minorities don't seem to have an opinion on the recent murders of these young black men and women," Flores said. "I think many of them quietly say that watching George Floyd plead for help is one of the more horrible things they have seen, but it's said amongst themselves where no one can hear. Broadcasting that opinion clearly is not important enough.
"I lead a group of young men who have the potential to make a real impact in this world. My message to them and anyone else who wants to listen is that honesty, transparency and empathy go a long way in bringing people together and making change. I hope that the tragedies of the last few weeks will open our hearts and minds to a better way of communicating and hopefully create that change."
San Jose Sharks winger Evander Kane, who is in his 11th season in the NHL and has been one of its most vocal critics regarding racism in the sport, said on ESPN's First Take that he hasn't seen much public comment from NHL players on Floyd's death or the aftermath in Minneapolis.
"We need so many more athletes that don't look like me speaking out about this, having the same amount of outrage I have inside, and using that to voice their opinion, to voice their frustration, because that's the only way it's going to change," Kane said Friday. "We've been outraged for hundreds of years and nothing's changed.
"It's time for guys like Tom Brady and Sidney Crosby and those type of figures to speak up about what is right and what, in this case, is unbelievably wrong. That's the only way we're going to create that unified anger to create that necessary change, especially when you talk about systematic racism."
Kane said last year that bigotry is "easier to ignore, dismiss and forget" because "let's face the facts: hockey is a white sport."
Other prominent figures throughout the sports landscape chimed in with comments Friday.
Las Vegas Raiders quarterback Derek Carr said he was "disgusted, mad and broken-hearted" about what happened to Floyd.
"Anytime someone loses their life it's a terrible thing especially when it could've been prevented," Carr said in a post on Twitter. "My opinions won't make a difference on how that should've been handled better, but I do think my platform can be used to help. I don't know what it's like to have a different skin color so I won't pretend to know."
Orlando Pride forward and U.S. Soccer national team member Alex Morgan said she was "sickened beyond words" by Floyd's death.
Tennis player Sloane Stephens and champion boxer Claressa Shields also voiced their thoughts on the recent events.
So sickened beyond words by the brutal police killing of George Floyd. When will all Americans be treated and respected equally regardless of race and gender?? We are yearning for true leadership and inclusivity from the top.

— Alex Morgan (@alexmorgan13) May 29, 2020
Praying for all of those like #GeorgeFloyd and their loved ones who have been impacted by police brutality and these senseless, violent crimes. This is heartbreaking and disgusting to continuously see. This cannot continue and we have ALL do our part here. pic.twitter.com/BfSRyrn4wp

— sloanestephens (@SloaneStephens) May 29, 2020
Now lets see justice served, and the other officers who stood there need to be held accountable too! https://t.co/JWJ3xtDhmQ

— ClaressaT-rexShields (@Claressashields) May 29, 2020
"The world will never grow until we are comfortable having the uncomfortable talks and taking action upon them," Washington Wizards guard Bradley Beal said
Added Houston Astros infielder Alex Bregman: "We are not free until we are free."
MVP plaque presenters will discuss Kenesaw Mountain Landis' name on awards
NEW YORK — The baseball organization that presents the annual MVP awards will consider whether the name of former commissioner Kenesaw Mountain Landis should be pulled from future plaques.
"The issue is being addressed," Jack O'Connell, longtime secretary-treasurer of the Baseball Writers' Association of America, said Wednesday. "It will definitely be put up for discussion."
Former NL most valuable players Barry Larkin, Mike Schmidt and Terry Pendleton this week told The Associated Press that they would favor removing Landis' name because of concerns about his handling of Black players.
"I could not agree more," writer and broadcaster Peter Gammons tweeted.
Meanwhile, a lively debate has popped up on social media about whose name should be on the plaque, if anyone's at all. Among those being suggested are Hall of Famer Frank Robinson, the only player to win the MVP in both leagues, Negro Leagues star Josh Gibson and Brooklyn Dodgers owner Branch Rickey, who signed Jackie Robinson.
Landis was hired in 1920 as MLB's first commissioner. No Black players played in the majors during his tenure, which ended with his death in late 1944. Robinson broke the color barrier in 1947, and Larry Doby followed later that season.
Landis' legacy is "always a complicated story" that includes "documented racism," official MLB historian John Thorn said.
Every AL and NL MVP plaque since Landis' death has carried his name — in letters twice as big as those of the winner — and an imprint of his face. Landis gave the BBWAA control of picking and presenting the MVP award in 1931.
"We are trying to work out the mechanics of dealing with the topic amid a pandemic," O'Connell said. "It will just be a matter of what form.
"It is safe to say that we would prefer to settle this matter before the winter meetings."
The BBWAA's next scheduled meeting is at the winter meetings in December in Dallas. The MVP winners are usually announced in November.
Landis' name has been on the plaques for 75 years, but it is not pledged to remain there under the BBWAA constitution. A vote by the membership could lead to a redesign by the end of the coronavirus-pandemic-delayed, 60-game season set to start in three weeks.
"I don't know that it needs a name," Larkin said. "MVP says it all."
Cardinals replace Yankees in Field of Dreams game against White Sox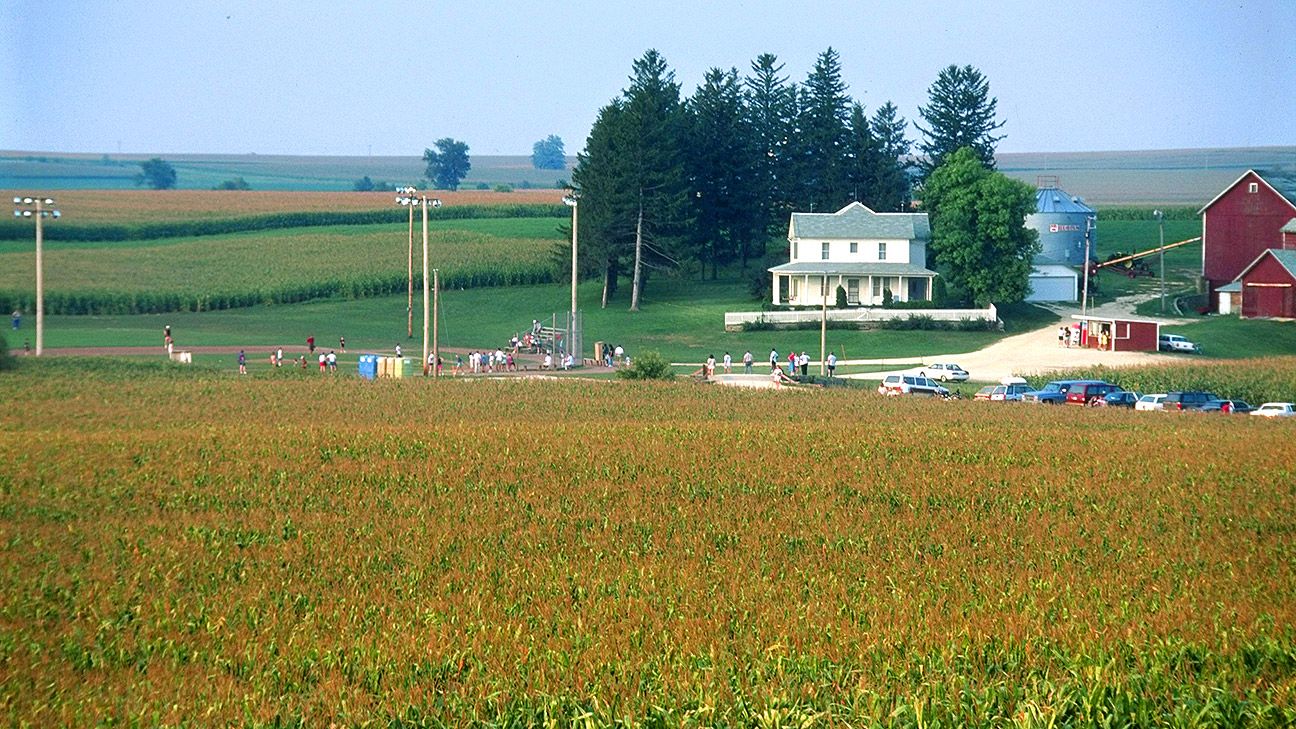 NEW YORK — The St. Louis Cardinals have replaced the New York Yankees as the opponent for the Chicago White Sox in the Field of Dreams game on Aug. 13 at Dyersville, Iowa, a source confirmed to The Associated Press on Wednesday.
The schedule change caused by the coronavirus pandemic meant the White Sox no longer play the Yankees this season. The new opponent was first reported by The Des Moines Register.
Major League Baseball hopes to announce its new schedule next week. Each team will play 60 games, 40 against division rivals and 20 against teams in the corresponding regional division in the other league.
"We hope to have the option to play," MLB said in a statement. "Construction is continuing and we are following all CDC and state protocols regarding recommended safety practices, including social distancing, washing hands, and temperature checks before arriving to the site."
It remains unclear whether fans would be allowed at the game, which is to be televised nationally by Fox.
"We are monitoring ongoing events and plan to remain as flexible as these circumstances demand," MLB said.
A temporary 8,000-seat stadium is nearing completion at the site, about 200 miles west of Chicago, adjacent to where the movie was filmed on a diamond in a cornfield. This would be the major league game played in Iowa.
The movie, released in 1989, starred Kevin Costner, Amy Madigan, James Earl Jones, Burt Lancaster and Ray Liotta.
Cubs pitching coach Tommy Hottovy details emotional fight against coronavirus
While fighting back tears, Chicago Cubs pitching coach Tommy Hottovy detailed his fight against the coronavirus, which sent him into home isolation for 30 days.
"I felt it was important for me to talk through what I went through because too much of what's out there is the easy stories of what people go through with this," the 38-year-old Hottovy said on the Zoom conference call Wednesday after composing himself. "If my journey through this helps one person realize how severe this can get, and that can save one life, then I want my story to be heard."
Hottovy is unsure how he contracted the virus, saying he took all the usual suggested precautions like washing his hands often. Still, it was hard for him not to blame himself, feeling he put his wife and kids in harm's way.
"I went through some really weird stages throughout the whole process," Hottovy said. "Depression. Thinking that I did do something wrong. How could I put my family in that situation?"
Hottovy never had to spend a night in the hospital, but he did have a long day in one as he needed help with his breathing. At first, his symptoms came and went before his fever spiked.
"For 30 days, this virus, it was always worse at night," Hottovy said. "I wouldn't sleep from midnight to six in the morning. Then from 6-10, I'd get some sleep. Every night, I'd get up at 2 and my wife would still be cleaning. She had to bring me food and water every day."
Based on the severity of his symptoms, Hottovy was asked whether he believes it is feasible for baseball or sports to play anytime soon.
"I do believe having sports is important," Hottovy said. "At the same token, one little misstep, one little contact situation by one person, can derail an entire industry."
As many in the game have already stated, Hottovy believes it can only be successful if everyone is pulling in the same direction.
"I want to do everything we can to bring baseball back to the fans," Hottovy said. "We have to take care of ourselves and each other and hold each other accountable or it could easily get derailed."
Hottovy said Cubs pitchers knew of his ailment early on, and he couldn't always communicate to the best of his ability during Zoom calls as he'd be short of breath. But it's those pitchers — and the rest of his team — that he wants to be there for. He contemplated opting out of the season but ultimately decided against it.
"There are still guys that don't want to come anywhere near me," Hottovy said with a chuckle. "Them (Cubs pitchers) living that kind of experience with me hit home a little bit. When you know someone that gets it, it hits home, when it's significant. No one is immune."
Hottovy said he lost a lot of weight, gets winded easily and is still recovering, saying he's at about 80% right now. But he hopes the worst is behind him and is now telling an emotional, cautionary tale.
"It shows you how fresh it is for me and how I want to be here for these guys because they have questions," Hottovy said. "Their families have questions. I do think it's important for me and my family to be accessible to these guys."