Should the Cowboys pay Dak Prescott? Let's look at the numbers – Dallas Cowboys Blog
There have been many theories laid out as to why the Dallas Cowboys haven't committed to a long-term deal with quarterback Dak Prescott. Below, we identify and evaluate a few.
Ezekiel Elliott, not Prescott, drives the Cowboys' offense
Over his career, Prescott has a higher Total QBR on plays with Elliott off the field (71.3) than he does with him on (70.3). From 2016 to 2019, the only qualified quarterback with a 71.3 QBR is Patrick Mahomes (78.2).
Just keying in on the takeaway that Prescott is better without Elliott than with is simplistic, but it's close. There's a similar split with his yards per attempt (7.65 with Elliott and 7.53 without) and first-down percentage of pass attempts (37% with, 35% without).
As a team, Dallas's third-down percentage without Elliott (43.5) is barely better than with him (43.3).
Another way to examine Prescott's passing without the threat of Elliott is to look at his performance in empty sets. The NFL calls a pass play on 98.8% of plays with an empty formation (not surprising), so it's relevant to see how Prescott does when his formation signals an obvious pass before the snap.
Prescott's performance out of empty sets has been better than good — his 83.2 Total QBR ranks fourth among qualified quarterbacks (behind Mahomes, Lamar Jackson and Andrew Luck). He has thrown for 14 touchdowns with five interceptions and averaged 7.7 yards per attempt out of empty sets, ranking in the top 10 in both touchdown-to-interception ratio and yards per attempt among quarterbacks with 100-plus of those passes over the past four years.
The offensive line makes it easy on Prescott
The Cowboys' offensive line is an asset. But no line is perfect, and should this logic be used to discount Prescott's value, his performance on those plays when the line breaks down should be a red flag.
Except Prescott is pretty solid here, too. Prescott has a 33.6 Total QBR when pressured in his career, which sounds low until you remember all quarterbacks struggle under pressure. The NFL average is 21.2, and Prescott's 33.6 ranks seventh among the 40 quarterbacks with 200-plus pass plays under pressure. Notable names behind Prescott in pressured QBR since 2016 include Tom Brady, Matt Ryan, Russell Wilson and Aaron Rodgers — that's a combined eight Super Bowl wins and six league MVP awards.
Prescott has been better than average in both completion percentage (45.7%) and off-target percentage (27.9%) when pressured, though they haven't necessarily been high-risk throws (ranks 25th in average-throw distance when pressured at 8.1 yards downfield). Still, his 26.2% first-down percentage is close to the league average as well (26.5%) and suggests he doesn't fall to pieces as a passer when his protection breaks down.
Prescott can't beat good teams
There really is no hiding how poorly Prescott has played against good opponents in his first four seasons. He has played 18 career games against teams that would finish with 10-plus wins, and his performance hasn't been stellar.
The most lasting impression of Prescott's performance against good teams isn't great either; he went 0-5 against 10-win teams in 2019, a season that ended with the 8-8 Cowboys finishing one game behind the 9-7 Eagles for the NFC East crown.
Teams can't be successful overpaying a QB
At over $31 million on a one-year deal for 2020, Prescott would be occupying 14.3% of Dallas's 2020 salary cap. Sixty quarterbacks have started a playoff game over the past five years and 11 occupied at least 14% of their teams' salary cap in the year they started a playoff game (see inline chart).
Only Matt Ryan reached the Super Bowl, and his Falcons lost. The average cap percentage of a Super Bowl starter over the past five years was 9.27%, with as many quarterbacks below 5% as above 11%.
In fact, exactly twice as many playoff quarterbacks occupied less than 6% of their teams' cap that season (22), and that's going by the team's designated starter (i.e., using Derek Carr's cap hit instead of Connor Cook's in 2016, though Cook started the game for the injured Carr; other examples include Matt Moore and Ryan Tannehill, AJ McCarron and Andy Dalton).
The final piece of this problem for Prescott has nothing to do with his play. Dallas has less than $5 million in 2020 cap space, and over 80% of its 2021 cap is allocated. Should the coronavirus pandemic lead to a decrease in NFL revenue, team salary caps could shrink. ESPN analyst Adam Schefter had one potential early estimate at a $70 million to $80 million decrease in the 2021 cap. That would move a massive Prescott extension from problematic to disastrous. Excluding his franchise tag figure, the average of the top 10 QB cap hits next year is $24.9 million, or over 18% of a $137 million salary cap ($75 million below the current $212 million projection).
And that might be conservative looking at what sort of contract Prescott's camp could justify. Look at the recent players to reset the average annual value market. Prescott's 2019 QBR stacks up very well. He might not reset the market (led by Russell Wilson's $35 million a year), but even a deal at $30 million would occupy almost 22% of a $137 million cap.
Texans' Kenny Stills reveals elaborate Black Lives Matter tattoo – Houston Texans Blog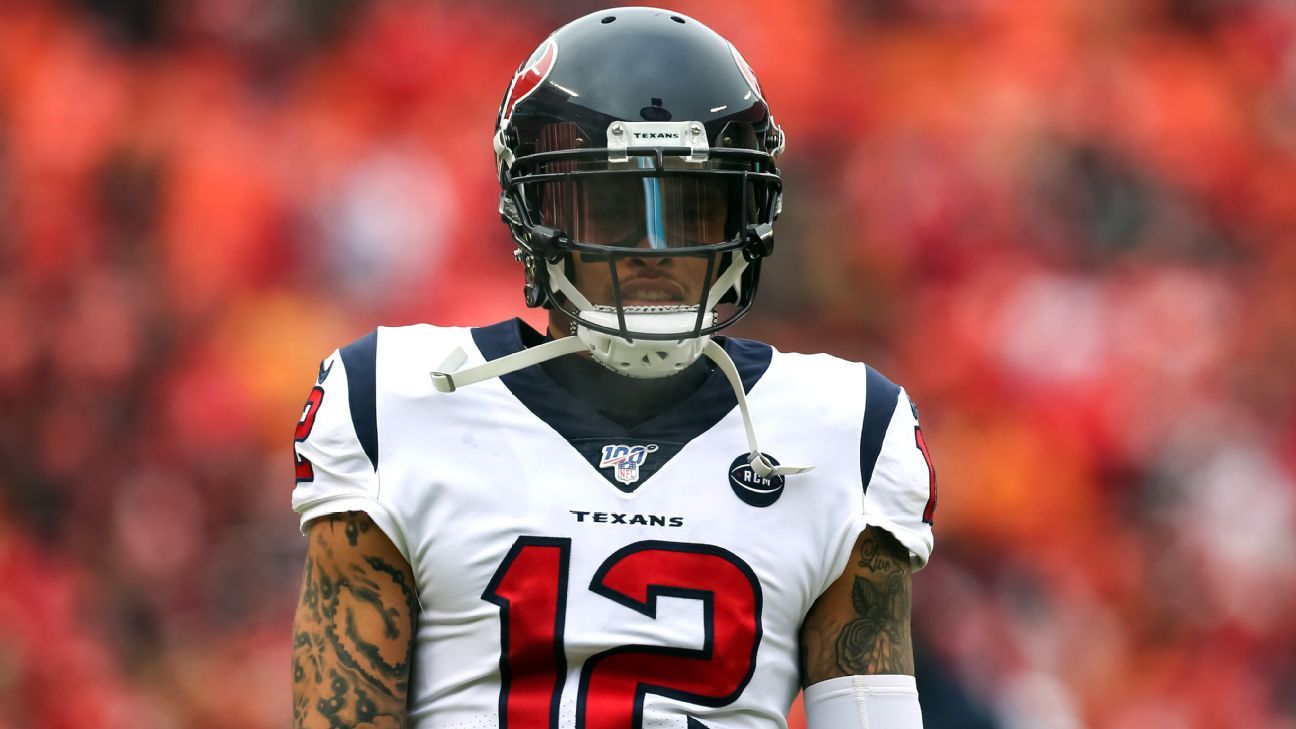 Houston Texans wide receiver Kenny Stills posted an Instagram photo of his new tattoo, done earlier in the month, that features a sign reading "BLACK LIVES MATTER."
The tattoo includes images from the Black Lives Matter and civil rights movements on his right leg, and also shows signs that read "WE PROTEST SCHOOL SEGREGATION" and "SAY THEIR NAMES."
Since former San Francisco 49ers quarterback Colin Kaepernick began kneeling during the national anthem during the 2016 season, Stills has been vocal in his support of the fight against police brutality and racial injustice. Stills also has taken a knee during the national anthem.
On June 25, Stills participated in a social justice march for Breonna Taylor at the state capitol in Kentucky. In the lead-up to the protest, Stills offered to "pay for gas, rental cars, lodging, chartering buses…whatever it takes" to get people there. He also attended George Floyd's funeral in Houston on June 9.
Stills has also been active on Twitter, speaking out about police brutality, especially since Floyd's murder. He also tweeted "sports are a distraction from the movement."
Sports are a distraction from the movement.

— Kenny Stills (@KSTiLLS) June 15, 2020
Earlier in the offseason, while addressing Floyd's murder and systemic racism, Texans coach Bill O'Brien said he has "learned a lot over the last year of talking to Kenny Stills on why he takes a knee."
"I think we all know why Kenny takes a knee and why Eric Reid takes a knee," O'Brien said.
Judges question legality of search warrants in Robert Kraft massage parlor sex case
FORT LAUDERDALE, Fla. — Florida appellate judges on Tuesday questioned the legality of search warrants that let police secretly video record New England Patriots owner Robert Kraft and others paying for massage parlor sex, pressing a prosecutor on his contention that the warrants were legally valid.
Deputy Solicitor General Jeffrey DeSousa found himself repeatedly queried by the three-judge panel as he tried to persuade them that the warrants and searches met all constitutional protections and that they should overturn lower court rulings that barred the recordings' use at trial.
Misdemeanor charges against Kraft, 79, and other customers would have to be dropped if those rulings stand, although felony charges against the spa owners might proceed as there is other evidence against them.
Kraft and others were charged in February 2019 in a multi-county investigation of massage parlors that included the secret installation of video cameras in their lobbies and rooms. Police say the recordings show Kraft and other men engaging in sex acts with women and paying them.
Judge Robert Gross, who presided at the Florida Fourth District Court of Appeal hearing, seemed taken aback by DeSousa's contention that he and his colleagues should primarily consider the plain language of the Fourth Amendment. It says judges can issue warrants if police demonstrate there is probable cause of a crime and the warrants must specify the place to be searched and the people or property to be seized.
Gross told DeSousa he seemed to be ignoring numerous rulings by the U.S. Supreme Court expanding Fourth Amendment protections since the 1960s, including some that restricted electronic surveillance by police.
"You are getting us off on the wrong foot by focusing on the language of the Fourth Amendment when we should be focusing on the Supreme Court jurisprudence … that is heavily weighted against you," Gross told DeSousa.
What Patriots' filming punishment means to franchise, NFL, legacies
FOXBOROUGH, Mass. — The NFL on Sunday handed down its punishment to the New England Patriots, who had acknowledged a crew working for their television department illegally filmed the Cincinnati Bengals' sideline on Dec. 8 during Cincinnati's game against the Cleveland Browns.
The decision to fine the organization $1.1 million and take away a third-round pick in 2021 closes another investigative chapter between the Patriots and NFL, although this one didn't come with the same aftershocks as a couple others from the past — namely Spygate in 2007 and Deflategate in 2015-16.
Here are some answers on what the punishment means, and how it affects the Patriots moving forward:
What is the biggest takeaway from the punishment?
The NFL seemed to believe the Patriots' explanation and found no link to coach Bill Belichick and football operations, as Belichick was not individually fined. But because the Patriots' television production crew violated league rules by filming the Bengals' sideline from the press box, the overall organization was still handed a heavy penalty — one that was harsh compared to most NFL game-day violations by other teams in recent seasons. The Patriots' history seemed to be a significant factor in the NFL's decision-making process.
What is the league-wide significance of this ruling?
With most teams having created their own in-house media crews over the past decade, along with an increased focus on social media, it sets a more definitive level of accountability for all 32 teams in this growing area. All teams are now on notice that missteps/violations by staffers in social media/TV production are subject to significant financial and draft-pick penalties. In that sense, this was a precedent-setting ruling by the league.
How does the ruling affect New England's draft?
A third-round pick is a significant chip. Prior to the penalty, the Patriots owned 2021 picks in the first, second, third, fourth, fifth, sixth (2) and seventh rounds. They are projected to receive a compensatory third-round pick and two compensatory fourth-round selections for the free-agent departures of quarterback Tom Brady and linebackers Kyle Van Noy and Jamie Collins Sr., according to OverTheCap.com. So, while losing a third-round pick is a hit, there are still considerable draft assets for 2021.
What was the background and punishment for Spygate?
On Sept. 13, 2007, NFL commissioner Roger Goodell fined Belichick $500,000 and the Patriots $250,000, in addition to stripping the team of a first-round draft choice, for videotaping Jets coaches from the sideline. Belichick had explained his interpretation of the league's constitution and bylaws was incorrect, as the Patriots had never used the video while the game was in progress. But Goodell, in a letter to the Patriots, wrote: "This episode represents a calculated and deliberate attempt to avoid longstanding rules designed to encourage fair play and promote honest competition on the playing field."
What was the background and punishment for Deflategate?
In July of 2016, after a two-year back-and-forth of appeals with the NFL, Brady announced he would no longer proceed with the legal process, and in doing so, accepted a four-game suspension from Goodell for his alleged role in deflating footballs prior to the AFC Championship Game on Jan. 18, 2015. The Patriots were fined $1 million and stripped of a first-round pick in the 2016 draft and a fourth-round selection in the 2017 draft. The NFL hired attorney Ted Wells to investigate, with Wells determining it was "more probable than not" that Patriots employees were knowingly circumventing the rules and Brady was "at least generally aware" of the activities. The Wells Report stated that it didn't believe there was wrongdoing from ownership, Belichick or any Patriots coach.
What are some other NFL investigations involving the Patriots in the Belichick era?
In April of 2014, the Patriots were cleared by the NFL after an inquiry into injury-reporting procedures. The investigation was sparked by remarks from former players Aqib Talib and Brandon Spikes.
In 2015, the Jets filed a tampering charge against the Patriots regarding cornerback Darrelle Revis. That seemed to be in retaliation to the Patriots having previously filed a similar tampering charge against them, which resulted in a $100,000 fine. The NFL dismissed the tampering charge against the Patriots.
Later that year, in the season opener at Gillette Stadium, Steelers coach Mike Tomlin said the team's coaching headsets picked up New England's radio broadcast for most of the first half. The NFL looked into the issue and determined the Patriots had nothing to do with audio interference.
Does this have a major impact on the legacies of Belichick and owner Robert Kraft?
It shouldn't. While the penalties levied by the NFL were significant, nothing about the specifics of them countered the Patriots' initial explanation — that it was a mistake made by an employee from the team's television production crew filming a "Do Your Job" feature piece on an advance scout. It was an unfortunate mistake for the franchise given what happened in 2007. That won't win the Patriots any favors in the court of public opinion, but to say a mistake by an employee in the television production crew would affect legacies seems like a major overreach.