Seattle Seahawks reach deal with ex-Texans running back Carlos Hyde
The Seattle Seahawks and running back Carlos Hyde have reached an agreement on a one-year deal, sources told ESPN's Adam Schefter on Friday.
Hyde, who turns 30 in September, scored six touchdowns and ran for a career-best 1,070 yards on 245 carries for the Houston Texans last season and played in all 16 games for the second time in his career.
However, he became surplus to the Texans' needs in March when they acquired David Johnson from the Arizona Cardinals in a blockbuster trade for wide receiver DeAndre Hopkins.
The Texans acquired Hyde from the Kansas City Chiefs last year in a trade on cutdown day in exchange for offensive lineman Martinas Rankin. Houston made the move a week after running back Lamar Miller tore his ACL in Houston's third preseason game.
Over the past three seasons, Hyde has played for the San Francisco 49ers, Cleveland Browns, Jacksonville Jaguars and Texans.
He has 5,079 total yards and 35 total touchdowns in six seasons.
ESPN's Sarah Barshop contributed to this report.
Ravens owner Steve Bisciotti pledges $1M to social justice reform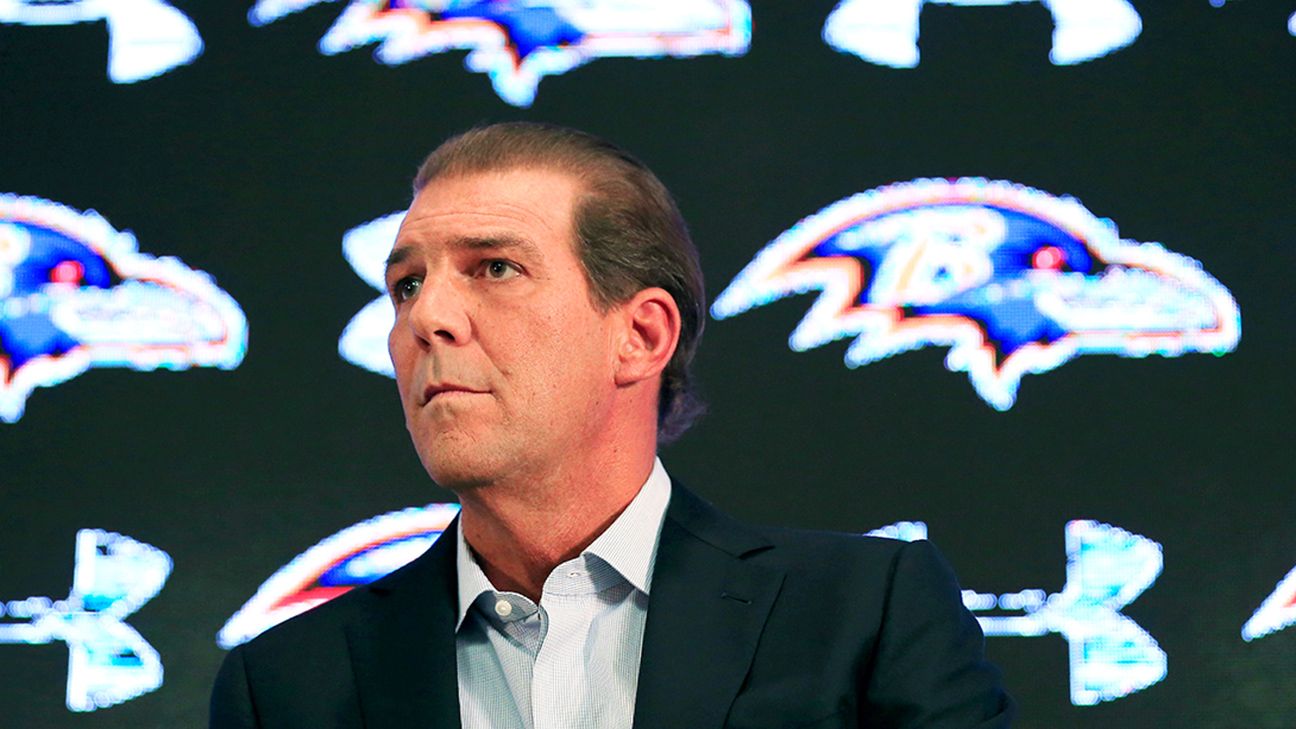 OWINGS MILLS, Md. — Ravens owner Steve Bisciotti on Monday pledged $1 million for social justice reform in the Baltimore area, saying he is "shaken by the acts of racism that continue to overwhelm our society."
A committee of current and former Ravens players will determine which programs will directly benefit from the contribution.
This donation, which was made jointly by the Ravens and the Steve and Renee Bisciotti Foundation, comes amid protests in Minneapolis and around the country over the death of George Floyd.
"There is nothing I can say to ease the pain felt by African-American communities across our country. No words will repair the damage that has been done," Bisciotti said in a statement. "Like many people, I am sickened, disheartened and shaken by the acts of racism that continue to overwhelm our society. The most recent killing, involving George Floyd, is yet another tragic example of the discrimination that African-Americans face each day."
Several former and current Ravens players, including Hall of Fame linebacker Ray Lewis, have expressed grief and outrage on social media over the past week.
Floyd, a black man, died last week in Minneapolis after Derek Chauvin, a white police officer, kneeled on his neck for more than eight minutes. Chauvin was fired Tuesday and charged Friday with third-degree murder and second-degree manslaughter. Three other officers were also fired but have not been charged.
"Now, more than ever, we must all strengthen our pursuit of positive change, as we stand with peaceful protestors around the country," Bisciotti said. "We must all seek to understand by listening better and learning more. We must all discover new ways to unite. We must all work to break the cycle of systematic racial injustice."
Bisciotti added, "Our players have been – and will continue to be – at the forefront of this change. We believe in their commitment to furthering social justice and invoking meaningful change. We stand side by side with them, in full support."
This is the latest of many contributions that the Ravens have made to social justice reform over the years since Baltimore had riots in 2015 over the death of Freddie Gray.
Colin Kaepernick compatriot Brandon Marshall — 2016 action ringing true
ENGLEWOOD, Colo. — Former Denver Broncos linebacker Brandon Marshall, a college teammate and longtime friend of Colin Kaepernick who kneeled for the "The Star-Spangled Banner" before eight games in the 2016 season to protest excessive use of force by police, hopes people are now more ready for what he and Kapernick's message was almost four years ago.
"Back then we were called rogues, people said that we didn't deserve jobs, but this is what we were talking about then," Marshall said Monday. "I think people are looking at (Kaepernick) now like, OK, maybe he knew. People didn't want to hear the message after 'oh they were kneeling' they didn't want that message, weren't ready for it, didn't listen.
"I hope, and I look at it, I hope people are ready for the message, I really hope they're ready for change."
Marshall said he has spoken to Kaepernick in recent days in the wake of George Floyd's death in police custody in Minneapolis and the protests that have followed across the country.
"We talked some about what's happened – and this is why he started the Know Your Rights foundation – and I asked him if he needed me to do anything, or what I could do to help," Marshall said. "He said right now, at the moment, he's concentrating on legal assistance for the protesters, but we'll talk more moving forward."
Marshall, who played six seasons for the Broncos including in the team's Super Bowl 50 win, lost several endorsements after he kneeled in pregame during the 2016 season, but he also met with Denver Police officials as well in the weeks that followed about the department's use of force policies.
He said Monday "at times you do get tired, weary, of it happening over and over again," but that he's still hopeful in what he has seen in protests in Las Vegas, where he is now, and what he has seen across the county.
"That's what brings change, people coming together, when it's a people thing, not just a black and brown thing," Marshall said. "You see people taking to the streets, it's a mixed crowd, it's not just black people, it's everybody. That is what it takes for change, everybody has to care about it, back then not everybody cared about it.
"We need everybody to care about this, not to see it as just a black or brown problem," Marshall added. "When people see this as a people problem, and not a black person's problem or a person of color's problem, then we can have real change. I look at all of the faces in the real, peaceful protests and I see maybe we're ready to listen now, maybe we're ready to see it as a people problem and that real, lasting, effective change can happen."
Father says Raiders WR Henry Ruggs III injured thigh during a move
Las Vegas Raiders rookie receiver Henry Ruggs III, the team's top draft pick, suffered a cut to his thigh recently while moving things into a trailer, his father told AL.com on Monday.
A Raiders source said the team was "told [Ruggs] will be fine."
"He was trying to move a trailer or something — move furniture or something — and the trailer just kind of pinned him against a car or a wall or something," Henry Ruggs Jr. said. "He's pretty much OK, I'm about to go out there and see him in a little bit. It was just like a little open wound on his leg, a little incision. Like something had stuck him right there on his thigh a little bit."
Ruggs III, the No. 12 overall draft pick, was the first receiver selected in April's draft, a historically deep draft for the position. He was also the fastest player in the draft, having run a 4.27-second 40 time at the combine.
Like every player in the draft, the rookie has been reduced to virtual meetings with his new team because of the coronavirus pandemic. Being injured would obviously slow any other development.
"The Raiders are aware of a report regarding an off-field injury to Henry Ruggs III. Respecting Henry's right to medical privacy, the team will not be commenting on the report," the team said in a statement.
Ruggs Jr., meanwhile, said his son is "just having to walk on crutches. Not putting as much pressure on it."
Precautions due to the coronavirus, the elder Ruggs said, have not allowed him yet to speak to the doctor who treated his son.