New England bishop takes tongue-in-cheek shot at Tom Brady
PROVIDENCE, R.I. — A Roman Catholic bishop in New England says not even a Hail Mary is going to help Tom Brady win a seventh Super Bowl championship now that he's with the Tampa Bay Buccaneers.
Diocese of Providence Bishop Thomas Tobin, in a tongue-in-cheek tweet Friday, took a swipe at the former Patriots quarterback while praising Brady's former boss for raising more than $1 million for coronavirus relief by auctioning a Super Bowl ring.
"Bob Kraft is auctioning a Super Bowl ring for charity," Tobin tweeted. "Very admirable indeed. But is it true that Tom Brady bid on it because he knows it's the only way he'll get another ring?"
Bob Kraft is auctioning a Super Bowl ring for charity. Very admirable indeed. But is it true that Tom Brady bid on it because he knows it's the only way he'll get another ring?

— Bishop Thomas Tobin (@ThomasJTobin1) May 22, 2020
Brady won six championships in 20 seasons in New England before signing a free-agent deal with Tampa Bay.
Tobin proudly touts in his Twitter profile that he's a Pittsburgh native. That prompted a couple of people to reply that Brady has a better chance at another ring than Steelers quarterback Ben Roethlisberger.
Seahawks' L.J. Collier pledges redemption after down 2019 debut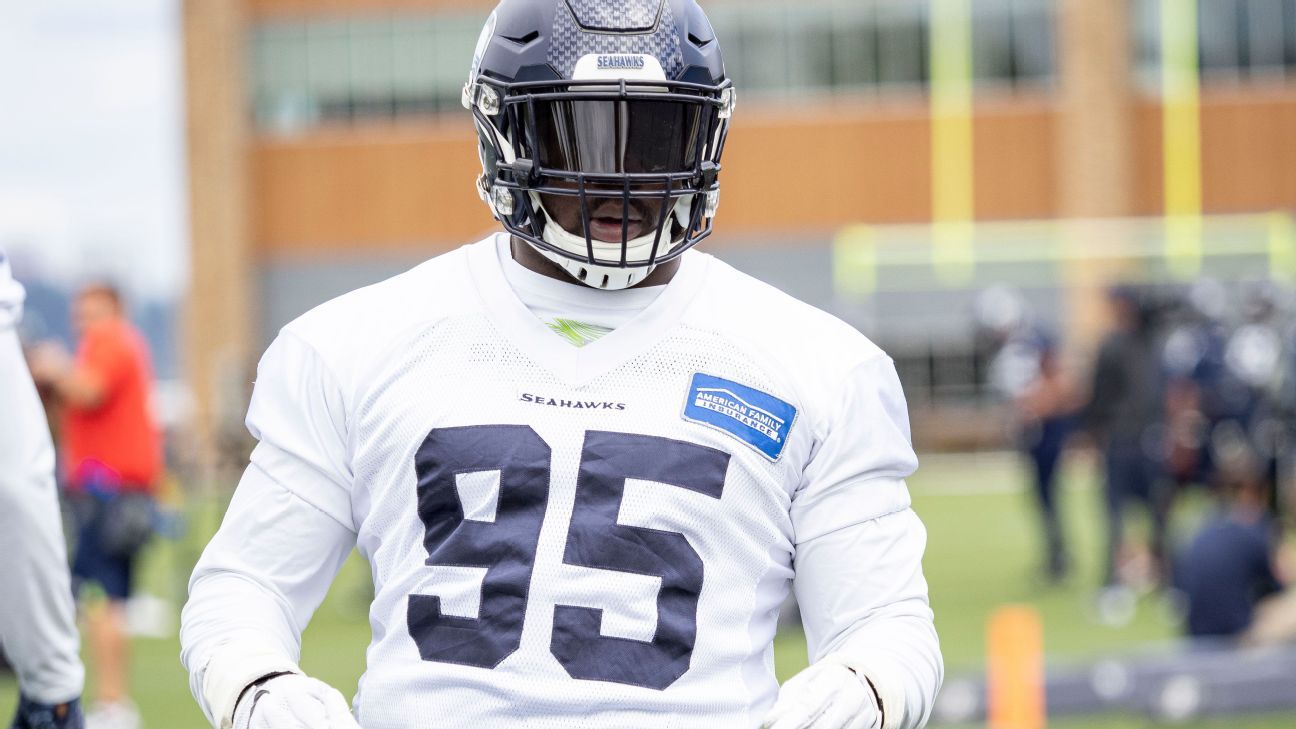 The Seattle Seahawks are counting on some of their younger defensive linemen to improve what was one of the NFL's least effective pass rushes last season. One of them, 2019 first-round pick L.J. Collier, is eager to prove himself after a disappointing debut.
On a Zoom call with reporters Friday, Collier struck tones of indignation and resolve while saying he feels disrespected by those who have already written him off.
"I am chomping at the bit to get out there because it's one of those things where you didn't have the year everybody wanted you to get, so they just kind of shift you off to the side as if you can't play," Collier said. "It's disrespectful and I feel very disrespected, but I'm the type of person there's no need for talking; just showing. Go out there and you run through a couple people, you run through people's faces, you make noise and people, they'll remember who you are very quickly.
"I'm excited to get back out there and show people who I am. I don't really care about the first-round pick stuff. I'm a football player at the end of the day and I can play football at a high level just like everybody else can, and I'm out there to prove that, that I'm one of the best and I can do what I need to do. I can rush the passer, I can stop the run. I'm out there to prove that, that I'm one hell of a football player and I'm going to show that this year."
Collier, drafted 29th overall out of TCU, missed all of the preseason and the regular-season opener last year after badly spraining his ankle early in training camp. The defensive end produced next to nothing when he returned: three tackles and zero sacks on 142 defensive snaps over 11 games. Including playoffs, he was a healthy scratch on game-day six times.
Collier said he was having a strong camp when he hurt his ankle. While he eventually felt good enough to play, he said he "definitely wasn't 100%" at any point last season and has wondered if he should have waited longer before returning. He has been living and training in Frisco, Texas, and said his ankle is no longer an issue.
"I just realized that missing those reps … was a big thing, especially when you're new to the league," said Collier, who was only a full-time starter for one season at TCU. "So I needed preseason to knock off the rust and things like that. I came in against the Steelers [in Week 2] and hadn't practiced anything in a very long time, no pad work. So I was a step behind everybody and when I did catch a stride, there was times where I didn't play and things like that. So it was very difficult but I learned a lot last year about myself and about the league and I had great guys around me, great coaches. I learned a lot from them and [about] what I can bring to the game this year."
Collier is in line for snaps as one of Seattle's five-technique defensive ends. That position in Pete Carroll's defense is often asked to move inside in passing situations. The Seahawks' only other veteran five-technique ends are Rasheem Green and Branden Jackson. Free-agent addition Benson Mayowa plays the Leo end as do draft picks Darrell Taylor and Alton Robinson.
Green, a 2018 third-round pick, led the Seahawks with four sacks last season while playing the third-most snaps among their defensive linemen. That was after a nondescript rookie season of his own. The Seahawks believe Collier can make the same kind of second-year jump they just saw from Green.
"At the end of the day, all I can do is stay focused, keep the tunnel vision and grind," Collier said. "Last year taught me to always stay humble. I've been down before. I was down in college before. It's what you do when you're down. I can choose to stay down or I can choose to come out of this and do what I know how to do and that's be great. So I'm focused on being great. Last year is last year. I'm getting my body right. I'm getting my mind right. I'm doing everything I need to do to be great this year and go out there and have a great season, and I plan on doing that."
Josh Allen, Stefon Diggs among Bills working out in Florida
Several Buffalo Bills players gathered in Florida this week to work out together, including quarterback Josh Allen and wide receiver Stefon Diggs.
It's the latest example of Allen training with his teammates this offseason, after he and quarterback Matt Barkley threw to Bills rookies Isaiah Hodgins, Gabriel Davis and Zack Moss in California earlier this month.
It also marked not only the first time Allen and Diggs trained together since the latter was traded to Buffalo in March, but the first time the new teammates have met.
The list of Bills players present included Allen, Barkley and rookie quarterback Jake Fromm, wide receivers Diggs, Hodgins, Davis, John Brown, Robert Foster, Cole Beasley, Isaiah McKenzie and Nick Easley, running back Devin Singletary and tight ends Dawson Knox, Tommy Sweeney, Nate Becker and Jason Croom‬.
This is a pivotal off-season for Allen and the Bills, who are favored to win their first AFC East title since 1995. With the addition of Diggs, Buffalo figures to improve on its 24th-ranked offense and 26th-ranked passing attack from 2019.
Cowboys DE Aldon Smith 'still feels great' despite layoff
Aldon Smith has not played in an NFL game since Nov. 10, 2015 with the Oakland Raiders, but the Dallas Cowboys defensive end does not believe his absence will impact his ability to rush the passer in his 2020 return.
"I still feel great," Smith said Friday in a conference call. "I still feel young. I still can move well. I still have a great knowledge of the game, if not better knowledge of the game. I learned a lot from the guys I played with in California and they taught me a lot of good things."
Smith, 30, holds the NFL record through the first two seasons of a career (33.5) and he holds the San Francisco 49ers' single-season record for sacks in a season (19.5 in 2012) but a series of off-field issues involving the NFL's substance-abuse and personal conduct policies led to an indefinite suspension. Last week, Smith, who signed a one-year with the Cowboys in April, was granted conditional reinstatement.
He took part in the team's virtual meetings this week for the first time.
"It has been a journey, indeed, and a journey I'm grateful for," Smith said. "I've had time to really work on myself and take advantage of all the support and things that have been offered to me. The way I look at where I am now to who I was in the past, I was a young teenage boy in a man's body, so a man on the outside but a boy on the inside. The way I handled the issues, life, was in that immature manner and that was feat based and not just handling things the way I should have.
"With the time I've had to work on myself, it's allowed me to grow into the man that I man that I am so the man on the inside fits on how the man on the outside looks."
Smith said the passing of his grandmother from ALS last year aided in his change. As she struggled with the disease, "she was able to get a message to me that (was) just do better and basically go out there and get what you deserve."
Smith worked with the group, Merging Veterans and Players, and was in a sober-living environment in Los Angeles since last fall, working out daily. He said his desire to return to the NFL returned quickly once he got better off the field.
"I think I lost my way along the way and I wasn't sure what my purpose was," he said. "I know football is one of my many purposes God has put me here for, so once I was able to do some self-reflecting and self-worth, it was like, 'What am I good at? What am I grateful for? Obviously God has given me this talent and a chance to play and I'm going to give it a shot … because it didn't finish the way I wanted."
Smith said other teams had interest in signing him but the addition of Mike McCarthy as head coach and Jim Tomsula as defensive line coach influenced his decision to sign with the Cowboys. He met McCarthy last December in Los Angeles while working out, and Tomsula was his position coach in San Francisco.
"Just seemed like the best fit," Smith said. "Being with Jim in San Francisco and him being here and then the meeting me and Mike had, the way that that happened, we seemed like we clicked the first time we talked."
Smith will continue to have a similar off-field infrastructure around him in Dallas in terms of sober living. His agent, Ron Slavin, also lives outside Dallas. The Cowboys have a history of helping players that have had off-field trouble.
On the field, Smith said he weighs 285 pounds, about 15 more than when he last played.
He said he does not want to forget the path that led him to Dallas after such a promising start to his career.
"Because I do understand what that person was going through and just didn't know or wasn't ready to handle the tough things that I needed to handle," Smith said. "To get to where I am now, it gives me a greater appreciation for who I am now. If I was so quick to forget where I came from, I don't think it would matter as much to me."