Eli Manning plans to take a year away from football before starting next role
Eli Manning plans to take this year off before eventually getting back into football in some capacity, the recently retired New York Giants quarterback said Thursday during a USO video conference call with service members and their families.
His next role may include teaching and coaching youth football. He knows it won't be coaching in any capacity at the NFL level. Not after Manning has seen the long hours that involves.
Broadcasting? Manning hasn't ruled that out for the future, be he's not about to jump into that just yet. He has four children (three girls and a young son) all ages 9 and under.
"I really wanted to try to take a year off and just try to gather my bearings and get settled with my family and figure out what I want to do in that next chapter," Manning said from his home in Mississippi. "I know one thing: I don't want to be an NFL coach. I've seen what our coaches do and the hours they put in and I enjoy being with my family and enjoy coaching some of their sports teams."
Manning, who spent all 16 seasons of his professional career with the Giants, does expect to remain involved with the only organization he's known. That he believes will come down the line.
In the meantime, Manning said he hasn't thrown a real football since retiring at the beginning of the year. Most of his time has been spent homeschooling and keeping his children occupied during the coronavirus pandemic.
He's also been working on a bunch of charity projects. He said he intends to "up my game" in that area in retirement.
Thursday afternoon, it was entertaining service members for 50 minutes. The USO has made an effort during Military Appreciation Month to use its virtual programming to reach members around the world to keep them connected during this time. Manning thanked service members from around the world for their service, commitment and selflessness.
Next up, on Monday, it's taking part in a Robin Hood event with some of his former teammates. That will include a TV appearance to help New Yorkers in need. Manning conceded this isn't necessarily the way he envisioned retirement, though he's not complaining. He's content spending much of his spare time working with charities.
Eventually he still expects the football itch to return.
"Football is my love and passion," Manning said. "It is all I've known for the last 25 years and all I've been doing. I don't think I can stray too far away from that. I'd like to hope to do something with the Giants, stay involved with them. I probably need a little break right now just because it's so new. So I'm going to take a little time, enjoy some family time, but I assume I'll be jumping back into football in some way.
"I don't know if I want to do announcing … yet. Or go into that field. I might want to stay more hands on with either the Giants or some coaching with a high school team."
Manning talked about how he enjoyed coaching his daughter's basketball team, and about how he was going to be coach softball as well. He's also had experience coaching college and high school quarterbacks at the Manning Passing Academy each summer in Louisiana.
An extension of this seems to be a frontrunner for future endeavors.
"I always really enjoy working with freshman in high school and getting them to learn how to play quarterback at a higher level," he said. "You see the difference when they come in that first day and leave four days later, and the growth that they've made in that time.
"To find ways to do that in your community and really help people at the beginning fo their career to learn the game of football, to learn the mechanics and things, I think that is an interest for me that I'd like to continue to do and maybe find ways to grow in that."
49ers receiver Travis Benjamin says he's opting out of 2020 season
San Francisco 49ers wide receiver Travis Benjamin has opted out of the 2020 NFL season, he announced Tuesday night.
Benjamin is the first member of the 49ers to opt out for the season and his announcement comes one day after general manager John Lynch said he had yet to have a conversation with a player who had planned on opting out. NFL players have until 4 p.m. ET on Thursday to opt out for the season.
After signing a one-year contract with the 49ers in March, Benjamin announced he was opting out via his Twitter page.
"First, I would like to thank the 49ers organization for their continued support," Benjamin wrote. "After much consideration and discussion with my family I have decided to opt out of the 2020 NFL season as I feel this is the best decision for my family. I will continue to support my teammates and many friends around the league this season. As we continue to navigate the pandemic I wish that everyone stays safe."
— Travis Benjamin (@TravisBenjamin3) August 5, 2020
Benjamin was expected to compete for a roster spot at wide receiver and, likely, as a returner in what would have been his first season with the 49ers. He had previously played for San Francisco coach Kyle Shanahan when Shanahan was the Cleveland Browns' offensive coordinator in 2014.
Shanahan said Monday that he understood and respected any player who made the decision to opt out, noting that every situation is different.
"You want everyone to know that there's no right or wrong answers," Shanahan said. "It's what you're comfortable with … I think we all feel the same."
Benjamin entered the league as a fourth-round pick of the Browns in 2012. He spent four years in Cleveland and four years with the Chargers before signing with the Niners in the offseason. For his career, Benjamin has 208 receptions for 3,143 yards and 19 touchdowns as well as four punt return touchdowns.
On the same day Benjamin opted out, the Niners moved wide receiver Richie James Jr. from the reserve/COVID-19 list to the active non-football injury list. James, who is dealing with a broken right wrist, was the Niners' primary kick and punt returner in 2019.
Vikings-Raiders trade nixed after P.J. Hall fails physical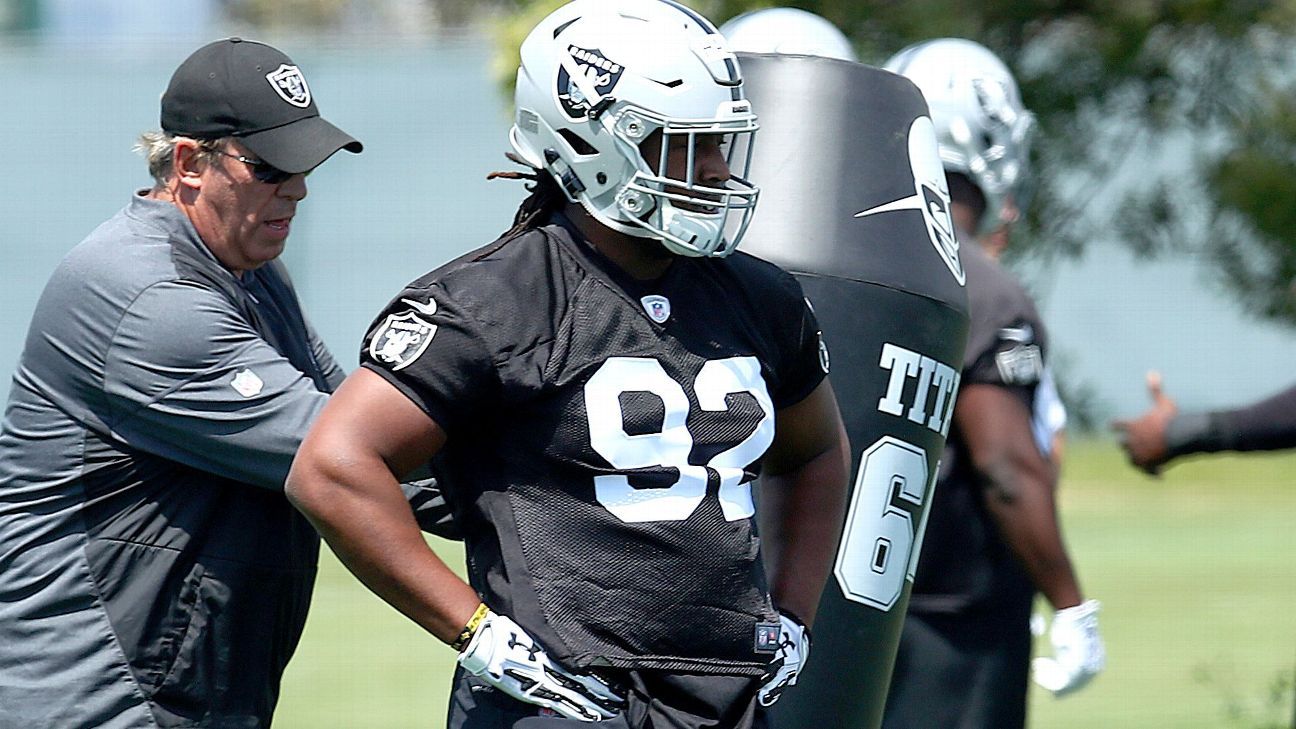 MINNEAPOLIS — The Vikings' trade with the Las Vegas Raiders is off after defensive tackle P.J. Hall failed his physical on Tuesday.
The Vikings on Monday had sent a conditional 2021 seventh-round draft selection to the Raiders in exchange for Hall. After the failed physical, Hall reverts back to the Raiders, who are expected to cut the former second-round pick.
The 25-year-old Hall played in 30 games (18 starts) over the past two seasons but had just 1.5 sacks in that time.
The Vikings' trade for Hall came a week after nose tackle Michael Pierce opted out of the 2020 season due to respiratory concerns.
Minnesota's defensive line took another hit Tuesday when defensive tackle Armon Watts was placed on the reserve/COVID-19 list. The Vikings activated rookie receiver Justin Jefferson and safety Brian Cole II off the reserve/COVID-19 list.
Derek Carr wearing arm sleeve to honor Kobe Bryant – Las Vegas Raiders Blog
HENDERSON, Nev. — Las Vegas Raiders quarterback Derek Carr was a fan of Kobe Bryant when the former NBA star was leading the Los Angeles Lakers on the court. And Carr befriended the basketball star after Bryant retired in 2016.
With Bryant perishing in a helicopter crash along with eight others, including his daughter Gianna, on Jan. 26, Carr will "honor" Bryant this season by wearing a sleeve on his left arm in games.
"He meant so much to me."@derekcarrqb will wear an arm band this year as a tribute to the late Kobe Bryant. pic.twitter.com/iJKr16LuYs

— Las Vegas Raiders (@Raiders) August 4, 2020
"This is a personal thing, I don't care what anybody else thinks about it, this is for me," Carr said on a Zoom call with reporters Tuesday. "What would be a cool way to honor Kobe Bryant? He always wore an arm sleeve on his [right] arm — I can't wear one on my right [passing] arm, so I was like, 'You know what, I'll wear one on my left arm.' It's really just to honor Kobe."
Carr, 29, said Philadelphia Eagles cornerback Darius Slay was also going to pay tribute to the late Bryant, who would have turned 42 on Aug. 23, this season and suspected other NFL players would as well.
"As a kid, I watched every YouTube video, I watched every game," Carr recalled. "I would tell my dad by the way [Kobe] ran down the court, 'Oh, this is going to be a post-up fadeaway. He set him up last time, this is a fadeaway.' And it would happen. I just watched everything.
"He meant so much to me and then when I got to know him, I got to talk to him and then he followed me on Twitter, that blew my mind. That was the day of my life, so to speak."
Carr laughed.
In 2016, three days after Carr suffered a season-ending broken right fibula, and 81 minutes after Carr tweeted out that surgery had gone well, Bryant tweeted at Carr.
Come back better than ever @derekcarrqb #muse #dominaterecovery https://t.co/AsWubGEfhW

— Kobe Bryant (@kobebryant) December 28, 2016
"Just getting to know him and talk to him, have conversation with him, just what he meant to me as an athlete, the 'Mamba Mentality' is trying to be the best version of yourself every day," Carr said. "I have a big poster in my weight room now with that 'Mamba Mentality' mantra on it and it's just a way that I can honor him.
"So, I'll wear [the sleeve] all year … to honor him and just what he meant to me as a kid growing up. That's the extent of it. I don't care about looking good unless it's for how my wife wants me to look at dinner. It's to honor Kobe and just what he meant to me."