Dolphins' incoming free agents speak out: We believe in Brian Flores – Miami Dolphins Blog
MIAMI — There is more optimism about the Miami Dolphins' long-term future now than there has been in more than a decade.
On the surface, the sudden hope appears to be confusing. The Dolphins are coming off a 5-11 campaign and were accused of tanking for most of 2019, with talent deficiencies in several position groups and no franchise quarterback, yet.
But look beyond the basic stats, and the reasons to believe the Dolphins' future is bright become more clear. An active NFL free agency for the Dolphins added significant talent to what should be a remade defense. Moderate offensive additions should help boost the running game. The Dolphins also have the power to own the 2020 NFL draft with 14 total picks, including three first-rounders, and one of those selections will most likely be their franchise quarterback.
Yet if you listen to many of the Dolphins' incoming free agents, the biggest reason to believe in Miami becoming a consistent AFC contender sooner than later is coach Brian Flores.
"My number one reason is Coach Flores. He just made me feel so comfortable with coming down," said linebacker Elandon Roberts, who spent the past four seasons in New England, including three with Flores, before signing a one-year deal with Miami last month. "Just knowing how good of a leader he is on and off the field, how much he cares about you as a player. … I'm 100% bought in. I can't wait to get down there, and I love that I'm a Miami Dolphin."
Center Ted Karras chose Miami (agreeing to a one-year deal) after turning down a two-year offer to return to the Patriots.
"I really believe in what Coach Flores is building and doing here, and I kind of wanted to get in and help him build it," Karras said.
The Dolphins have signed 10 free agents from other teams thus far, and seven came from teams that finished 2019 with a winning record and made the playoffs. That means players who are used to winning saw enough in the promise of Flores' Dolphins to sign with them.
"I am fired up to play for Miami. This is a young team that's going in the right direction," said cornerback Byron Jones, the team's prized free-agent signing. "[Flores is] a young coach and I love that. He's got young energy. I hear he's intense and he likes to create competitive scenarios, competitive situations. That's just something that I like and I wanted to be a part of. … That's exciting for me, just to be on a team that he's leading."
It has become clear that Flores, who at 39 is entering his second season as a NFL head coach, has made an imprint on his players as well as around the league. As the Dolphins' talent improves, so do the expectations and that is when Flores' prowess as a head coach will be measured. So far, so good, though.
Miami is likely done with big free-agency moves. After entering the league year with a NFL-high $90 million-plus in salary-cap space, the Dolphins spent wisely and didn't sit on their money, just as general manager Chris Grier had promised.
The Dolphins have $22.7 million in cap space now, and they will need about two-thirds of that to pay their draft class. But they are in good position to spend again in 2021 free agency, based on their cap situation and the way deals were structured in this period.
Miami's franchise-changing moves are still to come in the draft, where it has six selections in the top 70 picks and a franchise quarterback likely on his way.
Kyle Van Noy, the Dolphins' newest do-it-all defender, recalled a story about Flores motivating players during a cold New England practice when the two were with the Patriots. Flores delivered a simple message about not just being on the field, but being there for a purpose. His message struck Van Noy and others, and the practice level was elevated.
"He takes something that's so small and is able to put it into football and relate it, and he's really good with his players," Van Noy said. "He's ready to go all the time, and he brings that same energy each and every day. That's what you want as a coach; and as a player, that's who I want to play for."
The biggest reason to believe in the team's future, as many players say, is Flores, and that's a great sign for the Dolphins in 2020.
Minnesota Vikings' Kyle Rudolph organizes essential goods drive with Timberwolves, Gophers
MINNEAPOLIS — Kyle Rudolph was 24 hours too late.
By the time the Minnesota Vikings tight end drove around Monday to look for places in need of organized clean-up efforts after looting and riots took place throughout the Twin Cities following George Floyd's death, the 30-year-old witnessed his favorite element of the community he's been a part of for the last nine years.
With broken glass and debris already cleaned up, the efforts to rebuild were underway. So when Rudolph pivoted to the idea of an essential goods drive to benefit residents like a woman named Stephanie, whose TV interview went viral after most of the stores near her home were destroyed, he chose to go to the area impacted the hardest.
Amid burned buildings and shopping centers shut down because of excessive damage, Rudolph held a donation drive on Friday in the parking lot of a now-closed Cub Foods near East Lake Street and Hiawatha Avenue in Minneapolis where residents from the surrounding area could receive non-perishable food and other essential items.
"I think today is a perfect example of how times are different because you don't just have people here who have been directly affected by the problem," Rudolph told ESPN. "You have people that are here from all walks of life. You have people that have never dealt with racism a day in their life yet they know it's a problem, they want to be here to support and they want to be part of the change."
Friday's event, which saw a steady stream of hundreds come out as early as 9:30 a.m., had a handful of Vikings players on hand to help hand out donations. Rudolph was joined by Danielle Hunter, Adam Thielen, Garrett Bradbury, Aviante Collins, Chad Beebe, Cameron Smith and Jake Browning, all of whom were in attendance at Floyd's memorial service Thursday.
Rudolph also sought the help of Minnesota Timberwolves guard Josh Okogie, who was joined by coach Ryan Saunders and teammate Malik Beasley. Also on hand to lug cases of water and other goods from the donation stations to people's cars were several members of the Minnesota football team and Gophers coach P.J. Fleck.
"What you're seeing right now is a fair representation of Minnesota and what Minnesota can be," Okogie said. "You see every different kind of race, ethnicity, religious (background) — it doesn't really matter. We're coming together. What I think is so symbolic of this whole thing is what we have right now is a whole bunch of hope, love, fun and opportunity. You look around and everything's been destroyed. So if we can start right here and grow outwards, that's what we have to do."
Rudolph, who has previously served on the Vikings' social justice committee which, among several of its initiatives, aims to foster relations between police departments and the communities they serve, believes the Vikings can continue to play a role in the fight against systemic racism and police brutality.
"To fix this, it's going to take time," Rudolph said. "It's not something that when the protests stop, the change stops. It's got to be something that's sustainable. It's got to be something that we can continue to do for years because just under 20 years ago I was in Cincinnati, Ohio, when Timothy Thomas was killed. There were riots and protesting and I never would have thought that just under 20 years later I would be still living in a similar situation. My hope is that 20 years from now when my kids are in their 20s, this isn't a battle that they're on the forefront and fighting."
This is what it's all about! #RebuildMinnesota pic.twitter.com/KkO3k5cOl8

— Josh Okogie (@CallMe_NonStop) June 5, 2020
Across the Twin Cities, other teams are entrenched in efforts to give back. Minnesota Wild defenceman Jared Spurgeon made donations to six charitable organizations, including the Gianna Floyd Fund, Black Women Speak and WeTheProtesters, Inc., to benefit the Black Lives Matter movement and local rebuilding efforts.
Spurgeon, who is in Canada with his family, noted the circumstances surrounding the deaths of Floyd, Breonna Taylor and Ahmaud Arbery will prompt him and his wife to have an open dialogue about race with their young children.
"I don't think there's any age that's too early to start teaching it," Spurgeon said. "Growing up I think my parents tried to do that with myself but as you grow older with yourself you start realizing there are more things that you can do for your own children."
Spurgeon said he hopes to see the community-wide efforts continue long after the city is rebuilt.
"From here on out, it can't just be a one-week thing or a two-week thing where everybody's doing it," Spurgeon said. "It has to be a continued trend where we're all trying to be better and get everyone equal rights."
Elsewhere, the University of Minnesota is hosting a "United Are We" community drive Monday in the parking lot the athletic department where donations of essential supplies, toiletries, diapers and other non-perishables can be dropped off from 8-11 a.m.
Earlier this week, the Gophers' athletic department launched an initiative called "Listen," a forum used to amplify the voices of student-athletes, coaches and others for an open conversation on race. The site has several aggregated posts from student-athletes social media platforms in hopes of fostering an honest conversation throughout the entire athletic department.
"It's not just a time of talk," Gophers associate athletic director for external affairs Mike Wierzbicki said. "We need to create action. There's action to this, there's learning and then ultimately what are our steps to go forward from here."
NFL commissioner Roger Goodell says NFL was 'wrong' not to listen to its players about racism
NFL commissioner Roger Goodell issued a statement Friday condemning racism, saying he admits the league was wrong to not listen to its players earlier and that it will try to do better.
"It has been a difficult time for our country, In particular, black people in our country," Goodell said in a video released on social media. "First, my condolences to the families of George Floyd, Breonna Taylor, Ahmaud Arbery and all the families, who have endured police brutality.
"We, the National Football League, comdemn racism and the systematic oppression, of black people. We, the National Football League, admit we were wrong for not listening to NFL players earlier, and encourage all to speak out and peacefully protest. We, the National Football League, believe Black Lives Matter. I personally protest with you and wanted to be part of the much-needed change in this country."
Goodell's video comes almost 24 hours after more than a dozen NFL stars united to send a passionate 70-second video message to the league about racial inequality on Thursday night.
The players demanded that the NFL state it condemns "racism and the systemic oppression of black people. … We, the National Football League, admit wrong in silencing our players from peacefully protesting. … We, the National Football League, believe black lives matter."
On Friday, Goodell did just that.
"Without black players, there would be no National Football League," Goodell said in his video on Friday. "And the protests around the country are emblematic of the centuries of silence, inequality and oppression of black players, coaches, fans and staff. We are listening. I am listening. And I will be reaching out to players who have raised their voices and others on how we can improve and go forward for a better and more united NFL family."
New Orleans Saints receiver Michael Thomas opened the players' video with the statement: "It's been 10 days since George Floyd was brutally murdered." The players then took turns asking the question, "What if I was George Floyd?" The video closed with the players insisting they "will not be silenced."
Floyd, a 46-year-old black man, died last week in Minneapolis after Derek Chauvin, a white police officer, kneeled on his neck for more than eight minutes.
Texans special-teams coach Brad Seely retiring after 31 NFL seasons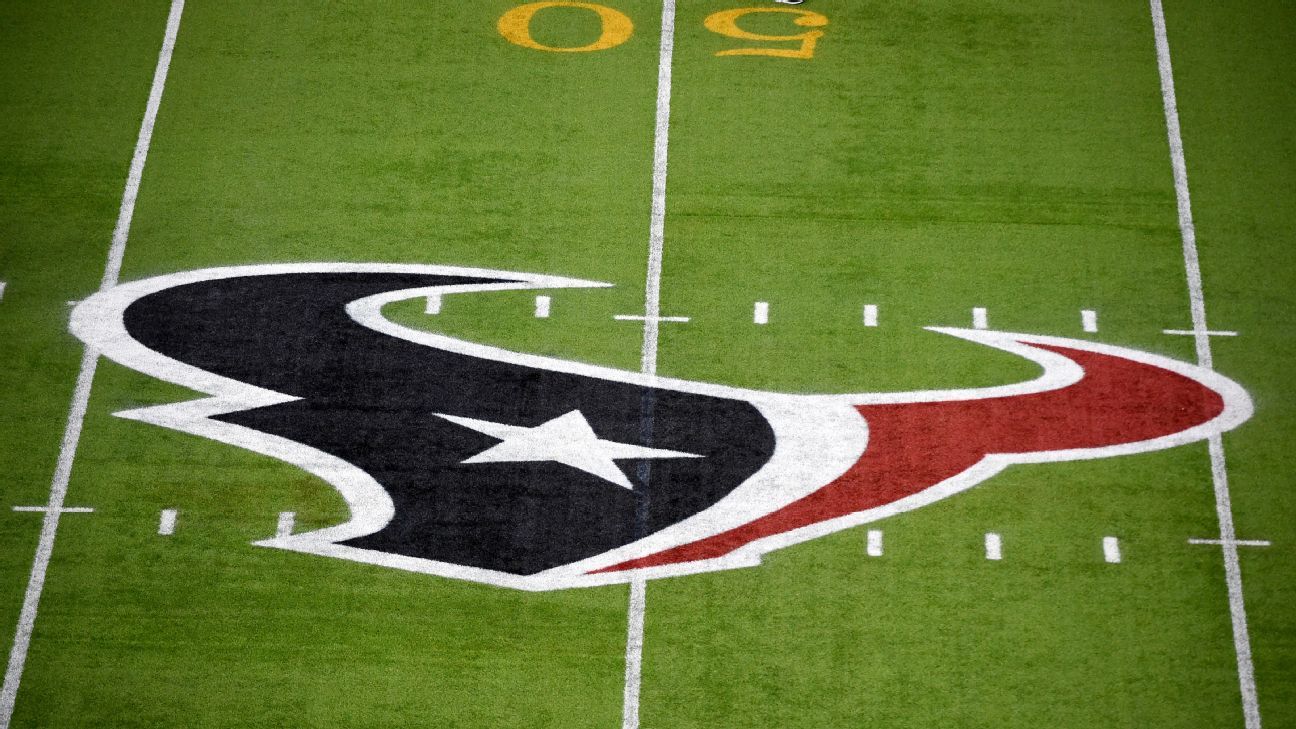 HOUSTON — Texans special-teams coordinator Brad Seely is retiring after 31 seasons as an NFL coach, the team announced Friday.
"I've been incredibly fortunate to spend over 30 years in the NFL coaching the game I love," Seely said in a statement. "I want to thank each and every coach, player and staff member I worked with from when I entered the league in 1989 until now. I've been blessed to be a part of some of the best organizations in professional sports and I will forever cherish the friendships and memories I've made around the league."
Since Seely took over in Houston in 2018, the Texans have gone from having the 26th-ranked special-teams unit by Football Outsiders to fifth in 2018 and fourth last season. In his career, Seely has coached 10 different players to 17 special-teams Pro Bowl selections. Seely has coached in nine conference championship games and won three Super Bowls.
"Brad Seely is one of the best special teams coaches in NFL history and his contributions to the game have been unparalleled," Texans coach Bill O'Brien said in a statement. "I first met Brad when we were both assistant coaches in New England and immediately recognized his ability to connect with his players and teach them about the game in his own unique way. Brad has won at every stop in his 30-year career and his résumé of three Super Bowl victories and five conference championship appearances speaks for itself.
"It was an honor and privilege to coach alongside Brad and I will always consider him a friend. On behalf of the entire Texans organization, we wish him and his family the best in his retirement."
Seely's departure means the Texans will have only one coordinator remaining from last season — offensive coordinator Tim Kelly. Anthony Weaver was promoted from defensive line coach to defensive coordinator earlier this offseason.
Tracy Smith is the Texans' assistant special-teams coordinator and has assisted Seely for 10 of his seasons in the NFL.