Tim Kurkjian's baseball fix – Of Cy Young, Big Klu and Le Grande Orange
You love baseball. Tim Kurkjian loves baseball. So while we await its return, every day we'll provide you with a story or two tied to this date in baseball history.
ON THIS DATE IN 1867, Cy Young, after whom the pitching award was named, was born Denton True Young in Gilmore, Ohio. His nickname came from his cyclone-like motion in his delivery. He won 511 games, almost 100 more than anyone in major league history. He won 20 games 15 times and 30 games five times. He was elected to the Hall of Fame in 1937. He was named on 153 of 201 ballots. With 511 wins. And you thought the voting was harsh today.
The full "On this date …" archive
Denny McLain was born on this date in 1944. He won the Cy Young in 1968 and 1969. He is the only pitcher to win the MVP unanimously (1968), and he is the only MVP pitcher to have his catcher (Bill Freehan) finish second in the MVP voting that same season. McLain won 55 games in those two seasons, but he won only 131 in a career that ended at age 28.
Billy Beane, the president of baseball operations for the Oakland A's, and a likely Hall of Fame executive one day, was born on this date in 1962. I played basketball with him at spring training. He was so good. And so competitive. He almost got into a fight in a pickup game.
Ted Kluszewski died on this date in 1988. Big Klu was one of the strongest men to ever play the game; he would cut off his uniform sleeves to show off his guns. He hit 49 homers in 1958. Luke Easter, a star with the Indians in the 1950s, was murdered on this date in 1979 at age 63. Terry Moore, a great defensive outfielder for the Cardinals, died on this date in 1995.
And the always lovable redhead, Rusty Staub, nicknamed "Le Grande Orange" from his days with the Expos, died on this date in 2018. Staub is the only player to have at least 500 hits for four different franchises: the Astros, Expos, Mets and Tigers. He, Ty Cobb, Gary Sheffield and Alex Rodriguez are the only players to homer as a teenager — and as a 40-year-old. Staub was an expert with fine wines, and he was a tremendous cook: He sometimes would take his pots and pans on road trips. He was a very warm, wonderful man.
"I knew Rusty had beaucoup power," said Gene Mauch, one of Staub's managers in Montreal, "before I knew what beaucoup meant."
Other baseball notes from March 29
In 1975, the Yankees released Mel Stottlemyre, one of the greatest pitchers in franchise history. Stottlemyre is the last pitcher to get five hits in a game. He went 5-for-5 and threw a two-hit shutout against the Senators on Sept. 26, 1964.

In 2018, the Cubs' Ian Happ hit the first pitch of the baseball season (from Jose Urena) for a home run. The only other time that has happened was Dwight Evans off Jack Morris in 1986.

And in 1984, the Yankees traded Graig Nettles to the Padres. Nettles was a great Yankee, one of the best defensive third baseman of all time. He also gave beloved teammate Mickey Rivers the nickname "Chance" not because Rivers was a big gambler, but because Nettles said Rivers was the least likely person to be named the chancellor at a university.
Cubs' Tom Ricketts says most revenue goes right back into team
Chicago Cubs owner Tom Ricketts pushed back on the perception that baseball teams are cash cows, telling ESPN on Tuesday that yearly revenues are mostly put right back into the team.
"Here's something I hope baseball fans understand," Ricketts told ESPN. "Most baseball owners don't take money out of their team. They raise all the revenue they can from tickets and media rights, and they take out their expenses, and they give all the money left to their GM to spend.
"The league itself does not make a lot of cash. I think there is a perception that we hoard cash and we take money out and it's all sitting in a pile we've collected over the years. Well, it isn't. Because no one anticipated a pandemic. No one expects to have to draw down on the reserves from the past. Every team has to figure out a way to plug the hole."
Ricketts acknowledged he couldn't comment specifically on the labor negotiations between the league and its players as they work toward restarting the season after the coronavirus pandemic. Players want full prorated salaries, whereas owners say they can't afford the losses based on a season of 82 or more games. Ricketts was asked if teams, worth billions collectively, should simply take out loans or find other ways to pay the costs of playing in 2020, even if it's without fans.
"The scale of losses across the league is biblical," Ricketts said. "The timing of the work stoppage, the inability to play was right before the season started. We're looking at 30 teams with zero revenue. To cover the losses, all teams have gone out and borrowed. There's no other way to do it in the short run. In the long run, we may be able to sell equity to cover some of our losses but that's in the long run.
"Who would invest at the moment?"
Ricketts also discussed agent Scott Boras and the email he sent to his clients, singling out the Cubs' financial situation.
"Throughout this process, they will be able to claim that they never had any profits because those profits went to pay off their loans," Boras wrote in the email. "However, the end result is that the Ricketts will own improved assets that significantly increases the value of the Cubs – value that is not shared with the players."
Ricketts didn't seem fazed by Boras' claim, pointing at the team's payroll over the past 4-5 years. The Cubs have been near the top of the league since completing a rebuild in the middle of the last decade.
"We put about $750 million into the ballpark," he said. "And the dollars spent were to create the best place for players to play and the best place for the fans to watch the game.
"He (Boras) doesn't have any insight into our balance sheet, and as we have been investing in the ballpark, we've been spending more on the field. We've been one of the top spenders in the league while we were fixing up Wrigley Field. We don't take money out of the team. Most owners don't. We're investing in the future of the club and the current team on the field."
As the players and league continue to negotiate, Ricketts said he has hope. But like many around the game, he said he isn't sure where the answer lies.
"I'm pretty optimistic we'll get games back on the field," Ricketts said. "I have full faith and confidence in the commissioner. How we get there is yet to be written, but I'm pretty sure we'll get there."
One avenue, which is still a favorite of executives, is to share the risk and rewards with the players. That proposal didn't even make it to the offer table, leading some to wonder if it was a red herring. Instead, owners proposed a sliding pay scale, which was quickly rejected by the players.
Ricketts said that revenue sharing, ultimately, is "what the other leagues do."
"They create a sense of partnership with the players because a rising tide lifts all the boats," he said. "It's always been considered something the MLBPA doesn't want to go for because they see it as a salary cap. They're clear on that. I don't agree. If it's done right, it can give incentives for the players and the owners to grow the game. It could be part of the next CBA if people are willing to discuss it.
"I don't think it was ever intended to be a Trojan horse or try to sneak one in and get people comfortable with something else. In the long run I don't think this a bad idea. In the short run I don't think it's an option anymore."
Ricketts is adamant about wanting to play this season even though ownership contends playing games means losing more money. It's one reason why the league originally offered only an 82-game season and might want even fewer games than that. It has led some to wonder if all owners even want to have a season at all.
"There are scenarios where not playing at all can be a better financial option, but we're not looking at that," Ricketts said. "We want to play. We want to get back on the field. … I'm not aware of any owners that don't want to play. We just want to get back on the field in a way that doesn't make this season financially worse for us."
The Cubs have a new television network, which still isn't being carried by the largest cable provider in the Chicago area. Missing an entire season has even bigger implications for them.
The fact that franchise values are extremely high doesn't answer the question of liquidity for teams. The Cubs employ 600 people with an additional 2700 part time employees. They say 70 percent of their revenues come from the game day experience with fans in the stands. Now they're hoping to recoup two-thirds of what's left – if an equitable deal with the players can be struck.
"The main reason it's at 70 percent is we do so well with attendance," Ricketts stated. "A lot of clubs have more trouble selling their tickets. A larger percentage of our revenue is just tickets.
"We're hoping we can get 20 percent of our total revenue this year."
White Sox's Tim Anderson, Lucas Giolito inspired by their relationship
When Chicago White Sox shortstop Tim Anderson saw that teammate Lucas Giolito posted a message supporting the Black Lives Matter movement late last week — and in doing so became one of the first white major league players to speak publicly about the death of George Floyd — he didn't even blink an eye.
"I know Gio, so I wasn't shocked by it," Anderson said. "I definitely know how he feels, because these are the conversations we had before we all [America] got here."
When the pair became teammates in 2017, Anderson noticed Giolito always asked different, more insightful questions about his experience as a black American. Over the course of three seasons, Anderson and Giolito each opened up about his background and upbringing, with the shortstop speaking of his experience growing up black in Tuscaloosa, Alabama, and the right-hander speaking up about growing up in Los Angeles, where he attended the elite private Harvard-Westlake School.
Slowly, Giolito became someone whom Anderson knew he could lean on, a true ally. When Anderson talked with Giolito, he didn't need to walk on eggshells while talking about race with the White Sox pitcher despite their drastically different upbringings. With someone like Giolito, Anderson could truly, unapologetically be himself with a teammate.
"It's so easy, and it's vice-versa," Anderson said. "He does the same thing as well. We just like to be open and he understands. He wants to understand where I come from and I definitely want to understand where he comes from. Just talking about how it was for him growing up and how it was for me, the complete opposite and completely different. Somehow we ended up in the same place."
When Giolito met Anderson, he immediately noticed something he rarely saw in a baseball clubhouse: a passion for life and for baseball and family. Giolito noticed that every day when Anderson came to the ballpark and interacted with teammates, he was always unapologetically himself. Anderson grew up playing mostly basketball and did not grow up learning the culture of unwritten rules around the sport and did not apologize for showing his full personality.
"That is inspiring to me. And so that's one of the things that I've taken away from our friendship and being around him as a teammate, that passion for excellence, not only as a baseball player, but as a man," Giolito said. "We just talked about this. He represents a lot on our team. He represents a lot to a lot of people on the South Side of Chicago. So it's really awesome to play alongside him and call him a friend."
As the only black player on the Chicago White Sox, Anderson knows he has extra eyes on him, sticking out on the field and in the clubhouse playing for a team on Chicago's South Side, a neighborhood where 93 percent of the population is black, a declining population among baseball players. The shortstop generated controversy in 2019, when his demonstrative bat flip after a home run spurred a bench-clearing argument after Kansas City Royals pitcher Brad Keller plunked him in the subsequent at-bat.
For baseball traditionalists, the bat flip represented the shortstop showing up the pitcher. For Anderson, who points out he never looked at one of the Royals players, the flip represented self-expression, an opportunity to be himself on the playing field.
"From being in baseball, I am one of the only black guys. It's different. The bat-flip moment, all of that stuff, we've been talking about," Anderson said. "Gio is definitely a person that I could go to and just be able to say whatever I want and not have to dodge certain questions."
Giolito admired that Anderson was nobody but himself in the clubhouse. The unwritten rules often suppress personality within baseball, and Giolito noticed Anderson brought something different to the table, serving as a change agent for baseball culture.
"He didn't really understand all of these weird unwritten rules that kind of surround the game, most of the rules that have been a part of the game for a long time before any of us got there," Giolito said. "He didn't really play in the amateur levels with that being a focus."
Among generations of older baseball players, rookies often abided by the guidance of veterans. No stirring the pot, seen but not heard until you've accomplished something at the major league level. Giolito said Anderson encourages his teammates to be themselves, unapologetically.
"TA has always been one of the biggest proponents of it doesn't matter how much time you have, it doesn't matter what position you play, how important you are to the team," Giolito said. "When you come in, be yourself, be comfortable. We don't want a bunch of robots. Obviously you can have respect. It's good to respect veteran players and respect coaches, but be yourself, have opinions."
While Anderson has not participated in any of the nationwide Floyd protests, he became one of the first baseball players to speak up about his death and the subsequent protests, posting photos with the graffiti and protest on Michigan Avenue in Chicago, one of the city's most prominent shopping districts.
🖤✊🏾 pic.twitter.com/nc8BnSK3Gl

— T A 7 (@TimAnderson7) May 31, 2020
"I happen to be black, I happen to be good at the sport. I'm obviously in a sports where in my culture, that's rare. Who's gonna speak for the culture? Who's going to be an example for the culture? We know the numbers for black players are going down in America for baseball. Who's gonna be the guy that spruces things up? I am being an example for the culture. I am in a sport where there are not many black people, but I am comfortable with myself and I'm trying to be an example to draw more African-American kids and bring that excitement to kids, all kids."
Chris Tejeda, who works as a photographer for both the White Sox and personally for Anderson, says Anderson's willingness to be himself and talk honestly about his experience as a black American has a palpable, positive effect on team chemistry.
"He has brought everybody in that locker room closer, and they see it," Tejeda said. "They just needed to hear it firsthand and from somebody they truly care about and trust. And it's just having a firsthand experience and actually hearing it from somebody they care about."
Anderson hopes that the public death of Floyd and the subsequent protests can spark more honest conversations about race in the clubhouse.
"These conversations start within the front office, being understanding and being open to having certain conversations with players," Anderson said. "I think that organizations, it's kind of like a family. It's a family you get drafted into. When we get drafted, we want to be able to talk about whatever it is, whenever it is. Just being open-minded and not getting your feelings hurt. Just being able to have an open floor and being able to ask questions like me and [Giolito]. He can come to me with anything, it don't matter what it is because I know he wants to understand. Just need more of those guys who want to understand. These are all issues we should be talking about, but everyone is kind of scared to talk about."
Amid all of the chaos nationwide, Anderson has been looking to find any positives out of the aftermath of Floyd's death and its massive cultural impact. As someone who's successfully facilitated conversations around race, Anderson has advice on how baseball players can work together on these cultural delicate issues.
"What can I do? Those are the kinds of conversations going on right now, What can I do? I don't think it's not just what you say, but now it's about our actions now," Anderson said. "We gotta do what's right more so than just say what's right. Just being open, man. If you got a black guy in the clubhouse, sit down with him and get to know him. Get to know where he comes from. Get to know what he's been through. Get to know all the things he's overcome."
But Anderson notes that these conversations are a two-way street.
"Same for black guys: If you want to learn about white folks, just ask," Anderson said. "That makes you compete more because you know where he came from, and you know where I come from. In the heat of the moment, whatever it is between the lines, you understand where I am coming from, and I understand where you are coming from. Come on bro, let's go. That's just understanding."
Break-in at Brewers' Miller Park leads to minor field damage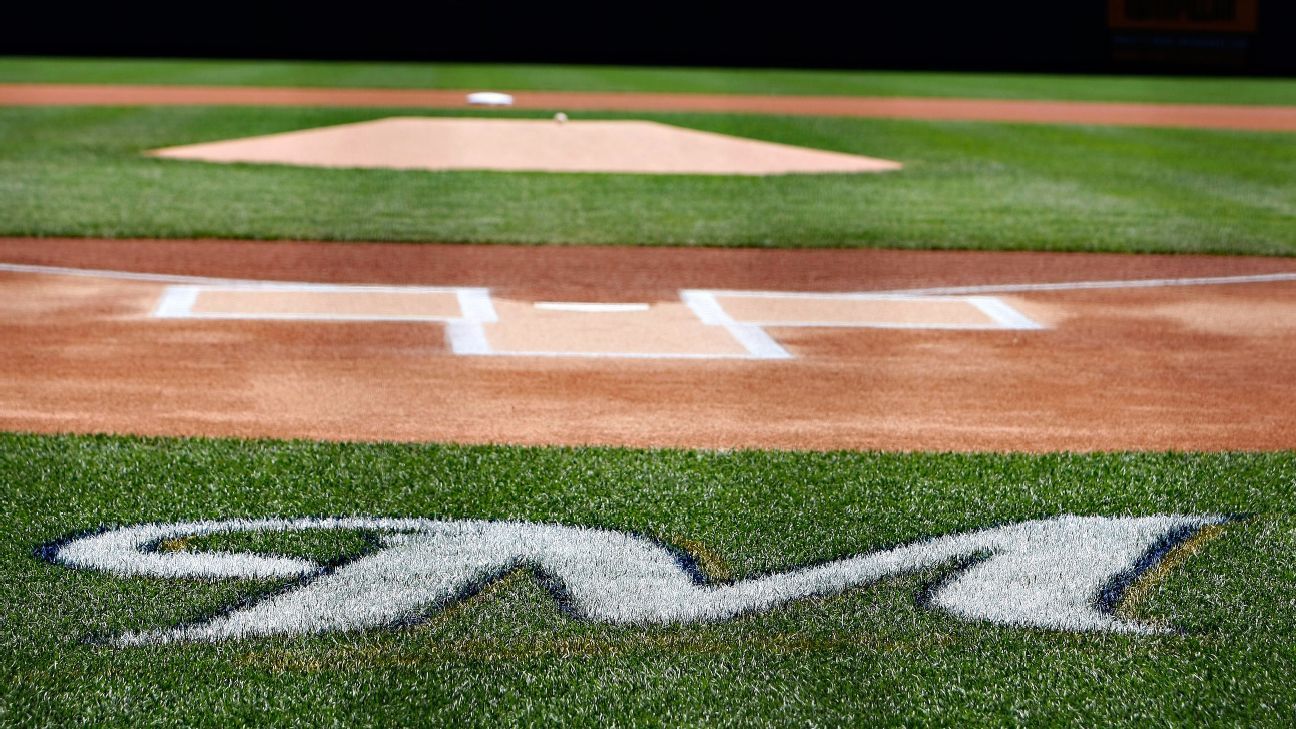 The field of Miller Park was damaged Tuesday morning when a man broke into the Milwaukee Brewers' home stadium, according to the team.
The Brewers said in a statement that the field damage caused by the 7 a.m. break-in was minor. The man was apprehended by police shortly after gaining access to the field.
No additional information was provided, with the team citing an ongoing investigation.