Tom Brady, other NFL stars stay positive as they stay home – NFL Nation
Tony Gonzalez is trying to learn Spanish. Derek Carr is playing one-on-one against his son on a mini hoop. And Mitchell Schwartz is cooking with his dog sitting in a Baby Bjorn.
There's lots of TikTok dances, puzzles, board games, daddy-do lists, video games and just spending time with family.
Life staying at home for the NFL world during the COVID-19 pandemic looks a lot like what the rest of the country is doing.
The NFL tweeted out a video showing current and former stars including Tom Brady, Brett Favre, Michael Strahan, Carson Wentz, Russell Wilson, J.J. Watt and Sean Payton talking about their experiences staying home during this unprecedented time.
These are challenging times for the world, but with every challenge comes an opportunity to be strong. #StayHomeStayStrong pic.twitter.com/MzgRbPg5aO

— NFL (@NFL) March 26, 2020
Brady tweeted the video on Friday night with a message of gratitude for the medical community.
"To all the doctors, nurses, EMTs, and other health care workers on the front lines, thank you. We can all make a big impact by taking care of ourselves and each other. #StayHomeStayStrong"
Jets WR Quincy Enunwa not giving up on playing again despite career-threatening neck injury
New York Jets wide receiver Quincy Enunwa, battling a career-threatening neck injury that will keep him off the field in 2020, still hopes to play again one day. But that decision, he said, no longer is in his control.
In an interview with ESPN, Enunwa said Wednesday it was "devastating" to learn recently he had been ruled out for the season. Now, he said, the only thing he can do is play the waiting game.
"If I'm capable of playing, then that's what I'll do," he said, making his first public comments since the end of the season. "If it comes down to the fact that the doctors say I can't, there's not much I can do. There's really nothing I can do there, but if I have the ability to (play), the passion will always be there, the want-to will always be there.
"I think, aside from obviously my neck, the physical ability will always be there. It's really just about me going for the ride, I guess, because I'm not in control of that part anymore."
On May 5, Enunwa was placed on the reserve/physically-unable-to-perform list, making him ineligible for 2020. The move came as no surprise; the team had expressed no optimism about his chances for a return.
Enunwa, who missed the 2017 season due to a neck injury that required surgery, re-injured it in the 2019 opener and missed the final 15 games. He didn't have another surgery. By the end of 2020, he will have missed almost three full seasons out of the last four.
Enunwa said he has no regrets.
"There's really no one to blame," he said. "It's one of those things. If I could've had a crystal ball and told myself … this was going to happen, I probably would've done it the same way. There's nothing really I regret or I'm upset with anybody about.
"I think everybody tried to handle it the best way that we could. There's no way to have prevented this other than not play football, and I don't know if I would've been as happy if I made that choice."
Enunwa remains on the Jets' payroll, earning a fully guaranteed $6 million for 2020. He has a $4.1 million injury guarantee in 2021 as part of the four-year, $33.4 million extension he signed in December, 2018. If he opts for voluntary retirement, he'd jeopardize his salary.
Asked about his future with the Jets, Enunwa said, "I'm under contract. I want to be a Jet for life. I saw Eli Manning say something. On his Twitter page he wrote, 'Once a Giant, always a Giant, only a Giant.' It would be cool to say that as a Jet."
Enunwa, who turns 28 on Sunday, admitted the time away from football has taken an emotional toll.
"The simple word is just depressed, I guess," he said. "If I'm being completely candid, there were times where it was tough to navigate what I was going through and then trying to figure out how to be comfortable coming into the facility, knowing there's a possibility this whole game could be taken away from me. It's been tough and it was tough, but I'm definitely handling it much better now than I was before."
Enunwa said the low point came last November, when he was fined $27,900 by the team for missing two mandatory rehab sessions. He ripped the organization in a series of tweets, saying the fines were "excessive." He blamed it on a lack of communication, adding the communication in recent months with general manager Joe Douglas and coach Adam Gase has improved.
He hasn't been able to work out at the Jets' facility because of the COVID-19 pandemic, but Enunwa, who lives in New Jersey, said it hasn't affected his rehab because he can do it at home. He hopes to be around the team when it returns.
Before the second injury, Enunwa was considered one of the Jets' top young players. His best season was 2016, when he caught 58 passes for 857 yards.
"The passion I played with, that's never left," he said. "I think if everything goes the way I hope it goes, it's still going to be there for me. My physical ability has not left. I've just been kind of like slowed down, hampered, you know? I'm doing my best to work around those limitations that I have. Again, that passion is not gone."
Redskins OC pleased with Dwayne Haskins in virtual meetings
The Washington Redskins will have to wait a little longer to see how quarterback Dwayne Haskins looks on the field, but they've been pleased with what they've heard from him so far in virtual team meetings.
"When we're talking to him [on Zoom sessions], he's speaking the language," Redskins offensive coordinator Scott Turner said on a conference call. "It's pretty easy to tell if they get it or not. Dwayne's doing a great job."
Haskins, who is learning his second offense in as many NFL seasons, is expected to be the Redskins' starting quarterback this season after starting seven games as a rookie. However, coach Ron Rivera has said that if there's a truncated training camp, then Kyle Allen would have an advantage.
Washington traded for Allen to serve as a backup, and he spent the past two seasons playing for Rivera in Carolina and knows Turner's offense.
Alex Smith also is on the roster, but he still faces obstacles in his quest to return from his 2018 leg injury.
The goal, however, remains to develop Haskins, the team's first-round pick in 2019. For Turner, that means doing it via phone calls or virtual learning. He quizzes his quarterbacks daily just to see what they've retained from the prior session.
During film study, Tuner will just ask what coverage the defense is playing. If given the correct answer, Turner will then ask Haskins why he said that particular coverage to gauge the depth of his knowledge.
One time, Haskins told him the coverage as the safeties were aligned in a two-deep look. But Haskins noticed the weakside linebacker was moved over, tipping him off that one safety would rotate down to fill that void.
"That is something that we talked about a few days earlier and we picked up on it because he saw it," Turner said. "That is just a very simple example. Things like that. 'Hey, what is this motion called?' And he will answer correctly.
"It isn't always like that. Sometimes you have to go back over things, but that happens with everyone. When you can have that dialogue and they can give you the correct answer and are repeating the things that you talked about in earlier sessions, that is when you know it is really starting to click."
Haskins' rookie season was rocky. The coaches didn't want to draft him at 15, feeling he wouldn't provide immediate help for a staff in a must-win year. In Haskins' first four games, including two starts, he posted a 13.9 total quarterback rating with two touchdowns and five interceptions.
In his last four games, however, he reversed the touchdown to interception numbers and his total QBR rose to 34.6. And in his last two starts, his total QBR was 73.0 — thanks to four touchdowns and no interceptions.
"It takes a while for guys to truly believe that they can do this and that they can play in this league," Turner said. "It is highly competitive, and it humbles everyone. What he did the last month of the season, he truly believed that he could go out and do that. You want to build on those things."
Turner liked how Haskins handled the pressure in the pocket. In college, Turner said, pocket passers too often are throwing from wide-open pockets — something that rarely happens in the NFL. Turner said one of the first things he did after taking this job was to study how Haskins handled tight pockets.
"His eyes stayed down field. He was able to push the ball down the field in those 20-, 30-, 40-yard throws with velocity," Turner said. "Not needing a lot of space to generate with his body. He is a big guy and he is hard to bring down.
"You are going to make money in this league by standing in there and making throws down the field when it is tough. He has shown enough of that."
Haskins has posted multiple videos of him working out, showing a body more sculpted than at this time a year ago. He posted a video on Instagram of him throwing to receivers such as Stefon Diggs, whom he used to throw to while still in high school, and Antonio Brown. Turner said Haskins also has been throwing to Redskins receivers Terry McLaurin and Kelvin Harmon.
"You can tell he's putting the work in away from the meeting time," Turner said. "Obviously as a coach and and putting in this new offense, I'd love to have more time with him. I think that we're doing a great job with making the most of the situation."
Texans' J.J. Watt focused on proving 'my worth,' not an extension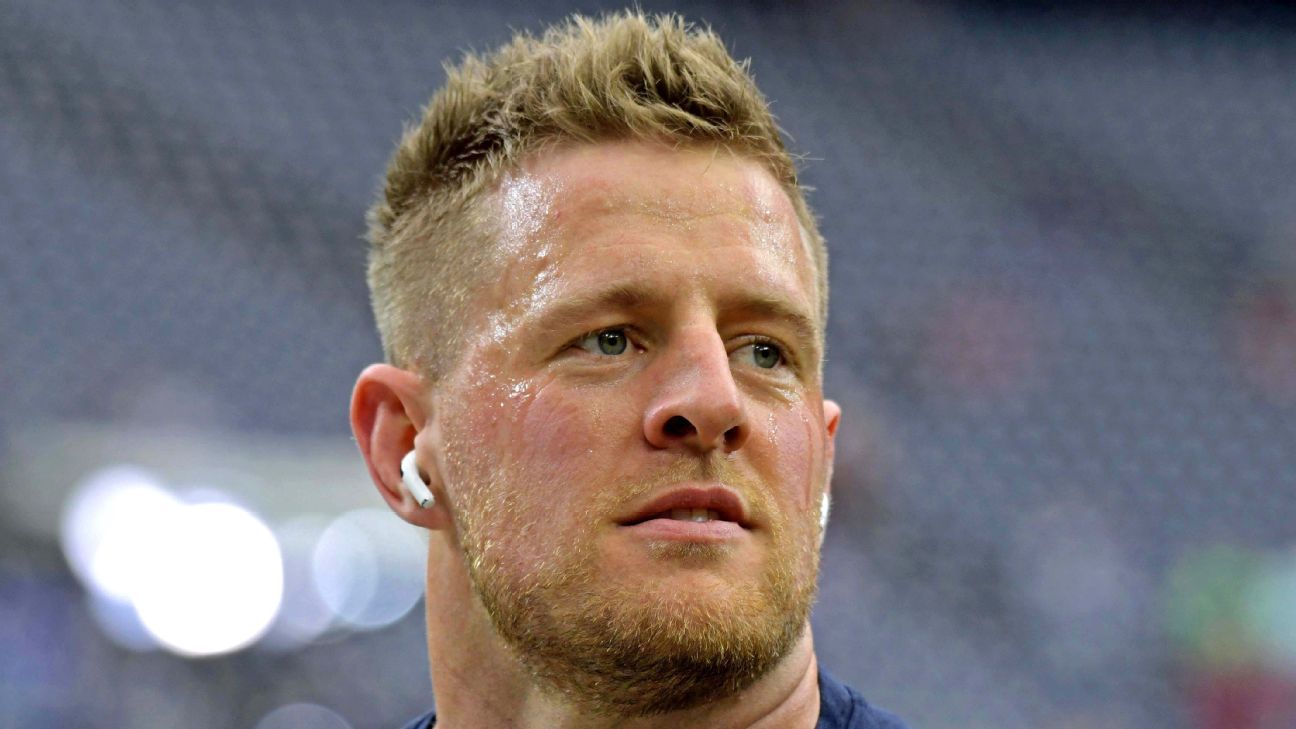 HOUSTON — Coming off an injury-plagued portion of his career, Texans defensive end J.J. Watt isn't seeking a contract extension this offseason.
Despite having two years with no guaranteed money left on his contract, Watt is instead focused on "trying to prove my worth."
"No, I don't think that's necessary," Watt said in a Zoom news conference on Wednesday. "I think that — I fully understand and respect the situation that I'm in at the moment and what's happened in the past few years, so I'm not gonna sit here and demand anything. Because I'm going out there to prove what I'm worth, and I believe that's the right situation for everybody.
"I think if I went back and asked for an extension, more money, anything right now, I think that would be the wrong move. And so I'm just going out there and trying to prove my worth, and to help this team win games, do everything that I can to earn and make sure that these people know that I'm worth it."
Since he signed a six-year, $100 million contract extension that is set to expire after the 2021 season, Watt has won two of his three Defensive Player of the Year awards, and he made a strong case for another in 2018 when he finished second in the NFL with 16 sacks. But Watt has also missed two-and-a-half seasons due to injury, including missing eight regular-season games in 2019 with a torn pectoral muscle before returning for Houston's two playoff games.
Watt played at a high level before his injury last season. He had just four sacks in the 2019 regular season, but ESPN's pass rush win rate powered by NFL Next Gen Stats shows the impact Watt had on the field. Watt created the first pressure on 62 pass rushes, easily the most in the NFL. No other player had more than 49 first pressures created when he tore his pectoral muscle in Week 8.
Watt is owed $15.5 million in 2020 and $17.5 million in 2021.
Watt said his goal for the season, as it is every season, is to "help the team win," which means "staying healthy." He said he feels "good" right now.
When Watt was asked on Wednesday if he wanted to finish his career in Houston, he said, "that would obviously be a goal of mine."
"This city has been incredible to me since the day I got here," Watt said. "I'm very thankful and fortunate to have the opportunity to play for such great fans who have supported not only myself, but my foundation and everything that I've tried to accomplish. It's a great place.
"I certainly hope that's the case. I mean, I don't know what's going to happen. I can't say what's going to happen in the future, but I certainly hope that that's the case."