Tim Kurkjian's baseball fix – At 49, straight from prison, Pete Rose could still hit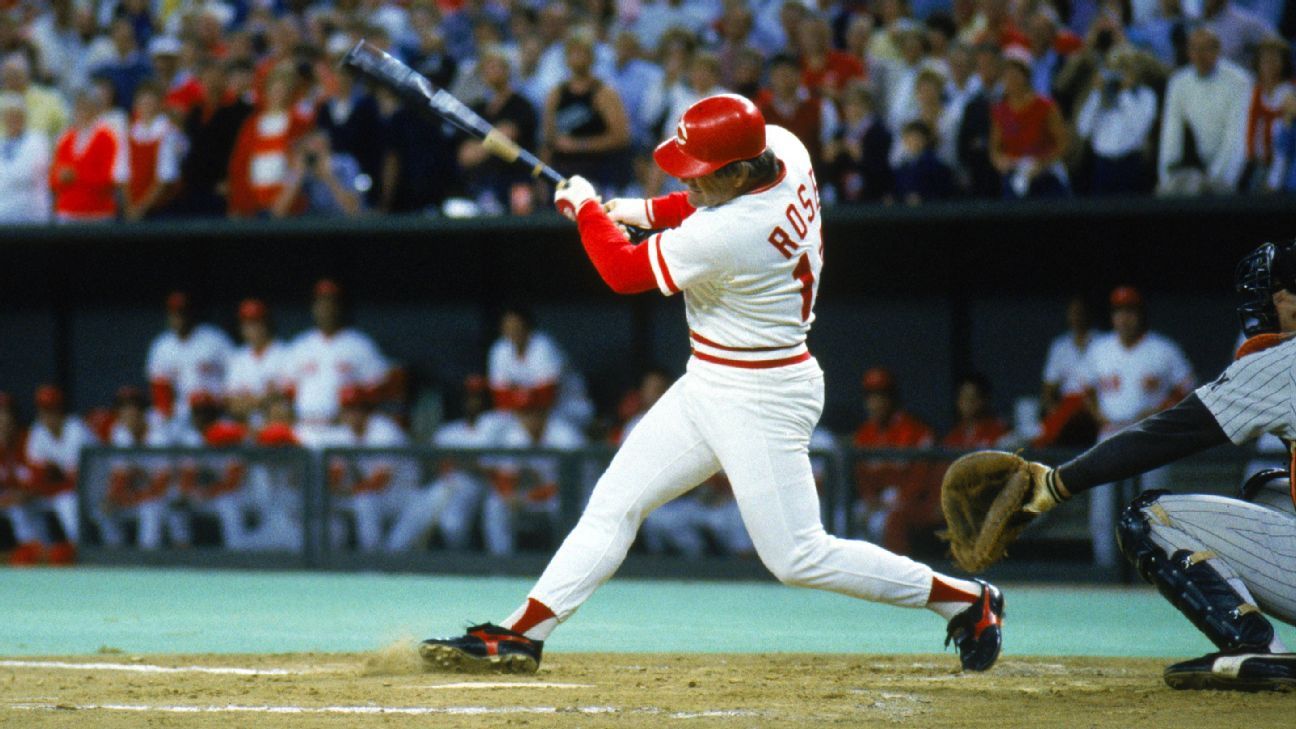 You love baseball. Tim Kurkjian loves baseball. So while we await its return, every day we'll provide you with a story or two tied to this date in baseball history.
ON THIS DATE IN 1989, Sports Illustrated published a story connecting Pete Rose to gambling in baseball. We know that story. We also know that years later, Rose went to prison for five months for tax evasion. The day he got out, his son Pete Jr. picked him up at the prison. Pete's first question to his son was, "Is there a batting cage near here?"
"Yes," Pete Jr. said, "there's one right down the street."
The full "On this date …" archive
Off they went. Pete said to the proprietor of the batting cage: "What's the fastest machine you have here?" The proprietor pointed and said, "That one: 85 mph." So Pete Rose, age 49, incarcerated for five months, stepped into the batting cage.
By now, all the people at the batting cage realized that the Hit King was in the cage. They all gathered around. The first pitch came in at 85 mph. If you have never seen 85, or haven't seen it in a while, that ball is moving at an exceptional rate of speed. Pete swung at the first pitch and hit a line drive directly back at the pitching machine, a rocket, a seed, an absolutely textbook swing.
He looked at the assembled crowd, threw his bat to the ground, and said, "Some things never f—ing change" and walked away.
Other baseball notes from March 27
In 1984, the Astros released pitcher J.R. Richard. He would never pitch again. He started the 1980 All-Star Game, but suffered a stroke that year and was never the same. He was 6-foot-8, threw in the upper 90s with a slider, said Larry Parrish, who hit against him many times, "that was like Pac-Man, it just followed you, it gobbled you up, like, 'Ah, ah, ah, ah, ah!"'

In 1973, the Braves released pitcher Denny McLain, ending his career at age 28. He was the last 30-game winner, going 31-6 for the 1968 Tigers. That season, more than once he left his team the night after making a start and would fly to another city and play the organ at a club while his team continued its homestand.

In 1951, Dick Ruthven was born. In 1976, he gave up 112 runs, all earned.

In 1973, pitcher Jim Perry became the first player to use the 10-and-5 clause in his contract — 10 years in the league, the past five with the same team — to appeal a trade. In 1982, in a winter meetings preview issue for The Dallas Morning News, I wrote that Royals pitcher Larry Gura likely wouldn't be traded because he was a "5-and-10 guy." I should have written "10-and-5 guy" because my editor rewrote, and it appeared in the newspaper as "pitcher Larry Gura likely won't be traded because he's 5-ft-10."
David Price to pay Los Angeles Dodgers minor leaguers $1,000 to help during coronavirus
David Price has yet to throw an official pitch for the Los Angeles Dodgers, but he has already made a profound impact throughout their organization.
The All-Star left-hander will pay each minor league player who is not on the Dodgers' 40-man roster $1,000 for the month of June, sources confirmed to ESPN. The remarkable act of generosity will impact just over 200 people facing unprecedented difficulty.
The development was first reported by Francys Romero.
The Dodgers had already committed to continuing their $400-a-week payments to minor league players — domestic as well as those training out of the team's academy in the Dominican Republic — through the month of June, but the Oakland Athletics recently decided to cease those payments at the end of this week and other teams might soon follow suit.
Minor League Baseball is unlikely to take place in 2020 and upwards of 1,000 minor league players could end up getting released over the coming days. Most of those cuts would've taken place at the end of spring training had the coronavirus pandemic not shut down sports in the middle of March, but the strong likelihood of a reduced draft and fewer affiliates in 2021 and beyond puts minor league players in an especially precarious situation.
Most minor league players earn below minimum wage and are not protected by the Major League Baseball Players Association, which is engaged in a contentious negotiation with MLB over compensation for what will at most be a significantly shortened season in 2020. Players were previously given an advance of $170 million for April and May and won't receive any more than that if the season is cancelled.
Price, the No. 1 overall pick out of Vanderbilt in 2007, joined the Dodgers alongside Mookie Betts in a five-player deal with the Boston Red Sox on Feb. 10. If baseball is played this summer, the former Cy Young Award winner and five-time All-Star will enter the fifth season of a seven-year, $217 million contract he signed in December of 2015.
Shortened MLB amateur draft to remain at New Jersey studio
NEW YORK — Major League Baseball's shortened amateur draft will remain at the MLB Network studios in Secaucus, New Jersey, for the first round on June 10.
MLB shortened the selections to five rounds and 160 picks in response to the new coronavirus pandemic, by far the fewest since the draft started in 1965. Before the pandemic, the draft had been scheduled to take place at Omaha, Nebraska, ahead of the now-canceled College World Series.
Clubs were able to reduce the draft as part of their March 26 agreement with the players' association. The combined value of their signing bonus pools is $235,906,800 and the amount of signing bonus pool money eliminated is $29,578,100.
The first 37 picks will take place on the opening day and the remainder on June 11. The deadline for selected players to sign was pushed back from July 10 to Aug. 1.
Detroit picks first, followed by Baltimore, Miami and Kansas City.
Houston was stripped of its first- and second-round selections as part of MLB penalties for using a video camera to steal catcher's signs. Boston lost its second-round selection for improper use of video.
Baseball's draft was long held by conference call at the commissioner's office in New York. The draft was moved to Lake Buena Vista, Florida, for 2007 and 2008.
Residents of the United States, Canada and Puerto Rico are subject to the draft.
As part of the agreement with the union, slot values to determine signing bonus pools will remain at 2019 levels and players passed over in the draft are limited to signing bonuses of $20,000 or less. That might cause more high school players to go to college. And because of the NCAA's limit of 11.7 baseball scholarships, the change may lead to more prospects attending junior college.
All but six of last year's sixth-round picks signed for $200,000 or more. Chicago Cubs catcher/first baseman Ethan Hearn had the highest bonus of the round at $950,000, deciding to sign rather than attend Mississippi State. San Francisco signed right-hander John McDonald, selected 326th on the 11th round, for $797,500, and Arizona gave left-hander Avery Short, picked 362nd on the 12th round, $922,500.
Among 1,082 players who were in a big league game last year after coming through the draft, 180 were first-round picks and 589 were selected during the first five rounds, according to the commissioner's office. There were 204 from rounds six to 10, 102 from rounds 11-15 and 63 from rounds 16-20. Just 74 were from rounds 21-30 and only 50 from rounds 31-50.
Once unlimited, the draft was cut to 50 rounds in 1998 and to 40 rounds in 2012.
Signing bonus pools started in 2012 and limit the amount of money teams can spend. Each slot in the first 10 rounds is a signed a value — the range last year was $8,415,300 down to $142,200 — and each team's values are added to a form a pool. Signing bonuses in the first 10 rounds count against the pool along with the amounts above $125,000 of players selected after the 10th round or who were bypassed in the draft and then signed.
A team that exceeds its pool is taxed, and a club more than 5% above loses a first-round draft pick the next year — a threshold never reached.
The union turned down a proposal that would have kept rounds 6-10 in exchange for cutting their slot values in half.
Teams drafted 1,217 players over 40 rounds last June.
As part of the deal with the union, teams have the right to cut the 2021 draft to as few as 20 rounds. That fits in MLB's proposal to cut their minimum minor league affiliations from 160 to 120 in 2021, allowing each organization to drop one farm team.
For both 2020 and '21, only up to $100,000 of each signing bonus is due within 30 days of approval and 50% of the remainder on July 1 in both 2020 and '21.
Tim Kurkjian's Baseball Fix – The day Mike Schmidt realized it was time to go
You love baseball. Tim Kurkjian loves baseball. So while we await its return, every day we'll provide you with a story or two tied to this date in baseball history.
ON THIS DATE IN 1989, Mike Schmidt retired.
Schmidt had played in 42 games that season, he was tied for second in home runs (six) by National League third basemen at the time, and he was the active career leader in homers, RBIs, runs scored and total bases. But, at age 39, his recent play had been unacceptable to him.
The full "On this date …" archive
"We were on the bus, leaving [San Francisco's] Candlestick [Park] for the airport to fly to San Diego," said Bob Dernier, then a Phillies outfielder. "Mike was in the back of the bus with Chris James, Bedrock (Steve Bedrosian) and a few others. Mike looked at us and said, 'I think that's it, I'm done.' Chris James started bawling. He said, 'No, no, Mike, you can't!' Mike told me, 'I can't catch. I can't throw.' He was embarrassed about his defense. Defense was so important to him. He used to tell me that the All-Star team should be the Gold Glove team. He valued that more than anything, even when he was leading the league in home runs."
Schmidt won 10 Gold Gloves; only Brooks Robinson (16) won more at third base. Schmidt led the National League in home runs eight times, which remains an NL record. He finished with 548 homers, most by a third baseman. His combination of power offensively and grace and skill defensively was breathtaking; indeed, he could play the piano and move it, too. Schmidt won three MVPs, including back-to-back years, and finished third two other times. By most measures, he is the greatest third baseman ever.
And yet it was never enough for Schmidt; he was constantly fretting about his swing. Nearly 30 years after retirement, he told me, "When I was struggling, if you had told me that I should set up in the box with my back to the pitcher, I would have tried it."
Schmidt was hitting .203 at the time he retired. So he accompanied the team to San Diego that night, and officially announced his retirement the following day. It was so emotional. He broke down several times.
"As soon as Mike said he was done, Bedrock and I started planning the celebratory party," Dernier said. "We were going to get Harry [Kalas, the club's legendary play-by-play broadcaster] to speak, we were thinking about getting some Heinkens on ice. We had a great party. We were all so sad to see him go, but he had so much pride in his play, who was I to argue with that? I saw him do some amazing things. Mike was just mesmerizing."
Other baseball notes for May 29
In 1981, Ellis Valentine was traded from the Expos to the Mets. In 1982, Valentine pointed his right pinky finger in my face and said, "I have more talent in this finger than most players have in their entire body."

In 2010, Roy Halladay pitched a perfect game. He won the NL Cy Young Award that year. He had a replica Cy Young made for his catcher, Carlos Ruiz, because, Halladay said, Ruiz had so much to do with his success.

In 1941, Joe DiMaggio struck out for the third time all year. He would finish the season with 30 homers, 13 strikeouts and a 56-game hitting streak. I wrote that stat 35 years ago, and a radio guy got a little mixed up, saying, "I just read the other day an amazing stat: In the year that Babe Ruth hit 60 homers, he struck out only 13 times." Yikes.