SoFi Stadium construction ongoing in L.A. within 'Safe' guidelines
Construction for SoFi Stadium, the future home of the Los Angeles Rams and Chargers, is ongoing amid the statewide "Safe at Home" orders in California.
The directives put in place at the city and state levels last week allowed for the continuation of commercial construction, though it's a fluid situation.
There remains the possibility that fewer exceptions to the stay-at-home orders are granted in response to the growing pandemic, which could postpone the Inglewood project and the renovation of Los Angeles' Dodger Stadium, construction for which also continues.
"We're going to do whatever we need to do to save lives," Alex Comisar, a spokesman for L.A. Mayor Eric Garcetti, said Wednesday. "We'll continue to take direction from public health experts from the county and the [Center for Disease Control and Prevention] to determine what policies need to be put into place. With any activity that's going on, we expect folks to take into account proper social distancing."
In a statement released Friday, representatives for SoFi Stadium said construction "continues moving forward with an increased emphasis on already existing elevated health and safety protocols."
SoFi Stadium, a revolutionary indoor-outdoor venue that will sit at the center of a 298-acre development, was deemed 85-percent complete around late January and is still expected to open with Taylor Swift concerts July 25 and 26. All non-essential employees are working from home, while job-site personnel are working with their general contractors to increase health and safety protocols, according to stadium representatives.
In a conversation posted to YouTube by the Dodgers on Tuesday, team president Stan Kasten said construction workers at Dodger Stadium are "fully compliant with all of the regulations of the county, city and state, as well as the CDC and [World Health Organization]. All of those things are super important to all of us. But consistent with all of that guidance, the work is continuing."
The Dodgers are undertaking a $100 million renovation that will include a two-acre center-field plaza, upgraded outfield pavilions, a new sound system and a series of elevators and escalators that will provide a 360-degree connection around the park's perimeter. Field-facing renovations are complete, Kasten said. In recent days, construction has slowed and fewer workers have been onsite at times, a function of both the season being delayed and nationwide protocols to combat coronavirus.
SoFi Stadium is set to host the Rams and Chargers over the final five months of the 2020 calendar year, then stage the Super Bowl in February of 2022. But stricter restrictions by the state of California, L.A. County or the city of Inglewood could shut down construction and force both teams to scramble for temporary homes for the fall. The project had already been delayed a year due to heavy rainfall in early 2017.
On March 17, a day after the L.A. County health officer prohibited gatherings of 50 or more people, the State Building and Construction Trade Council of California sent a memo to its affiliates providing safety measures that included adding sanitary facilities, bringing food from home, maintaining separation of at least six feet and performing deep cleanings on jobsites. The memo stated: "If these guidelines cannot be met and a project is in tight quarters, consideration should be given to shutting the construction project down until safer conditions exist."
Dodgers trainer to stream workouts for fans at home during pandemic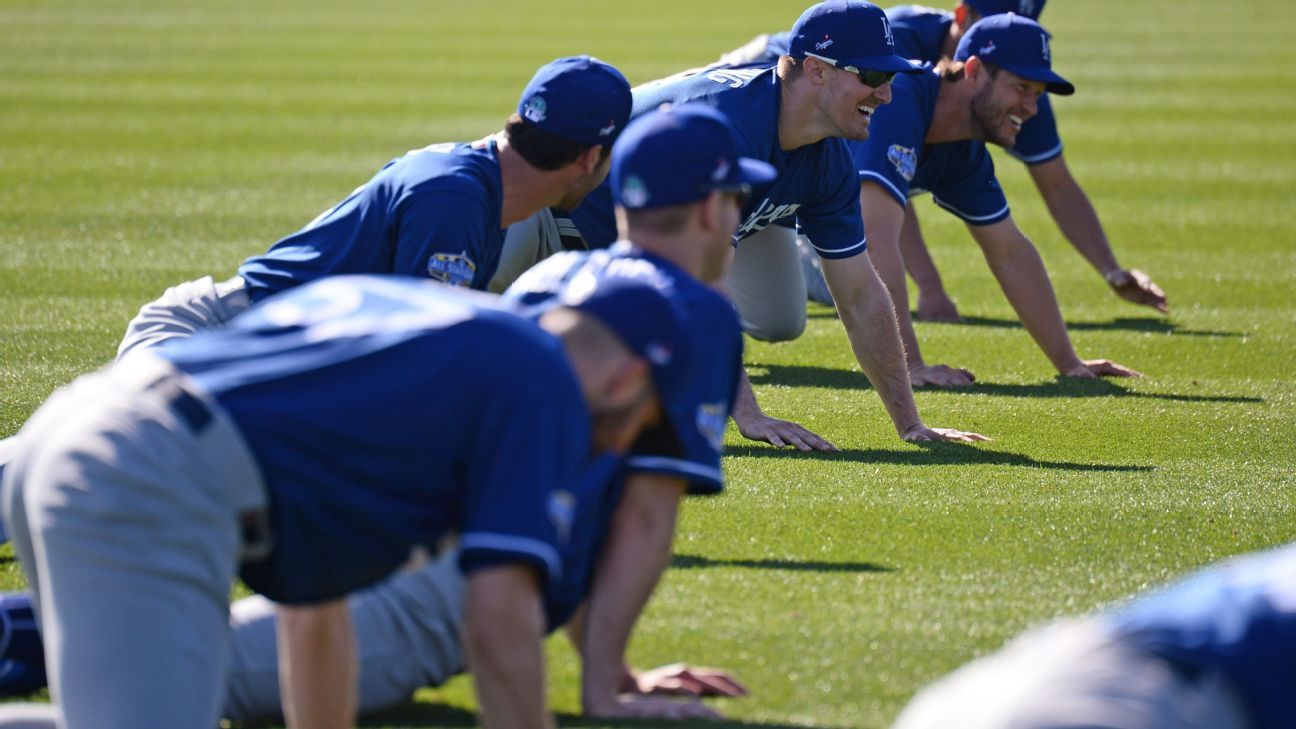 LOS ANGELES — Twice a week, beginning Friday morning, Brandon McDaniel, the Los Angeles Dodgers' director of player performance, will stream 30-minute workouts through the team's social media outlets for everyone to partake.
He wants to help fans stay in shape while they're stuck at home during the coronavirus pandemic. He wants to help them keep a level head.
"Psychologically, fitness is huge right now," McDaniel said. "To be locked in a house, or wherever you might be, being fit and having the ability to exercise and release some endorphins and get some hormones going is really good for your mental health right now."
McDaniel's episodes will air every Monday and Friday at 8 a.m. PT until the 2020 season resumes, appearing on the Dodgers' YouTube, Facebook and Twitter pages.
McDaniel is connecting similarly with his players, who are spread all over the country with Dodger Stadium essentially closed and the team's spring training facility idle.
McDaniel and three members of his staff divided the 40-man roster and designed personalized workouts for each player based on his position, age, health and role. Some of the players, such as Clayton Kershaw, have the benefit of in-home gymnasiums. Several others don't even have access to one.
"The workouts that we're going to provide for our fan base," McDaniel said, "are literally the same workouts that we're giving some of our players."
Nobody can pinpoint when Major League Baseball will get going again, but McDaniel assumes the second version of spring training will be relatively short. He wants his players to take that into account while approaching these next few weeks, but he also wants them to guard against overworking themselves for a season that might be delayed much longer. He referred to the balance as "hovering."
"The scar tissue that we spent all of spring training breaking through and building up tolerance to — we don't wanna lose that, even though we're gonna lose a ton of the intensity and a ton of the volume that spring training brings with it," McDaniel said.
Both workouts, for players and for fans, might resemble popular home exercise regiments like P90X. Lots of lunging and jumping and planking will be involved; household items like water jugs or soup cans might be utilized in the absence of traditional dumbbells and trap bars.
McDaniel recently challenged his players to invent unique ways to work out in their own homes.
He's anxiously awaiting the results.
"I fully intend the guys will have some fun with this and probably will show some household appliances that maybe they aren't really using, but to get a rise or maybe win a prize, they'll show us something funny," McDaniel said.
Giants owners, executives pledging additional $700K to game-day staff
The San Francisco Giants' owners and executives are pledging an additional $700,000 in personal donations to support game-day employees who aren't working with the baseball season postponed because of the coronavirus.
President and CEO Larry Baer said Wednesday the club will also reach out to players about contributing. Major League Baseball announced last month that each of its 30 teams would commit $1 million to pay event staff.
Baer and team vice president and general counsel Jack Bair shared details of the Giants' plan. It strives to support those who serve the fans, "which is the lifeblood of our sport and business," Baer said.
The Giants established two benefit programs. Each worker employed by outside companies and vendors, such as those at concession stands, parking attendants and on-site retailers, will be entitled to a one-time grant of $500 — and about 2,000 people are expected to accept it.
The other 1,300 people who work directly for the club in game-day operations will receive the $500 and also be part of an ongoing plan that will pay them between $100 and $250 per month based on tenure and hours worked last year for the team. Those employees are being encouraged to apply for unemployment benefits.
Baer said Giants full-time employees are working from home and ballpark projects are on hold during California's shelter-in-place order.
Shin-Soo Choo donating funds to Rangers minor leaguers
Texas Rangers veteran Shin-Soo Choo bounced around from Grand Chute, Wisconsin, to Tacoma to Buffalo in his first three seasons in baseball, so he knows firsthand how tough life is for minor leaguers.
So Choo is opening his pockets to minor leaguers in the Texas organization who are struggling because of the coronavirus shutdown. The 37-year-old designated hitter is giving $1,000 each to approximately 190 players in the Rangers' farm system.
"I came here with nothing, but baseball has given me a lot since," Choo told Naver Sports of South Korea. "Minor league players are the future of our organization. I just hope that they can fight through and overcome this difficult time."
Choo, who was a teenager out of South Korea when he signed his first contract with the Seattle Mariners in 2004, shared a text exchange he had with outfielder Eli White, who played with Triple-A Nashville last season.
"Hey, Choo, this is Eli," White texted. "Thanks for helping me out with the per diem checks. It is going to help my wife and I out a lot."
Choo's response: "Eli don't worry about money. Just keep playing baseball. Let me know if you need something more."
Major League Baseball announced Tuesday that it would pay all minor leaguers a minimum of $400 per week — plus medical benefits — through the end of May.
Choo, an All-Star in 2018, was slated to earn $21 million this season, the final year of a seven-year, $130 million deal with the Rangers.