Construction worker at new Raiders stadium tests positive for COVID-19
A construction worker at the Raiders' new Allegiant Stadium in Las Vegas has tested positive for the coronavirus.
Mortenson-McCarthy Builders said Wednesday the worker had not been in close contact with any other project worker and had been offsite since last week. The worker is self-isolating for 14 days and won't return to work until cleared.
Mortenson-McCarthy says the area of the stadium where the worker was assigned and the surrounding vicinity were immediately shut down and sanitized. Work in other parts of the stadium has been unaffected and the stadium is still scheduled to be completed this summer.
Fox5 in Las Vegas first reported the news.
The Raiders are set to begin play in the $1.9 billion, 65,000-seat indoor stadium this fall.
The Associated Press contributed to this report.
NFL's Dr. Allen Sills says certain conditions must be met for season to start on time
Although the NFL remains hopeful of starting its regular season on time and in front of packed stadiums, its chief medical officer, Dr. Allen Sills, said Thursday that certain prerequisites — including widespread testing for coronavirus — must be met for that to happen.
Sills' comments to NFL.com came two days after the league's general counsel, Jeff Pash, told reporters on a conference call that the "expectation" is to begin the regular season as scheduled in September.
Sills acknowledged that outcome is just one of many given the fluidity of the pandemic's effect and how the country continues to try to deal with it.
"I think what was implied there [by Pash] was to say we are not at a point where we are saying that is absolutely not going to happen so we should continue our planning and preparations as if we're going to be able to do that," Sills told NFL.com. "But obviously we're going to have to evaluate that along the way. And follow what the recommendations are from public health officials and from our infectious-disease experts and others."
Among the conditions Sills noted must be met for the NFL to begin practices and games on time is the availability of point-of-care coronavirus tests — which yield quick results and can be done off-site from hospitals, for example — and the removal of gathering restrictions due to the pandemic.
"As long as we're still in a place where when a single individual tests positive for the virus that you have to quarantine every single person who was in contact with them in any shape, form or fashion, then I don't think you can begin to think about reopening a team sport," Sills told NFL.com. "Because we're going to have positive cases for a very long time."
Football has been the one major sport whose calendar has been unaffected by coronavirus due to the fact that it takes place in the fall. Others such as basketball, baseball and hockey have been put on hold for the immediate future.
Sills said the NFL won't act in a vacuum when it decides on how it will handle playing games and noted there's no current timeline for when that decision must be made.
"We will make those decisions in consultation with our experts at the time," Sills said. "That decision will not be made in isolation. The NFL will not be charting a course different than other professional sports, other parts of society — college sports, universities, businesses."
Dez and Dak back together again and more NFL social media rumors
Tony Boselli recalls hospital stay — 'I don't want to die here'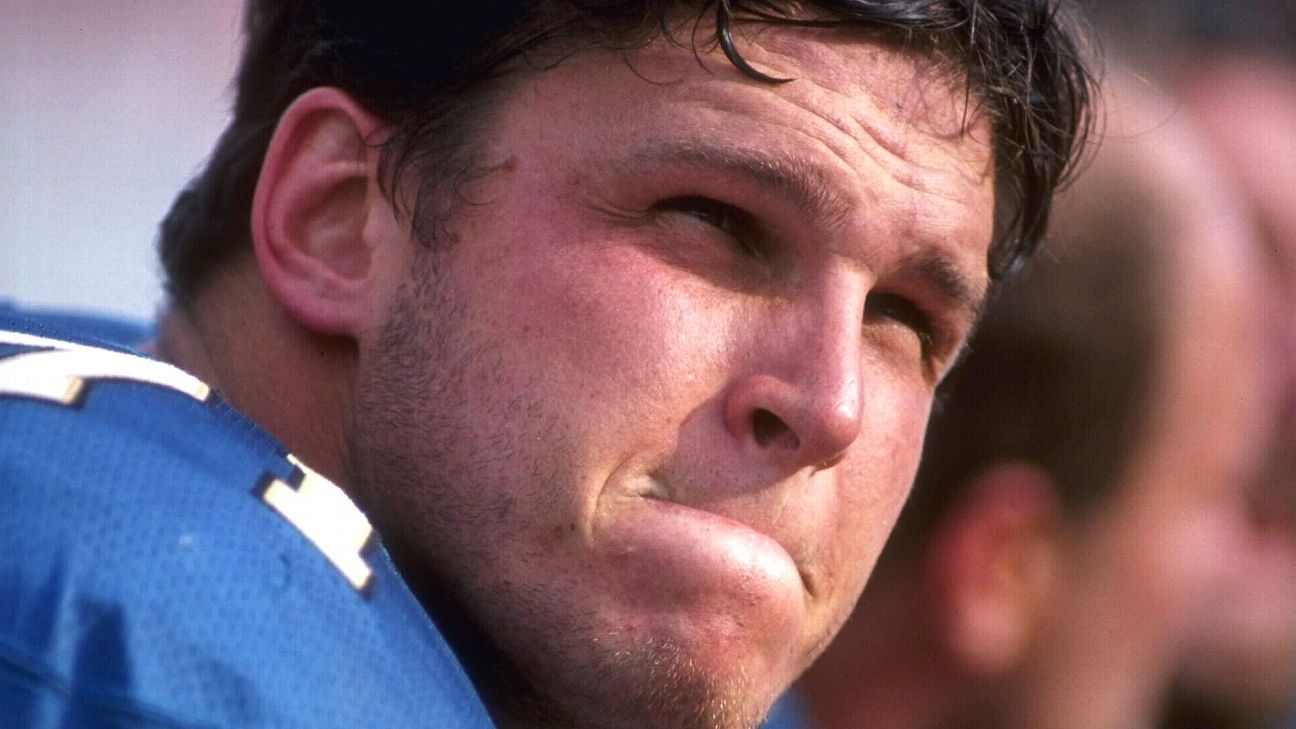 JACKSONVILLE, Fla. — Even when his symptoms worsened and he started having trouble breathing, Tony Boselli still thought he'd be treated with IV fluids and given some medicine when he arrived at a hospital here.
It wasn't until doctors told him he needed to be in the intensive care unit that he realized his condition was serious.
The former Jacksonville Jaguars left tackle ended up spending five days in Mayo Clinic while he fought COVID-19. About half of his stay was in the ICU, and he said it was shortly after he arrived there that he discovered he could be in even deeper trouble.
"It was kind of fuzzy, but I remember [the pulmonologist] saying, 'If we don't get your oxygen stabilized we're going to have to go to the next level,'" Boselli said. "I remember laying there thinking, 'What do you mean, if this doesn't work?' He says, 'We don't know what direction this is going to go.'
"I don't know if I ever was like I thought I was going to die, but I remember having the conversation with myself: I don't want to die here."
Boselli, a Pro Football Hall of Fame finalist the past four years, said his oxygen level improved enough over the next 24 hours that he didn't have to find out what that next level would have been. That was the beginning of his recovery process, and he improved enough daily that he was discharged Tuesday without needing additional oxygen at home.
Boselli, 47, said he first started feeling ill March 16, but he thought he had a cold or allergies. Then he felt much worse two days later. That's also the day he said he got a call and was told he had been around someone who had tested positive for COVID-19. He phoned his doctor and got tested that day. Two days later he received the test results that revealed he had COVID-19.
He said his symptoms worsened over the next four days, and after a rough night in which he couldn't sleep and was wheezing heavily, his doctor sent him to Mayo Clinic. His family was in self-quarantine because of his diagnosis — he said his wife, Angie, was also diagnosed with COVID-19 but had only mild symptoms — so the only way to communicate over the five days he was hospitalized was via text messages whenever he had the energy.
"The only people who could come in were health care workers, and they had to be in their full protective equipment," Boselli said. "They were great, though. Those doctors and PAs and nurses and techs, everyone, they're amazing. These people were absolutely amazing. Superstars."
He said he's still weak and battling fatigue, and hasn't quite shaken his cough. He still doesn't have an appetite, either — "I had an egg for breakfast. An egg," he said jokingly — and has lost 20 pounds over the past two weeks.
He tested negative for the virus Wednesday, and is awaiting the result of an additional test taken Thursday, but he said his doctor expects that test to be negative, too. Once he gets those results, Boselli said he's planning on getting back on his bicycle to slowly gain back his strength.
"I'm not going to be running any marathons any time soon," he said.
"It's been quite a few weeks but I'm feeling better. I'm home from the hospital and I'm on the right side of this thing now."