Stubhub furloughs employees, other ticket sites face challenges in wake of pandemic
The ticketing giant Stubhub has begun furloughing employees, making it the first major ticketing company to publicly admit to significant cost-cutting moves in the wake of financial damage created by the coronavirus pandemic.
Following the postponement or cancellation of hundreds of sporting events — including 448 NBA and NHL games, along with the entirety of the MLB season and March Madness — the ticketing industry has been grappling with the massive financial implications of empty arenas and other live-event venues, including all spectator sports in the United States.
In a statement to ESPN, StubHub said, "Given the impact of the coronavirus on the live-events industry, we have made the difficult but responsible decision to furlough a portion of our employee base." The company emphasized it will "continue to support our customers and partners."
ESPN reported last week that Stubhub, along with other major ticketing sites, would provide fans who purchased tickets to canceled events a full refund or "a coupon worth 120% of their original order to use on a future order."
While StubHub would not provide specifics on the number of people furloughed, the entertainment industry site Celebrity Access, citing an internal email seen by a source, reported StubHub, "furloughed as much as 67% of their workforce," leaving less than 150 out of roughly 450 staffers until "at least June." Stubhub did not dispute these numbers when contacted by ESPN.
TicketNetwork is another big player in the ticketing resale business, working mostly with brokers but also directly with fans. In an emailed response to ESPN's specific questions about whether it has furloughed or laid off any employees, a company spokesman said, "As an organization, once we saw how the pandemic would affect our industry, TicketNetwork started making adjustments and cost cutting measures to ensure the stability of our organization. We continue to support our employees, customers and partners with full capabilities." He continued, "We are doing everything we can to ensure the organization is ready to thrive when these unprecedented times are over."
Ticketmaster and SeatGeek told ESPN they have not furloughed or laid off any employees.
Ticketmaster's parent company, Live Nation, is now facing a credit downgrade after taking on about $3.3 billion in long-term debt last year, according to S&P Global, a financial credit rating agency. "While the extent and duration of the impact on the live events industry are uncertain, we believe Live Nation Entertainment Inc.'s operating performance could be hurt by the growing number of postponed events, lower-than-expected attendance, or any future cancellations," S&P Global announced last week.
In an email to ESPN, a SeatGeek spokesman said, "Working in such a dynamic space, our team is used to scaling costs up and down based on demand" but pointed out that, "on the sports side we have seen some of the biggest teams and leagues in the world already make paycuts to avoid layoffs, and on the entertainment side we have seen some major promoters go as far as to layoff or furlough more than 75% of their staff. It's certainly something every business in the industry has to think about right now."
SeatGeek said not enough focus has been put on the impact to the live entertainment industry. "Not just the ticket providers but also the small local venues, or the hundreds of thousands of people who work in the concessions stands, or on the tour bus, or in the box office. Without government help, we suspect that many of the smaller venues and entities in the live events space are going to struggle to make it through COVID-19," the spokesman said.
TicketNetwork agreed. "The COVID-19 pandemic has hit our industry particularly hard. With the mandate to cancel large gatherings of people, forcing live events such as sporting events, theaters, and concerts to be cancelled or postponed, our business has taken a significant hit in revenue generation. We hope Congress recognizes their opportunity to help impacted industries like ours by swiftly approving and implementing the stimulus package currently in front of them that will help our employees through these difficult times," the spokesman said.
Vivid Seats and the international ticketing giant viagogo did not immediately respond to ESPN's emails on Wednesaday. Viagogo dominates the resale marketplace outside the United States and just completed its $4.05 billion purchase of Stubhub from Ebay last month.
StubHub had long been the leading player in the online ticket resale business until Vivid Seats began eating away at StubHub's market share in recent years, according to multiple sources working in the ticket industry. Vivid Seats is an advertiser with ESPN.
Buster Olney's top 10 shortstops — Tough calls at a loaded position
Before we get to the ranking of baseball's best shortstops, a story about an All-Star second baseman.
A few years ago, the Houston Astros' staff encouraged batting champion Jose Altuve to be more patient at the plate. The staffers assured Altuve they weren't asking him to hunt walks, but they believed if Altuve could refrain from swinging at some really bad pitches, he would put himself in better ball-strike counts, draw a few more walks and compel opponents to throw the ball over the plate. In this way, he'd give himself a better chance to do damage when he did swing.
If pitchers and catchers believe you'll hack at pitches outside the zone, the staffers noted, they'll keep working outside the zone. Altuve adjusted, and yep, he's doing more damage.
It's remarkable how many among an exceptional group of shortstops in this era could be helped by making the same adjustment that Altuve made — and for some of them, it could be the difference between being really good and being the best.
Case in point: the Cubs' Javier Baez.
Former catcher, longtime coach Mike Ryan dies at 78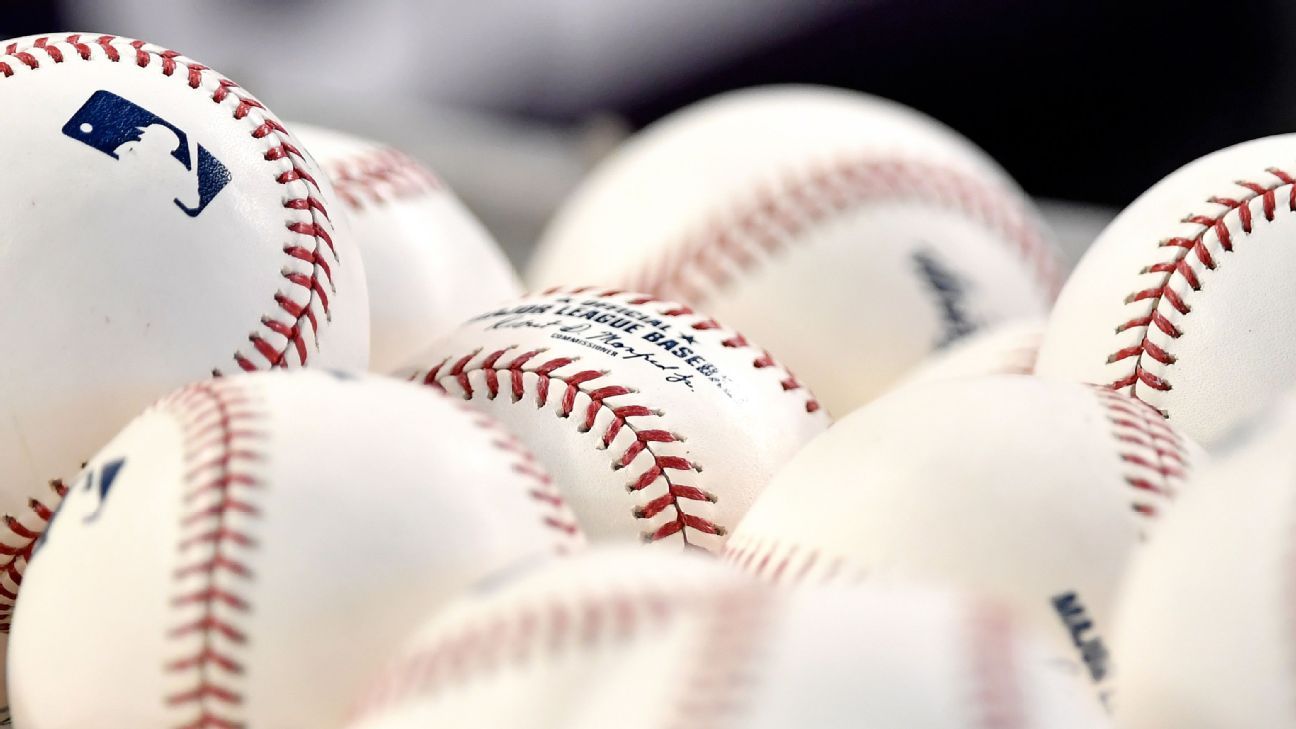 BOSTON — Mike Ryan, the backup catcher on the Boston Red Sox's 1967 "Impossible Dream" team during a 35-year career in professional baseball, has died. He was 78.
The Red Sox said Ryan died in his sleep Tuesday in Wolfeboro, New Hampshire.
A native of Haverhill, Ryan appeared in 636 games with the Red Sox, Phillies and Pirates from 1964-74. He was Boston's backup catcher for the AL championship team in '67, going hitless in his only two World Series at-bats when the Red Sox lost to the St. Louis Cardinals in seven games.
In his career, he had a .991 fielding percentage and threw out 43.6% of runners attempting to steal a base.
Ryan went on to manage the Pirates' Single-A affiliate and work for the Phillies as a minor league catching instructor and Triple-A manager. He also was the bullpen coach in Philadelphia for 16 years, including the 1980 World Series championship team.
White Sox right-hander Michael Kopech opts out of 2020 season
Chicago White Sox pitcher Michael Kopech has opted out of the 2020 season, the team announced Friday.
"Michael Kopech has informed us of his decision to not participate in the 2020 season," GM Rick Hahn said. "We recognize that reaching this decision is incredibly difficult for any competitive athlete, and our organization is understanding and supportive."
The fire-balling right-hander is coming back from Tommy John surgery in September 2018. He hit triple digits on the radar gun during his first spring training appearance.
But the 24-year-old missed the start of summer camp earlier this month due to what Hahn said at the time was a personal matter.
The team also said star third baseman Yoan Moncada and reliever Jose Ruiz were placed on the 10-day injured list because of unspecified ailments.
The Associated Press contributed to this report.