Cowboys' Travis Frederick retires at 29 after battling autoimmune disease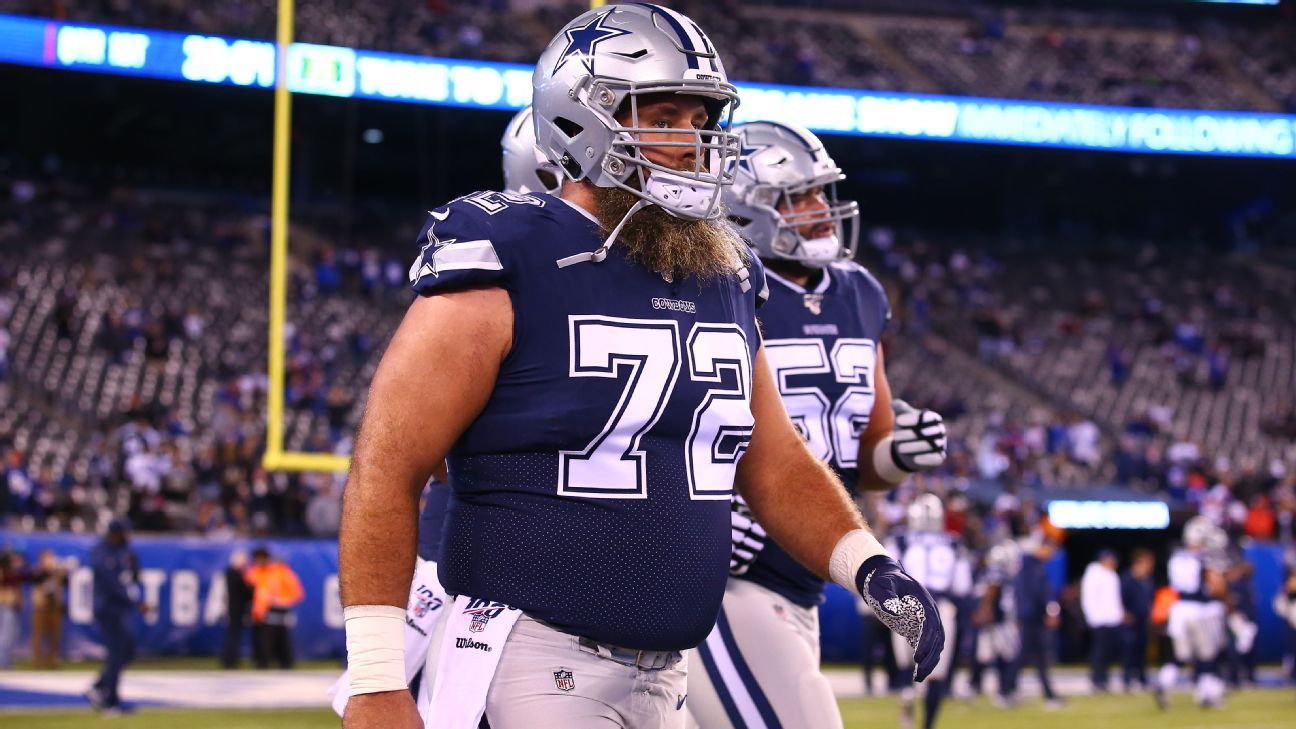 FRISCO, Texas — Dallas Cowboys Pro Bowl center Travis Frederick announced his retirement via Twitter on Monday.
The move came as something of a surprise to the Cowboys, but sources said there had been rumblings that Frederick, who just turned 29, had been contemplating walking away.
In his announcement, Frederick made reference to his battle with Guillain-Barré syndrome, an auto-immune disease that affects the nervous system, which knocked him off the field in 2018. Frederick lost strength and some motor skills but was cleared to return last year and started 16 games.
Numerous times throughout his recovery, Frederick said his goal was to not just return to the game but continue to play at the highest of levels. Frederick said in his statement he considered retirement as he battled GBS, but could not walk away without getting back to football.
"I made my return to the field, played well overall, and was selected to the Pro Bowl, but it was a difficult year for me," Frederick said in his announcement. "Each day I faced a struggle: I could no longer perform at my highest level. Playing 'well' is not what I expect of myself and is not what my teammates deserve. Because of this, I know my days as a football player are done. I am proud of what I have accomplished in my career, and I walk away with my head held high."
— Travis Frederick (@tfrederick72) March 23, 2020
The Cowboys selected Frederick in the first round of the 2013 draft, No. 31 overall, and he started every regular-season game (96) he played, as well as three playoff games. He was named to the Pro Bowl in 2014-17 as well as 2019 and was a first-team All-Pro pick in 2016.
"Travis Frederick, by the nature of his center position, was the core piece of what I believe to be one of the most talented and skilled NFL offensive lines that has been assembled," Cowboys owner and general manager Jerry Jones said in a statement. "His leadership ability, production and intelligence put him at the top level of interior offensive linemen in our league for many years. At the pinnacle of his success, his career on the field was only exceeded by a rare display of courage and determination in overcoming a life-threatening illness and returning to the game — a challenge that could only be completed by a person with rare levels of perseverance and strength."
The Cowboys signed Frederick to a six-year, $56.4 million extension before the 2016 season that included $28 million in guaranteed money. In theory, the Cowboys could look to recoup signing bonus money because of his retirement announcement.
Last week, the Cowboys signed Frederick's backup, Joe Looney, to a one-year deal worth $2.4 million. Looney started every game in Frederick's absence in 2018 and performed well. The Cowboys also have Adam Redmond under contract as a potential backup, and it is possible Connor Williams, who has started most of the past two seasons at left guard, could get some work at center after he returns from a torn anterior cruciate ligament he suffered late last season.
"Travis is an incredible player, teammate and leader, who inspired us with his work ethic and perseverance, especially after knowing what he went through in 2018," Cowboys linebacker Sean Lee told ESPN. "To go from having trouble walking to the Pro Bowler he is, was just incredible to watch. His play on the field and his dedication to helping the community was second to none and he'll be dearly missed. I'll miss him in the locker room and competing against him in practice, but I know he's excited for what's next in his life and I'm happy for him."
Through his Blocking Out Hunger Foundation, Frederick has in recent days been focused on aiding children's access to food during the COVID-19 crisis that has closed schools for an extended amount of time. Along with some teammates and coaches, Frederick pledged to match up to $40,000 in donations, noting that $2 feeds a child for a day and $25 feeds a child for two full weeks.
In 2017, Frederick was the Cowboys' nominee for the Walter Payton Man of the Year award.
"As a contributor to our community, a family man and a professional person, he has distinguished himself as an exemplary representative of this organization," Jones' statement continued. "And for the rest of his life, when his name is mentioned in the same sentence with the Dallas Cowboys, he will be lifting the standards of excellence and esteem that has characterized the history of our proud franchise."
Retired QB Eli Manning joins Twitter, gets humorous welcome from Tom Brady
Eli Manning creatively announced that he is joining Twitter by paying homage to the movie "Hoosiers" on Saturday, and Tom Brady chimed in with a humorous touch.
To paraphrase Jimmy Chitwood, "I don't know if it'll make any change, but I figure it's time for me to start playing social media." pic.twitter.com/Af8IFMOiEQ

— Eli Manning (@EliManning) May 23, 2020
Welcome @EliManning, In typical fashion, you never showed up until the 4th quarter anyway 😜 https://t.co/Wbun1VS2A0

— Tom Brady (@TomBrady) May 23, 2020
Brady's reference to the fourth quarter brings back painful memories for fans of his former team, the New England Patriots. Manning's fourth-quarter heroics in Super Bowl XLII helped the New York Giants defeat the Patriots, 17-14, and dash their hopes for a perfect season.
And then Manning did it again four years later in Super Bowl XLVI, leading the Giants past the Patriots 21-17.
Brady, of course, has experienced more jubilation than heartbreak in Super Bowls. He has played in nine, and is the only player in NFL history to win six.
So the new Tampa Bay Buccaneers quarterback can joke about it now, but at the time, they were two of the most devastating losses of his career.
Manning retired this offseason after spending his entire 16-year career with the Giants.
Chiefs' Patrick Mahomes touches on perseverance in speech to Texas Tech graduates
Patrick Mahomes advised graduating Texas Tech students to "go out and win your Super Bowl" at the university's virtual commencement ceremony Saturday.
"I know this isn't the graduation ceremony that you and your families had envisioned, but that doesn't change the outcome or all the hard work, long hours and sacrifices that you made to achieve this milestone," Mahomes said in his remarks, which lasted less than two minutes. "I know this is sure not how you imagined spending your last days as a student.
"But the world is in a different place today than it was just a few weeks ago. And as Red Raiders, we're built to persevere in difficult times. We've all had to take a moment and learn to adjust to these new challenges. And when the odds are stacked against us, we make a play — and I can tell you this is going to make us all more competitive and hungrier than ever.
"Remember, this is a day to celebrate, to look back on the friends you made, the professors who have changed your life and the memories that you will cherish forever. Whatever plans lie in front of you, I have no doubt you will go out there and show the world what it means to come from Lubbock, Texas. Go out and win your Super Bowl. Congrats, Class of 2020. I can't wait to see what you do next."
Mahomes, who played briefly for the school's baseball team, was the quarterback at Texas Tech from 2014 through 2016 before he entered the NFL draft and was selected by the Kansas City Chiefs in the first round in 2017. He was the NFL MVP in 2018 and was the MVP of Super Bowl LIV.
Since leaving Texas Tech, he has been a supporter of the Red Raiders in all sports and went to Minneapolis last year to watch the men's basketball team in the Final Four.
"He is passionate about sports," Chiefs coach Andy Reid said Friday. "He's passionate about Tech. I just think it's a neat thing that he'd have that opportunity to do it. Pat's a pretty cool cucumber and he's a sharp kid and speaks well so I think he'll have a nice presentation for them."
Alex Smith gave the commencement address at his alma mater, Utah, in 2014 when he quarterbacked the Chiefs. Earlier this month, twin brothers Shaquill Griffin and Shaquem Griffin, who both play for the Seattle Seahawks, delivered the commencement speech to the Class of 2020 for the virtual graduation ceremony at Central Florida.
Texas Tech's graduation ceremonies, which are normally held at the school's basketball arena, were moved to a virtual format because of the coronavirus pandemic.
Former QB Ryan Leaf arrested on domestic battery charge
Former quarterback and current ESPN college football analyst Ryan Leaf was arrested Friday on a charge of misdemeanor domestic battery.
Leaf was arrested around 2 p.m. in Palm Desert, California, and booked into the Larry D. Smith Correctional Facility of the Riverside County Sheriff's Department, according to online jail records.
He was released Friday night on $5,000 bail, according to the records. His next court date is Sept. 25.
Leaf, 44, starred at Washington State and finished third in the Heisman Trophy voting in 1997, when he led the Cougars to the Rose Bowl.
He was the No. 2 overall draft pick of the San Diego Chargers in 1998 but had just a four-year NFL career before his personal life fell apart.
Leaf dealt with drug addiction and spent two years in prison after being arrested in 2012 for breaking into a home in his native Montana to steal prescription drugs and for violating a probation order out of Texas.
After his release, Leaf worked to recover and built a new career in sportscasting.
He was hired by ESPN ahead of the 2019 college football season.
The Associated Press contributed to this report.