Sources — CBA vote set to go to full NFLPA membership next week
The NFL Players Association intends to hold a vote of its full body of players on a proposed collective bargaining agreement next week, a source told ESPN's Dan Graziano.
The vote is still expected despite an NFLPA statement saying its board of representatives has declined to vote on a recommendation in hopes of further meetings with NFL management.
"Today, the NFLPA Board of Player Representatives did not take a vote on the principal terms of a proposed new collective bargaining agreement," the statement read. "The Executive Committee looks forward to meeting with NFL management again next week before the Board takes a vote shortly after."
The NFL has agreed to meet with the NFLPA on Tuesday at the scouting combine in Indianapolis, a source told Graziano, but it's unclear whether that meeting will result in further discussion about terms. The NFLPA board of player representatives then plans to vote that night or Wednesday morning, with the full vote waiting until after the outcome of the board's vote on a recommendation.
An NFL owner, however, told ESPN's Adam Schefter that owners would not be receptive to further talks on the proposed CBA.
Earlier Friday, the NFLPA's executive council voted 6-5 not to recommend the proposal, as first reported by NFL Network and confirmed by ESPN.
A simple majority of the full membership would be required to approve the CBA. Anyone who paid NFLPA dues during the 2019-20 league year — an estimated 2,100 players — is eligible to vote.
Sources told Graziano there has been a discussion among union leaders and union lawyers on this point for several days, and they settled on having a full vote regardless of the recommendation of player reps.
On Thursday, owners approved the CBA, with more than the required three-fourths of the owners voting to ratify.
According to an NFLPA memo released Thursday, here are some of the proposal's key terms that player reps and the union's executive council will weigh when they meet:
• The elimination of any game suspensions strictly for positive marijuana tests.
• A reduction in the number of players subjected to testing for marijuana.
• "Gambling definitions" that ensure players receive a portion of gambling revenue brought in by the league.
• Alterations to training camp, including the "introduction to a 5-day acclimation period," a limit of 16 days in pads and a limit of four joint practices in a three-preseason-games scenario.
Sources also told ESPN's Schefter that the proposal includes a game-day roster increase from 46 players to 48, with overall rosters going from 53 to 55.
Teams would also be allowed to bring back three players from injured reserve each season, sources said, and practice squads would grow from 10 players last season to 12 in 2020 and 14 in 2022.
One of the NFL's best players, Houston Texans defensive end J.J. Watt, took to social media Thursday night to voice his disapproval with the proposal.
Sources previously told ESPN that the proposed CBA would allow the league to expand the regular season from 16 games to 17 at some point in the next four years (although no sooner than 2021) in exchange for financial and other concessions the players have sought in negotiations. One concession is that the preseason would be shortened, sources said.
In addition, sources said that starting in 2020, the playoff field would be expanded to seven teams from each conference, with only one team from each conference receiving a first-round bye as opposed to the two that currently do.
The league's desire to expand the regular season has been met with harsh opposition from many players, who view an expanded season as an unnecessary increase in the risk to players' health and safety. But union leaders have touted to players the benefits of the proposed new deal, which includes a higher percentage of league revenue going to players, improvements in the drug policy and discipline policy, higher minimum salaries, higher per-team spending floors, and relaxed offseason work rules — which were noted in the NFLPA memo.
Source — Broncos DE Shelby Harris back on 1-year deal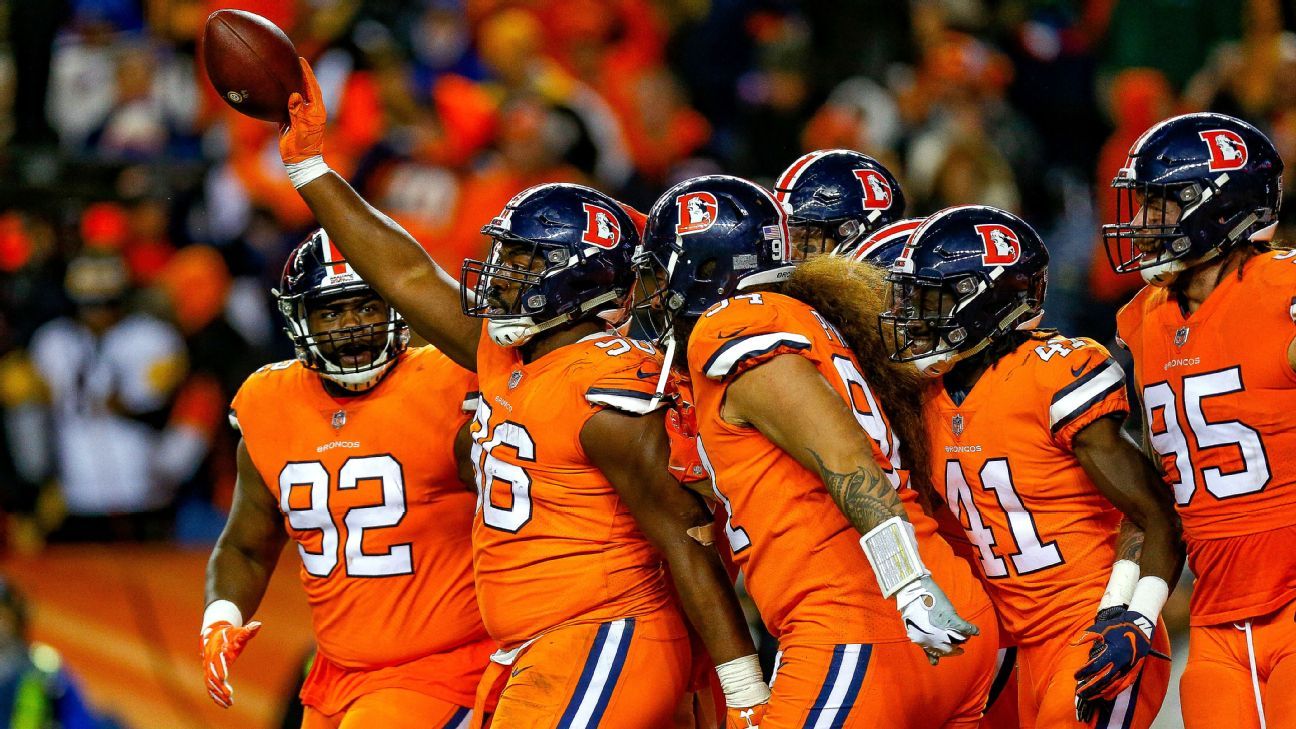 ENGLEWOOD, Colo. — After checking what the market had to offer, defensive end Shelby Harris has agreed to terms on a one-year deal with the Denver Broncos.
The deal is for a guaranteed $2.5 million with the potential for $750,000 of additional incentives, a source confirmed to ESPN. As the 2019 season drew to a close, Harris said he had hoped to find a multi-year deal in free agency, but that deal didn't materialize.
Harris, who was third on team with six sacks, finished the season with career-bests in sacks, tackles (49) and passes defensed (nine). He was also one of three defensive linemen who started games last season — Derek Wolfe and Adam Gotsis were the others — who were unrestricted free agents.
Wolfe and Gotsis still remain unsigned.
Harris flourished in Vic Fango's defense and had discussions with Fangio this week about what his role would be moving forward. He is the second move the Broncos have made in the defensive front after they traded for defensive tackle Jurrell Casey last week.
At the scouting combine last month Broncos president of football operations/general manager John Elway said Harris was one of the players the team would allow to hit the open market, but Elway had also left open the possibility of bringing Harris back.
"Ultimately, it's up to the player and what they want to do," Elway said. "We'll see where they fit in the plan. Obviously, you always want guys back like that, but you never know how it's going to happen."
In 2019, Harris had signed a one-year, $3.095 million deal last year to return to the team. After he had been waived six times in his first three years in the league, Harris found his defensive niche with the Broncos.
Former coach Vance Joseph said Harris had been close to being released at one point, but Harris went on to play in 48 games over the last three seasons in Denver with 22 starts.
Before he landed with the Broncos in 2017, when he was signed a futures contract in January of that year, Harris had spent time with the Raiders, Jets and Cowboys.
Harris, who turns 29 in August, has 136 tackles and 14 sacks in his career.
Terms of his new deal with the Broncos were first reported by The Athletic.
Packers' Aaron Rodgers details frenzied departure from Peru
Aaron Rodgers and his travel party that included three other people got out of Peru nine days ago, within minutes of the airport closing due to the coronavirus outbreak, the Green Bay Packers quarterback revealed Friday on a radio show.
Rodgers told Pat McAfee and former Packers teammate A.J. Hawk, who co-hosted the show, that it was "quite the ordeal."
"Have you seen the movie, 'Argo'?" Rodgers asked. "The scene at the end where they're racing to the airport. Nobody was chasing us thankfully or holding us. We didn't have to speak Farsi to get back into the country, but there were some moments where we worried we were not going to get out. It was absolute pandemonium at the airport."
Rodgers returned to his home in Malibu, California, and has followed stay-at-home guidelines along with girlfriend Danica Patrick. He said of the four people on the trip, none had any symptoms at the time or in the days since.
"So I think we're in the clear," he said.
He said there were other parts of his trip planned to South America, but they cut it short. The group flew via private plane, which Rodgers said helped them get out of the country so quickly. Had they flown commercial, he did not think they would have gotten out when they did.
"Probably not, not right away," Rodgers said. "I know there's been some planes and some folks who were down there who've gotten brought back [since then]. … When we rolled up to the airport at like 7 in the morning, it was wall-to-wall people and you couldn't move. I was thinking, 'This isn't very safe.' Not many masks on, and there was definitely a panic in the air. But somehow [we] made it down and then they shut the airport down because it was really bad weather. They had a drop-dead time where they were going to shut the entire airport down. We made it by about 15 minutes."
Rodgers said his group was in remote areas near Cusco, where there were not any reported cases of the virus.
Source — Cowboys, kicker Greg Zuerlein reach 3-year deal
Having had 10 missed field goals in 2019, the Dallas Cowboys and veteran kicker Greg Zuerlein have agreed to a three-year, $7.5 million deal with $3.5 million guaranteed, sources confirmed to ESPN's Todd Archer on Friday.
The move reunites Zuerlein, 32, with John Fassel, his special teams coach from the Los Angeles Rams.
NFL Network was the first to report the agreement.
The Cowboys had already re-signed Kai Forbath to a one-year deal this offseason. Forbath started the final three games last season, going 10-for-10 on his attempts after the Cowboys cut Brett Maher, who missed 10 attempts in 13 games.
Zuerlein has converted 201 of 245 field goal attempts in the regular season (82%) and is 264 of 270 on extra point attempts since being selected by the Rams in the sixth round of the 2012 NFL draft.
In that time, Zuerlein has booted 33 field goals of 50 yards or more, which is tied with Adam Vinatieri for fourth in the NFL over that span — behind Matt Prater (41), Justin Tucker (39) and Matt Bryant (34). His reliability over his eight NFL seasons has earned him the nicknames "Greg the Leg" and "Legatron" among teammates and fans.
He experienced a dip in production last season, however, converting 24 of 33 field goal attempts for a 73% conversion rate — his lowest since 2015, when he made 67% of his kicks.
In three playoff appearances, Zuerlein converted 8 of 10 field goal attempts, including a 57-yarder in overtime to win the NFC Championship Game over the New Orleans Saints at the Superdome in 2018, which sent the Rams to Super Bowl LIII.
ESPN's Lindsey Thiry contributed to this report.