NFL CBA vote delayed – What you need to know, biggest changes in 2021 proposal, potential agreement timeline
The process of negotiating a new NFL collective bargaining agreement, which began about 10 months ago, might be nearing an end. Or it might not. And unfortunately, that's about as clear as we can be on this subject right now.
Thursday and Friday were weighty days for the negotiations between the NFL's players and owners. On Thursday, the owners voted to approve the CBA proposal on the table, which has been negotiated between the two sides since last April. The current CBA ends after the 2020 season. That made it seem as if things might be proceeding toward a happy conclusion for both sides.
But on Friday, the players' end of things turned chaotic, and left open the possibility that the two sides would not come to an agreement in time for the start of the 2020 league year next month.
You have questions. We have answers.
---
All right, so what happened this week?
All 32 of the NFL's team owners gathered in New York City on Thursday afternoon for a two-hour meeting to vote on the terms of the proposed new CBA. In order to approve, they had to get "yes" votes from at least 24 of those owners, which they did, though the vote was not unanimous.
At the conclusion of that meeting, owners left without speaking to the assembled media at the hotel where they'd met and issued a printed statement saying they'd also voted to play the 2020 season under the terms of the current CBA if the players didn't vote to approve the new deal. That statement said they needed to know by next week the rules under which they'd be operating when the new league year begins March 18.
The owners' vote wasn't unanimous? Does that mean anything?
Well, it doesn't affect the process, but it reflects the fact that not all of the owners are comfortable with what they're giving up in this deal. A source close to Thursday's meeting said there were even owners who voted for the proposal who were still expressing doubts about it during the meeting.
But they passed it anyway. So what about the players?
So then on Friday, the NFL Players Association (NFLPA) held a nearly three-hour conference call with its 32 team player representatives to discuss the proposal. Just before that call began, the union's executive council — yes, the body in charge of negotiating the deal with the owners — voted 6-5 not to recommend the proposal to the rest of union membership, citing concerns over the NFL's desire to expand the regular season from 16 games to 17.
The NFLPA had hoped the ensuing call would result in a vote by the player reps, but it did not. One source said that the executive council's vote "confused" the board of player reps, and that most of the call was spent trying to figure out why they'd voted that way rather than discuss their own vote. Eventually, the player reps decided to table their discussions and attempt to continue negotiations with the owners.
A source said the union still plans to hold a vote of its full membership next week, though they would prefer the player reps to vote to recommend the deal prior to doing so. Officially, 21 of the 32 player reps need to vote yes for it to qualify as a recommendation. An NFLPA statement said: "Our player leadership looks forward to meeting with NFL management again next week before the Board takes a vote shortly thereafter."
Are the owners going to go for that?
One owner told ESPN's Adam Schefter on Friday afternoon that "they won't." And the owners' statement Thursday indicated that, if the players didn't approve the current proposal, they would consider the offer rejected and would proceed with the 2020 season under the current rules outlined in the 2011 CBA.
A source later told ESPN that the owners had agreed to meet with the players Tuesday at the combine in Indianapolis, but it's unclear whether that meeting will result in further discussion about terms or whether the owners will tell the players to take the current one or leave it. After the meeting with the league, the NFLPA player reps plan to hold the vote they'd hoped to hold Friday. And after that, the entire body of NFL players will vote on whether to ratify the current proposal.
What's the main sticking point?
Put simply, the players don't want to play 17 games. They feel it's asking too much in a sport that is already ridiculously tough on their health and safety. Sources close to the situation said the reason the NFLPA executive council voted not to recommend the deal was because of concerns some of its members still have over the idea of an expanded regular season and doubts some of them have over the owners' projections for how much more revenue it would generate.
The meeting in Indianapolis between the two sides is likely to address these issues directly, possibly giving members of the board of player reps a chance to hear the owners' side of the issue. It's unlikely that vocally anti-17-game executive council members like Richard Sherman and Russell Okung will be convinced, but it's possible that meeting could help convince enough player reps to vote in favor of the proposal.
Jeff Saturday reacts to the news of the full NFLPA membership voting on the CBA proposal.
What happens if the players don't approve this?
The expectation is that the owners would then proceed to negotiate new deals with their television network partners — the current deals are set to expire over the next couple of years — and hold off on further CBA negotiations until next offseason.
Some members of the NFLPA leadership have tried to convince members that this would lead to an offer next year that isn't as favorable to the players as this one is. Those opposed to the deal have expressed a belief that the owners are bluffing and that they need the new TV deals badly enough that they would offer more concessions if the players went back to them with more demands.
Could the owners be bluffing?
Theoretically, yes, but that's a tough gamble to make when you're negotiating against people who have the astronomical wealth that NFL owners have. The fact that there was dissention in the room when the owners met Thursday indicates that some in their ranks think they're already giving up too much. It's entirely possible, even likely, that if the players don't vote to approve next week the owners will make good on their threat to pull the deal and float it into next offseason.
Does the fact that the player reps didn't vote Friday mean this is all over? No deal?
No, because the NFLPA's rules don't require the executive council or the board of player reps to recommend the proposal in order for it to be approved. Article 6.03 of the NFLPA constitution says that a recommendation from the board of player reps (defined as a vote by at least two-thirds of them to recommend) may accompany a CBA proposal presented to players for approval, but all that is required to ratify it is a majority vote of all of the players in the union.
'All of the players in the union' sounds like a lot. How many players are we talking about here?
It is a lot. Any player who paid NFLPA union dues during the 2019-20 league year is eligible to vote. The union estimates that number at about 2,100 players. Of course, it's not expected that all 2,100 will vote, but all 2,100 will have the opportunity to vote.
A source estimated Friday that the vote by the full body of players would take no more than "a couple of days" to complete and would be conducted electronically, either via e-mail or through DocuSign or some similar service.
So they need 1,051 votes to ratify this thing?
No. The NFLPA constitution says a CBA can be ratified by "a majority of the members of the NFLPA voting for ratification or rejection." That means all that is needed is a majority of the players who actually cast votes. If only, say, 500 of them vote, they'd need 251 to vote yes in order for the deal to pass.
What happens if they pass it?
The new, 10-year collective bargaining agreement would wipe out the final year of the old one and begin with the start of the 2020 league year on March 18. It would run through the 2029 season. Provisions of the new deal, such as higher minimum salaries, an additional $100 million in new player costs, changes to the drug program and more would take effect immediately on March 18. The league also likely would add one playoff team in each conference beginning with the 2020 season.
And the regular season would expand from 16 games to 17?
Not in the 2020 season. The proposed new deal allows the owners the option to expand the season to 17 games at some point, but their window for doing so runs from 2021 to 2023. So the soonest we'd see a 17-game season would be 2021.
Another important note: The deal specifies that 17 games is the maximum number of regular-season games that can be played in any season during the life of the deal. So there's no expansion to an 18-game season until at least 2030.
Dan Graziano presents the details behind the NFL owners and players holding two separate CBA meetings, and explains some of the biggest changes on the table.
What's the owners' hurry to get this done now?
Those TV deals, mainly. The 17-game season provision and the expansion of the playoffs allows the owners to go to the TV networks with more inventory. Offer more football, you'd expect to get more money for it. They'd prefer to go into those negotiations knowing for sure they have that added inventory. Otherwise, the uncertainty about the future of the league's schedule, the future of the relationship with the union and the possible effects a presidential election could have on the U.S. and world economies would combine to create less favorable negotiating ground.
Fair enough. So then what incentive do the players have to do it now?
That's the question that many in the NFLPA leadership who oppose this deal are asking. The CBA doesn't expire until March of 2021, and the players have done fine under the current deal. Sure, there are things in the new proposal they'd like to get started now, such as higher minimum salaries and favorable changes to the drug and discipline policies. But there's so much opposition to the idea of expanding the regular season to 17 games that players are willing to hold off on the new deal's benefits in order to make sure they've received enough in return.
So what would the players get under the current proposal, if they approved it?
A lot of stuff that doesn't grab headlines but could impact a large majority of the NFLPA's membership. Minimum salaries, for example, would rise by as much as 20% in the first year of the deal and continue to go up throughout it. More than half of the league's players play on minimum-salary deals.
The deal also would increase the players' share of league revenue, increase offseason pay, lighten offseason and training camp workloads and establish new benefits for former players and practice squad players. There would be no more game suspensions for positive marijuana tests, and the league and union would establish a neutral arbitrator for most discipline cases, instead of having the commissioner preside over all of them.
What's the money breakdown for each side?
The players' share of league revenue would remain at its current level of 47% this year, though the league would add roughly $100 million in "new player costs" for 2020. Starting in 2021, the players would be guaranteed at least 48% of league revenue. That number would jump to 48.5% in any season in which the league plays 17 games, and there's an additional escalator that could push it even higher if the league makes a certain amount of money off its new TV deals.
The NFL generated an estimated $15 billion in revenue last year, so going from 47% to 48.5% means an extra $225 million per year for the players if revenues remain flat, which they are projected not to do.
The NFLPA estimates an increase of roughly $5 billion for players over the course of the 10-year deal. For the owners, the profit would come from those still-to-be-negotiated TV deals and is difficult to estimate, though the new deal would enable the owners to once again take money out of the revenue pool to use for stadium construction and renovations.
If this doesn't pass, are we looking at another work stoppage?
It's unlikely that we'll see a lockout as we did in 2011, when owners opted out of the previous CBA and barred the players from work in an (ultimately successful) effort to drive down the players' share of league revenue. And the odds of the players going on strike seem quite low. So, no, probably not a work stoppage. And even if there is one, it wouldn't be until after the current deal expires next March.
Never say never, but the more likely outcome is that the owners would instead impose work rules outlined in their last, best good faith offer and keep the league going under those rules until a new agreement with the players was reached. And while the players could challenge that in court, there's no guarantee they'd win it.
Nick Foles, Mitchell Trubisky will square off to be Bears' starting QB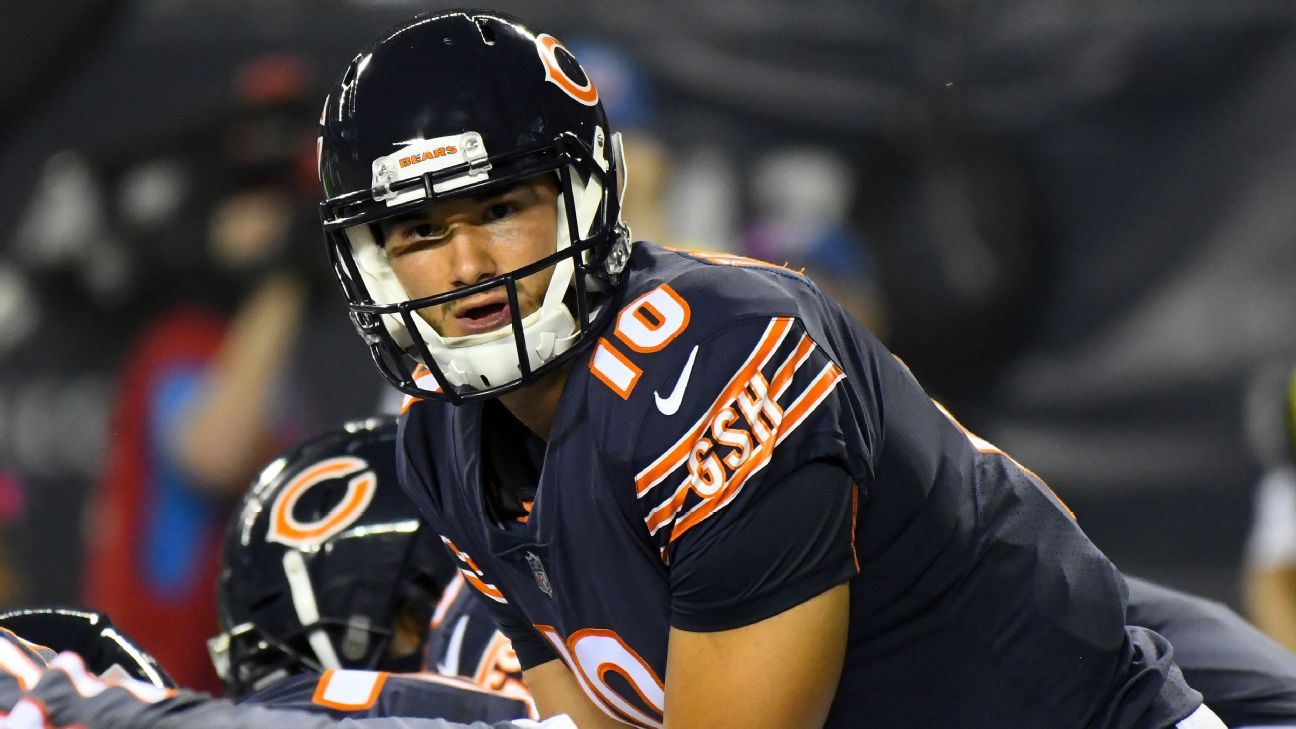 Mitchell Trubisky and Nick Foles will compete for the Bears' starting quarterback job, general manager Ryan Pace and coach Matt Nagy said during a conference call with Chicago media Friday.
"We've increased competition at a critical position and we talked to both players, and the way we view this is it's an open competition," Pace said. "And credit to both those guys for embracing it."
The Bears entered free agency last month with an urgent goal to acquire a veteran quarterback to challenge Trubisky. The second overall pick of the 2017 draft, Trubisky finished the 2019 season 28th in Total QBR (39.4), tied for 27th in touchdown passes (17), 21st in passing yards (3,138), 32nd in yards gained per pass attempt (6.1) and 28th in quarterback rating (83.0).
"What's important, and what you are going to find out in this process, is it's going to be real simple — it's going to very transparent and very honest," Nagy said. "What I thought was really neat was when we talked to Mitch, which speaks to who he is. You could feel how much of a competitor, and you know it, and you see it. He's a competitor. … He understands that all he wants to do is be the best quarterback he can be for the Chicago Bears, and that's what he's going to do as we move on here."
Nagy envisions Trubisky and Foles splitting reps in training camp and both playing in preseason games. Nagy added that Trubisky will take the first snaps on Day 1 of practice.
Trubisky, 25, underwent surgery in January to repair a partially torn labrum in his left shoulder but is expected to be medically cleared by the summer. The Bears have yet to commit to picking up Trubisky's fifth-year option. A decision is due in May.
The Bears traded their 2020 fourth-round compensatory draft pick to the Jacksonville Jaguars for Foles and, in the process, inherited a contact that included approximately $21 million in guarantees. Foles, 31, later restructured the deal to allow him to void either of the final years, depending on the upside of his performance.
There is a strong familiarity between Foles and Chicago's coaching staff. Nagy coached Foles in both Philadelphia and Kansas City. Offensive coordinator Bill Lazor, quarterbacks coach John DeFilippo and offensive line coach Juan Castillo all overlapped with Foles during various stints with the Eagles.
"A talented player and the fact that he's played in some big games and performed well in those big games and that carries a lot of weight," Pace said of Foles. "Then you have a lot of people in our building that are comfortable with him as a person and his makeup, which made the decision easier. That all kind of came together to make him a target for us and someone we wanted to aggressively go get."
The trade was the latest career twist for Foles since Philadelphia drafted him in the third round in 2012. He started six games as a rookie in place of an injured Michael Vick and replaced Vick again in 2013, throwing 27 touchdown passes and two interceptions in 13 starts. Foles led the Eagles to the playoffs and was the offensive MVP of the Pro Bowl.
He was the Eagles' unquestioned starter in 2014 but suffered a broken collarbone in a Week 9 victory over the Houston Texans and finished the season on injured reserve. Coach Chip Kelly surprisingly traded him in the offseason to the Rams for quarterback Sam Bradford, and Foles struggled before being benched in favor of Case Keenum.
Following a stint in Kansas City, Foles returned to Philadelphia as a backup quarterback and came off the bench in place of an injured Carson Wentz for the Eagles' 2017 title run. Foles threw for 971 yards with six touchdowns and one interception in three playoff games and was named MVP of Super Bowl LII after throwing for 373 yards and three touchdowns — and catching a touchdown pass — in a victory over the New England Patriots.
After subbing in for Wentz for five regular-season and two playoff games in 2018, Foles bought out his contract with Philadelphia for $2 million in February 2019, and the Jaguars signed him to a four-year, $91 million contract with $50.125 million guaranteed.
Foles suffered a broken collarbone in Week 1 of the 2019 regular season and struggled when he returned later in the year.
"My career has been an interesting curve," Foles said on a conference call Friday. "It's been all over the place."
"It will be an open competition. I just want to go in there and do what's best for the team," Foles added. "Obviously Mitch has been there for several years and knows this offense really well — the Chicago version. I'll be competing, but it'll be a healthy competition. Mitch and I have already talked, and we want to start out on the right foot because ultimately it's about the Chicago Bears and not about the ego of the quarterbacks."
ESPN's Mike DiRocco contributed to this report.
2024 Super Bowl may move from New Orleans if NFL has 17-game season
METAIRIE, La. — The 2024 Super Bowl, which is scheduled to be played in New Orleans, may have to be moved to another location because of a calendar conflict if the NFL switches to a 17-game season.
If the Super Bowl gets pushed back a week to Feb. 11 that year as expected, then it will run into Mardi Gras. So the NFL, the New Orleans Saints and the Greater New Orleans Sports Foundation have been working on contingency plans.
The most likely scenario is moving the New Orleans Super Bowl to a later year, though they have not yet ruled out trying to play the game on Feb. 4 that year.
NFL spokesperson Brian McCarthy and Saints spokesperson Greg Bensel both said via statements that this possibility was discussed during the bidding process in 2018 when New Orleans was awarded the Super Bowl for the 11th time.
"The New Orleans Host Committee, led by the New Orleans Saints and Greater New Orleans Sports Foundation, has remained in close communication with league officials about the change to a 17-game regular season, as it relates to the city hosting Super Bowl LVIII in 2024," Bensel said.
"The Bid Committee, the New Orleans Saints and NFL worked together to build in contingencies if a potential conflict with Mardi Gras should affect the Super Bowl date. Mutually agreed upon terms during the bid process granted assurances that the NFL and Host Committee would explore all options for still hosting the game in 2024, or, agreeing to host the Super Bowl in a future year when the citywide calendar permits."
The Super Bowl is scheduled to be played in Tampa, Los Angeles and Glendale, Arizona, over the next three years. None of those cities has any known conflicts if the calendar needs to be changed.
No Super Bowl sites have been awarded yet beyond 2024.
New Orleans, which last hosted the Super Bowl in 2013, was also supposed to host the NCAA Women's Final Four this weekend. But the event was canceled because of the coronavirus pandemic.
The city hosted the college football national championship game in January, and it is scheduled to host the NCAA Men's Final Four in 2022.
Can Tom Flacco be elite like his brother Joe? He thinks so
AUDUBON, N.J. — On a quiet street outside of Philadelphia, there's a modest, two-story house where the Flacco family raised six children, most notably a Super Bowl MVP for the Baltimore Ravens, and now another NFL draft prospect.
When the front door opens, there's a face that resembles Joe Flacco. The welcoming voice has the same distinctive South Jersey accent (it's wudder instead of water). There's just one noticeable difference. You don't need to look up.
"People always ask: 'Where's the height?'" Tom Flacco says.
Tom is the kid brother of Joe, and he has long been determined to become the next Flacco in the NFL. Tom is a decade younger than the former Ravens and Denver Broncos quarterback. He's also nearly 40 pounds lighter. And this will draw the most criticism from NFL scouts: He's 5 inches shorter.
At 6-foot-6, Joe Flacco is the second-tallest passer in the NFL, towering over most everyone in the huddle. At 6-1, Tom Flacco is among the shortest quarterback prospects in this year's draft, which often leads to an explanation.
Tom isn't the anomaly. Joe is. Their father, Steve, is 5-10. Their mother, Karen, is 5-6. Tom jokes he would've settled for 6-3, which certainly would help his chances of getting drafted.
"We'd hope he would grow a little bit bigger," Steve Flacco said. "If he were 6-2 or 6-3, we wouldn't even be worried about it."
Like Joe, Tom ended up excelling in the NCAA's Football Championship Subdivision. Unlike Joe, Tom is a borderline late-round pick instead of a first-rounder.
Joe and Tom Flacco have the chance to become the 12th pair of quarterback siblings in NFL history. Tom just knows he can't be the next Joe Flacco, a statuesque pocket passer who can drive a ball downfield while a linebacker is drilling him. Tom Flacco has directed a spread offense; he can run, too, having rushed for 1,406 yards in his college career. Some compare him to Taysom Hill, the athletic backup quarterback/utility player for the New Orleans Saints. One NFL scout suggested to Tom that he could convert from college quarterback to pro wide receiver, as Julian Edelman did.
So, can Tom Flacco be elite too?
To borrow from his big brother, Tom has elite confidence he can play quarterback at the highest level.
"The thing that's impressive more for me is really his journey," Joe said. "Mentally being able to stay with it and stay motivated and then actually go out there and carry it to the field."
Everywhere Tom went, he felt he was the best quarterback on the roster. When others weren't convinced, he moved on. It took him four years and three schools — from Western Michigan to Rutgers to Towson — before he started his first college game.
Tom passed for 6,082 yards and 50 touchdowns in 24 games at Towson and was named a finalist for the Walter Payton Award, which recognizes the top offensive player in the FCS. Yet he wasn't invited to the Senior Bowl, East-West Shrine game or the NFL combine.
Tom's all-star showcase was the Tropical Bowl, held at a 6,000-seat stadium in Daytona Beach, Florida, that was used in the movie "The Waterboy." Tom threw for 173 yards and two touchdowns and ran for another score, earning Offensive Most Valuable Player honors.
"People ask, 'Do you have a chip on your shoulder?' And I'm like, I don't know because it's just been there my whole life," he said. "It's not a chip on my shoulder, it's just how my shoulder is now."
---
When Tom was 3, a firefighter came to his preschool to teach the children about safety and then asked if there were any questions.
"Can you hit a baseball off a tee?" Tom asked. Realizing it wasn't the most on-topic thing to say, Tom tried to save himself by blurting out, "When it's on fire."
Tom has always been fixated on sports. In the schoolyard, he yelled at kids because they didn't know how to tag up in baseball. He put in his sixth-grade yearbook that he wanted to play in the NFL when he grew up.
Tom graduated from Rutgers in 2018 with a 4.0 GPA and a bachelor of science degree in labor and employee relations, but he never played. In transferring from Western Michigan to Rutgers, Tom envisioned putting up lots of points in the Big Ten. He also intended to get into the business school until he found out it wasn't going to take all of his credits.
"So I went with this labor studies, or whatever it is," Tom said. "I'm not even sure what it is."
For three months, before the coronavirus outbreak, Tom trained at the TEST Football Academy in Central Jersey from 8:30 a.m. to 5 p.m. He did speed work, preparing for the 40-yard dash and the 20-yard shuttle. That was followed by two hours in the weight room. By the end of the day, it was quarterback drills and a meeting with a coach to go over offensive concepts and terminology.
"People ask me what I will do next if I don't make it," Tom said. "I'm not thinking about if it doesn't work out. I am focused on one thing and one thing only, [and] that's making it in the NFL. I'm too young and this is something that I've wanted my whole life, so I'm going to put everything into it."
---
When Joe was leading the Ravens to a Super Bowl title, Tom was throwing passes in high school. When Tom landed his first starting job in college, Joe was playing 11 miles down the road, playing in front of crowds of 70,000.
Ask Tom how big of a shadow it cast and he'll respond: What are you talking about?
"People try to knock me when I play. 'Oh, that's Joe Flacco's brother,'" Tom Flacco said. "Yeah, what's your brother do? Is he in the NFL at the top of his career? I take pride in the fact that my brother is Joe."
Joe hasn't passed on tons of advice. There haven't been any motivational talks or X's and O's breakdowns.
Joe has helped by peeling back the NFL curtain. Since he was a teenager, Tom has watched Joe train and throw. Tom knows what life on the biggest stage is all about.
Joe remembers being in awe the first time he took the field for the high school varsity, in college and in the NFL because it was all new. Not so with Tom.
"He always has kind of stepped into those levels with an extra boost of confidence, like, 'Oh, I've seen somebody do this, and it's just football,'" Joe said. "So I feel like he's had an advantage in certain ways because of that."
Tom carries a certain aura that he belongs, and Towson coach Rob Ambrose picked up on it in his first meeting with him. In 2018, Ambrose was in the process of vetting the top quarterback transfer candidates, and he went through the offensive scheme with Tom.
"I want him," Ambrose remembers telling his offensive coordinator. "He just has a presence, and you feel like things are going to go well as long as this guy is around. It's not a feeling I get very often."
Tom is an old soul, and part of that comes from being a 25-year-old college student. On the field, he is mature and sees the game as a coach. Off the field, he listens to music on a vinyl records.
When he got to Towson, he wanted the contact information for every teammate. There was a two-week span in that first summer when Tom beat Ambrose to work every day, and Ambrose woke up as early as 4 a.m. Towson wasn't practicing at that point, but Tom wanted to master the offense before he took a snap.
If someone isn't putting in the effort, he heard it from Tom. He has never been afraid to yell at anyone, which is not the same emotion you'll see from Joe.
"They couldn't be more diametrically opposed in so many different ways," Ambrose said. "Joe's got the best poker face I've ever seen in my life, and Tom's a fireplug."
---
Tom knows the reasons he might not get drafted. He's too small. He comes from a small school. The Flaccos believe these are outdated excuses.
Tony Romo, Jimmy Garoppolo, Carson Wentz and big brother Joe didn't come from FBS schools. Shorter quarterbacks like Kyler Murray and Baker Mayfield have been drafted No. 1 overall as offenses evolve into shotgun, college-style formats.
Will Tom Flacco be among the 255 players selected in this year's draft? ESPN draft expert Mel Kiper Jr. doesn't think so.
"I'd say he would have to battle his way into a camp as a priority undrafted free agent and see what happens," Kiper said.
Flacco has had conversations with a handful of NFL teams, including the Los Angeles Rams. He had workouts scheduled but all got canceled due to the coronavirus.
It's disappointing because the expectation was Flacco would run the 40-yard dash in 4.5 seconds (Jalen Hurts' time of 4.59 seconds was the fastest for a quarterback at this year's combine). He would have had a chance to show off his arm and prove he's more than a running quarterback.
Steve Flacco hopes a team will pick Tom in the sixth or seventh round so it doesn't have to compete with others in trying to sign him after the draft. If Tom gets taken, it will come 12 years after Joe was chosen No. 18 overall by the Ravens.
"It would be awesome, especially for us," Steve said. "This is what we live for. It would define success for us."
The first brothers to play quarterback in the NFL were Ed and Joey Sternaman in 1927. The most successful sibling passers were Peyton and Eli Manning. Brothers haven't played quarterback in the NFL at the same time since 2016, when Josh and Luke McCown did so.
Could the Flacco brothers be next?
"I know he can do it," said Joe, who is a free agent. "I'm excited for him to get the chance and be able to prove [it] to somebody, and then I've gotta stick around for a little longer so I can get the chance to play against him or maybe he can try to steal my job."