Astros' Josh Reddick — Death-threat messages also target kids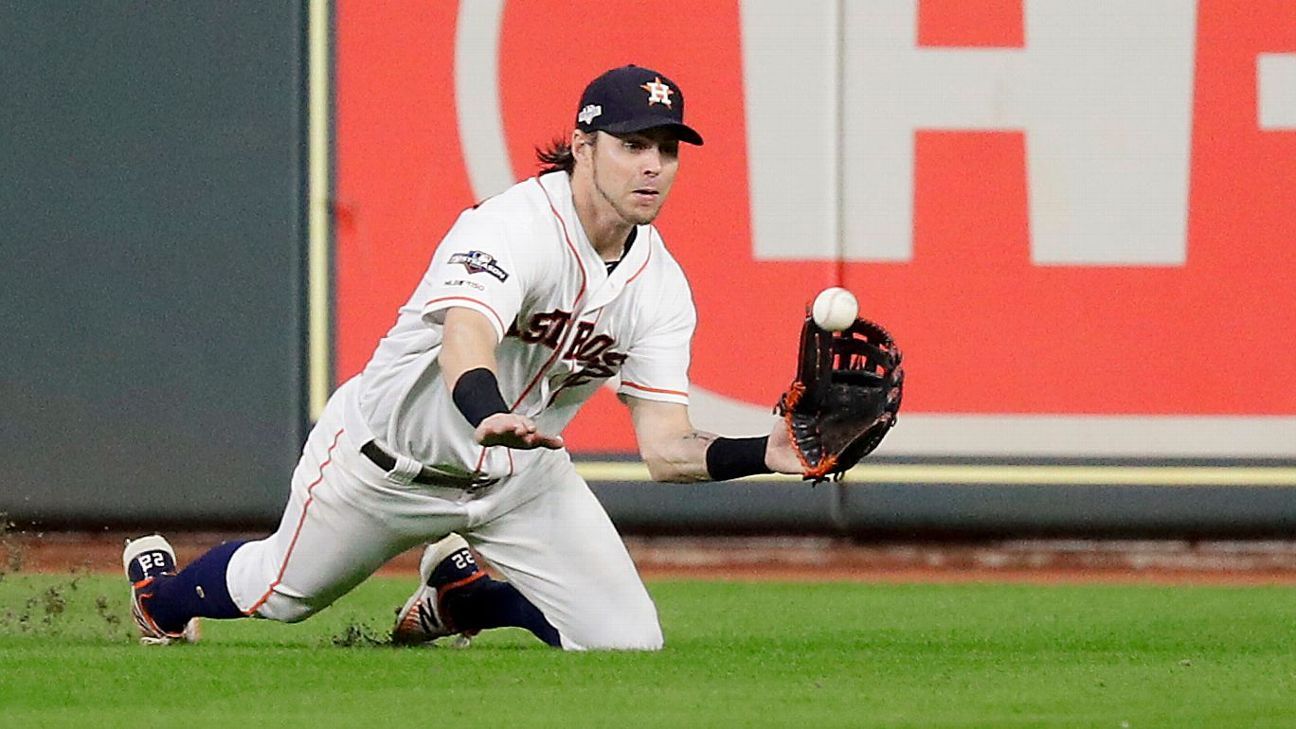 Houston Astros players have gotten threats "every day" since the team's 2017-18 sign-stealing scheme came to light in recent weeks, according to outfielder Josh Reddick, who said Friday that messages he's received also targeted his family.
"You just see the first things in your suggested box and it just says, 'I will kill your family. I will kill your kids. Blah blah blah,'" Reddick said. "It's depressing to read because it's over a game of baseball. It's not worth that kind of drastic measure."
Reddick, who did not take part in the trash-can banging scheme, said the threats he has received so far were limited only to social media. He spoke about his experiences one day after former Astros pitcher Mike Fiers, who revealed to The Athletic in November that the Astros were stealing signs in violation of MLB rules, said he had received death threats.
As he enters his 12th major league season and fourth with the Astros, Reddick said he expects to hear more from fans about the issue both on and off the field, to the point where he thinks "it could be very dangerous outside of the ballpark to even bring your family."
"There are ways to add security to a lot of places on the road whether it be in our hotels, on the way to the field," he said. "At the field, obviously, being a lot more hostile environment. Be a little crazier. I think, also, at the hotels because you see a lot of people line up at our hotels. They know where we stay, they know what times we usually go to the ballpark. And what time we get back.
"For me, myself having almost 5-month-old boys, it is going to be pretty scary because my wife is going to go want to come on a lot of road trips just because wanting to have my help in raising them and do our parenting thing. So it is definitely something you can think about every night."
Astros players won't necessarily be safe when the games begin, as pitchers such as the Cleveland Indians' Mike Clevinger and the Los Angeles Dodgers' Ross Stripling have hinted at the possibility of throwing at Houston batters.
Los Angeles Angels star Mike Trout this week joined a long list of players who have been critical of the Astros' actions, saying he "lost some respect for some guys." Reddick said he didn't believe condemnation from opponents was adding fuel to the online threats, but he said he would like to see a more unified front in light of the messages.
"I think the best situation for us is to have our families be safe and ourselves be safe," Reddick said. "But yeah, I think player unity is going to be a big thing. Especially with the way things are going now and way things will be in a couple of years to renegotiate stuff. I think that is one way the players need to get united. I think the more we are one on the same page and united it is going to be better for the whole game. It may take time the way this thing is being handled right now. I think ultimately the family safety is a big issue right now."
For now, Reddick said his plan to deal with the most egregious messages is largely to "just avoid clicking on it," but he still gets angry when he sees people threatening his children.
"I put a post of my kid rolling over for the first time and I gotta look down there and see 'I hope your kid gets cancer,'" Reddick said. "It makes you really want to see that person in person. Really makes you want to go up to him and see what they would do if you put your face to their face and really get a little bit of retribution for yourself. Pisses you off."
MLB, MLBPA agree on stipulations for return of 2020 season
Major League Baseball owners have approved a plan to address salary and service-time issues amid the indefinite delay to the start of the regular season, according to ESPN and multiple reports.
The owners completed an agreement reached between MLB and the players' union Thursday night, which came after nearly two weeks of morning-to-night negotiations that involved players, owners, agents, executives, union officials and commissioner's office staff.
As part of the agreement, obtained by ESPN's Jeff Passan, the players and MLB primarily agreed that the 2020 season will not start until each of the following conditions were met:
There are no bans on mass gatherings that would limit the ability to play in front of fans. However, the commissioner could still consider the "use of appropriate substitute neutral sites where economically feasible";

There are no travel restrictions throughout the United States and Canada;

Medical experts determine that there would be no health risks for players, staff or fans, with the commissioners and union still able to revisit the idea of playing in empty stadiums.
While there was no formal framework in the agreement, owners and players both want to play as many games as possible. The flexibility of both sides was seen in the willingness to extend the regular season into October, play neutral-site playoff games in November and add doubleheaders to the schedule.
Players pushed to receive a full year of service time, which counts days toward free agency, arbitration and pension, even in the event of a canceled season. When MLB agreed to grant that, the path to a deal coming together was forged, sources said.
The union agreed not to sue the league for full salaries in the event that the 2020 season never takes place, and MLB will advance players $170 million over the next two months, sources said. The MLBPA will divvy up the lump sum among four classes of players, with the majority of it going to those with guaranteed major league contracts. If games are played, the advance will count against final salaries, which will be prorated.
Commissioner Rob Manfred has the discretion to shorten the 2020 draft to as few as five rounds, and it will be moved from June to sometime in July, sources said.
Manfred also can delay the 2020 international signing period, which was supposed to run from July 2, 2020, through June 15, 2021, to at latest Jan. 1, 2021 through Dec. 15, 2021. MLB also has the right to shorten the 2021 draft to as few as 20 rounds and push back the next international signing period as well — though international free agency might well be gone by then, as the league plans to pursue an international draft at the conclusion of the current collective bargaining agreement, which runs out in December 2021.
Sources said players drafted in 2020 will get only $100,000 of their bonus this year. The remaining amount will be split into payments made in July 2021 and July 2022.
Also, teams will be unable to trade draft picks or international slot money, sources said.
Mookie Betts, J.T. Realmuto, Trevor Bauer and Marcus Stroman, among others, are guaranteed to be free agents come November regardless of the season's status. If the year is canceled, Betts might never play for the Los Angeles Dodgers, who traded for him this offseason.
A transaction freeze will go into effect when owners make the deal official that bars teams from signing free agents, trading players and making roster moves.
A rejiggered setting for arbitration, the system that awards players with three, four and five years of service time with higher salaries. While arbitration is a numbers- and precedent-based system typically, the sides will change that to acknowledge the shorter schedule.
Any players punished with a drug suspension will serve the penalty in 2020, even if there is no season, sources said.
While both sides believed they made concessions, they settled around an obvious point: No sports league wants to be seen as bickering about billions of dollars amid an international health and financial crisis. In addition to the agreed-upon financial particulars, the parties engaged in significant discussions about the most vital issue now and in the future: how to proceed amid the outbreak of COVID-19 cases.
Rays hope all the pieces fit
Spring is here and Eric Karabell misses baseball, so he is going to write about all 30 MLB teams over the next few months, covering myriad player values and his general thoughts for what he hopes will ultimately be a fruitful 2020 season.
Let's continue our look into the 2020 season with the Tampa Bay Rays.
Top fantasy storyline: In 2018, left-hander Blake Snell won 21 games with a 1.89 ERA and a 0.97 WHIP. Last season, right-hander Tyler Glasnow posted a 1.78 ERA and a 0.89 WHIP over 12 starts. Wow, what a duo! They should both be top-10 fantasy starters! Well … Snell's compromised left elbow necessitated a cortisone shot in March, and he would have missed the start of the season had it begun on time. Glasnow missed much of 2019 with forearm tightness, which is often a precursor to major elbow surgery. Sure, these fellows could be great, but do not assume a shortened season aids them.
Oh, and one more thing: When will Wander wander into the major leagues?
Noah Syndergaard has Tommy John surgery, expected back in 2021
New York Mets right-hander Noah Syndergaard underwent successful Tommy John surgery on Thursday, a source tells ESPN.
The Mets announced Tuesday that Syndergaard would need the surgery. He is expected to return some time during the 2021 season.
Syndergaard, 27, who is one of the hardest-throwing starting pitchers in baseball history and has among the best arsenals of pitches in the game, was expected to anchor the Mets' rotation alongside ace Jacob deGrom.
Syndergaard threw a career-high 197 ⅔ innings last season, and while his ERA was a career-worst 4.28, the combination of good health and stuff foretold good things. However he has had a tough time staying healthy.
Injuries wiped out most of Syndergaard's 2017 season and shortened his 2018. This season he planned to join deGrom and Marcus Stroman atop the Mets' rotation, with Steven Matz, Rick Porcello and Michael Wacha filling out the last spots.
Syndergaard, acquired by the Mets in 2012 when they traded Cy Young winner R.A. Dickey to Toronto, was an instant phenom. His fastball consistently hit 100 mph, he ripped off sliders as fast as 93 mph, and he struck out 166 batters in 150 innings as a 22-year-old rookie in 2015. His best year came in 2016, when he was an All-Star and posted a 2.60 ERA in 183 ⅔ innings.