More playoff teams expected under new CBA, sources say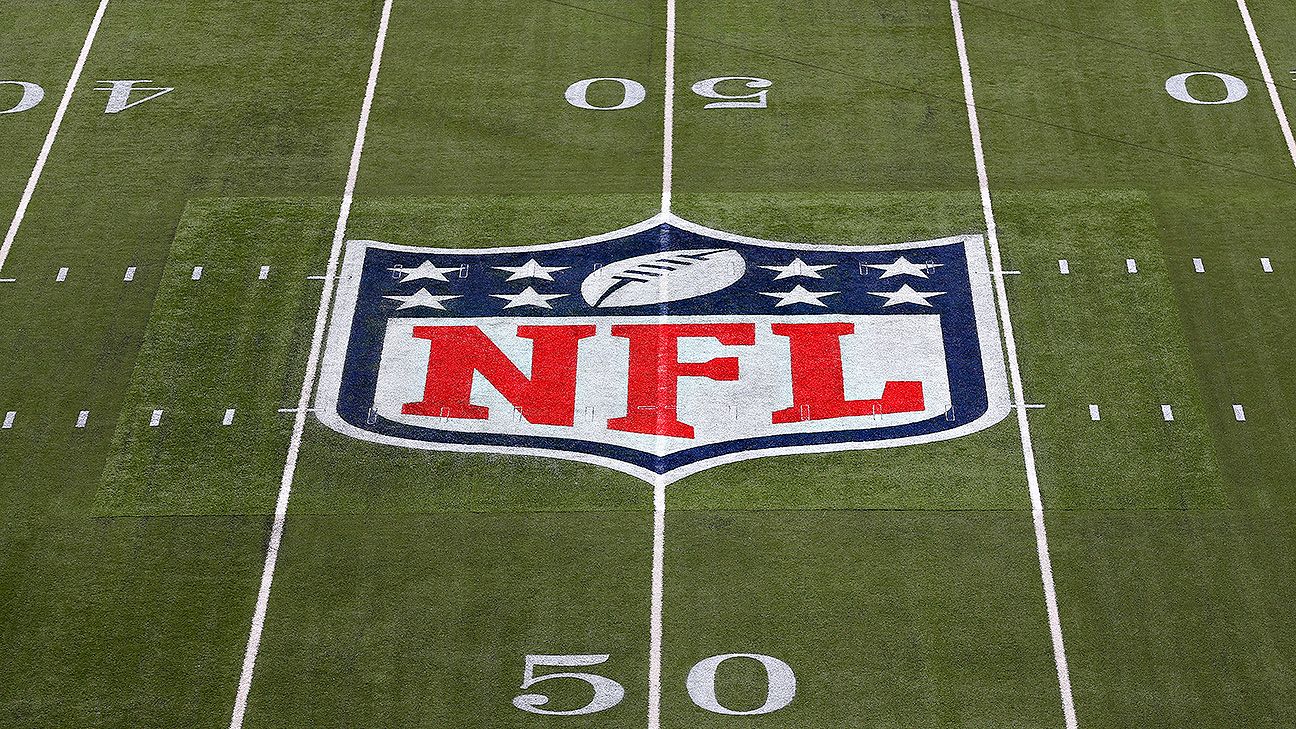 If and when a new collective bargaining agreement is finalized — and there is now mounting optimism it could be done sometime in the next week — it is expected to change the NFL's playoff structure as it is currently constituted for next season, league sources told ESPN.
Under the current proposal that is expected to take effect in the new CBA when it is done, seven teams from each conference will qualify for the playoffs instead of the six that currently do. In addition, only one team from each conference will receive a first-round bye as opposed to the two that currently do, league sources said.
That would mean a revised postseason schedule that includes six games on wild-card weekend, with three on Saturday and three on Sunday.
The changes to the NFL's playoff format would take effect for the 2020 season, assuming the new CBA is ratified beforehand. Had the proposed format been in place this past season, the Los Angeles Rams and Pittsburgh Steelers would have been the next teams included in the playoff field.
"That's been agreed to for a long time," one source familiar with the CBA talks said about the NFL's new playoff structure. "There wasn't a lot of disagreement to that issue."
Additionally, the players on the teams that earn a first-round bye will receive postseason pay for that weekend. That was not the case under the current CBA, which has always rankled some players.
Now the sides are trying to work through the final issues, including getting the players to sign off on a 17-game regular season. That has yet to be agreed to, and would not take effect until 2021 at the earliest.
"The new CBA's not done, there's no term sheet yet, there still are issues being negotiated, but I'd be very surprised if there's not a new CBA for the new league year," the source said.
Packers' Aaron Rodgers details frenzied departure from Peru
Aaron Rodgers and his travel party that included three other people got out of Peru nine days ago, within minutes of the airport closing due to the coronavirus outbreak, the Green Bay Packers quarterback revealed Friday on a radio show.
Rodgers told Pat McAfee and former Packers teammate A.J. Hawk, who co-hosted the show, that it was "quite the ordeal."
"Have you seen the movie, 'Argo'?" Rodgers asked. "The scene at the end where they're racing to the airport. Nobody was chasing us thankfully or holding us. We didn't have to speak Farsi to get back into the country, but there were some moments where we worried we were not going to get out. It was absolute pandemonium at the airport."
Rodgers returned to his home in Malibu, California, and has followed stay-at-home guidelines along with girlfriend Danica Patrick. He said of the four people on the trip, none had any symptoms at the time or in the days since.
"So I think we're in the clear," he said.
He said there were other parts of his trip planned to South America, but they cut it short. The group flew via private plane, which Rodgers said helped them get out of the country so quickly. Had they flown commercial, he did not think they would have gotten out when they did.
"Probably not, not right away," Rodgers said. "I know there's been some planes and some folks who were down there who've gotten brought back [since then]. … When we rolled up to the airport at like 7 in the morning, it was wall-to-wall people and you couldn't move. I was thinking, 'This isn't very safe.' Not many masks on, and there was definitely a panic in the air. But somehow [we] made it down and then they shut the airport down because it was really bad weather. They had a drop-dead time where they were going to shut the entire airport down. We made it by about 15 minutes."
Rodgers said his group was in remote areas near Cusco, where there were not any reported cases of the virus.
Source — Cowboys, kicker Greg Zuerlein reach 3-year deal
Having had 10 missed field goals in 2019, the Dallas Cowboys and veteran kicker Greg Zuerlein have agreed to a three-year, $7.5 million deal with $3.5 million guaranteed, sources confirmed to ESPN's Todd Archer on Friday.
The move reunites Zuerlein, 32, with John Fassel, his special teams coach from the Los Angeles Rams.
NFL Network was the first to report the agreement.
The Cowboys had already re-signed Kai Forbath to a one-year deal this offseason. Forbath started the final three games last season, going 10-for-10 on his attempts after the Cowboys cut Brett Maher, who missed 10 attempts in 13 games.
Zuerlein has converted 201 of 245 field goal attempts in the regular season (82%) and is 264 of 270 on extra point attempts since being selected by the Rams in the sixth round of the 2012 NFL draft.
In that time, Zuerlein has booted 33 field goals of 50 yards or more, which is tied with Adam Vinatieri for fourth in the NFL over that span — behind Matt Prater (41), Justin Tucker (39) and Matt Bryant (34). His reliability over his eight NFL seasons has earned him the nicknames "Greg the Leg" and "Legatron" among teammates and fans.
He experienced a dip in production last season, however, converting 24 of 33 field goal attempts for a 73% conversion rate — his lowest since 2015, when he made 67% of his kicks.
In three playoff appearances, Zuerlein converted 8 of 10 field goal attempts, including a 57-yarder in overtime to win the NFC Championship Game over the New Orleans Saints at the Superdome in 2018, which sent the Rams to Super Bowl LIII.
ESPN's Lindsey Thiry contributed to this report.
Melvin Gordon says he has 'huge' chip on shoulder as he joins Broncos
ENGLEWOOD, Colo. — Newly signed running back Melvin Gordon said Friday he believes he can co-exist in the Denver Broncos' offense with Phillip Lindsay and is anxious to prove he is "better than just average."
Gordon missed the first four Los Angeles Chargers games last season due to a contract holdout and then averaged fewer than 3 yards per carry in the first three games he did play. After that sluggish start, he had just one 100-yard rushing game on the season on his way to a career-low 612 yards rushing.
The 26-year-old — he'll turn 27 in April — said that looking back, he likely would have come back to the Chargers sooner and the experience put a "huge" chip on his shoulder as he arrives to the Broncos.
"I just felt like a lot of people doubt my talent as a back," Gordon said. "Just during the holdout, saying, 'He's just an average back, he's not this, he's not that.' Just this year saying, 'He's not the back that he was.' … I'm going to take that and use it as fuel because I know what type of player I am and I want to show that, I want to show that and I am going to show that, I'm better than just average."
Gordon's two-year, $16 million deal with the Broncos did raise some eyebrows among some of the team's faithful given Lindsay has rushed for at least 1,000 yards in back-to-back seasons and the (Denver) South High School graduate is one of the most popular players on the team since he made the roster as an undrafted rookie in 2018. Broncos president of football operations/general manager John Elway has said he'd like to "look at" getting Lindsay a new contract and has said publicly he sees Lindsay and Gordon as a needed "one-two punch."
"He's a great back, obviously I watched him up close, in person, and these past few days I've been watching film on him as well, just kind of seeing how they opened things up for him, analyzing a little bit," Gordon said. "I think we could be a great one-two punch."
Last season Lindsay led the Broncos in carries (224), yards rushing (1,011) and rushing touchdowns (seven). Royce Freeman was second on the team in carries, with 132 and no other running back had more than two carries.
For the Chargers last season, Gordon led in carries, with 162, while Ekeler had 132 carries to go with his 92 receptions. Gordon said Friday Lindsay had already reached out to him to talk about the upcoming season.
"Me and Austin [Ekeler] were kind of that one-two punch, one of the better tandems in the league," Gordon said. "I just hope to continue that with Lindsay. I know people are wondering, what is his position, getting carries things like that. Right now it's about winning football games, we'll worry about that later. … I think he's great with everything."
Last season Gordon had been a holdout in hopes of a new deal — his contract at the time was 27th in the league in total value among running backs — and the Chargers had given Gordon the chance to seek a trade. However, they didn't offer him the contract he desired and no trade was made, an experience Gordon said Friday he probably would have skipped if he had to do it again.
"At times, it was definitely difficult," Gordon said. "You could kind of feel some tension, I could feel some tension walking around, but I just tried my best … to show up and work every day.
"I can't take back what I did," Gordon continued. "I probably would come back. More so because of my legacy, what I'm trying to do as a player."