NFL's owners, players holding separate CBA talks
NFL owners and players are holding separate meetings this week regarding the status of the league's collective bargaining negotiations, and it's possible those meetings could result in votes to approve or reject the current CBA proposal, sources close to the negotiations told ESPN.
Sources said that both sides are working to reach a decision by the March 18 start of the 2020 league year, but it remains unclear whether the two sides can reach an agreement by then — or at all. One source close to the negotiations described them Wednesday night as "on a knife's edge."
All 32 NFL owners are scheduled to meet in New York City on Thursday afternoon for an update on the current proposal, and sources say it's possible they could vote on whether to move ahead with it. Three-fourths of the league's owners have to approve the CBA in order for it to be ratified. The Thursday meeting was scheduled Wednesday.
But the players have to vote, too, and it's unclear at this time whether they'll do that this week. FLPA team player reps and the NFLPA's executive council, which had been planning a Friday meeting in Washington, D.C. on the topic, were now planning to hold a conference call Friday instead of meeting face-to-face. It's possible that call could result in a vote on whether to approve the current offer or reject it.
If two-thirds of the NFLPA's player reps approve the deal, it would move on to the next stage, where all NFL players would vote and a simple majority would be required to approve. If there aren't enough votes among the player reps to approve the deal Friday, sources told ESPN, then there's a chance the current proposal stalls out and negotiations don't pick up again until next offseason, increasing the chances of an NFL work stoppage in 2021. The current CBA, which began in 2011, expires in March of 2021.
The current proposal would allow the league to expand the regular season from 16 games to 17 games at some point in the next four years (though no sooner than 2021) in exchange for financial and other concessions the players have sought in negotiations.
The league's desire to expand the regular season from 16 games to 17 games has met with harsh opposition from many players, who view an expanded season as an unnecessary increase in the risk to players' health and safety. As a result, a deal that looked bound for ratification as recently as two months ago has encountered some peril with less than a month to go before the start of the 2020 league year. Union leaders have touted to players the benefits of the proposed new deal, which includes a higher percentage of league revenue going to players, improvements in the drug policy and discipline policy, higher minimum salaries, higher per-team spending floors and relaxed offseason work rules.
One of the concessions players have been seeking since CBA talks began last year has been an increase in the minimum salary, which applies to a significant chunk of the league's population. Under the proposed new CBA, sources tell ESPN, NFL minimum salaries would rise by roughly 25 percent. For example, the minimum salary for rookies in 2020 was scheduled to be $510,000. Under the new CBA, which would begin in 2020 and run through 2029, that figure would rise to $640,000. The minimum for players with one year of experience would jump from $585,000 to around $730,000. And so on up to the 10-year veteran minimum, which is currently scheduled to be $1.045 million in 2020 but would rise to roughly $1.3 million.
But sources say the players who are opposed to a 17-game season have pushed back and asked the union to demand further concessions from owners, particularly in the area of offseason and training camp work rules.
The NFLPA held a series of conference calls last Thursday and Friday to which all players were invited. The purpose of those calls was to help determine what additional concessions players would need to secure from the league's side if they were to agree to a 17-game season. Following those calls, the union discussed counter-proposal ideas with the league, and one source said the proposal has been altered some to reflect the changes the players sought, though work remains to be done on a couple of issues, including training camp rules and the "fully funded rule" that players and their agents loathe because teams use it as an excuse not to guarantee contracts.
If this week's discussions with the owners have improved the offer sufficiently in the eyes of the players, there could soon be a series of votes that moves the negotiations along to the approval stage. If not, CBA negotiations may have reached an impasse.
Bobby Hebert Sr., father of former Saint and Falcon Bobby Hebert Jr., dies from COVID-19
Bobby Hebert Sr. — the father of former New Orleans Saints and Atlanta Falcons quarterback Bobby Hebert — died Saturday at the age of 81 after testing positive for the coronavirus.
Hebert Jr., a Southern Louisiana native, works as an analyst for WWL Radio in New Orleans. He and his wife, Jojo, said in a statement that "our hearts are broken" and that Hebert Sr. was "the reason I made it" to the NFL.
Hebert Jr.'s son T-Bob, who played center at LSU, described his grandfather on Twitter as "the wisest, kindest, and most tactful person I have ever known."
This is my namesake Bobby Hebert Sr

He is the wisest, kindest, and most tactful person I have ever known

He passed this morning and I love him and I will miss him

He loved LSU to his core and instilled that love in me

"Jolie l'lait d'vivre" pic.twitter.com/g484pHIyYz

— T-Bob Hebert (@TBob53) March 28, 2020
Hebert Jr. broke down crying in a recent appearance on WWL while describing his father's battle with the virus. He described his father as a "fighter" who survived colon cancer, multiple strokes and a birth defect that required open heart surgery.
But, Hebert Jr. said, "You can be tough and the virus can still overwhelm you," before insisting that people heed the advice of health officials because "it's an unseen enemy."
Hebert Jr. also wrote in his statement about the "magic twinkle" in his father's eye and his lifelong passion for the LSU Tigers.
"I'm kinda numb and shocked," Hebert Jr. said in the WWL interview. "You get numb and then sometimes you don't want to accept reality and what you're dealing with."
Ex-Broncos DE Derek Wolfe, Ravens agree to 1-year deal, source says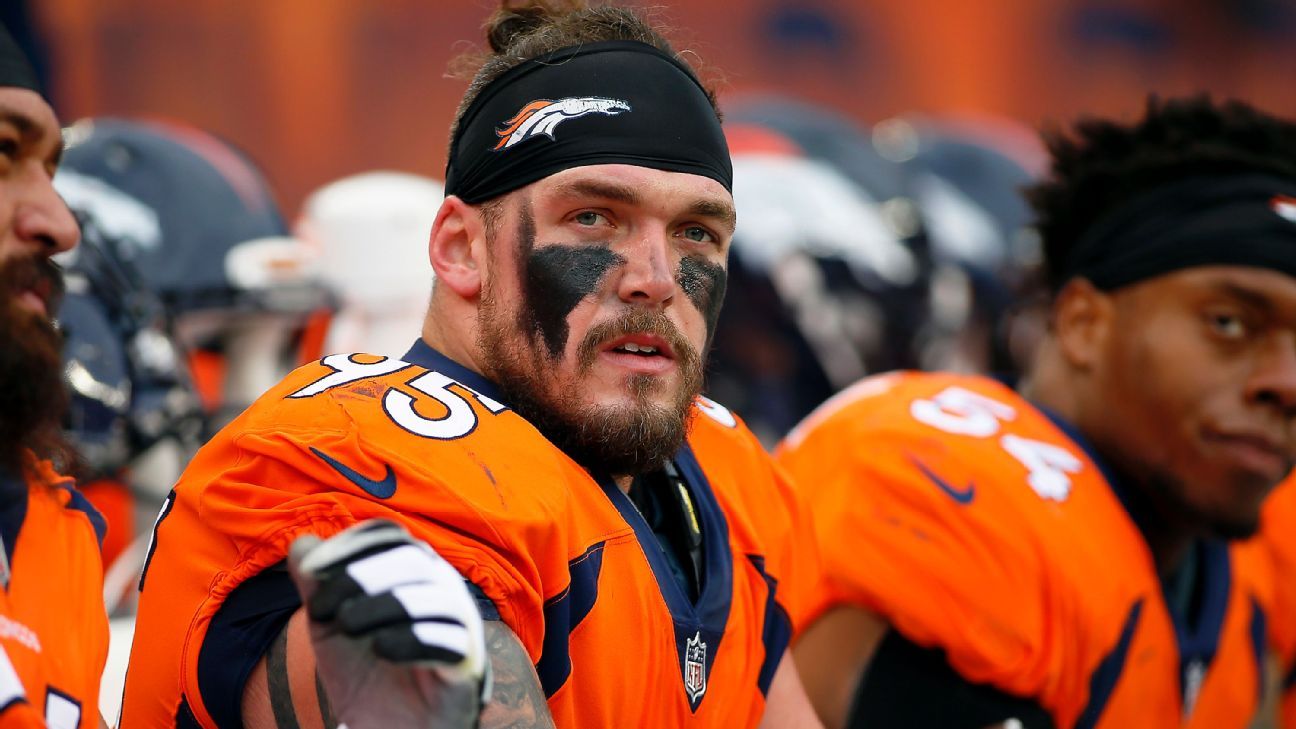 ‪Former Denver Broncos defensive end Derek Wolfe has reached agreement on a one-year deal worth up to $6 million with the Baltimore Ravens, a source told ESPN's Adam Schefter.
Wolfe finished his eighth season with the Broncos in 2019 and was one of the longest-tenured players on the team's defense; only cornerback Chris Harris Jr. and linebacker Von Miller have played on the defense longer.
Coach Vic Fangio's defensive scheme turned out to be perfect for Wolfe as he had one of his best all-around years in '19 with 34 tackles and a career-best seven sacks.
Wolfe's high-motor play has been a key part of the defensive front, and Miller credits Wolfe for many of his sacks "because of what Wolfe does next to me. He's a beast."
Wolfe has 33 sacks himself in his career.
That intensity has come at a physical price at times as Wolfe has battled through some injuries throughout his career, including neck surgery. He has played 16 games three times and went to injured reserve this past season after 12 games with a dislocated left elbow.
Wolfe, who turned 30 in February, was a second-round pick by the Broncos in 2012 — the team had traded out of the first round that year — and he immediately started 16 games as a rookie for a team that won the AFC West. He has started every game he played in for the Broncos — 108 in all — and while he hoped to re-sign with the Broncos at season's end, he added "it's a business."
ESPN's Jeff Legwold contributed to this report.
Chiefs re-signing WR DeMarcus Robinson for one year, source says
The Kansas City Chiefs are re-signing wide receiver DeMarcus Robinson to a one-year contract, a source confirmed to ESPN.
Robinson's production increased each season after cracking the Chiefs' receiving rotation, going from 21 catches and 212 yards in 2017 to 32 and 449 in 2019. He started 23 games over three seasons, mostly when the Chiefs opened in three- or four-receiver formations.
Robinson, who turns 26 in September, was a fourth-round draft pick in 2016 and played mostly on special teams as a rookie.
His big game with the Chiefs came in Week 2 of last season. With Tyreek Hill out with an injury, Robinson made the most of the opportunity with six catches for 172 yards and two touchdowns in a win over the Raiders.
NFL Network first reported that Robinson was returning to the Chiefs.