Disciplining Astros not as easy for MLB as Altuve revealing a tattoo
WEST PALM BEACH, Fla. — This being Florida, and Florida being the cradle of American absurdity, the sight of a man peeling off his shirt, walking to a place where he was guaranteed to be noticed, pirouetting to show off the tattoo on his left collarbone, slipping on a new shirt and slinking away, satisfied, mission accomplished, felt entirely appropriate. Actually, that's a lie. What Jose Altuve did Monday morning in front of a group of reporters was spectacular even by Florida's standards. This is the Houston Astros' existence. They have morphed into such a circus, such a farfetched big top, that they are seeing Florida and telling it to hold their Shiner Bock.
The insertion of ink into this spectacle came Saturday, when Astros shortstop Carlos Correa told MLB Network that Altuve did not want his jersey ripped off after hitting a pennant-winning home run last year because a) his wife did not like when teammates did that and b) he didn't want to show a bad tattoo. As chef's kiss as it would have been for Altuve's tattoo to say NO RAGRETS, alas it was something far more innocent: Melanie, the name of his 3-year-old daughter, next to a pink heart.
This did not exactly fit Correa's description of bad tattoo, but taste is relative — and Altuve later admitted that the original version of the tattoo he got in San Francisco last fall during a road series needed touching up, which seemed to intimate that Version 1.0 was indeed bad. The capital-M did match the sliver of a letter that peeked out from under Altuve's jersey at times during the 2019 postseason, nullifying yet another conspiracy theory: that Altuve had gotten the tattoo over the weekend to corroborate Correa's story. This is where we are.
Less than a week into spring training, life with the Astros and all that orbits around their sign-stealing scandal is a witch's brew of ludicrous, sad, darkly humorous and tedious. The monotony of a typical spring has been replaced by the predictability of another big-name player lobbing Sequoia's worth of shade at the Astros. Monday included Mike Trout, universally regarded as the best player in the baseball and the game's ostensible face, calling it "sad for baseball."
"When is it going to end?" one Astros player asked Monday, and the answer depressed him: No time soon.
And that's less because of amusing little sub-stories, like the Altuve tattoo, and more due to the runaway-train nature of the fallout from Houston's cheating in 2017 and 2018. There is anger, inside the sport and out, and it is the most intransigent sort: righteous, moral, vitriolic. The Astros and Major League Baseball have tried to stanch the bleeding and instead have only deepened the wound through a combination of ill-conceived words, questionable accountability and disproportionate punishment.
What makes this calamity so fascinating are the many layers to this lack of punishment, which in recent days has been as prevalent a complaint from players as any. That in and of itself is fascinating — the almost self-selected bifurcation of the MLB Players Association into 1,160 players on one side and the 40 Houston Astros on the other — but lost amid the criticism of the players and commissioner Rob Manfred's grant of immunity is an important truth.
It's a dissatisfying one, too, for those who see the incongruity in Manfred's report calling the trash-can thwaps a "player-driven scheme" and then not disciplining the players in any form. Player-on-player crime and bad press conferences and telestrator breakdowns of tattoos are one thing. Entirely different is how the case wends its way into the murky waters of labor law, and how the decision to ignore an email placed baseball in such a precarious place.
Flash back to Sept. 15, 2017. The Boston Red Sox had been caught decoding sign sequences in their video room and using a cell phone to pass them along to those on the bench via Apple Watch. MLB fined the Red Sox — players escaped discipline from that episode, too — and sent a memo to all 30 teams. The memo, according to sources, included a line that said: "Finally, each Club's General Manager and Field Manager will be held accountable for ensuring that the rules outlined in this memorandum are followed by players and Club personnel."
This is a vitally important sentence, because with it MLB placed the onus on teams — and, in the Astros' case, general manager Jeff Luhnow and manager AJ Hinch — to alert players that they would face discipline if caught using technology to steal signs. During MLB's investigation into the Astros' sign stealing, the league learned, according to a report Manfred issued in January, that "Luhnow failed to take any adequate steps to ensure that his Club was in compliance with the rules." Similarly, players interviewed said Hinch had not informed them of the potential for discipline.
In doing so, the players had not received proper notice required by employers to union employees subject to actionable discipline. Notice is a key tenet of labor law, and without it, the standing of any potential discipline is flimsy.
Now, it's more than reasonable to suggest that MLB's incentive for offering immunity to players had as much to do with its desire for an expedient decision as it did the lack of notice. The sooner the league wrapped up its investigation, the sooner Manfred could issue his report. The sooner Manfred issued his report, the sooner the embarrassment of a World Series champion cheating could be put to bed.
What the league didn't figure was that indemnifying players would cause as severe a backlash as it has. The reality is MLB faced a catch-22. To illustrate that, consider an alternative course of action in which the league, believing that the on-the-record statements of Mike Fiers to The Athletic, the surfeit of video evidence confirming the banging scheme and the testimony of front-office officials, Hinch and coaches would be enough to make a strong case, sought discipline against the players.
There are two tracks here to understand. The first is the extent of such discipline. "I am a precedent guy," Manfred said at a press conference Sunday, and what he means by that is the league's discipline almost always adheres to prior standards. One could argue, fairly, that a disgraced World Series champion warrants a deviation from precedent, but then the ability for that to hold up in a grievance hearing that players surely would have pursued makes any discipline tenuous. Because the sign-stealing and trash-can-banging would be considered an on-field issue, and on-field issues rarely involve long suspensions, Manfred would have been hemmed in by how potentially minimal the suspensions he pursued would actually be.
Even more crucial would be the aforementioned lack of notice. Four labor lawyers with first-hand knowledge of the grievance process agreed: the lack of notice from the Astros to their players would have made any case pursued by the league practically DOA. Yes, grievance hearings do now and again end with surprising results, but the probability tilted significantly toward any potential suspension being overturned, the lawyers said.
Facing that reality, the league made a value judgment: It would offer the players immunity in hopes of gathering the full story of the Astros' sign-stealing exploits and rely upon the details of Manfred's report to bend the public toward the idea that the league had sought and delivered justice.
Even if this was the best of a bad situation, it has backfired catastrophically. The outspokenness of players, whose own union agreed to give Astros players immunity, has been unwavering and unflattering. The Astros players, amid apologies that in many cases offered contrition, have been steadfast in the belief that they did not deserve discipline. The league, recognizing the futility of trotting out a legal argument to satiate the frothing masses, has instead tried to rely upon Manfred to dowse a multitude of brushfires.
In some cases, the effort has been practical, but a lesson learned in times of crisis is that even the slightest misstep can color the intentions. During an interview Sunday, ESPN's Karl Ravech asked Manfred about the possibility of stripping the Astros of their title. In the middle of his slippery-slope defense, Manfred said: "The idea of an asterisk or asking for a piece of metal back seems like a futile act."
The blowback against Manfred was immediate. To trivialize a championship by calling it a piece of metal at a moment when everything he says will be dissected, when his motivations and intentions are in question, when his sport is in peril, gave a tanker truck of fuel to those who already think ill of him because he wants to change the game's playoff structure and contract a quarter of the minor leagues.
Fair or not, all of these things are inextricably tied together, because Manfred is supposed to be the sport's shepherd and his positions on those ancillary issues inform the public's opinion of him. A strong commissioner can guide a sport through a crisis. A weak commissioner can exacerbate it.
Manfred's ultimate story is far from told. He can rescue his reputation and tilt this scandal away from catastrophe, but it is not entirely in his hands. The league's report on the allegations that the Boston Red Sox stole signs electronically in 2018 is imminent. Alex Cora, the former Red Sox manager and Astros bench coach, likely will face discipline. He has yet to tell his story publicly. Neither has Carlos Beltran, the former Astros player whom Manfred's report said teamed up with Cora to implement the trash-can scheme.
All of that is to come. On Monday, the story was far less serious, silly even. Jose Altuve had a tattoo. What it may lack in beauty it makes up for in sentimentality. After Altuve finished his media availability and changed, there was a clang. A small fire extinguisher on the wall adjacent his locker had fallen to the ground. Though it was unclear whether Altuve or a nearby cameraman had knocked it over, the metaphor wasn't lost on anyone. Monday may not have required its use, but there are plenty of brushfires to come yet.
Tokyo Olympics officially postponed until 2021
The Tokyo Olympics have been officially postponed until 2021.
The International Olympic Committee along with Japanese Prime Minister Shinzo Abe and local organizers have decided that the Tokyo Games cannot go ahead as scheduled this year because of the coronavirus outbreak.
The IOC says the games will be held "not later than summer 2021" but they will still be called the 2020 Tokyo Olympics.
Cubs' Rachel Folden is swinging away at stigma that 'women can't coach baseball'
Sitting in her general computing class at Marshall University, Rachel Folden clicked the "statistics" tab on the NCAA softball web page. As her professor explained how to build Excel spreadsheets, Folden, then a 21-year-old senior, was more interested in who was leading the nation in home runs — and how far her own total was from the mark.
"Rachel?" her professor called out. "Are you paying attention?"
Several days later at practice, Folden's softball coach, Shonda Stanton, made an announcement. She was issuing team punishments, she said; several players had committed infractions. A few of Folden's teammates were chastised because their grades had fallen below the team standard. But not Folden — in her case, Stanton had received a stern note from Folden's computing professor, who was displeased that Folden's statistical deep dive had overridden her attention to spreadsheet builds.
"My coach loves to tell people how the only thing she had to punish me for in four years was looking up statistics during class," Folden says, laughing. "I've always been a data nerd."
She has expertly incorporated that love of number-crunching into her career, first as a pro player for the Chicago Bandits and a college softball coach; then as the founder of Folden Fastpitch — a training facility that Folden ran full time until this past fall, when she became the lead hitting lab tech and fourth coach for the Chicago Cubs' Arizona Rookie League team in Mesa.
The new role makes Folden, 32, one of four women hired to coaching roles within pro baseball this past offseason, and the first woman coach hired by the Cubs.
"Her ability to speak about the swing, the mechanics — those were easy boxes to check," Matt Dorey, the Cubs' director of player development, says. "She was such an easy hire, not just because her credentials were so strong, but also because, when we got to know her personality and how ready she was to face the organic challenges, male or female, how committed she was to leaning in to this challenge really resonated with all of us."
---
Baseball was Folden's first love. She was a talented, multisport athlete while growing up in Southern California, but Little League was her passion. During the spring of her eighth-grade year, Folden's basketball coach — who also coached softball — asked her to switch to softball. Folden declined. She assumed the league was slow pitch, and she wasn't interested.
"Yeah, OK," the coach responded. "You're probably not very good anyway."
That challenge was all the motivation Folden needed. She joined the rec softball team, then made the varsity squad at Diamond Bar (Calif.) High School, where she excelled, hitting .531 as a senior and earning first-team All-State honors. While she missed baseball, Folden was grateful that her softball coaches and teammates focused on her play and not her gender, which had often happened when she competed in baseball.
"That attention [from playing baseball] was very similar to what I'm getting right now, which is interesting," Folden says. "Once I started softball, I was only getting judged on my talent. That felt like home to me."
Following her graduation from Marshall — where she was a four-time All-American — with a degree in history and a minor in math, Folden played five seasons in the National Pro Fastpitch league. Coaching was her long-term goal, so even while she was still playing, she also coached softball at Holy Names University in Oakland and then at Valparaiso.
Folden loved working with players, but she disliked recruiting. So, in 2010, she decided to quit collegiate coaching and start her own business: Folden Fastpitch.
"To be honest, I didn't have a goal of how I wanted it to be when I started," Folden says of the Merrillville, Indiana,-based training company. "I just knew that the only thing I wanted to do was coach. The scope [of the business] evolved over time."
Initially, Folden didn't have enough clients to keep her business afloat, so she took a second job selling cellphones at Best Buy. "That was a bit of an ego punch," Folden says. "I'm like, 'I'm a professional softball player, and I'm wearing a blue polo selling phones.'"
Folden's first Fastpitch clients were several girls, ages 10-13. She focused primarily on hitting instruction, while also coaching catcher-specific drills — receiving, blocking, throws at the plate, etc. — with catchers, her former position. But hitting mechanics were her specialty.
"Hitting is hard, which suits my personality," Folden says. "I tend to gravitate toward things that are very challenging. I don't think there's a greater feeling than hitting a home run off of someone and knowing you won that battle … You work so hard at hitting to get just a tiny bit better, and there's something so beautiful and magical about that."
As word spread about Folden's detail-oriented approach, her strong communication skills and her clients' successes, she added several young baseball players to her roster. And, as her business evolved, the data and analytics movement within baseball was evolving as well.
Early on, Folden's use of technology had been limited to watching film. She started a Twitter account in 2011 and began following other private coaches, particularly those who used analytical tools. Chad Longworth, a former minor league baseball player who trained players through his Longworth Sports facility in rural Virginia, was one of those coaches.
Longworth had begun experimenting with bat sensors, using a HitTrax simulator in the cage to measure batted-ball metrics such as exit velocity and launch angle, and the Diamond Kinetics pitch-tracker app to collect swing data such as bat speed and swing-plane efficiency. These data-driven, quantitative methods were ahead of the curve — and weren't universally used across baseball in 2016. But Folden immediately grasped their potential.
"Rachel was willing to ask different questions," Longworth says. "And that framed the way she thought about training hitters differently, which sent her down into the rabbit hole where most people don't go. That curiosity has gotten her to where she is now."
Folden began introducing her own subtle, data-driven changes: working on specific movement preparation, using pitching machines more frequently and increasing the overall difficulty of practices to better simulate games. She bought a radar gun, bat sensors and other data-gathering tools to provide direct, individualized feedback on swing mechanics for each player.
"When I first started giving lessons in 2010, I didn't use a pitching machine," Folden says. "Once I bought one, I literally used it every day. That helped my approach in realizing that I don't need to give feedback after every single swing. Instead, we work in rounds and I can assess after each round is over. That way, I can keep hitters in a rhythm."
When Justin Stone, head of Elite Baseball Training, a Chicago-based baseball instructional company, approached Folden in 2017 about starting a softball franchise with him, she agreed, on one condition: she would get to work with baseball players as well.
Once Folden began instructing professional baseball players, "she never missed a beat," Stone says. "I'd introduce her to people, and I'd say, 'This is Rachel. She'll be the first female to work in professional baseball.'"
The Cubs hired Stone as their director of hitting last September, as part of an organizational overhaul that put a larger emphasis on technology and data. It followed an MLB trend of hiring more analytical, data-driven minds — rather than former major leaguers with high batting averages. Soon thereafter, as Stone and Folden were driving to Ann Arbor, Michigan, to run a clinic for the University of Michigan softball team, he told her, "I'm going to recommend you to the Cubs."
"You'll have to interview [with the team]," he continued. "But I need someone to run the hitting lab. I'd like you to do it.'"
Over the course of two days of interviews, Folden talked with multiple Cubs executives. In every meeting, she would ask, "Am I being considered just so you can check a box?" Each time, Folden says, she heard a similar response: "'We don't have time to get this wrong,' [Cubs staffers] said. 'We're not trying to prove a point and then fall behind. We're trying to win a World Series — several World Series — and we need to bring in the best possible people to accomplish those.' And that included me."
The Cubs officially announced Folden's hire on Nov. 22, the same day the Yankees announced the hiring of Rachel Balkovec as a minor league hitting coach.
Folden and Balkovec had never met, until they both happened to work a clinic for the Northwestern University softball team on Nov. 20, just two days before the official MLB announcements. During a private conversation at the clinic, they realized that they would both be working in Major League Baseball — and breaking barriers for two of baseball's most storied teams.
"I felt like, when you meet a dog of the same breed, and you're like, 'Wait, I've never seen a dog of the same breed! What is this creature?'" Balkovec said of meeting Folden and learning of their shared secret.
Balkovec is also a former college softball catcher, at Creighton and New Mexico, but her path to becoming a full-time hitting coach in pro baseball was quite different than Folden's. She learned Spanish and has two masters degrees (in kinesiology from LSU and in human movement sciences from Vrije University in the Netherlands) and once altered her resume, spelling her first name "Rae" to make her name sound more gender neutral after getting passed over for jobs. In 2014, Balkovec became the first woman to hold a full-time strength and conditioning position in major league-affiliated baseball when she was hired by the St. Louis Cardinals. She later served as the Latin American strength and conditioning coordinator for the Houston Astros.
Balkovec is happy that she and Folden have the opportunity to be trailblazers, but wonders what took so long. "There are plenty of qualified softball coaches who can work in baseball," Balkovec says. "Hitting in particular is such a transferable skill, so why aren't there more female hitting coaches? They're coaching almost the exact same movement."
Folden Fastpitch clients Hayden and Delaney Kaminski agree. The brother-and-sister duo began working with Folden four years ago. After Delaney started seeing results at the plate from her individual hitting sessions with Folden, including her first-ever home run, the siblings' father, Mark, suggested to Hayden that he follow suit.
He did — and saw marked improvements after his eighth-grade season, and made his high school's varsity squad as a freshman.
"[Folden] really helped me by breaking my swing down into parts," Hayden, now 18, says. "Every lesson, we'd have a new focus: one would be loading up, the next would be going from the load to contact, etc. Going in little stages like that really helped me understand the swing she was trying to teach. And knowing how energetic she is about teaching you makes you care about it as much as she does." (Hayden's senior season is on hold because of the coronavirus pandemic, and he plans to enroll in flight school in the fall. Delaney, a high school junior, hopes to play softball in college.)
Folden has carried that passion, for both the performance and the player, into her new role.
"Rachel is able to quickly read the personalities that show up in the batter's box," Stone says. "Some are deep critical thinkers; some are the complete opposite. You have to cue them in completely different ways, and she knows how to do that."
That ability to think and adjust on the fly is significant because few jobs in baseball — or any sport, for that matter — are more hands-on than a hitting coach. They must analyze a batter's mechanics and provide instant feedback, sometimes even between at-bats. There's no room for self-doubt or indecision.
"It's a high-anxiety job," Stone says. "It's going to be messy a lot of times, and understanding and having empathy for that [is key]. Having been through it herself helps get Rachel through that guy-girl stigma."
Folden and Balkovec aren't the only women swinging away at that stigma. Alyssa Nakken — another former softball standout — put another crack in MLB's glass ceiling when she was named an assistant for the San Francisco Giants in January, making her the first woman coach on a major league staff in baseball history. And in February, the Cardinals hired Tina Whitlock as a coach for one of their minor league affiliates as part of the franchise's Fourth Coach program, which helps develop future coaches and scouts.
"I don't think about [the significance of being one of the first women in MLB] on a daily basis," Folden says. "If I did that, it would become a crutch. I'm one of only four women working in baseball — clearly, it's not exactly an easy path. I get the social impact of it. I'm here for it, but I just want to do my job really well."
Balkovec says the environment has changed even since 2012, when she landed her first internship with the Cardinals (as a strength and conditioning coach with their minor league affiliate). "When you work in a men's facility, you go into the restroom and — guess what? — the toilet seat is up," Balkovec says. "Is it because they're ass—–? No, they're just not thinking about it. They're not used to putting it down. [Working in MLB], I metaphorically put the toilet seat down, probably daily. When I signed the paper to work for the Yankees, I knew I had two jobs, not one. It's not pressure, it's a responsibility that I pridefully accept. I'm ready, and even if something unfair happens, I know how to handle it. I'm a vehicle for change and I have to be prepared for some things to not go perfectly."
Both women also want to be visible role models for young girls who are just as passionate about baseball as softball. Dozens of players and parents have reached out to them through social media, expressing their support and appreciation.
"When you see young girls who want to work in or play baseball, this gives them one more little nugget of encouragement," Folden says. "When I was a kid, no one was ever like, 'Hey, you know what? One day you're going to be a baseball coach.' It was always, 'Sure, play baseball, but eventually you'll have to switch to softball.'
"Now, little girls are going to grow up in a society where there are women working in baseball."
The best MLB games we ever saw — Twists and turns, heroes and zeros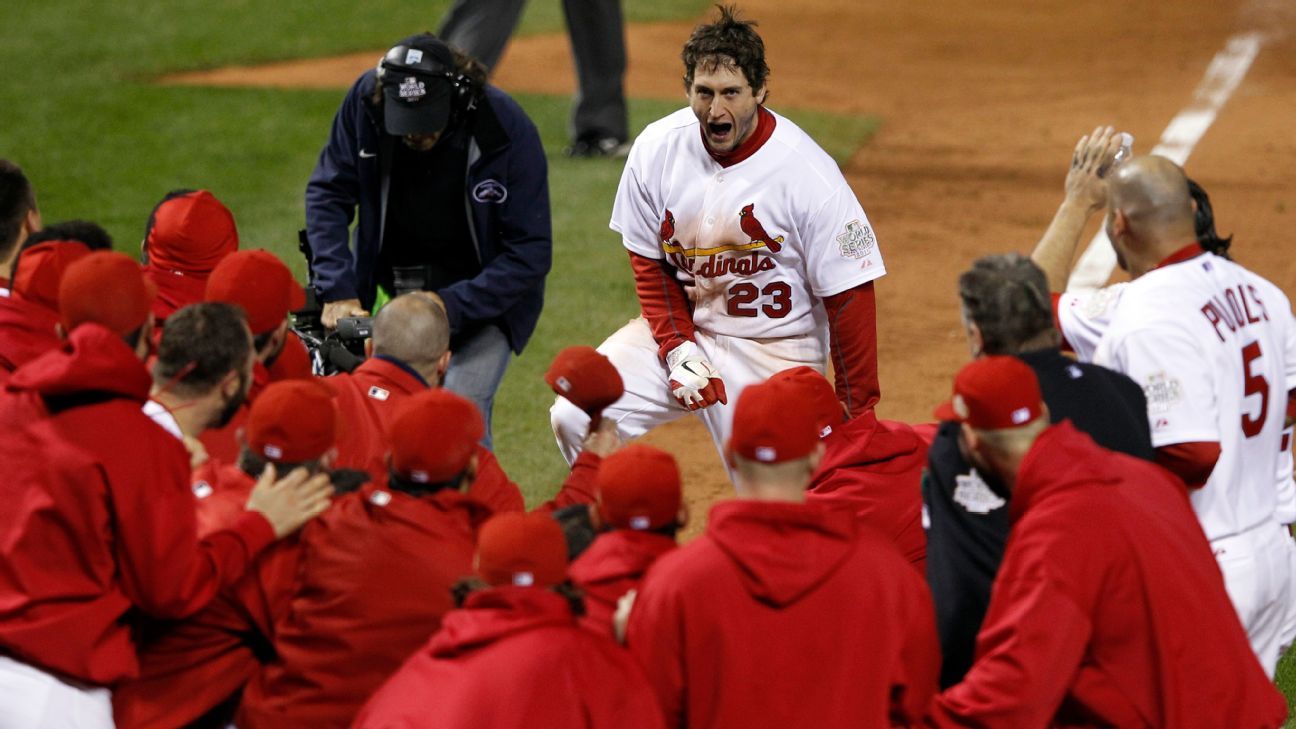 This was supposed to be Opening Week, the time when MLB fans everywhere look forward to making a season's worth of memories. Since we won't have games to get excited about for a while, we thought it'd be fun to take a walk down memory lane by reliving some of our personal favorite baseball moments.
In the second of a weeklong series focusing on a different baseball theme each day, we asked our MLB reporters to tell us about the best game they ever saw — with only one rule: They had to be in the park to witness it.
Jump to …
Morris the Magnificent | St. Louis superhero |
Freese didn't do it alone | Bumgarner's brilliance |
Bream's amazing journey | Big Papi to the rescue |
It was worth the wait | No-hit wonder |
Wild ride in Houston | A cruel twist
---
Tim Kurkjian: Morris 'was not coming out of that game'
In Game 7 of the 1991 World Series, Jack Morris hurls 10 scoreless innings as the Twins win the title in a 1-0 victory against the Braves.
Game 7, 1991 World Series, Braves vs. Twins at the Metrodome, which was so loud, it was like being strapped to the speakers as Aerosmith sang "Dream On."
Each team had finished last in its division the previous season, and here they were playing in Game 7 of what had already been a tremendous World Series. After eight innings, it was still scoreless. My colleague from Sports Illustrated, the genius Steve Rushin, was one seat away from me in the auxiliary press box, so I screamed to him (because he couldn't hear me otherwise): "I can't write. This is too big for me. I am not worthy." The Twins won 1-0 in 10 innings on a sacrifice fly by Gene Larkin. Jack Morris went the distance (only Roy Halladay and Mark Mulder have thrown a 1-0, 10-inning shutout since).
Late in the game, Morris was in trouble. Manager Tom Kelly came to take him out. Morris talked him out of it, then miraculously escaped the jam to keep the score tied. "If TK had tried to take Jack out there," Twins outfielder Randy Bush said, "it would have been the first time in major league history that a manager had ever died on the mound because Jack would have killed him. Jack was not coming out of that game."
---
David Schoenfield: David Freese, St. Louis superhero …
I've been fortunate enough to cover 10 World Series, including Game 7s in 2001, 2002, 2011, 2014, 2017 and 2019. I've seen Roger Clemens throw a bat at Mike Piazza, Derek Jeter become Mr. November, an unbelievable 13-12 game and one that lasted 18 innings. As a Mariners fan, it's hard not to pick the 1995 AL West tiebreaker game between the M's and Angels, when Randy Johnson pitched Seattle into the playoffs for the first time.
I can't believe I'm not picking Game 7 from the 2001 World Series, when Luis Gonzalez's blooper shocked Mariano Rivera and the Yankees, but I have to go with Game 6 from the 2011 World Series, that wild 10-9 win for the Cardinals over the Rangers in 11 innings that set up St. Louis' victory in Game 7.
It will forever be the David Freese game in St. Louis — he tied it with a two-out, two-strike, two-run triple in the bottom of the ninth. After both teams scored twice in the 10th inning, Freese hit the walk-off home run in the 11th. The game featured seven lead changes, 42 players, six home runs and a gut-wrenching loss for a franchise looking to win its first World Series.
---
Alden Gonzalez: … and Lance Berkman, Freese's Robin
I remember Game 6 of the 2011 World Series in vivid detail. And the person I most remember is actually Lance Berkman, who was batting two spots in front of the eventual hero, David Freese, that night. In the bottom of the ninth, with the St. Louis Cardinals down by two, Berkman worked a walk and scored the tying run on Freese's triple. In the bottom of the 10th, with the Cardinals down a run and their season hanging on one final out, Berkman lined a two-strike single to center field, tying the game once again. We were in a suite that was serving as an auxiliary press box down the right-field line, and I'll never forget the stunned silence that fell upon that room — like five separate times!
Freese, who famously ended Game 6 with a walk-off home run in the 11th, told me about the way he experienced that night a couple of years later. He was crashing in the living room of a college friend's apartment in Brentwood, Missouri, at the time. When he returned from the game, all of his friends were partying. After they left, he still couldn't sleep. He stayed up all night, grabbed his usual breakfast burrito at McDonald's the following morning, drove to the ballpark shortly thereafter, then helped the Cardinals win Game 7.
---
Buster Olney: Bumgarner's brilliance
After throwing nine scoreless innings in Game 5, Madison Bumgarner comes back in Game 7 of the 2014 World Series to throw five more scoreless frames and seal another Giants title.
Even before Madison Bumgarner completed a shutout in Game 5 of the 2014 World Series, speculation began about when Bumgarner might serve as a reliever in either Game 6 or Game 7. Not if he would pitch, but when Giants manager Bruce Bochy would call on him — a decision fully shaped when the Royals blew out San Francisco 10-0 in Game 6, forcing a winner-take-all showdown for the next night.
When the Giants' clubhouse opened after the wipeout, Bumgarner was in the process of getting dressed — and was surprised, and a little grumpy, when reporters surrounded him. After all, he wasn't starting in Game 7 and didn't expect to get questioned. But the curiosity was a reflection of Bumgarner's preeminence that fall.
The Giants were the fifth seed in the NL as the postseason began, but Bumgarner shut out the Pirates in the wild-card game, and continued to carry the team; he would allow only six runs in seven games that fall. Bochy kept giving him the ball and Bumgarner kept throwing up zeros, so when he began to warm up in the midst of Game 7, with the Giants leading, it felt like Superman jumping into a phone booth.
As one scout said afterward, Bumgarner simply refused to be beaten. He threw five scoreless innings that night, and when Bochy hugged him afterward, the left-hander finally acknowledged that yes, he was tired. My favorite stat from that postseason: Bumgarner threw 52⅔ innings in the playoffs and World Series, more than twice as many as any other pitcher.
---
Tim Keown: Sid Bream's amazing journey
In Game 7 of the 1992 NLCS, Francisco Cabrera singles in the bottom of the ninth and Sid Bream slides to beat the throw to propel Atlanta past Pittsburgh.
I was tempted to pick The Brian Johnson Game — a wild Dodgers-Giants game from late in the 1997 season, a sprawling, goofy, borderline stupid game that ended with a walk-off homer by Johnson an inning after Rod Beck got out of a bases-loaded, nobody-out mess by inducing an inning-ending double play from Eddie Murray.
Instead, in a nod to historical import, I'll go with Game 7 of the 1992 National League Championship Series — The Francisco Cabrera Game. The Braves went to the World Series because Cabrera, who had just 12 plate appearances in 1992 and finished his career with fewer than 400, lined a pinch-hit single between short and third off Stan Belinda with two outs and the bases loaded in the bottom of the ninth and the Pirates leading 2-1. Sid Bream, representing the winning run, broke from second, his body moving like a creaky erector set, and Barry Bonds charged from left field, scooped the ball near his right heel and threw toward the plate with his body angling toward center. The throw was weak and toward the mound, a one-hopper that catcher Mike LaValliere backhanded before diving toward the plate.
From the time LaValliere caught the ball to the time Bream's left foot slid across home, time stopped. Bream was safe by the length of a spike, and afterward he lay on the plate and dropped his head on his crossed arms, telling us what we suspected: The trip from second to home was all he had in him, and if the bases were somehow 91 feet apart instead of 90, Francisco Cabrera would have gone down in history as just another guy with fewer than 400 plate appearances.
---
Joon Lee: Big Papi to the rescue
In Game 2 of the 2013 ALCS, David Ortiz ties the game with a grand slam that sends Torii Hunter over the wall.
The favorite baseball moment I've ever seen comes a bit two-fold. I was at Game 2 of the 2013 American League Championship Series when David Ortiz hit an eighth-inning grand slam off Detroit's Joaquin Benoit to tie the game and eventually lead Boston to the World Series. I was sitting three rows from the field (a family friend had gotten tickets) right by the on-deck circle (Miguel Cabrera and a fan went back and forth all night when he was warming up). I also had been at the game preceded by the "This is our f—ing city" speech (about which I wrote an oral history), so to see Ortiz step up again for Boston made the two moments feel so connected.
The reaction to the Ortiz home run was the loudest I'd ever heard Fenway Park, and on a personal note, I was a freshman in college who was being exposed to the real world for the first time and was going through a difficult transition, and I got to see the moment with my dad, who first introduced me to baseball.
Seeing Torii Hunter flip over the wall, one of the biggest moments of the Red Sox carrying the city of Boston on their backs after the Boston Marathon bombings, was one of the most special things I've gotten to witness, so my mind always goes back to that grand slam. Getting to interview Ortiz, my childhood hero, about this years later only made the experience all the more special.
---
Bradford Doolittle: It was worth the wait
In a thrilling Game 7 of the 2016 World Series, the Cubs outlast the Indians in 10 innings to win their first title in 108 years.
It's not often in sports that the reality of an event lives up to the anticipation of it. But it does every once in a while, and it's these scrapbook moments that dominate our personal memories. Game 7 of the 2016 World Series lived up to the anticipation that preceded it and more. I've been to big games at which I was a fan of one of the teams, and it's tough to match an event at which you have a personal stake. I didn't have any particular personal stake in the Cubs-Indians finale, but I don't think I'll ever cover a more intense contest.
What elevates that game above the rest were the sheer stakes at play. A 108-year title drought will do that, but it was also because it was the Cubs, one of the sport's most popular teams. But then you match them up with the Indians, who deserved the limelight to themselves in the championship drought category. One way or another, we were going to witness a venerable fan base experience a release that had been building for generations.
And then the game itself turned out to be wall-to-wall insanity. Dexter Fowler's leadoff homer. Jon Lester's back-to-back, run-scoring wild pitches. David Ross' dinger. Rajai Davis' jaw-dropper off Aroldis Chapman, and the tilting energy in the ballpark when it happened. And then, finally, a smiling Kris Bryant throwing out Michael Martinez to end it. Just a pinnacle moment in the history of baseball.
---
Steve Richards: No-hit wonder
For sheer drama and excruciating excitement, it's hard to beat the 14-inning, nearly six-hour-long taffy pull that was Game 5 of the 2004 ALCS, the second step in the Red Sox's historic comeback against the Yankees. But for the full ballgame experience, I can top that.
Every dad who loves baseball envisions the magical day he can take his kid to the ballpark for their first game together. For me and my 5-year-old son, Levi, a budding Red Sox die-hard just like his old man, that came Sept. 1, 2007, at Fenway Park. Honestly, I figured the action on the field would be something of a sideshow as I tended to Levi's needs for ice cream, popcorn, souvenirs, the bathroom and more ice cream … and given his age, the two-hour trip and the fact it was a night game, I didn't expect to make it for all nine innings anyway. I begrudgingly convinced myself that that was OK since the Sox had a pretty comfortable lead in the AL East, the Orioles weren't exactly a marquee opponent and Boston's pitcher was a rookie making his second major league start, some kid named Clay Buchholz.
It was indeed a magical time, seeing the wonder on my son's face as we settled into our seats, as night fell and the lights brightened, as the Red Sox knocked around the O's and built a hefty lead. But that was only the start of it. Right around the time I had figured we'd be heading to the exits, it was becoming clear Buchholz had some amazing stuff, no-hit stuff. As the line of zeros on the Fenway scoreboard grew longer, with the goose egg in the Baltimore hit column the most notable, the tension rose, particularly for me as I anticipated a meltdown from my exhausted son.
The meltdown never came. The electricity in the park enthralled Levi, and while he had no way of realizing how special it would be to experience a no-hitter, he wasn't going anywhere. And Buchholz was dealing, spotting his fastball and baffling the Orioles with a dizzying array of breaking pitches. After getting Corey Patterson on a liner to center for the second out in the ninth, Buchholz froze Nick Markakis with one last looping curve for strike three to become just the third pitcher since 1900 to throw a no-hitter in either his first or second career start.
For Buchholz, it was the game of a lifetime. For me and my son, it was not only the game of a lifetime but the first of a lifetime of games we'd enjoy together.
---
Dan Mullen: Wild ride in Houston
This was the toughest category of the week for me to pick. Brad Doolittle and Alden Gonzalez made choosing a little easier by taking two of the prime contenders for the top spot on my list, which I narrowed to the David Roberts steal game in the 2004 ALCS and the game I ultimately settled on. The game I'm choosing stands out because besides being a huge, World Series-shifting moment — no matter what we now know about that moment — this is one game that would have been absolutely bananas had it come in Game 5 of a tied World Series or just on a random Tuesday night in June.
I remember walking into Minute Maid Park so excited about a Clayton Kershaw–Dallas Keuchel showdown in an even World Series and walking out well after midnight wondering what the heck just happened — and whether I was going to make it to the airport in time for the flight to L.A. Five hours and 21 minutes after Kershaw threw the first pitch, Alex Bregman sent everyone home with the walk-off hit in what can only be described as the craziest baseball game I've ever seen. In the time between, we saw:
• 25 runs
• 28 hits
• Seven home runs
• Five plays that changed the win probability by at least 25%
• Two former Cy Young winners who didn't even make it through the fifth inning;
• A team that rallied from two separate three-run deficits
• A World Series Game 5 that had us writing stories like this just three days after we were writing stories like this
• And me totally exhausted after spending most of the night sprinting from the auxiliary box in center field to the main press box behind home plate and back while trying to figure out what we were going to write after every twist and turn along the way.
Unfortunately, none of us will ever look back at anything involving the 2017 Astros the same way again. But, man, that was one bizarre night in Houston.
---
I want to be clear that "best" doesn't mean most enjoyable, most joyful. There was ultimately no joy the day that Kendrys Morales hit a walk-off grand slam to end what had been a marvelous Saturday afternoon pitchers' duel between peak Felix Hernandez and peak Jered Weaver.
As Morales came home with the final run in the bottom of the 10th inning, and we in the press box scrambled to finish our game story rewrites, Morales leaped into a scrum of teammates and landed awkwardly on home plate. As his friends briefly continued to celebrate around him, he crumpled to the ground in agony with what would turn out to be a broken leg.
It was just awful, and the sudden vacuum in that previously boisterous stadium was unforgettably affecting. The power of the silence made my eyes water. That's the game I think about most often. It's the reductio ad absurdum application of Yogi Berra's baseball thesis statement: It ain't over 'til it's over.