Cardinals' Miles Mikolas misses bullpen session with sore elbow
JUPITER, Fla. — St. Louis Cardinals pitcher Miles Mikolas was scratched from his second bullpen session of the spring because of a flexor tendon issue.
"Best-case scenario is probably just a couple more days before he starts playing catch, starts his bullpens again," Cardinals manager Mike Shildt said. "I can't say that's going to happen one way or the other."
Mikolas said his arm felt "tender from time to time" last season, but he was able to manage it.
"I do not know what the full clinical term is," Mikolas said. "I can tell you my elbow is a little sore."
Shildt said the Cardinals hope to have a more concrete time frame for Mikolas return to the mound in a day or two.
"Is he behind? Yeah, he's behind," Shildt said. "He's not being able to get on the mound, but he's still doing some of the things mentally and physically that he can do."
Should Mikolas only need a couple of more days of rest, he expects a brief layoff wouldn't significantly hamper his preparation for the season.
"I've already been throwing and throwing bullpens," Mikolas said. "Once I feel good and get cleared to re-ramp back up, it shouldn't be a super-long process."
Mikolas signed with St. Louis prior to the 2018 season following a successful stint in Japan. He was 18-4 with a 2.83 ERA during his first season with the Cardinals and earned a trip to the All-Star Game.
Mikolas struggled last season as he went 9-14 with a 4.16 ERA in 32 starts in the regular season, but he was 1-1 with a 1.50 ERA in three appearances in the postseason.
Mikolas received a platelet-rich plasma injection as treatment for his arm soreness after the Cardinals were eliminated from the playoffs.
"It's been a long couple of seasons for me," Mikolis said.
Despite last season's struggles, Mikolas entered this spring as one of four pitchers expected to be in the Cardinals rotation, joining Jack Flaherty, Dakota Hudson and Adam Wainwright.
Carlos Martinez, Korean offseason signee Kwang-Hyun Kim, Alex Reyes and Daniel Ponce de Leon entered camp as the leading candidates for the fifth starting spot. An extended layoff for Mikolas could allow two of those pitchers to break camp in the starting rotation.
Padres reliever Andres Munoz has Tommy John surgery
SAN DIEGO — Hard-throwing Padres reliever Andres Munoz and minor leaguer Reggie Lawson underwent Tommy John surgery Friday.
Both right-handers were injured shortly before spring training was suspended due to the coronavirus pandemic.
Munoz, 21, made his big league debut last year and appeared in 22 games. He went 1-1 with a 3.91 ERA and 30 strikeouts, against 11 walks. He would have been a key member of the Padres' beefed-up bullpen this season, if and when it resumes.
The 22-year-old Lawson was 3-1 with a 5.20 ERA in six starts with Double-A Amarillo last season before being shut down with an elbow injury. He returned for the Arizona Fall League, going 1-0 with a 0.82 ERA in three appearances, including two starts.
Yankees' Aaron Judge says rib improving, also had collapsed lung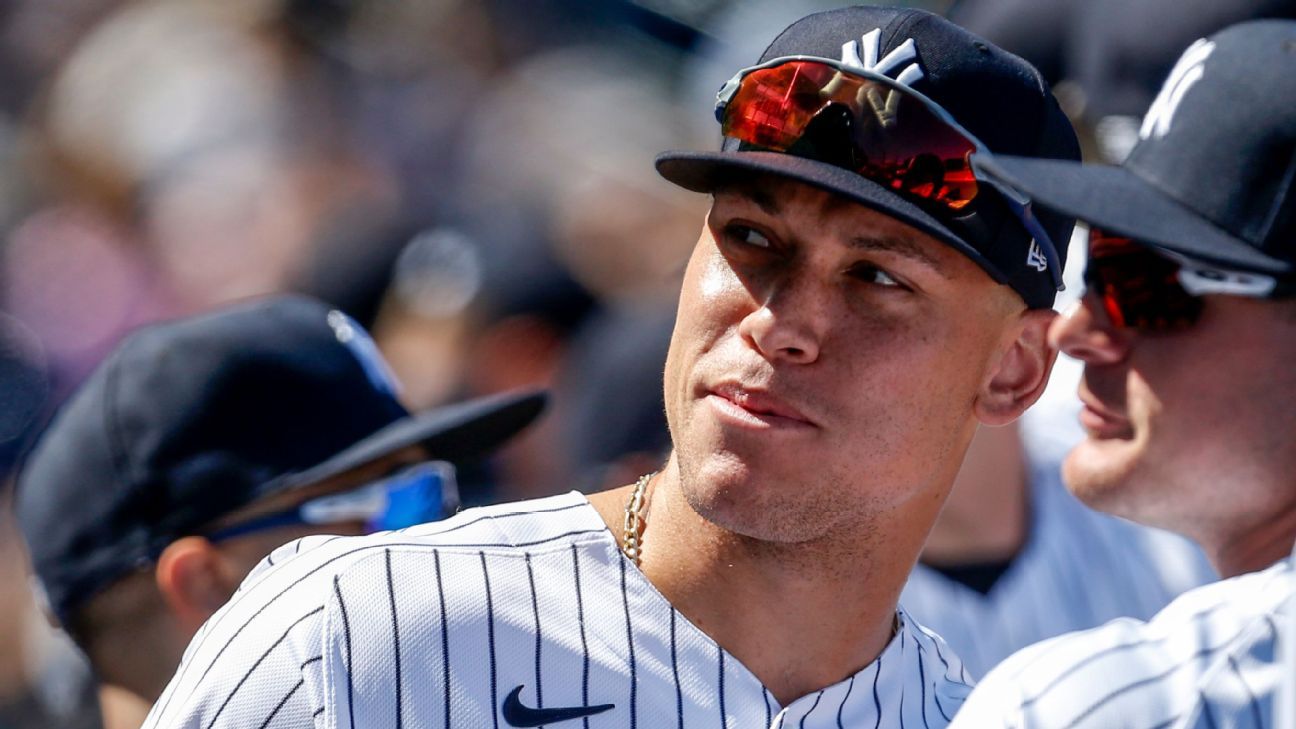 New York Yankees outfielder Aaron Judge told reporters Friday that his fractured rib is improving and also disclosed that he suffered a partially collapsed lung.
Two weeks ago, manager Aaron Boone said a fractured rib revealed by a CT scan was why Judge had been suffering tightness in his shoulder and pectoral area, thus significantly limiting his baseball activities since early February.
The Yankees never divulged that the pneumothorax, commonly called a collapsed lung. Judge said a scheduled CT scan Friday showed the pneumothorax had fully healed and that had been slight progress in the healing of the rib.
"The pneumothorax came back completely gone, which a good thing," Judge told reporters outside Steinbrenner Field in Tampa. "Good to go, which means I can fly if I needed to go home. A little thing on the lung that we were having a little issue with but that was all healed up. … The bone is healing the way it should be."
Judge said he would have another test in a few weeks "and go from there."
WIth the season delayed due to the coronavirus pandemic, Judge likely will have time to fully heal without surgery. He has been doing light workouts at Steinbrenner Field alongside a few teammates, including Giancarlo Stanton, DJ LeMahieu and Tyler Wade.
"That's the silver lining in all this," Judge said. "I think just having the ability to not feel rushed trying to get back, you know, for a certain date."
The 27-year-old said the problem dated to a game against the Los Angeles Angels last September, when he heard "a crack and pop" in his chest on a diving attempt in the outfield.
While states like New York and California have called for all nonessential businesses to shut down due to the pandemic, it is currently not a mandate in Florida.
"The great thing is they have this open so we can come here and still do some baseball activity and stay ready, just kind of feel like we're still in baseball mode," Judge said. "[The team] kind of told us we can do whatever, but I got a place here [in Tampa] so I might as well just stay here and still work with the guys that we have as long as they don't shut us down."
Players were encouraged to return to their respective homes or to their home club's city, but those with homes in the Tampa Bay area have elected to remain in the area due to varying concerns.
"It looks like the season is getting pushed back further. A lot of guys are still here as long as this is open," pitcher Zack Britton, the Yankees players' union representative, said Friday.
"Obviously, there's a ban on gatherings of 50 more people, so if the Health Department or the CDC want to shut facilities down, then the team's hands are tied, and guys will have to find another place to work out. And most guys wouldn't have an alternative workout option in Tampa, maybe even not at home. So guys are in a tricky spot, but a lot of guys are still planning on hanging around."
The Yankees have had two minor-league player test positive for coronavirus. The team's minor-league complex will be shut down until at least March 25 under the directive of the Department of Health.
Holding your fantasy baseball draft now anyway? Here's how to tweak your strategy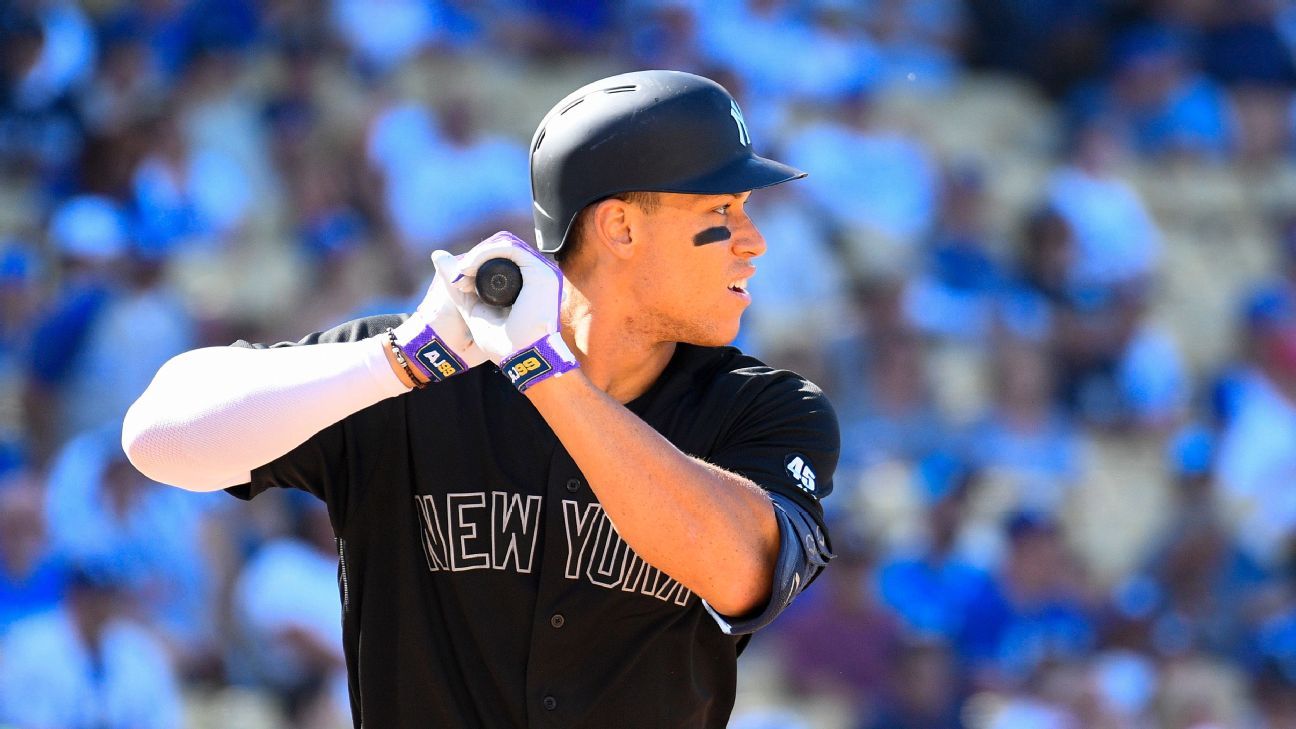 Your league set its draft date long ago, and the decision has since been made to proceed as planned, despite our not currently knowing when Opening Day will be.
With such uncertainty — how many games and when the season might start — which adjustments are you making to your draft-day strategy? Is there a recommended approach for those who draft before we get an announcement on the 2020 season's start date?
Our analysts, Tristan H. Cockcroft, Eric Karabell and AJ Mass, weigh in.
Mass: For the most part, my overall rankings are pretty much locked in stone at this point, at least until camps open back up and people actually resume baseball activities again. That said, with the current uncertainty, I think you have to assume anybody with an injury that was going to keep them out for a few weeks or even a few months gets a clean slate if you're drafting today. Justin Verlander, Aaron Judge, Giancarlo Stanton and Willie Calhoun have to all be drafted today as if they'll be 100% when the games ultimately do get played, don't you guys think?
Cockcroft: I'm not so sure I'm as quick to declare any player facing an injury question scot-free in that department, though it's absolutely a help for players who had specific timetables that extended only a few weeks into the originally intended schedule. For one, players like Judge possess the same amount of setback/future reinjury risk they had, and for another, I can't imagine it'll be as easy for teams to get said players into necessary rehab or simulated games to quickly advance their timetables — they'll enter whatever shortened spring training we get, potentially working their way back, and I'd bet we'll see a few cases where we hear the typical "short injured list stint to begin the year" prognosis.
For Verlander, Calhoun or even Mike Clevinger, yes, absolutely I'm more interested, but I've heard questions asked that assume most injury-risk players should be projected/ranked as if they're now destined to play every game in 2020. For me, it's on a case-by-case basis.
That said, for those whose drafts didn't get rescheduled, you can be a lot happier with your guesses on those players now, since they'll be more likely to be ready for you sooner — I'm obviously a bit more comfortable with my Stanton $18 bid in the League of Alternative Baseball Reality AL-only auction now, but I'm actually not sure I'd have pressed further than that even if we redrafted it today.
Karabell: I have avoided the Yankees' outfielders in recent drafts — yes, drafts and auctions are still ongoing — because, to me, brittle players might be healthy when baseball returns, but for how long? I judge each injury situation on its own merits. Andrew McCutchen will be ready when baseball resumes. The knee is ready. He is underrated. I've been surprised the original discount for him has generally remained in play. Clevinger, same deal. Maybe it's me, but if the league has these players playing every last day, and in doubleheaders, in an effort to foolishly get as many games in before snowfall, look for more injuries. Anyway, I keep drafting McCutchen.
By the way, I'm a fan of pushing drafts back until close to the eventual Opening Day. I'm finding ample things to do. I just saw Schmitty beat the Cubs 23-22. OK, so I've been watching that 1979 game repeatedly. Over and over. I spent hours on Baseball Reference too. I've memorized Rawly Eastwick's career. Um, point is, I see no point to drafting in March. Wait for clarity. If you must draft now, take injuries case by case.
Mass: Fair enough. While injuries will either heal or they won't, what to me is a bit riskier is trusting players without any major league experience in what is likely to be a very shortened season. In a 162-game campaign, I'm fine with giving players like Luis Robert and Yoshitomo Tsutsugo time to adjust and get their proverbial sea legs under them. However, if we're looking at a short sprint to a fantasy title, maybe I'm not going to be looking to draft guys like this as early this time around.
Cockcroft: AJ, that's a good point about inexperienced players, and while I don't totally agree on those specific examples, one thing that dawned on me was what the interruption of the spring training process might do to younger, more inexperienced or with-something-to-prove players who at the time were on the track to winning larger roles. Perhaps a better way to put it: Do spring training stats matter even less this year than they did in years past?
I'm talking about position battles like the back end of the Astros' and Cardinals' rotations, Athletics second base, Braves third base and Cubs second base/center field, where projected winners had been trending. From a draft standpoint, I'm more apt to dial those competitions back to "undecided" than aggressively draft Austin Riley or Ian Happ. Draft like you would an early draft, like LABR — go for the skills you researched in the offseason over projected roles.
Karabell: Excellent point. Managers are far more likely to trust proven commodities this truncated season. I'm sure they'll work out new dates to manipulate in terms of when prospects "can" be recalled and still get the extra "Kris Bryant" year outta them, but I doubt we see the likes of Dylan Carlson, MacKenzie Gore or Jo Adell any time soon. Might be wiser to lean on Dexter Fowler, Zach Davies and Justin Upton. Ugh. Better yet, just avoid these situations.
Cockcroft: By the way, while I agree with Eric's sound advice that the best move is to postpone your draft until the true 2020 Opening Day is known, if you are in this boat of having to proceed with your draft, why not add a new, fun wrinkle to it? Since it'd presumably need to be online — stay safe, people — why not make it a video draft so the smack talk and camaraderie remain?
And to keep people engaged right up until the season's start, why not institute a supplemental draft, to be had after spring training resumes but a few days in advance of the true Opening Day? Each team could designate three to five cuts based on spring training happenings, and you'd have a draft of that many rounds rather than having it all go to waivers/FAAB right before the season. It'd be easier to schedule — a shorter draft — provide an opportunity to socialize, and it'd tidy up what could be a cluttered news cycle for fantasy right before the season begins.
Mass: That's a good idea, Tristan. Even without games being played, things will change over time — because things do. I mean, remember how angry everybody was just a few weeks ago about trash-can gate? I'm not saying we should completely forget about the fact that that happened, but for me, when we finally get baseball games back, I'm going to be thrilled to see it — even if it's from Houston. (No more so-called Astros discounts.) But if you want to have your draft now, if only to maintain some sense of normalcy, be my guest. There's nothing stopping you from holding a second draft (even with the same group of fantasy managers) down the road when things do indeed become a bit clearer.