Steelers' Mason Rudolph calls Browns' Myles Garrett's claim a 'bold-faced lie'
PITTSBURGH — Steelers quarterback Mason Rudolph is calling Myles Garrett's assertion that he used a racial slur a "bold-faced lie," and Steelers coach Mike Tomlin is supporting his quarterback.
"1000% False," Rudolph tweeted after Outside the Lines aired a new interview with Garrett after the NFL reinstated the Cleveland Browns defensive end. "Bold-Faced Lie. I did not, have not, and would not utter a racial-slur. This is a disgusting and reckless attempt to assassinate my character."
1000% False.

Bold-Faced Lie.

I did not, have not, and would not utter a racial-slur.

This is a disgusting and reckless attempt to assassinate my character. https://t.co/mZcEcC0tCl

— Mason Rudolph (@Rudolph2Mason) February 15, 2020
In the interview with ESPN's Mina Kimes, Garrett said Rudolph used the slur as he was being sacked with eight seconds left in the Thursday night game on Nov. 14.
Tomlin, though, strongly supported his quarterback in a statement issued Saturday morning — an unusual move for a coach who rarely speaks publicly in the offseason.
"I support Mason Rudolph not only because I know him, but also because I was on that field immediately following the altercation with Myles Garrett, and subsequently after the game. I interacted with a lot of people in the Cleveland Browns organization — players and coaches," Tomlin said in the statement.
"If Mason said what Myles claimed, it would have come out during the many interactions I had with those in the Browns' organization. In my conversations, I had a lot of expressions of sorrow for what transpired. I received no indication of anything racial or anything of that nature in those interactions."
Rudolph's agent and attorney, Tim Younger, said the "defamatory" statements by Garrett exposed him to "legal liability."
"We waited to hear the entire interview," Younger said. "Garrett, after originally apologizing to Mason Rudolph, has made the ill-advised choice of publishing the belated and false accusation that Mr. Rudolph uttered a racial slur on the night in question."
Garrett, who was reinstated by the league Wednesday after a six-game suspension, made the accusation against Rudolph during the interview with Kimes that aired Thursday night during SportsCenter.
"He called me the N-word," Garrett told Kimes. "He called me a 'stupid N-word.'"
In the interview, Garrett blamed Rudolph for starting the fight that led to $732,422 in fines and the discipline of 33 players, and said Rudolph used the slur as he was being sacked by Garrett.
Rudolph initially engaged with Garrett on the ground, and then charged at him after Garrett forcibly removed Rudolph's helmet. Then, Garrett hit Rudolph over the head with it.
"I don't say the N-word, whether it's with 'a' [or] 'er.' To me, personally, [it] just shouldn't be said, whether it's by family, friends, anyone," Garrett told Kimes. "I don't want to use it because I don't want [people to] find that appropriate around me for anyone to use.
"When he said it, it kind of sparked something, but I still tried to let it go and still walk away. But once he came back, it kind of reignited the situation. And not only have you escalated things past what they needed to be with such little time in the game left, now you're trying to reengage and start a fight again. It's definitely not entirely his fault; it's definitely both parties doing something that we shouldn't have been doing."
Rudolph was fined $50,000 for his role in the incident. He appealed the fine, but it was recently upheld, a source told ESPN.
The Steelers and the Browns were also each fined $250,000.
Garrett first alleged Rudolph used the slur in an appeals hearing with the NFL in an effort to get his suspension reduced, ESPN previously reported. Garrett later said he never intended for the accusation to become public, but said, "I know what I heard." At the time, an NFL spokesman said the league "found no such evidence" that Rudolph used the slur.
Rudolph strongly denied the allegation in November and called it "totally untrue."
"I couldn't believe it," the quarterback said Nov. 24. "I couldn't believe he would go that route after the fact."
NFL doctors discontinuing physicals for players until end of crisis
The NFL Physicians Society is discontinuing physicals for players amid the coronavirus pandemic, the group told both the league and its players association, according to a letter obtained by NFL Network.
The decision will likely affect free agents who are awaiting physicals to officially sign contracts with new teams, as well as draft prospects whose health issues potentially need to be rechecked by teams after last month's NFL scouting combine.
In the letter, NFLPS president Dr. Anthony Casolaro said the suspension of physicals will last "until the health crisis has passed."
"We believe it is not in the interest of the players nor team medical staff to continue to perform these physicals," Casolaro wrote, according to the NFL Network.
Casolaro is also the head Redskins physican,
"At a time of the most serious pandemic in our lifetime, we believe medical resources should focus on those who are ill or in need of care," he wrote.
Casolaro added that official team physicals will resume "when it is appropriate to do so."
Free agents and draft prospects already had been affected by the coronavirus.
Physicals for free agents have been delayed due to travel logistics, which is why teams couldn't officially announce player signings on social media when the new league year opened Wednesday. The NFL did give teams the option to conduct a physical with an independent doctor, as Tom Brady did with Tampa Bay.
And draft hopefuls have been prohibited from "all in-person, predraft visits."
QB Tua Tagovailoa posts video of him throwing football ahead of draft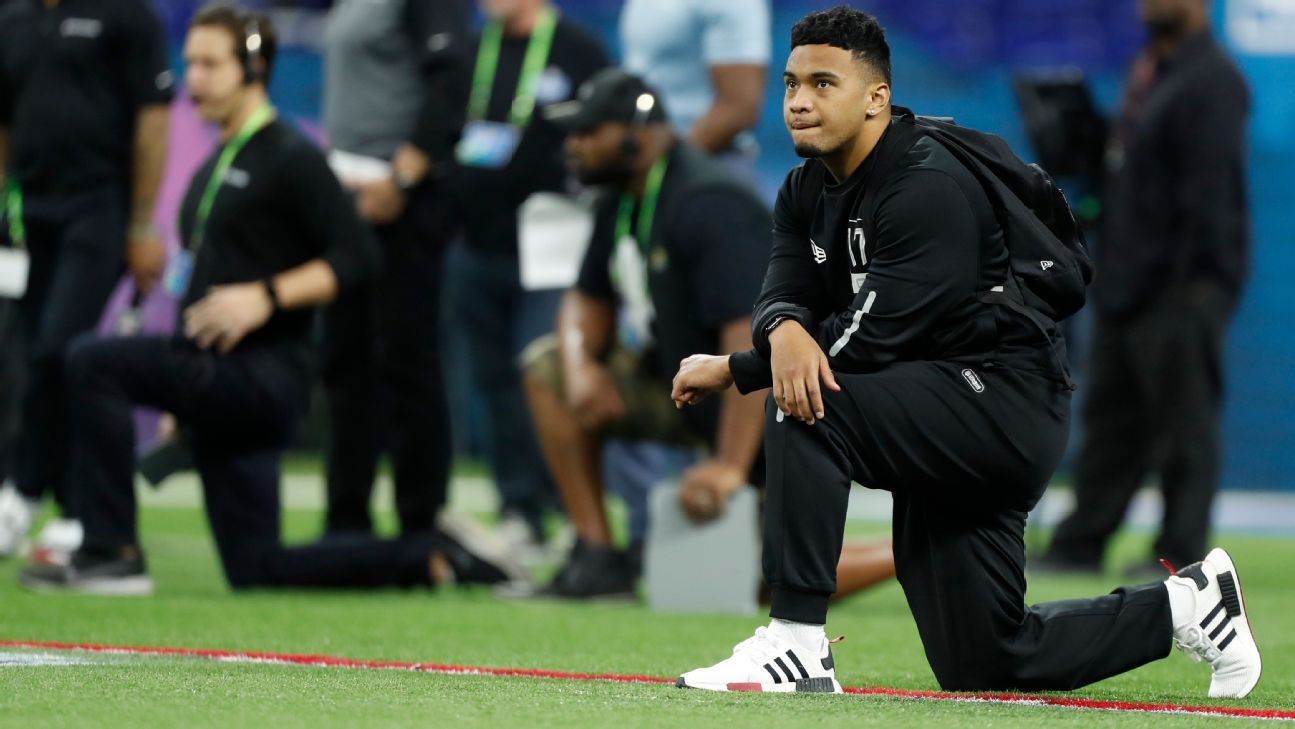 Quarterback Tua Tagovailoa, who is recovering from a hip injury, posted a video to social media on Monday that shows him throwing during drills.
"Practicing social distancing with the long ball today. Feels good to spin it again. #Process," Tagovailoa wrote on Twitter. He also posted videos to his Instagram account that show him throwing the ball and working on his footwork.
Practicing social distancing with the long ball today. Feels good to spin it again. #Process pic.twitter.com/BZnBF7Sfdc

— Tua. T 🇦🇸 (@Tuaamann) March 24, 2020
Tagovailoa was medically cleared for all football activity after a four-month scan came back all clear, sources told ESPN's Laura Rutledge earlier this month.
Tagovailoa's season at Alabama ended in November when he sustained a posterior wall fracture and dislocated hip. He's expected to be a top-five pick in April's NFL draft, with ESPN's Mel Kiper Jr. projecting him to go at No. 3 to the Detroit Lions.
Cowboys center Travis Frederick's retirement proof of ever-changing NFL – Dallas Cowboys Blog
FRISCO, Texas — Monday's surprising retirement announcement by Dallas Cowboys center Travis Frederick is a reminder at how quickly things can change in the NFL.
Since 2014, the Cowboys have had an offensive line that was the envy of many across the league with Tyron Smith, Frederick and Zack Martin — all first-round draft picks. They added La'el Collins, a first-round talent in 2015 as an undrafted free agent.
In 2011, the Cowboys used a first-round pick on an offensive lineman for the first time since 1981 on Smith, and he has been a Pro Bowl selection every season since 2013.
In 2013, the Cowboys were ridiculed for trading back in the first round and selecting Frederick with the No. 31 overall pick. Frederick was a Day 1 starter and was named to the Pro Bowl in all but one of the six seasons he played.
In 2014, the Cowboys took Martin with the No. 16 overall pick and he has been one of the game's best guards, earning first- or second-team All-Pro honors each year and being named to the Pro Bowl in each of his first six seasons.
The idea was Smith, Frederick and Martin would grow old playing together on the field. In 2014, Smith signed an eight-year extension through 2023. In 2016, Frederick signed a six-year extension through 2024. In 2018, Martin signed a six-year extension through 2024.
They trio was supposed to be like the Cowboys' great line of the 1990s with Nate Newton, Mark Tuinei, Mark Stepnoski and Erik Williams that opened holes for running back Emmitt Smith and protected quarterback Troy Aikman for three Super Bowls.
Since 1970, Martin, Frederick and Smith are the only offensive line trio to make five (or more) Pro Bowls together, according to Elias.
Last week, Frederick turned 29. Martin turns 30 in November. Smith turns 30 in December.
As they each approach what should be the prime of their careers, one of the pillars is walking away.
MORE: How NFL players are now thinking about life after football
In his announcement, Frederick cited the battle he had in 2018 with Guillain-Barré Syndome, an auto-immune disease that affects the nervous system. One of the best NFL centers in the world, Frederick had difficulty walking as his muscles atrophied in 2018. He spent months working back, regaining strength, not just measured in pounds but in accomplishing mundane tasks.
Numerous times Frederick said his goal was not just to return to the field, but to continue to be one of the best in the league at his position. While he was named to the Pro Bowl in 2019 (for the fifth time), he felt he did not play up to his personal standard, which he says played a part in his decision to retire.
Smith has missed games in each of the past four seasons because of a number of injuries, including a chronic back injury. Martin has missed two games in his career (both in 2018), but he was slowed by back, elbow and ankle injuries. Martin had offseason surgery on his ankle and skipped the Pro Bowl this past season.
The Cowboys will miss Frederick, but the nature of the NFL is that the game goes on. Center Joe Looney played well in replacing Frederick in 2018 and re-signed with the team last week. Connor McGovern, Adam Redmond and perhaps Connor Williams could be in the mix. Quarterback Dak Prescott will have to get used to the change as well — in the three seasons Prescott and Frederick played together, the quarterback played 3,016 offensive snaps — all of them were with Frederick at center.
Any of them could do fine in filling in for Frederick, and the Cowboys can still be a playoff team in coach Mike McCarthy's first season. At the NFL scouting combine, McCarthy noted his Green Bay Packers needed more than 70 players because of injuries to win Super Bowl XLV in 2010.
But this shakeup of the offensive line was not in the long-term plan when the Cowboys signed Frederick to the extension two years after Smith and two years before Martin.
They were supposed to grow older together, claiming Super Bowls like the lines of the 1990s. Things quickly change.