Ron Rivera's yard sale of Panthers items raises over $30K for charity
CHARLOTTE, N.C. — Twenty-four hours after new Washington Redskins coach Ron Rivera unloaded Pro Bowl cornerback Josh Norman from his roster, he unloaded more than 1,000 items he accumulated in nine seasons with the Carolina Panthers.
Only this time it was for charity.
Rivera and his wife, Stephanie, held a yard sale on Saturday at the Humane Society of Charlotte with the entire $30,237 raised going toward a new campus and research facility for one of their favorite charities during their time in the Queen City.
Approximately 3,000 people stood in line for the opportunity to purchase everything from one of the countless T-shirts Rivera had made with inspirational and promotional slogans to the military paraphernalia he acquired working with the USO of North Carolina to the shoes he wore on the sidelines.
Former players Luke Kuechly, Greg Olsen and Cam Newton also contributed items to help the Humane Society reach their goal of $15 million needed to build what vice president of philanthropy Dona Stucker called a facility in a "real bad state of disrepair."
Even Rivera's dogs, a full-blooded golden retriever named Tahoe and Sierra, a mixed-breed adopted from this shelter, contributed to the fundraiser with leashes, collars, dog beds and even a dog crate.
It was reminiscent of the annual garage sale former Minnesota Vikings coach Bud Grant held for years.
"I didn't realize how much stuff we actually had," Stephanie Rivera said while holding onto Sierra's leash.
Neither did Ron Rivera, who admitted it was tough deciding what items to keep and what to sale. Among those were items from his first win in 2011, first playoff win in 2014 and win in London this past season.
"This is kind of our swan song, our last opportunity to really say thank you one more time," Rivera said.
Rivera was fired with four games left in the 2019 season. He left with two NFL Coach of the Year Awards, a 76-63-1 record that made him the winningest coach in Carolina history and what he called "a lot of stuff."
Fans began lining up for that stuff hours before the noon start. Steve Osment and his family drove five hours from Richmond, Virginia, to participate in the sale.
They didn't leave disappointed, buying three hats, a toboggan, a sweatshirt, a jacket, a dog bed, a cat bed, tennis shoes, dress shoes and a belt Osment said "I've been needing for the past year."
"We've always loved Ron," Osment said. "We just adopted a dog from a shelter. We like what he's doing. For everything he's been to the community and team, we love him and always will love him."
Rivera talked a little football before the gates opened. Regarding the release of the 32-year-old Norman, who also released under him at Carolina in 2016, the 58-year-old coach said that was made in an effort to get younger.
Regarding whether quarterback Cam Newton, rehabbing from Lisfranc surgery, will remain with the Panthers in 2020, be traded or released, Rivera said, "I just know a healthy Cam, I would never bet against him."
Regarding the retirement of middle linebacker Luke Kuechly at 28, the release of Pro Bowl tight end Greg Olsen and other roster moves by new Carolina coach Matt Rhule, Rivera said: "It's kind of the turn of the era. Now it's a time for the new regime to come in and build it their own way."
Rivera's focus this day was on raising money with a sale that was spawned by a conversation between Stephanie and Tammy Reid, the wife of Kansas City Chiefs coach Andy Reid, while they all were in Philadelphia from 1999-2003.
"They had 13 years of stuff with the Eagles," Stephanie said. "She said don't throw it away. They made almost $30,000."
Stucker for one is thankful for that conversation.
"We had no idea what to expect," she said. "It's a testament to Coach and Stephanie and how much they are loved in this community and how much they are going to be missed."
Bruins' Zdeno Chara lauds Tom Brady amid New England departure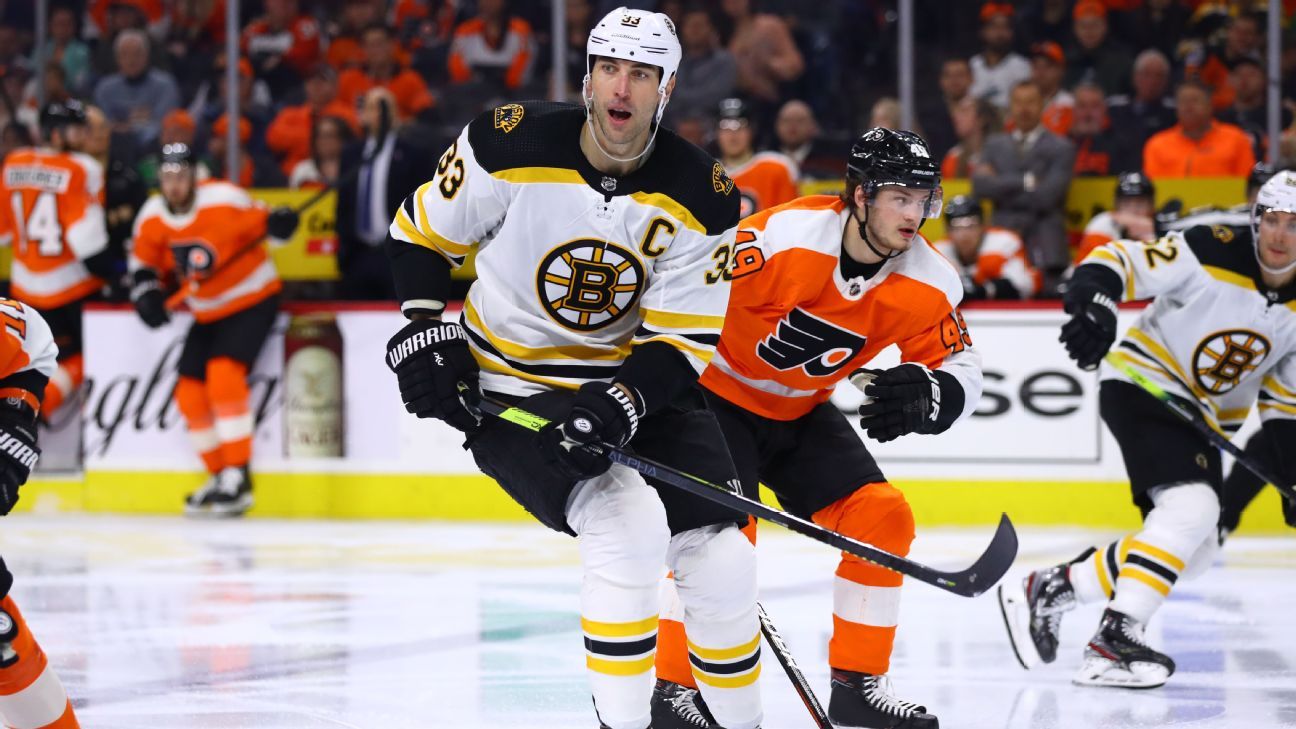 Bruins defenseman Zdeno Chara, a 22-year veteran in the NHL with 14 seasons in Boston, commended Tom Brady on Sunday via Instagram, lauding Brady's years of success with the Patriots and how much it meant to New England fans.
"It's with sadness and joy I find myself reflecting on the news of my friend and sports legend @TomBrady moving on from the @Patriots," Chara wrote on Instagram.
Chara, 43, shared a photo of him with Brady, 42, who won six Super Bowls in his 20-year tenure with the Patriots before signing with the Tampa Bay Buccaneers last week.
"For New England and it's fan base, Tom's departure is a major loss to the role he plays in leading the incredible Patriots," Chara wrote. "His 20 years have brought us all some of the most memorable moments in sports history. His departure leaves us with mixed feelings. We feel a loss but we also hope that he continues to have an outstanding career."
Sources told ESPN that Brady's deal with Tampa Bay is a two-year contract worth $50 million, all guaranteed, and also includes another $9 million in incentives.
"Thank you Tom for the best 20 years of New England sports memories," Chara wrote. "Your leadership, athletic achievements and your contributions to Boston will forever be remembered by many generations. I wish you all the best. We will be watching and cheering you on!"
Chara has played in 68 of Boston's 70 games this season, with five goals and 14 points. When the NHL season resumes, he and the Bruins will take the ice as the No. 1 seed in the Eastern Conference with 100 points, the highest total in the league.
Patriots bring back Brian Hoyer, add QB to mix
FOXBOROUGH, Mass. — The New England Patriots have agreed to terms on a one-year contract with veteran quarterback Brian Hoyer, a source confirms.
The Boston Globe first reported the agreement.
A source told ESPN's Adam Schefter that Hoyer's contract with the Patriots is for $1.05 million. He is making $2 million from the Indianapolis Colts, who released him on Saturday, so with offset language, Hoyer will make $2 million in guarantees total this season between the two teams.
Hoyer returns for his third stint with the Patriots, joining 2019 fourth-round draft pick Jarrett Stidham and five-year veteran Cody Kessler as the three quarterbacks on the roster.
Stidham beat out Hoyer for the No. 2 job last preseason, which led the Patriots to release Hoyer with hopes of possibly bringing him back later in the season. But the Colts, who were scrambling following Andrew Luck's retirement, quickly scooped Hoyer up by inking him to a three-year contract to back up Jacoby Brissett.
Hoyer, 34, becomes the most experienced quarterback on the Patriots' roster (38 career starts), and should be a valuable sounding board for Stidham as the Patriots assess if the youngster can fill the void created by Tom Brady signing with the Tampa Bay Buccaneers.
Hoyer appeared in four games last season and made one start when Brissett suffered a knee injury. He completed just 53.8% of his pass attempts last season, throwing for 372 yards with four touchdowns and four interceptions.
Hoyer started his career with the Patriots and also had stints with the Cardinals, Browns, Texans, Bears and 49ers before returning to New England last season. He has 38 starts in 69 NFL games. He started 13 games for the Browns in 2014. He has thrown for 10,274 yards with 52 touchdowns and 34 interceptions in his career.
In addition to Hoyer, the Patriots also reached agreement with free-agent linebacker Brandon Copeland.
The 6-foot-3, 268-pound Copeland has played in 60 career regular-season games with the Detroit Lions (2015-2016) and New York Jets (2018-2019). He started 14 games for the Jets over the past two seasons, with his most notable success coming in 2018 as a situational pass-rusher (5 sacks). He has totaled 107 career tackles, while also factoring prominently on special-teams units.
CB Pierre Desir joins Jets a day after Colts cut him
Thin at cornerback after releasing their 2019 starters, the New York Jets agreed to terms Sunday with former Indianapolis Colts cornerback Pierre Desir, a source confirmed.
Desir, 29, released Saturday by the Colts, will sign a one-year contract, another source said.
The Jets were in the market for a corner after parting ways with Darryl Roberts and Trumaine Johnson in recent days. They re-signed nickel back Brian Poole, but still needed help on the outside.
They turned to Desir after he was unexpectedly released. A year ago, he signed a three-year, $22.9 million extension with the Colts, but his play slipped last season despite a career-high three interceptions.
Desir played in 12 games, starting 11, and allowed five touchdown passes and a 95.6 passer rating, according to Pro Football Focus.
He broke into the league as a fourth-round pick of the Cleveland Browns in 2014. He played briefly for the San Diego Chargers before landing with the Colts in 2017.
Desir has five career interceptions, including for returned for a touchdowns.
The Jets have been active in the second wave of free agency. On Saturday, they finalized deals with three players, bringing their total to six outside free agents.
Only two have come on defense, Desir and former Los Angeles Rams safety Marqui Christian.
The news of Desir's agreement was first reported by The Athletic.