Josh Hader loses to Brewers, says arbitration model 'outdated' for relievers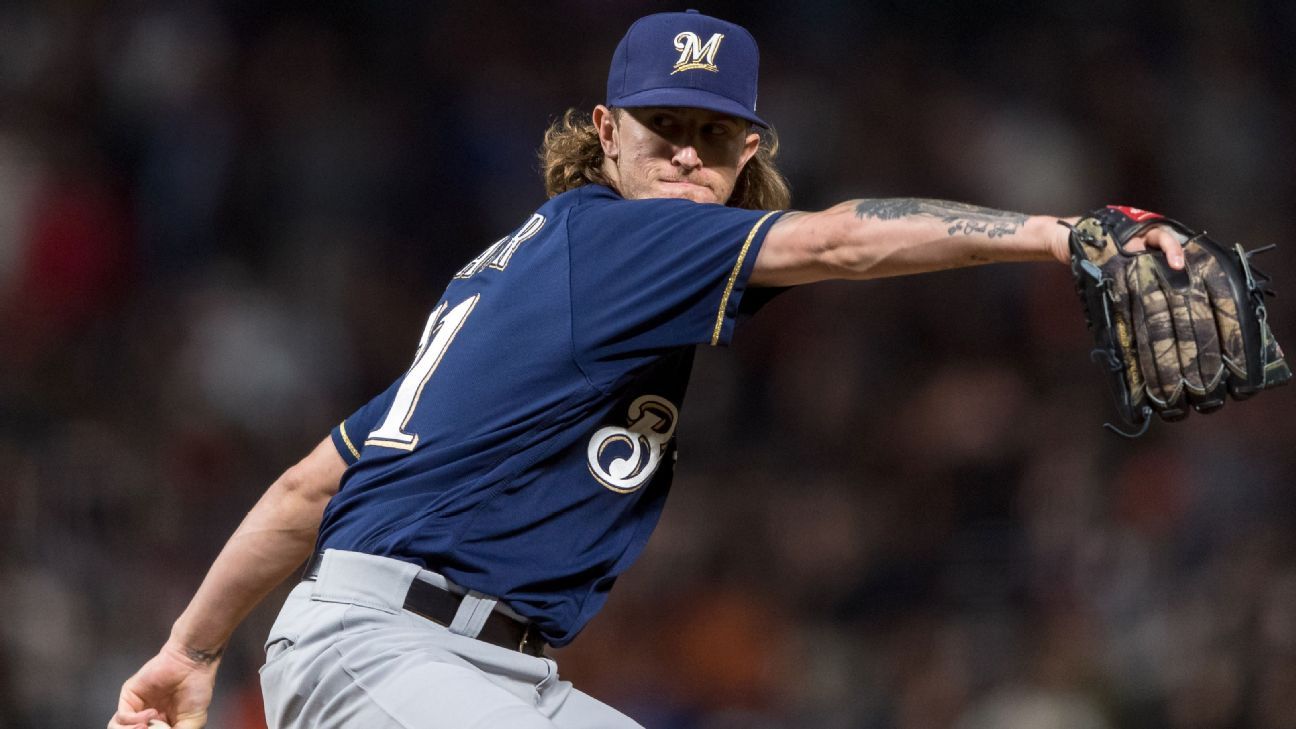 PHOENIX — Baseball's arbitration model for relief pitchers is broken, Milwaukee closer Josh Hader said Friday after losing his case against the Milwaukee Brewers.
Hader will earn $4.1 million rather than his $6.4 million request, a decision that dropped players to 1-6 in hearings this year. Arbitrators Mark Burstein, Dan Brent and Fredric Horowitz made the decision, a day after hearing arguments.
"We're in a unique position, the way we're used as relievers nowadays," Hader said. "I think the system's just outdated on how we're used. We're mostly being used for lineups, not innings."
While teams used to have set roles for pitchers in the seventh, eighth and ninth innings, computer programs now determine which matchups in the batting order are best for which pitcher.
"We're going to a new part where guys are pitching in situations that could come in the fourth inning and you're facing the middle of the lineup to get maybe out of a jam," Hader said.
Hader made his big league debut in June 2017 and was used in 2018 as multi-inning reliever who often bridged the gap between the starter and hard-throwing right-handers Jeremy Jeffress and Corey Knebel.
When Knebel sustained an elbow injury that required Tommy John surgery last year and Jeffress battled ineffectiveness and injury, the shaggy-haired left-hander moved into the closer's role and converted 37 of 44 save opportunities while going 3-5 with a 2.62 ERA. He earned his second straight All-Star selection.
He failed to hold a 3-1 lead in the eighth inning of the NL wild-card game, loading the bases by hitting one batter, walking another and allowing a bloop single, then giving up a two-out, bases-loaded single to Washington's Juan Soto that scored three runs. The Nationals won 4-3 and went on to their first World Series title.
After making $687,600 last year when his contract was renewed, Hader just made the arbitration eligibility cutoff with 2 years, 115 days of major league service.
General manager David Stearns detected "no hard feelings" in a conversation with Hader ahead of the decision.
"Josh said he wants to help us win a World Series," Stearns said.
Teams also beat Boston Red Sox pitcher Eduardo Rodriguez, Los Angeles Dodgers outfielder Joc Pederson, Minnesota pitcher Jose Berrios, Atlanta reliever Shane Greene and Colorado catcher Tony Wolters.
Dodgers reliever Pedro Baez has been the lone player to win.
Seven players, including Brewers left-hander Brent Suter, remain scheduled for hearings, which run through Feb. 21.
'It's just like ripping open a scab' — Dodgers' sign-stealing anger bursts through
GLENDALE, Ariz. — Dave Roberts was watching his players throw bullpen sessions and conduct batting practice while members of the 2017 Houston Astros stumbled through pre-arranged apologies on Thursday morning. Later, while addressing an eager media contingent, the Los Angeles Dodgers' manager struck a distinct tone — he was done talking about what may or may not have occurred three World Series ago, and he was ready to move on with the 2020 season. "Our story," Roberts said, "is moving forward."
The following morning, before the team's first official workout of spring training, it was clear that many of Roberts' players were not done venting, grieving and, in many ways, processing how the Astros might have unfairly beaten them in the championship round.
Cody Bellinger, one of the game's brightest young stars, went scorched earth on the Astros, saying Jose Altuve "stole" the 2017 MVP from Aaron Judge and that he "lost respect" for that team. Justin Turner, one of the Dodgers' clubhouse leaders, ridiculed Astros owner Jim Crane for initially stating that his club's sign-stealing methods "didn't impact the game." Alex Wood, who had the foresight to constantly change the sign sequences while starting Game 5 of the 2017 World Series from Minute Maid Park in Houston, said he wouldn't be surprised if several opposing pitchers threw at Astros hitters this season.
Clayton Kershaw, who might have been among the most directly impacted by the cheating scandal, admitted that he doesn't know what to think.
"Us in this clubhouse, we're all going to handle it differently," Kershaw said. "And I think that's awesome that everybody's gonna answer these questions differently. Everybody's gonna be honest about it, everybody's gonna move on in their own way, and I think that's really cool. I think as a team, we can all be individual in how we handle it, and then come together as a team after it and be ready to go. I think the script of this, of what happened in Houston yesterday, it didn't seem as genuine. And I think over here, you're gonna feel the genuineness of what we feel. And we're going to move on a little bit easier from it, I think."
The process is ongoing, the sentiments scattered. Kershaw believes adding a former MVP in Mookie Betts and a former Cy Young Award winner in David Price — essentially shaking up the core group, an approach Roberts has long believed to be important — "really helps bring a new excitement to this season."
Turner wasn't so sure.
"It's just like ripping open a scab," Turner said of constant revelations about the Astros' methods. "It rehashes some things, and you go back, think what if, what happened. And that's just going to drive us crazy if we continue to do that. You just gotta let them deal with it however they deal with it. Everyone's gonna have their opinion, everyone's gonna treat them however they feel necessary. Lucky for us, we don't play them this year. So we don't even have to worry about them. The rest of the league can deal with them."
ESPN Daily Newsletter: Sign up now!
Ross Stripling was recently almost traded to the Los Angeles Angels, an American League West team that will open its season at Minute Maid Park and is scheduled to play the Astros 17 other times. He was asked if he would have taken it upon himself to throw at Astros hitters if that had been the case.
"I would lean toward yes," Stripling said after some thought. "In the right time, and in the right place."
Wood alluded to a fascinating dilemma with that approach.
"Somebody will take it into their own hands, and they'll get suspended more games than any of those guys got for the biggest cheating scandal in 100 years," he said. "It'll be pretty ironic when that happens, because I'm sure that's how it'll end up playing out."
A group chat began with basically every member of the 2017 Dodgers team that lost to the Astros in seven World Series games shortly after Bregman and Altuve were unrepentant during the team's fan fest around the middle of January. It was initially an effective outlet for some of the affected players, but the onslaught of text messages eventually died down. As the weeks progressed and spring training approached, some of those players identified their own purpose within the sign-stealing scandal.
Wood, among the most vocal on Twitter, has taken it upon himself to educate fans on why stealing signs the way the Astros did was such a big deal.
"When guys know what's coming, it's a whole different ballgame," Wood said. "This is a game, but it's also a lot of guys' lives. It's how they feed their families."
Stripling pinpointed a goal — to ensure that the stigma of all this doesn't die.
"One of the worst things that could happen is that we get through spring and it's just forgotten about, or that you get pegged for the first two games and it's just forgotten about," Stripling said. "It needs to be reiterated."
In that vein, several Dodgers will attempt to strike a difficult balance — of making sure the extent of the Astros' crimes is not forgotten, but also ensuring that it isn't a constant source of internal consternation throughout their pursuit of an elusive World Series championship. They'll all navigate it differently.
On Friday, the Dodgers seemed consistent with one thought — that the Astros' apology was not good enough.
Stripling thought it was "as bad as it can be." Turner, like many others, didn't go out of his way to watch it, but did catch Crane's statement, which he later walked back, and said: "It's mind-boggling to me that you had that much time to prepare for this and you had to retract the first thing you said in the statement."
"That's just wild," Bellinger said when asked of Crane saying the Astros' sign stealing "didn't impact the game." "I don't know if he meant to say that or not, but that's obviously not true."
"To be honest, I don't know what to think anymore," Kershaw added. "Some of those guys seemed remorseful. Some of those guys said the right things, gave a good apology, and that's great. We'll move on with that. And then you get the owner up there saying some dumb stuff, and it's like, 'What's going on? How can you be that ignorant to the situation?"
In the midst of his comments, Bellinger brought up how he just met Betts and Price and how excited that made him about what awaits. Turner struck a similar tone, acknowledging that the pain of the 2017 World Series would never vanquish while also expressing the importance of moving on from it.
He hopes others will follow.
"Obviously when you start talking about the beginning of spring training, there's more opportunities for players to voice their thoughts, and there's media that wants answers, which is completely fair," Roberts said. "But I do think that once we get going, it's got to be in the past. I think that they're aware of that."
Tigers' Michael Fulmer making progress in return from Tommy John
LAKELAND, Fla. — At this time last year, Michael Fulmer was hoping for a healthier 2019. Instead, his injury woes went from bad to worse.
Fulmer needed Tommy John surgery and did not pitch at all last season, another setback for the right-hander who won AL Rookie of the Year honors for Detroit in 2016 but now faces an uncertain future for the Tigers. Still just 26 years old, Fulmer can give the team a lift if he comes back healthy, but that's still a work in progress.
"I feel better than I thought I would at this point, playing catch out to 120 feet," Fulmer said this week. "Next progression is getting on the mound. Very anxious for that moment, but we've got to wait until it gets here."
Fulmer said he was hopeful he could throw on the mound around the end of March, perhaps before the team heads north.
Fulmer went 11-7 with a 3.06 ERA in 2016, his debut season in the majors. He was fairly solid again the following year, but since then, he's had one problem after another. Oblique and knee injuries limited Fulmer in 2018, when his ERA rose to 4.69. He was hoping he had put those issues in the past at spring training last year, but he ended up facing an even longer recovery after undergoing Tommy John surgery.
"It took seven months without picking up a baseball, which is probably the longest time I haven't touched a baseball since I was probably 4 years old," he said. "Tommy John's just a different animal. You start playing catch again, and you're three, four weeks at one distance, throwing-wise. Then you're getting moved up and then you're excited, then there's three, four weeks of that distance, and so on."
Fulmer says he can understand why some other pitchers have been able to bounce back so well from this operation — the rehab process is extensive. But it's not easy being at spring training when you can't pitch yet.
"You can never get inside somebody's head. All you can do is listen to them talk. He handles it very, very well," manager Ron Gardenhire said. "I'm sure he's very frustrated. He wants to be out there doing all those things with all the guys, but through all this, he's probably learned a little bit of patience, knowing when you try to rush it, it doesn't really work out too well."
The rebuilding Tigers are approaching a period of transition with their rotation. Three of their top prospects are starting pitchers, and although Casey Mize, Matt Manning and Tarik Skubal aren't expected to begin the season in Detroit, their progress will be a big story in 2020.
Meanwhile, Matthew Boyd is the clear leader of the major league staff after striking out 238 hitters last year. Jordan Zimmermann, Spencer Turnbull and Daniel Norris are also in the mix — as is Fulmer. This season could go a long way in determining who fits into Detroit's long-term plans on the mound.
So the sooner Fulmer can return and show what he can do, the better for everyone involved.
"He's got to let everybody — smart guys, the medical people — get him into where he's supposed to be," Gardenhire said. "Then we see how he is halfway through the year."
In the meantime, Fulmer has a chance to be something of a mentor to those highly touted prospects at spring training. If any of them can handle the transition to the majors as well as Fulmer did in 2016, the Tigers will be quite pleased.
"We were all 20, 21 years old once. It's tough," Fulmer said. "Those guys, they're keeping their head down, they're putting in the work. I'm excited to see what they have this spring training. I'll be watching a little closer, since I don't have much to do now."
—
Follow Noah Trister at https://twitter.com/noahtrister
—
More AP MLB: https://apnews.com/MLB and https://twitter.com/AP-Sports
Tony Kemp says he refused to take part in Astros' sign stealing
MESA, Ariz. — Called up in September 2017 by Houston, Tony Kemp immediately was asked by teammates whether he wanted to be a part of the Astros' sign-stealing scheme. He says his answer was a firm no and that he didn't feel further pressure to take part.
"That stood," the second baseman said Friday after arriving in Oakland's spring training camp and reuniting with former Astros teammate Mike Fiers, who went public in November about Houston's sign stealing that rocked the baseball offseason. "Once I got there in September, the system was already in place, and I just tried to keep my head down and play hard and not really concern myself with it."
Kemp said what Houston did was wrong and, when asked whether the 2017 World Series title is tainted, noted: "That's a good question. Everyone's going to have their own speculations about it, everyone's going to have their own opinions about it. I'm not sure."
Houston manager AJ Hinch and general manager Jeff Luhnow were fired last month, on the same day commissioner Rob Manfred suspended them over the sign-stealing scheme. Former Astros bench coach Alex Cora was dismissed as Boston Red Sox manager, and ex-Astros player Carlos Beltran lost his job as New York Mets manager.
Kemp said he appreciates the apologies by Astros players, which he considered sincere, and said "you definitely feel for them."
"I'm not going to say that things that were going on over there were necessarily right. Those things were wrong," said Kemp, who was acquired by the A's from the Chicago Cubs last month. "I think that they're feeling remorse now. You see those guys and how they feel and how they're acting and you can definitely tell that there was some wrongdoing there."
Kemp planned to speak to his new teammates individually rather than make a statement in front of the group.
"If I was more involved, then I think a statement would be the right thing to do, but we're all grown men and I think if you have questions you can come up and ask me and I'll be straightforward with you," Kemp said. "I think that if teammates have questions and want to come up to me, I'll be more than welcome to answer the questions."
A's manager Bob Melvin met with Kemp on Friday and agreed with the infielder's approach to getting to know his new teammates, many of whom he faced in the minor leagues. Melvin said the reception might be different had Kemp been a regular player for the Astros in recent years, saying, "I think this thing gets closed pretty quickly as far as his time over there in Houston."
"He's got a real clear conscience about what happened," Melvin said. "Most of our guys know him. I think in the position that he's in, I don't need to call a meeting and have him talk to everybody. The guys know they can go up to him and talk to him in groups. Everything I heard was all good, move forward with him. We're happy to have him."
Fiers, a 15-game winner last season who pitched his second career no-hitter, has declined to speak in detail about the Astros situation or his role as whistleblower. He said he approached Kemp on Friday.
"I've always respected Tony. He's always been a good guy," Fiers said. "Always got along with him. Good dude to have on the field and as a teammate."
Kemp said he chose not to participate in the sign-stealing system because "I was comfortable with the way I was swinging the bat at the time in Triple-A."
"Once I got called up, I just felt like I was going to trust my abilities up there," he said. "I just didn't want any distractions."
He also didn't have a guess as to how many players were stealing signs because he hadn't been there long.
"In '17, that was my choice," he said. "I had four or five months in the big leagues under my belt at that time, and I just felt like at the time that I didn't want to use it. I'm not going to sit here and say bad things about the people who did, but it is what it is. We move forward, and now we're in the same division, so now it's going to be fun. It's going to be a healthy competition. I think everyone's looking forward to it."
Oakland won 97 games each of the past two seasons to finish second in the American League West behind Houston. Kemp, who will get regular work at second base this spring, realizes the matchups with the Astros will now have new meaning and might be difficult for Fiers at times.
"I think that leaving Houston and going to a different team, I think you have to at least say, 'Hey, they do some things, you might have to switch your signs up or you might need to do something,'" Kemp said. "For Fiers, it's a tough situation to be in because you have teammates in Houston but you also have new teammates. It's a sticky situation."